Sourdough crackers are the quintessential snack – thin, crispy, and addictive. Eat them as-is, dip them in healthy hummus, or smear them with soft ricotta cheese.
I don't have empty stomachs at my home. They are endlessly hungry, bottomless pits. By the time the table is cleared of lunch stuff, at least one person is ready with the question "what's for snacks?" Which means I have an oeuvre of snackable treats.
This time it is ultra-thin and crispy sourdough crackers made out of starter discard.
What's sourdough starter discard?
When you have a sourdough starter at home, a sheer amount of it goes to waste. Every time you feed the starter; you have to do away with a certain quantity.
The discard is perfectly usable and chucking it in the bin is a travesty. And I do try to follow a zero-waste policy in my kitchen. That's why I've cooked up a storm with sourdough starter discard, from paranthas to waffles to banana cinnamon pancakes.
So, when I saw the starter jar get too full and the call for snacks rising in pitch yet again, I thought now is a great time to try sourdough crackers.
How to Make Sourdough Crackers?
Store-bought crackers are convenient, sure, but to my palate, they are lifeless and utterly bland. I switched to homemade crackers because they have an unbeatable fresh taste, and give me complete control over the amount of salt, sugar, and fats in it. Plus, making them is as easy as opening a box.
You mix the sourdough starter discard with a combination of whole wheat and all-purpose flour, salt, olive oil, and a touch of paprika and knead it into a pliable dough.
Cover the dough with a cloth and let it sit for some time because a well-rested dough rolls out like a dream. After its relaxed a bit, take it out, divide it into two, and then working with one piece at a time, using a rolling pin to make thin sheets.
The power-to-be on the internet say that the rolled-out dough has to be 1/16th of an inch. I have no idea if my dough reached this exalted thinness (couldn't be bothered to measure), but I did make them as slim and even as possible. If you have a pasta machine at home, use it. The dough will turn out to be paper-thin and absolutely level.
Baking the sourdough crackers
On both pieces of the rolled out dough, brush olive oil, and then any topping of your choice. I dusted a fantastic mid-eastern seasoning mix, za'atar, on one half and Italian seasoning on the other half.
Finish off by sprinkling a bit of sea salt on top (in my haste, I forgot to add it on one half of the dough, and you can certainly tell the difference).
Take a sharp knife, or a pizza cutter or a pastry cutter (whatever is in your drawer) and cut the thin sheets in squares (or any shape you prefer). Transfer the squares on Silpat or baking paper lined tray and bake! Or you can simply roll out the dough on a sheet of baking paper and cut into desired shapes and transfer the sheet on to your baking tray…
Quick Notes
For the paprika, degi mirch powder works in a pinch because it gives the crackers a lovely hue and just a tad bit of flavour.
When you knead the dough if it's too soft and sticky add in more flour. If the dough is dry-ish, increase the amount of sourdough starter discard.
For all those who have little ones at home and want them involved in the baking, forgo a knife. Use a cookie cutter to cut the rolled-out dough in cute and fun shapes.
When baking, keep an eye out. Stop when they are lightly golden brown because sourdough crackers become crisper as they cool.
Variations of sourdough crackers
Making your own crackers really couldn't be simpler. The ingredients are straight from your pantry shelf, and you need no special equipment. Within an hour, you have homemade crackers ready to your liking.
The best part? You can take the recipe in any direction your taste buds desire. For the toppings, you can replace the seasoning with cumin, sesame seed, or even dried herbs. For a touch of Indianness, try ajwain crackers, or a mix of kasoori methi and chaat masala.
If you're in the mood for a burst of colors and some fun, add a smidgen of turmeric or beetroot powder or pureed spinach to the dough. Fresh herbs like parsley, thyme, and rosemary are also a lovely complement to the sourdough flavor. Knead a small handful of them in the dough.
While the sourdough starter discard does give the crackers a tangy, almost cheese-like flavor, you can take it up a notch and mix grated cheese in the dough. Throw in some garlic powder to get the match made in heaven.
Serving the Sourdough Crackers
Sourdough is supposedly excellent for your gut, but that wasn't just the impetus for making the crackers. It was to keep the permanent snackers at my home happy and satiated.
Sourdough crackers are an ideal snack on their own to have by the fistful. But I served them on an insanely delicious and nutritious platter with a side of hummus (keep your eyes peeled for a classic hummus blog) and some olives.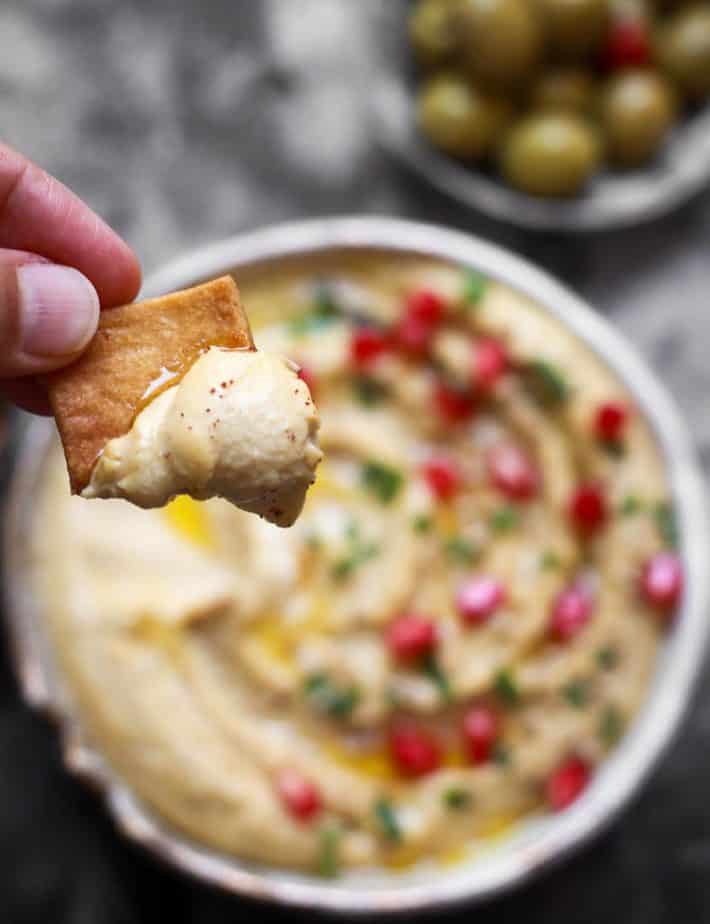 I'd love to hear from you! Please tag me on Instagram @tashasartisanfoods, using the hashtag #tashasartisanfoods. You can also FOLLOW ME on INSTAGRAM, PINTEREST for more fabulous recipes! Do subscribe to Tasha's Artisan Foods so you'll never miss a recipe!
📖 Recipe
Print Recipe
Sourdough Crackers
Sourdough crackers are the quintessential snack - thin, crispy, and addictive. Eat them as-is, dip them in healthy hummus, or smear them with soft ricotta cheese.
Ingredients
3/4

cup

All purpose flour

1/2

cup

Wholewheat flour

3/4

tsp

salt

1

tsp

Paprika

3

tbsp

olive oil

1 1/4

cup

Sourdough starter discard
Topping
1-2

tbsp

olive oil

2

tbsp

Zataar

2

tbsp

Italian seasoning

Sea salt
Instructions
Combine both the flours, salt, paprika, olive oil, and sourdough starter discard in a large bowl.

Use a fork or your hands to bring all the ingredients together. Knead the dough for 2-3 minutes till you get a soft, pliable dough. The dough should not be sticky. If itis, add more flour. If it's too dry, add more discard or water.

Cover the dough with a damp kitchen towel and let it rest for 10-15 minutes.

Preheat your oven to 180C. Line a baking tray with silpat or parchment paper.

Divide the dough in half.

Using a rolling pin, roll out each dough into a large rectangle or circle. Don't worry if it's not perfectly shaped. Mine weren't !

Roll out dough as thinly and evenly as possible, about 1/16th of an inch.

Brush liberally with olive oil and sprinkle zataar on one rolled out sheet. And Italian seasoning on the other. You can use one or the other. Or whatever else you prefer to use. Sprinkle some sea salt.

Using a sharp knife, pizza cutter or a pastry cutter, cut into small squares. Or whatever shape you prefer.

Transfer the cut-out dough on to the prepared baking tray and bake for 20-25 minutes or until light golden brown. These will harden more as they cool.

Cool completely and serve with hummus or any dip of your choice. Enjoy!