You'll be breaking out a gallon of milk for these Christmas Wreath Cookies. The lemon-glazed sugar cookies are the easy, soft Christmas cookies you've been looking for. Lemony yum, nicely bright, and delightfully pretty, they are perfect for ringing in the holidays with joy and cheer!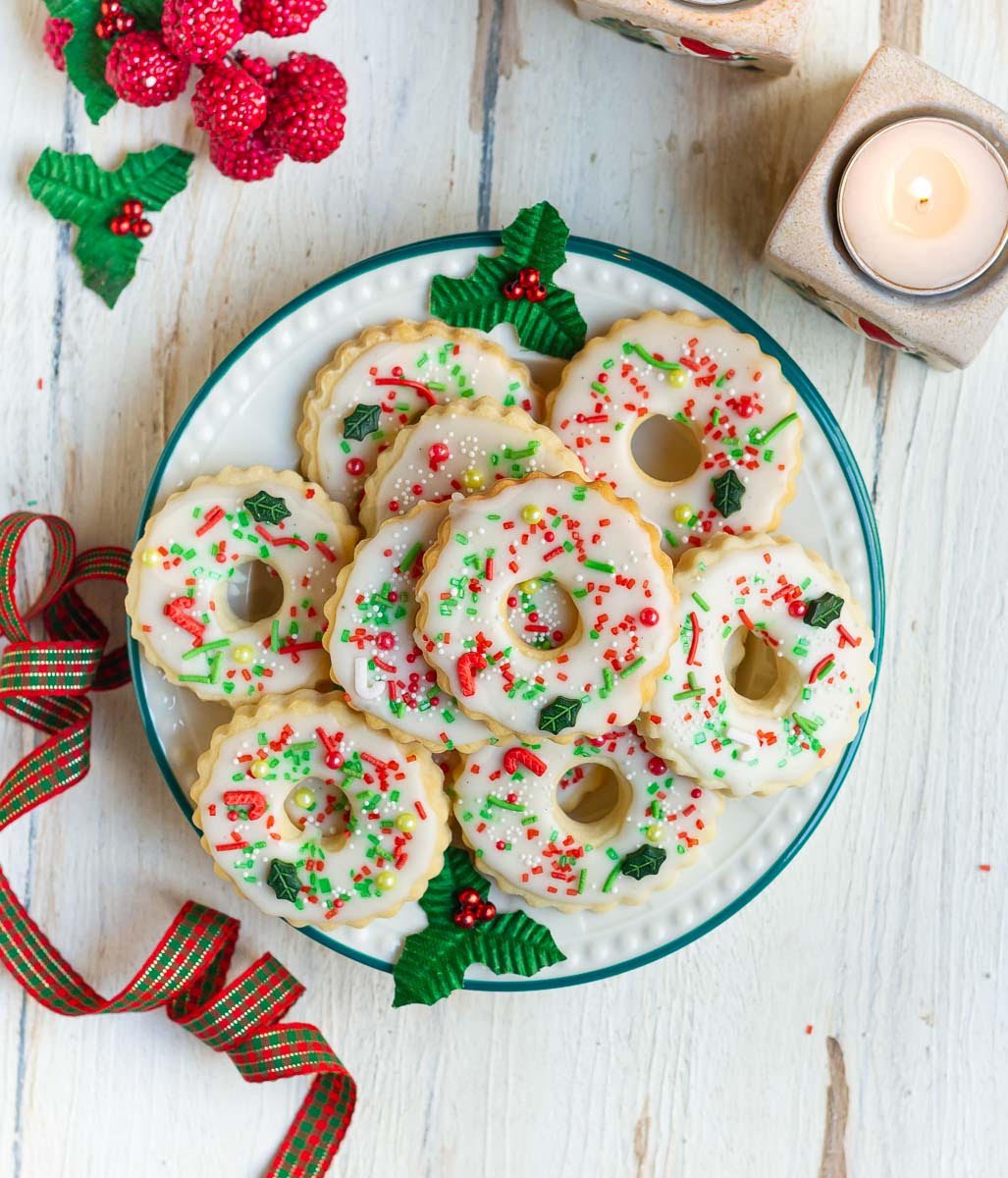 There is magic that can be found only at this time of the year. For my family, it's the tree. For me, it's homemade Christmas cookies. Every year, I bake cookie after cookie for Christmas because they bring back memories, and, honestly, it's become a tradition now.
I was hunting for quick Christmas treats with simple recipes this time, and these wreath Christmas cookies fit the bill (tree?)! Their characteristic lightness comes from a dollop of cream cheese, which brings not just a tangy flavor but also softness.
I know cream cheese is not your ordinary cookie ingredient, but believe me, it makes the soft Christmas sugar cookies fantastically smooth and creamy. The butter in the dough gives them a crisp texture, so you have it all!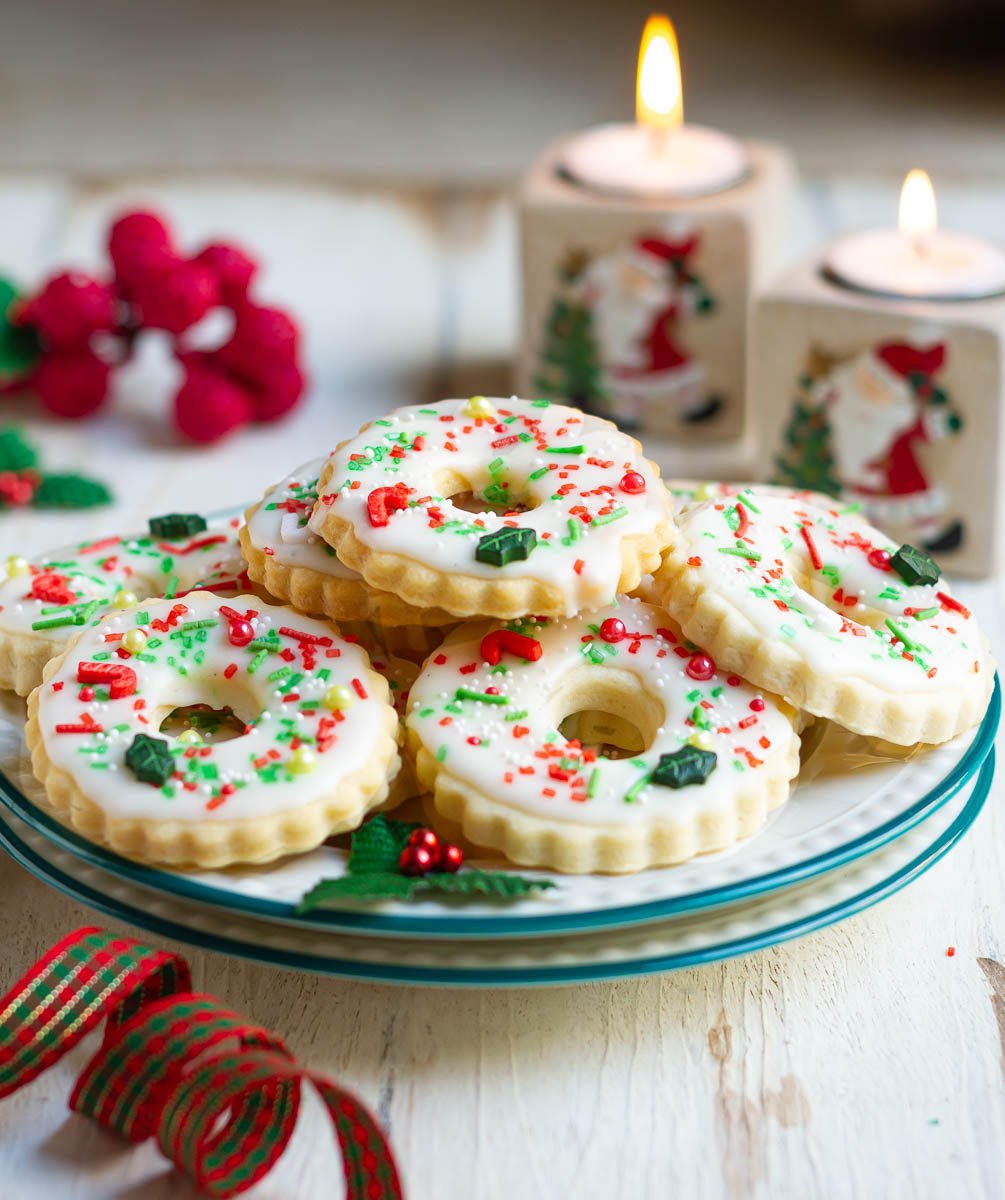 Jump to:
TRY THESE WREATH CHRISTMAS COOKIES
They are foolproof
They'll be a Christmastime dessert staple
They are fast, make-ahead, and refreshing cookies
They are the most stunning Christmas cookie with sprinkles
HOW TO MAKE CHRISTMAS WREATH COOKIES?
Step 1: Beat softened butter with caster sugar, cream cheese, egg, and vanilla. Use an electric beater.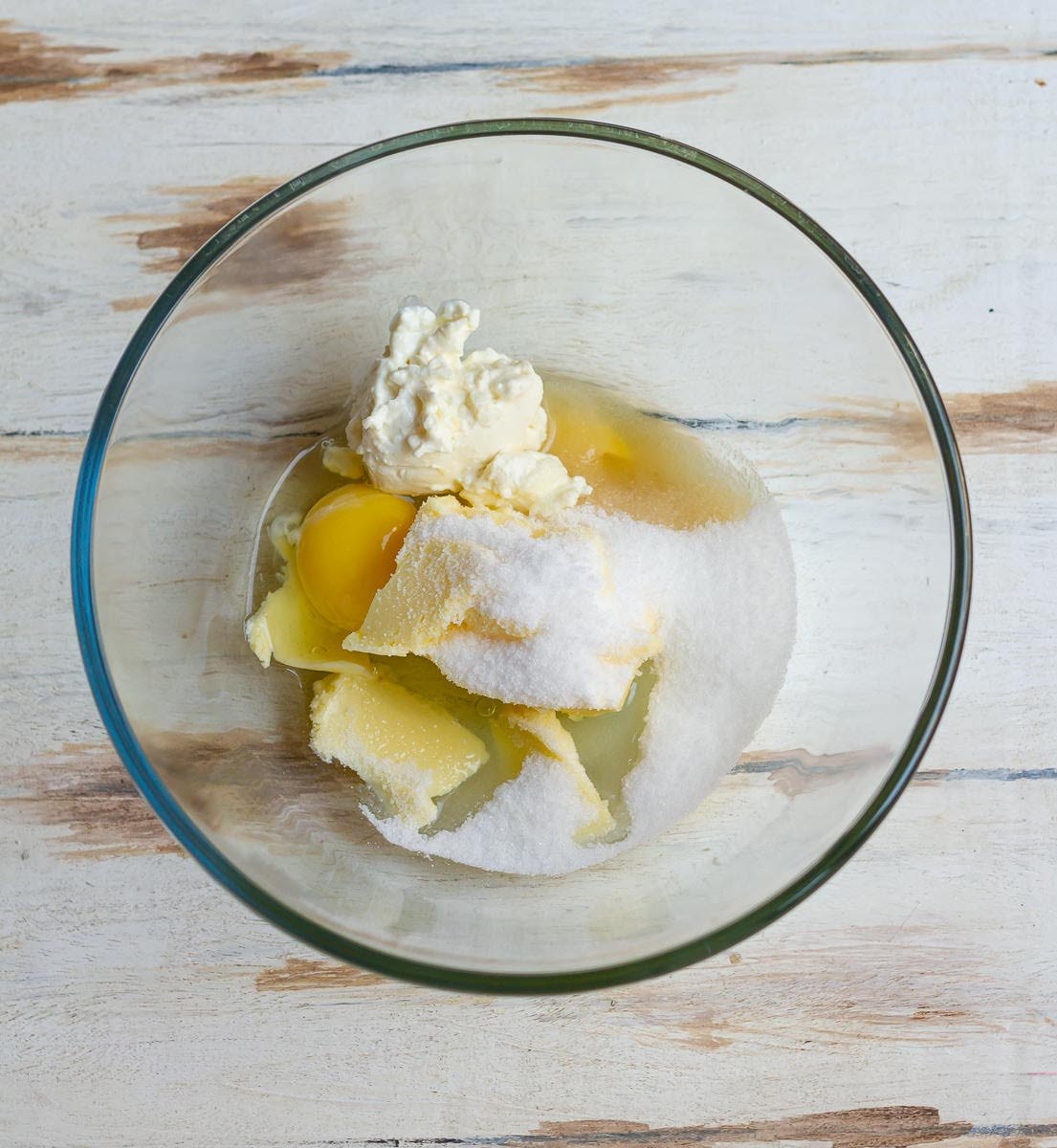 Step 2: Add all-purpose flour to the mixture to make a soft, pliable dough. Both hands and a stand mixer work, but I prefer to use a spatula first and then finish with my hands because there's no kneading involved. You just need to bring everything together in a ball.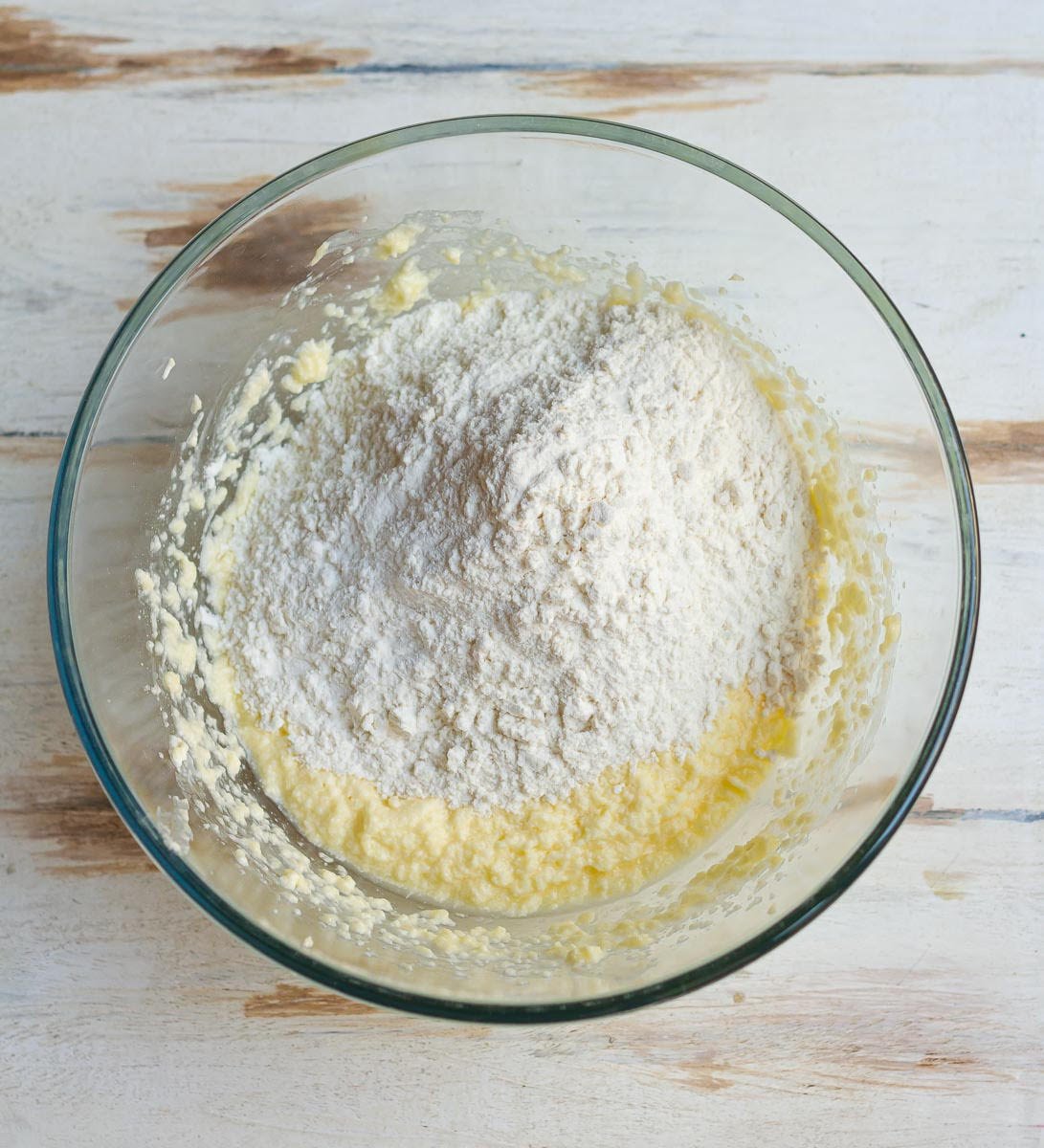 Step 3: Cling wrap the dough and refrigerate for at least an hour, or until the dough is firm enough to handle.
Step 4: Set your oven to preheat, and then on a lightly floured surface, roll out the dough to 1/8" thickness.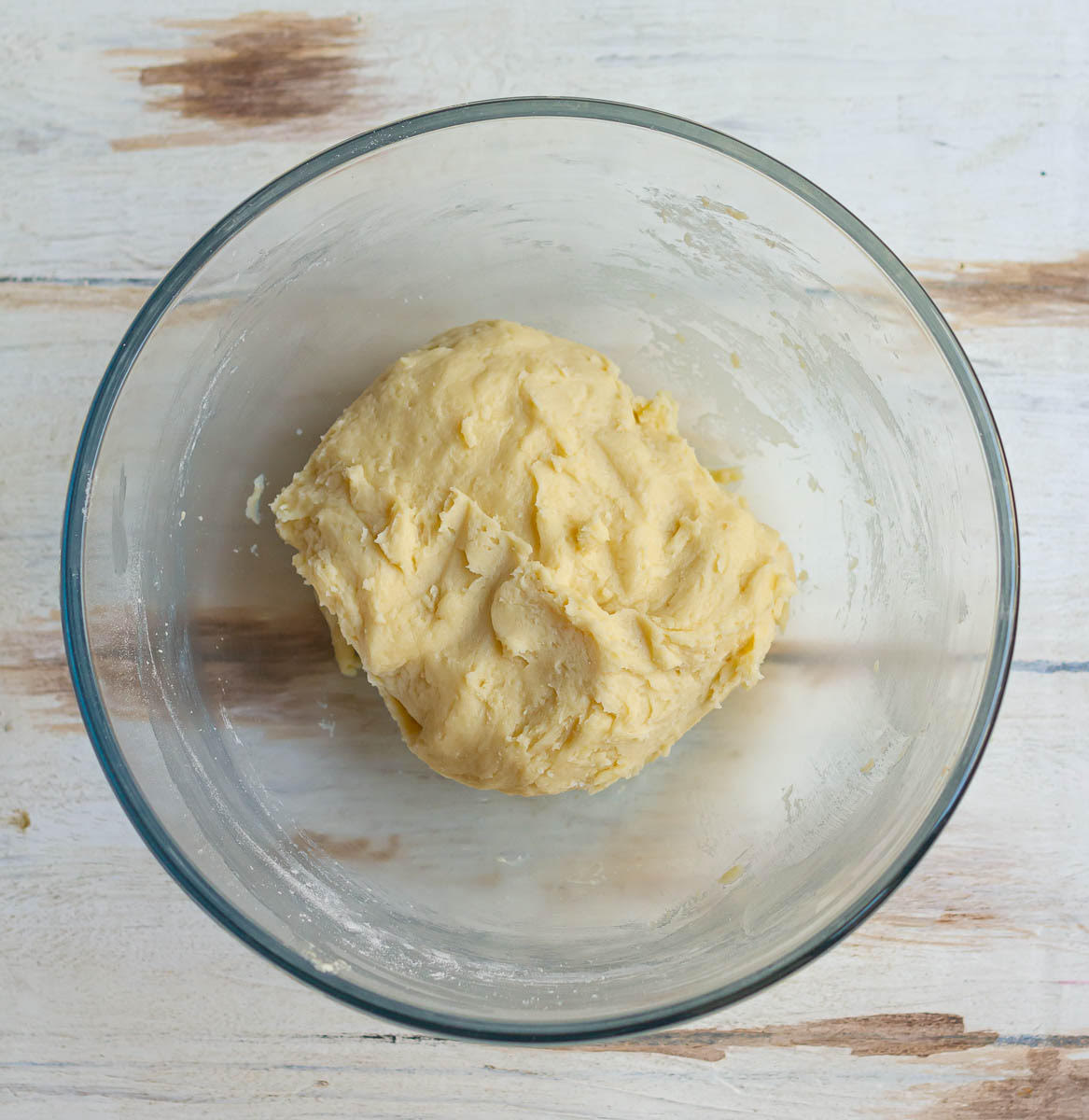 BAKE WREATH COOKIES
Step 5: Cut rounds with a fluted cookie cutter, and then using a smaller cookie cutter, remove the centers from each to complete the wreath shape.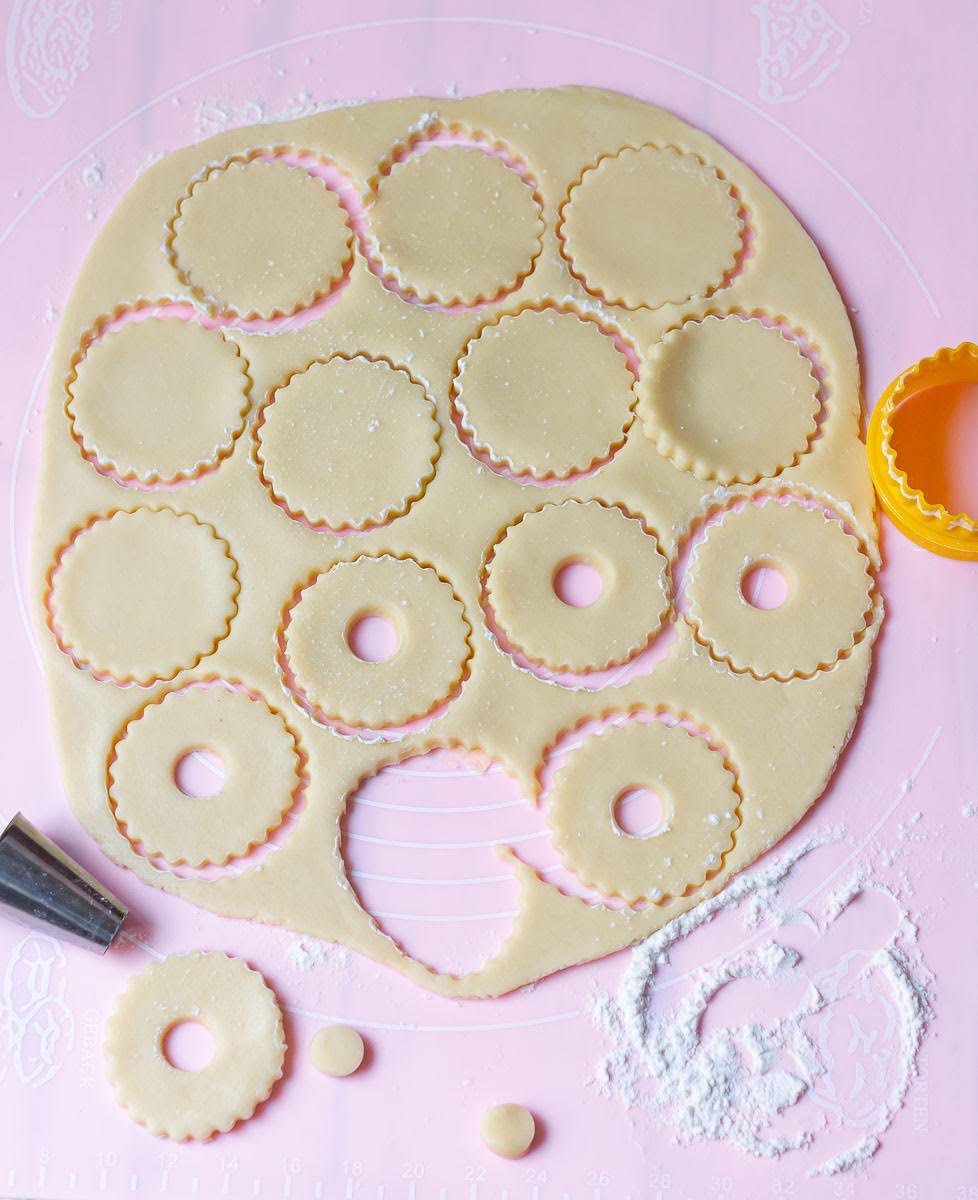 Step 6: Place the cookies on a lined tray and bake for 8 to 10 minutes, until pale gold.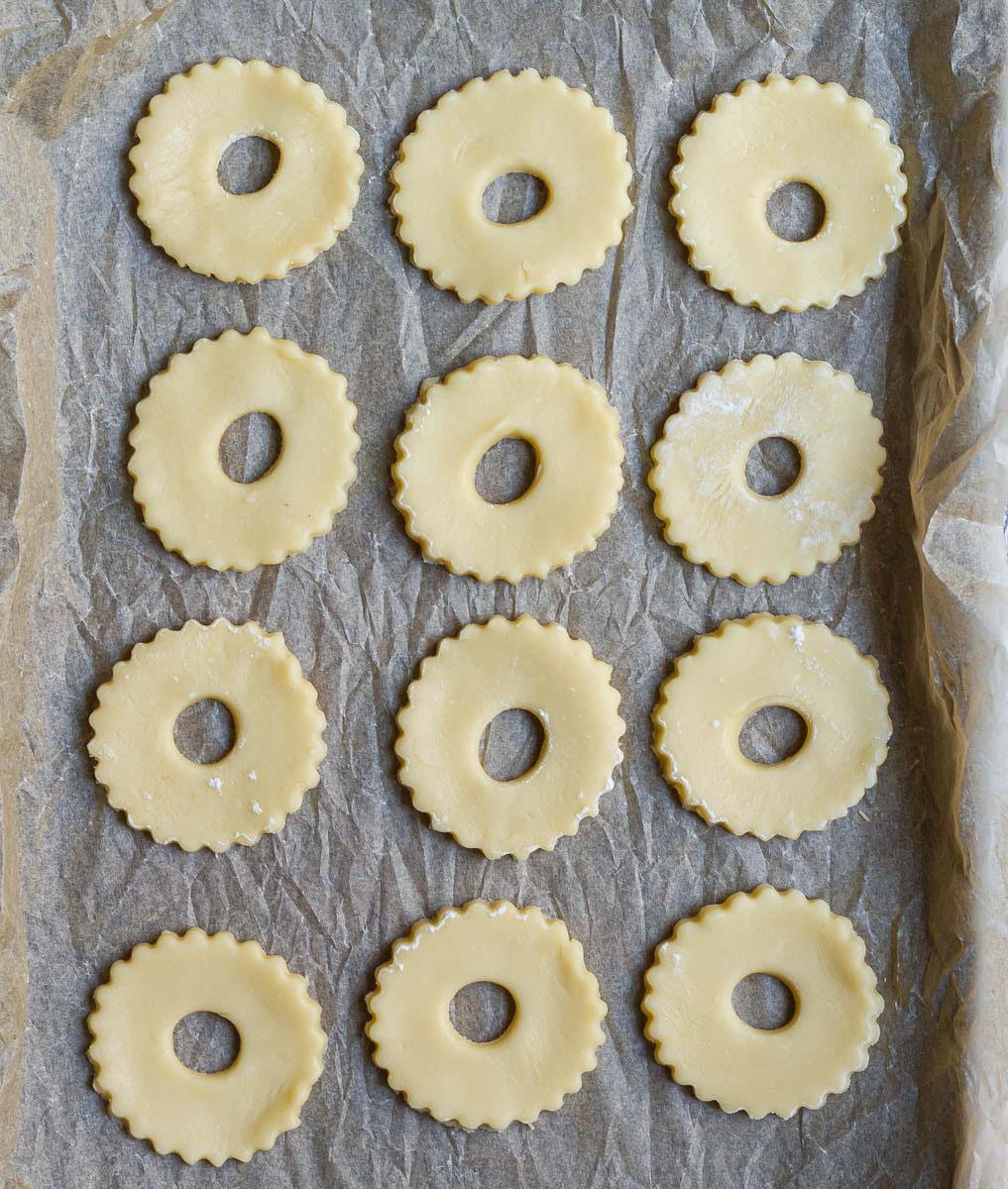 Step 7: While they cool, make the lemon glaze for the cookies by mixing lemon juice and icing sugar till it is smooth and thick but still has a pourable consistency.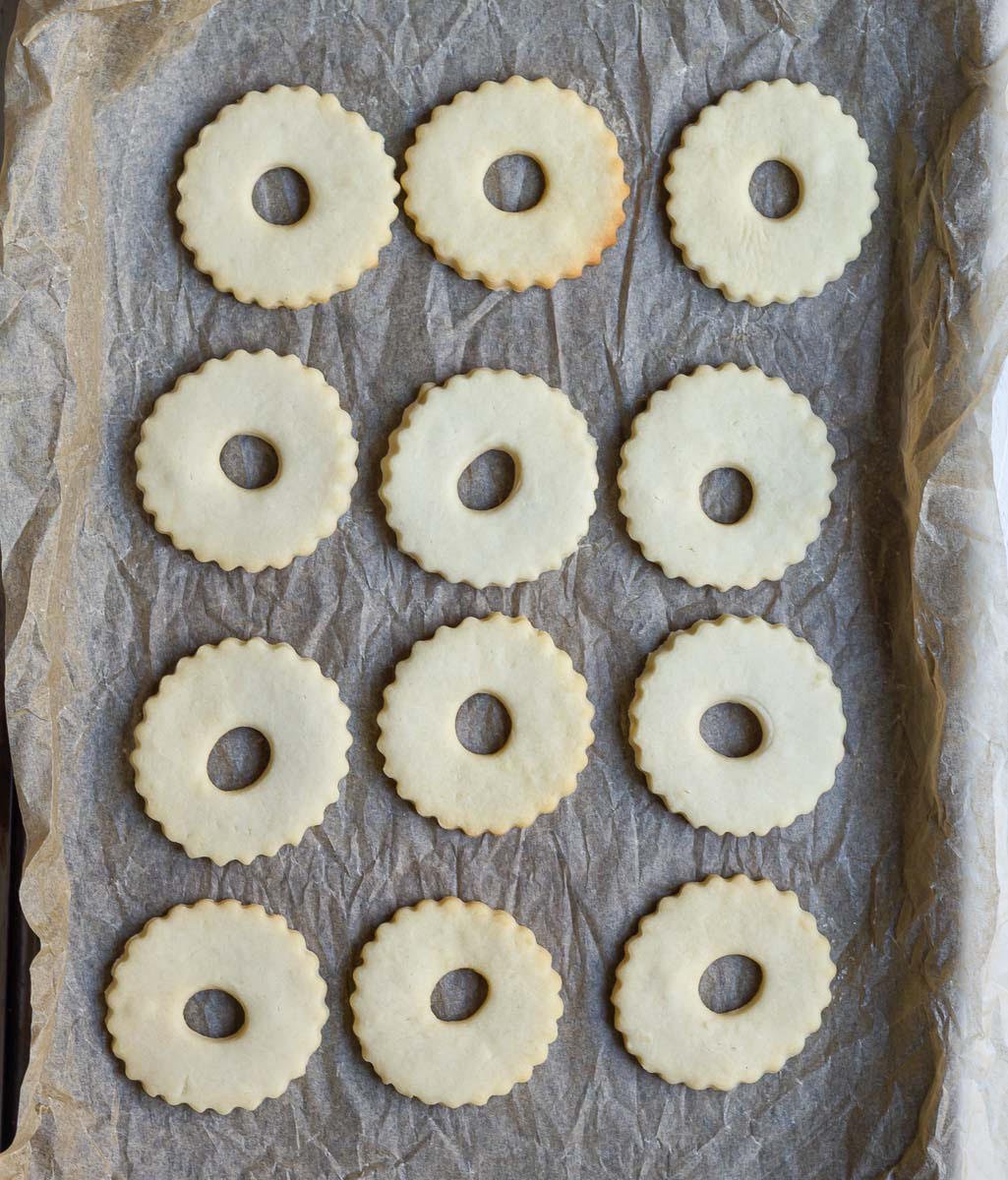 Step 8: Working with one cookie at a time, drizzle the glaze on top and immediately decorate each Christmas cookie with sprinkles. Green, red, silver, or any other sprinkles that feel "Christmassy" to you.
Final step: Let the cookies sit for 10 to 15 minutes till the glaze sets, and then serve.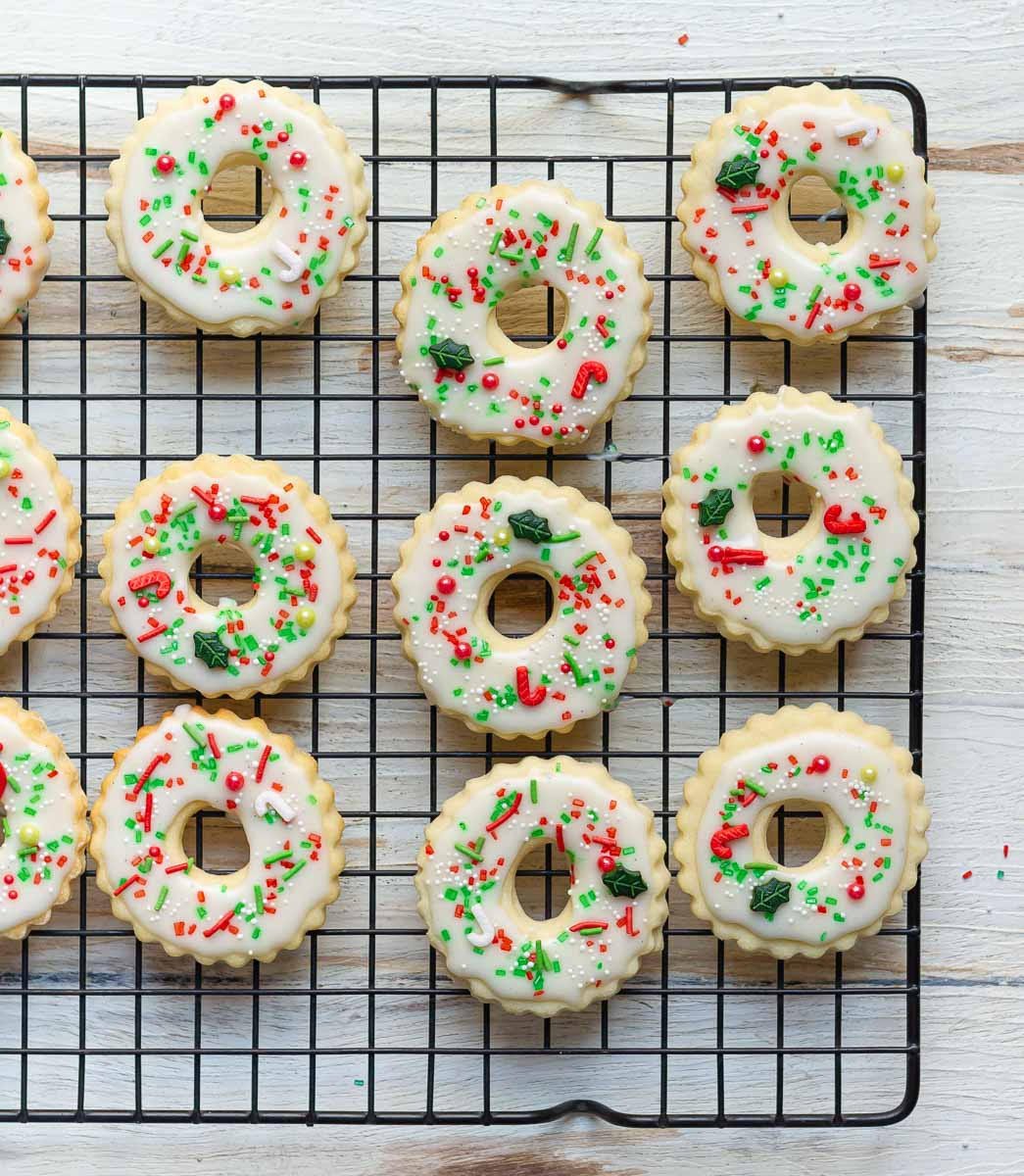 NOTES ON THESE QUICK CHRISTMAS TREATS
Christmas wreath cookies are soft and delicious enough to be a holiday staple. They're also sturdy enough to keep their shape when you cut and decorate them. But there is a trick to it.
If you roll the dough too thin, you'll end up with crumbling cookies in your hands. But also, don't roll it too thick, or else you'll end up with dense and dry cookies. About 1/8th -1/4th of an inch is just perfect.
Refrigerating the dough is important because it stops the cookies from spreading during baking. It also makes your life so much easier because you can make the dough a whole day ahead. If you do so, leave the dough on the countertop till it softens and is easy to roll and cut with cookie cutters.
Soft Christmas sugar cookies are not baked until they are golden brown. You want them pale gold, almost sandy blonde.
These wreath cookies store well. Even after 7 to 10 days, they don't dry out. You can keep glazed cookies in an airtight container; separate the layers using wax paper. I do prefer to store them unglazed, icing them before serving.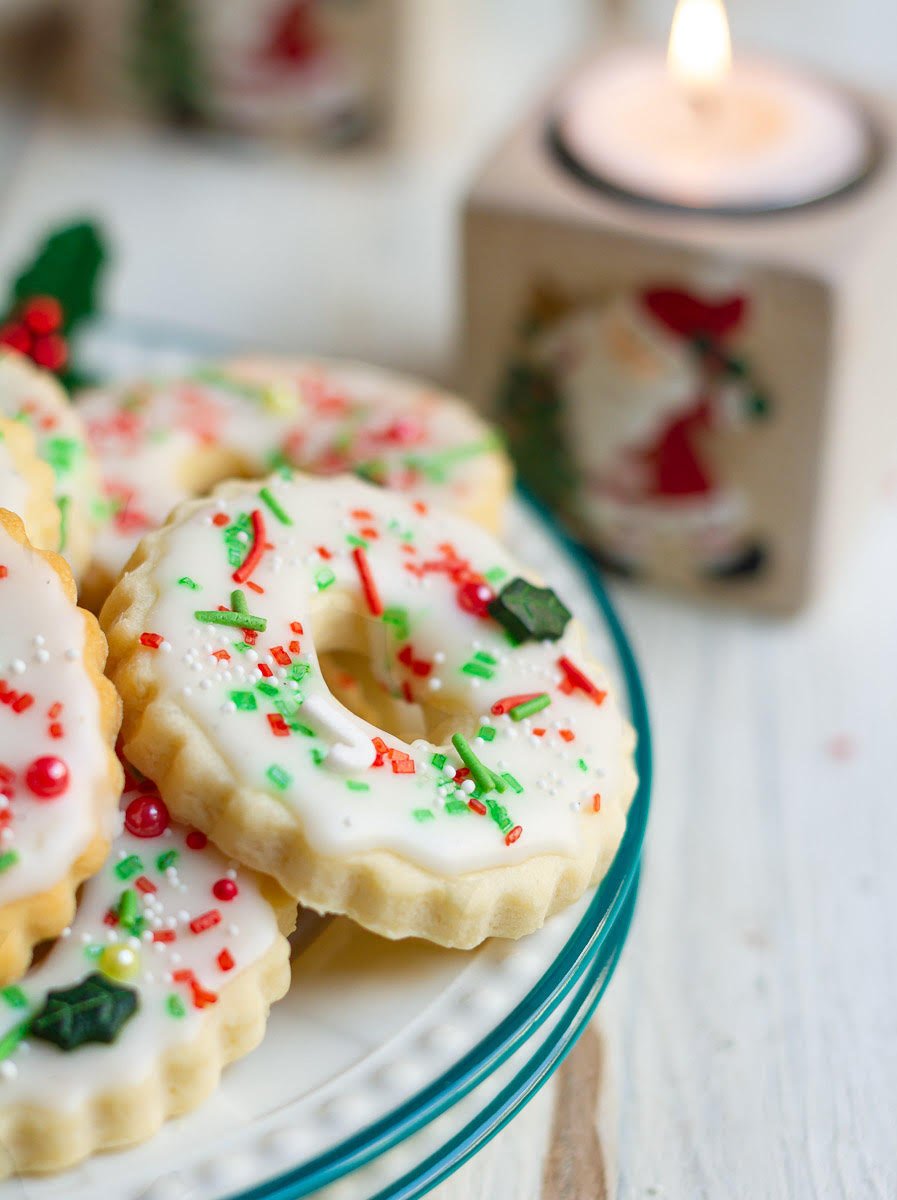 VARIATIONS
Sprinkles: I wouldn't dream of baking holiday cookies without some dazzling sprinkles, but I leave the choice to you. Any you pick will give them a hint of crunch and tons of flair.
Eggless: You have two options with eggless wreath cookies. Either add another one-fourth cup of cream cheese, or sub the egg for a flax egg by mixing 1 tablespoon of flax seeds with 3 tablespoons of water.
Vegan: Use plant-based butter and cream cheese to make vegan Christmas wreath cookies. Also, replace the egg with a flax egg.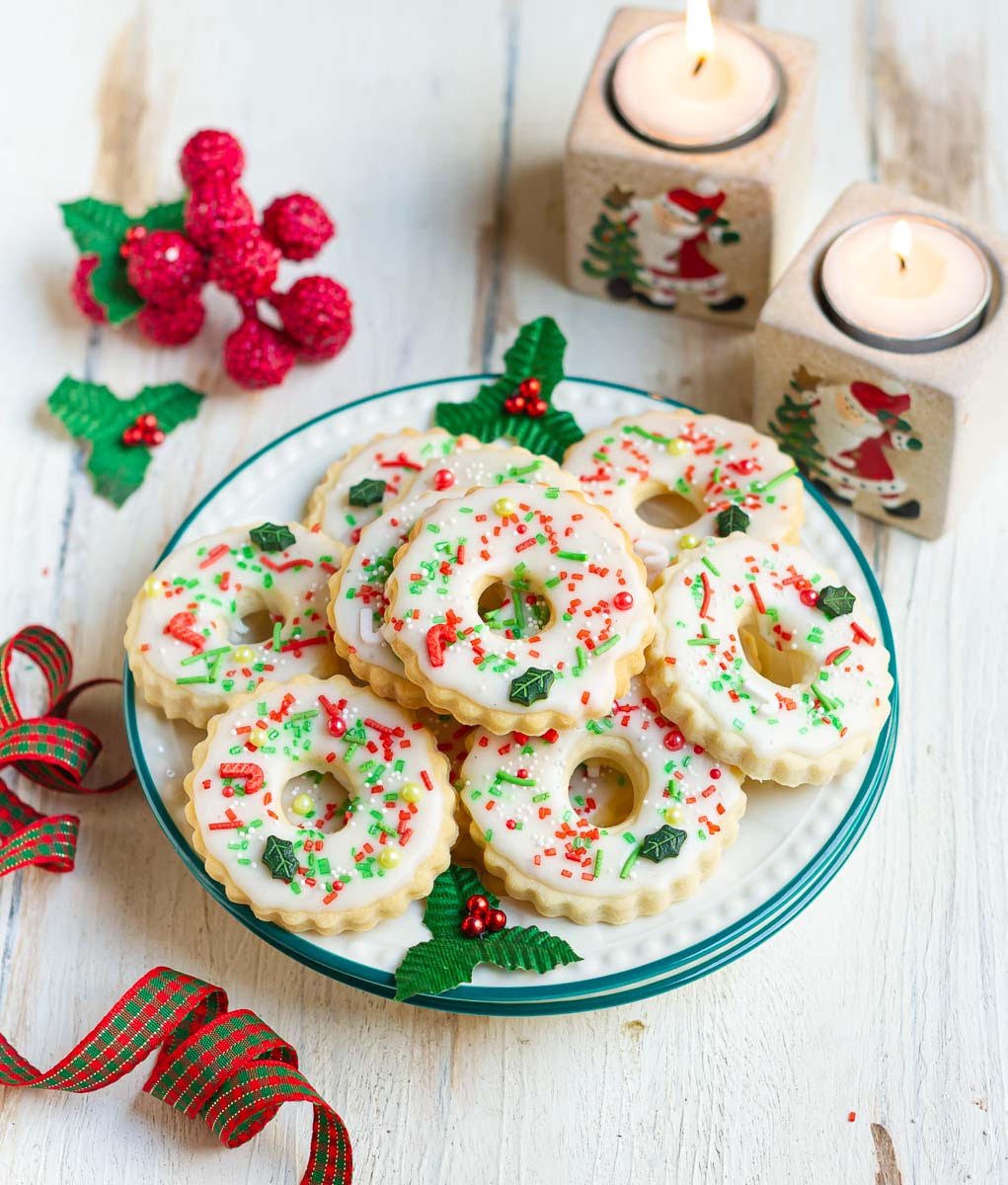 OTHER CHRISTMAS COOKIES RECIPE
Lemon Buckwheat Linzer Cookies
Half the joy of cooking is sharing it with others, which is why I'm always eager to hear from you. So go right ahead and drop a comment or reach out on Instagram, Pinterest, YouTube, or Facebook.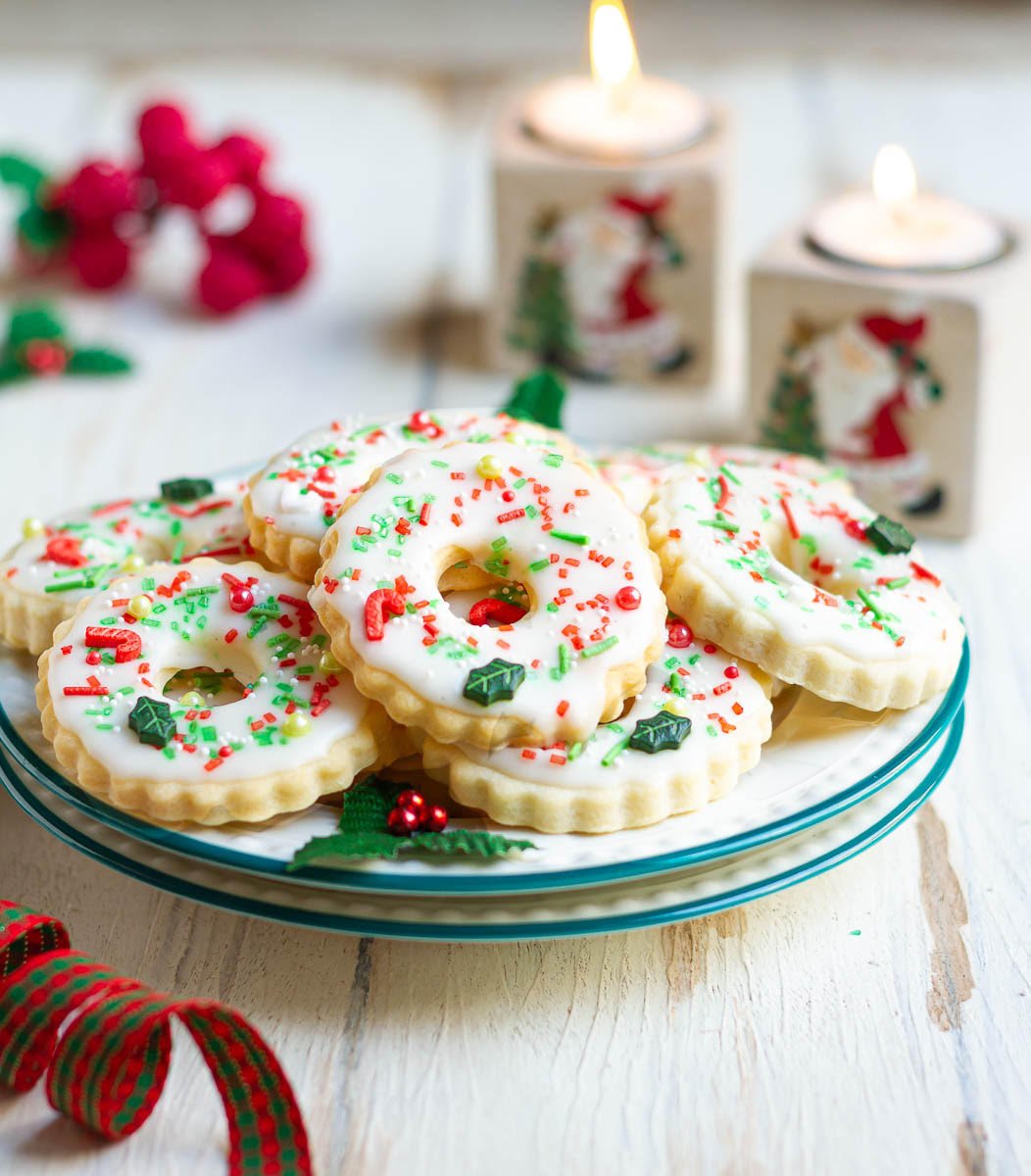 📖 Recipe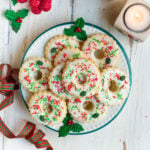 Print Recipe
Easy Christmas Wreath Sugar Cookies
The lemon-glazed sugar cookies are the easy, soft Christmas cookies you've been looking for. Lemony yum, nicely bright, and delightfully pretty, they are perfect for ringing in the holidays with joy and cheer!
Ingredients
1/2

cup / 115 gms

Butter, softened

1/3

cup/ 70 gms

Caster sugar

1.5

ounces / 45 gms

Cream cheese, at room temperature

1

Egg

1

tsp

Vanilla extract

1.5

cups / 200 gms

All-purpose flour
Lemon glaze
1/3

cup / 35 gms

Icing sugar

2

tbsp

Lemon juice

Red & green sugar sprinkles
Instructions
Add the softened butter, cream cheese, caster sugar, egg, and vanilla extract to a large bowl and beat well, using an electric beater, until light and fluffy.

Add all-purpose flour to this mixture and mix, until all flour is well incorporated.

Flatten the dough into a disc and wrap it in cling film. Refrigerate for 20-30 minutes.

Preheat your oven to 180 C. Line a baking tray with parchment paper or Silpat.

On a lightly floured surface, roll the dough out to about 1/8" thickness. Cut with a 2.5" fluted round cookie cutter. Use a small 1/2" cutter to cut out the center of each cookie.

Carefully place on the prepared baking tray and bake for 10-12 minutes until pale golden in color.

Let the cookies cool completely, then spoon the glaze over the cookies and decorate with the sprinkles.

Let the cookies set for 10 minutes before serving. Enjoy!
Lemon Glaze
Combine the icing sugar and lemon juice in a small bowl until a thick, smooth glaze is formed.