'Tis the season to bake! And my favorite Christmas cookies make their annual appearance again, this time in a new avatar. Presenting my Lemon Buckwheat Linzer Cookies!
These cookies are a riff off my Almond Buckwheat Linzer Cookies, but just as deliciously buttery, with the added zing of lemon and sweet-tart flavour of raspberry jam.
The coconut oil here works very well instead of butter, so long as it's chilled. The cookies do need a bit of delicate handling but don't worry, they won't crumble on you the minute you touch them!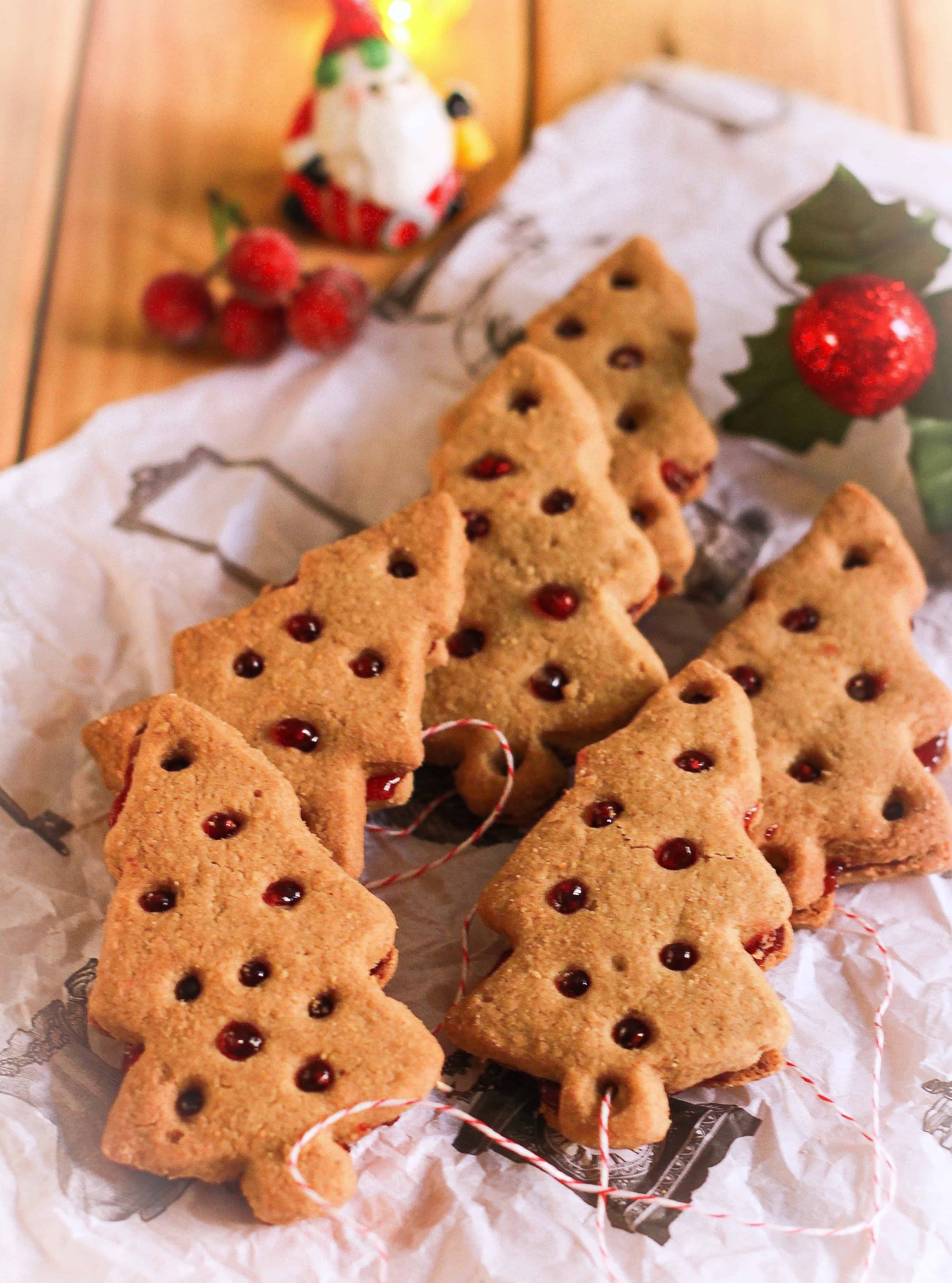 I'm the biggest fan of buckwheat flour in baking. But in case you aren't, please use any flour of your choice. If you'd like to keep the recipe gluten-free, there are many alternatives available in the market now. You could even do a mix of all-purpose flour with any other one you prefer.
I spotted the Christmas Tree Linzer Cookies on my PINTEREST feed and I just had to copy that cute design! Bright red jewel hues of raspberry jam peeping through the little holes looked so adorable. I'm not sure my design is as neat as what I saw, but it'll do for now! Wish I had pinned that post...
I hope you get to baking soon with these Lemon Buckwheat Linzer Cookies. These will surely brighten up your table this Christmas! I'd love to hear from you! Please tag me on Instagram @tashasartisanfoods, using the hashtag #tashasartisanfoods. You can also FOLLOW ME on INSTAGRAM, PINTEREST for more fabulous recipes!
Lemon Buckwheat Linzer Cookies
Servings:
10
Sandwich Cookies
Ingredients
1.5

cups

Buckwheat Flour

1/4

tsp

Salt

2

tsp

Lemon Zest

150

gms

Coconut oil, chilled

50

gms

Icing sugar

Plus extra for dusting on top of the cookies

2

tsp

Fresh Lemon Juice

1

tsp

vanilla extract

1/4

cup

Raspberry jam
Instructions
Preheat the oven to 180C and a line a baking sheet with parchment paper or silpat. Keep a 2.5" Christmas Tree cookie cutter handy.

Beat the chilled coconut oil and icing sugar until slightly fluffy.

Mix in the vanilla extract,lemon zest,lemon juice,salt and buckwheat flour. Use your hands to bring together the dough gently.

Divide the dough into half. Roll each half into a flattish ball. Cover with foil and place in the refrigerator for 15-20 minutes or so.

Flour your work surface well, working with one dough ball at a time, roll out into a rough circle, about 1/8" thick.

Use the Christmas Tree shaped cookie cutter, cut out the cookies. Use a straw to make holes in half of the cookies. As you will be sandwiching the cookies, make sure there are equal number of whole cookies and cookies with cutouts.

Place them on the baking sheet and bake for about 10-12 minutes, until golden.

Once the cookies are cooled, place one whole cookie, right side down, put a small teaspoon of jam in the center and spread it gently. Place the cutout cookie on top. Press it slightly, till the jam oozes out a bit from the cutouts. Continue with the rest of the cookies.

Once the cookies are sandwiched, dredge the cutout cookies with icing sugar.

Store in an airtight jar for 3-4 days. Enjoy!