Silky smooth, lemon panna cotta is a thing of beauty that you really don't want to mar with your spoon. But after that first bite of cold and creamy, wobbly, and soft panna cotta, you don't give a fig.
The dessert, which literally means cooked cream (though my recipe calls for milk), is as good as a dessert with fresh flavors can get. If you're not a fan of overly sweet or chocolate desserts, this will utterly satisfy your sweet tooth.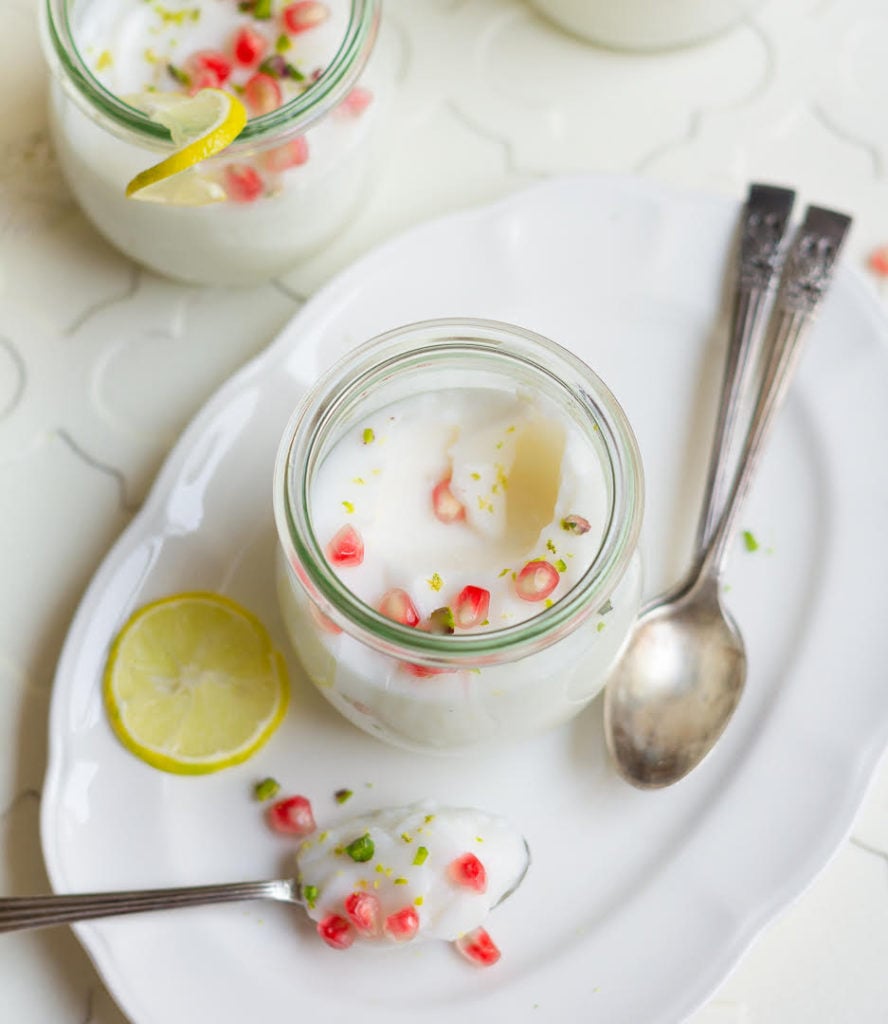 Jump to: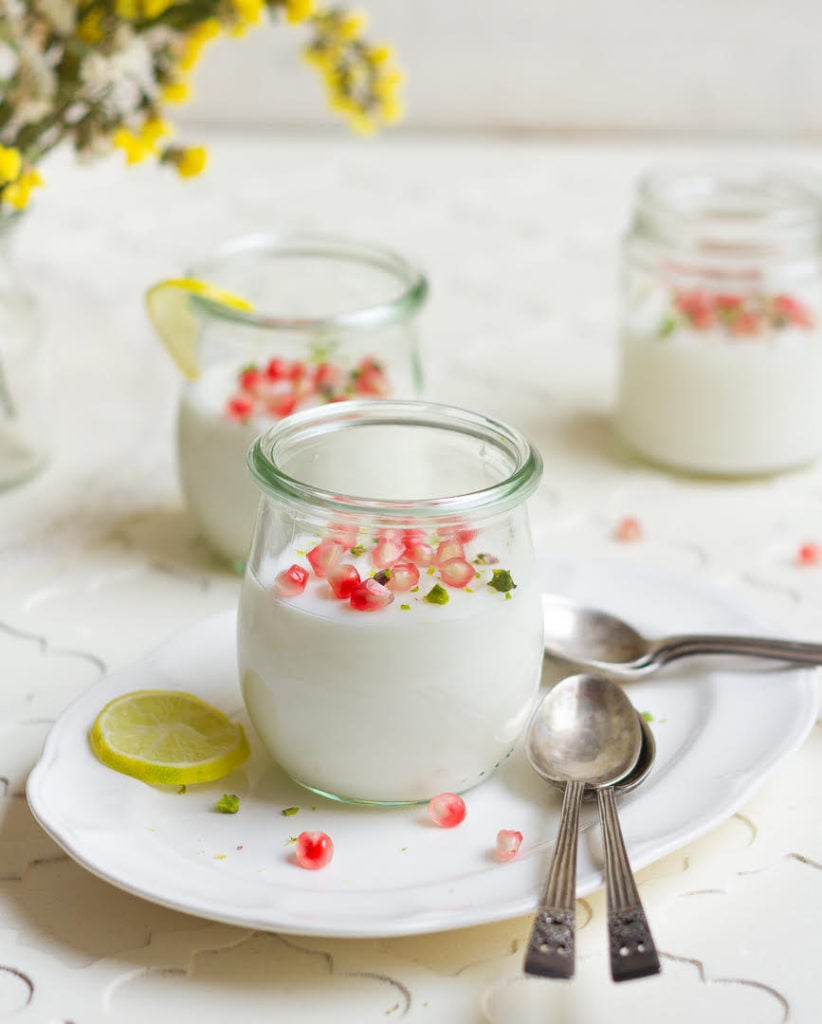 How to make lemon panna cotta?
Panna cotta is delicious in all its forms, delicately flavored with vanilla o acting as a creamy canvas for lemon. Which is why I recommend everyone to have a basic recipe for it and keep adapting it to your personal taste again and again.
Step 1: Every panna cotta recipe starts by steeping milk with a flavor of your choice. Gently heat coconut milk with sugar and lemon zest till the sugar dissolves.
Step 2: Remove from the heat and stir in the agar-agar.
Step 3: Continue whisking. Put the pan back on low heat and bring it to a simmer.
Step 4: Strain the mixture at this point to remove any fragments of lemon zest and lumps.
Step 5: Allow the panna cotta to cool slightly, about 10 minutes. When it's lukewarm, add lemon juice, lemon zest, and some Greek yogurt for tangy creaminess.
Step 6: Divide into serving cups, bowls, or glasses and let the fridge do its job.
Step 7: Serve.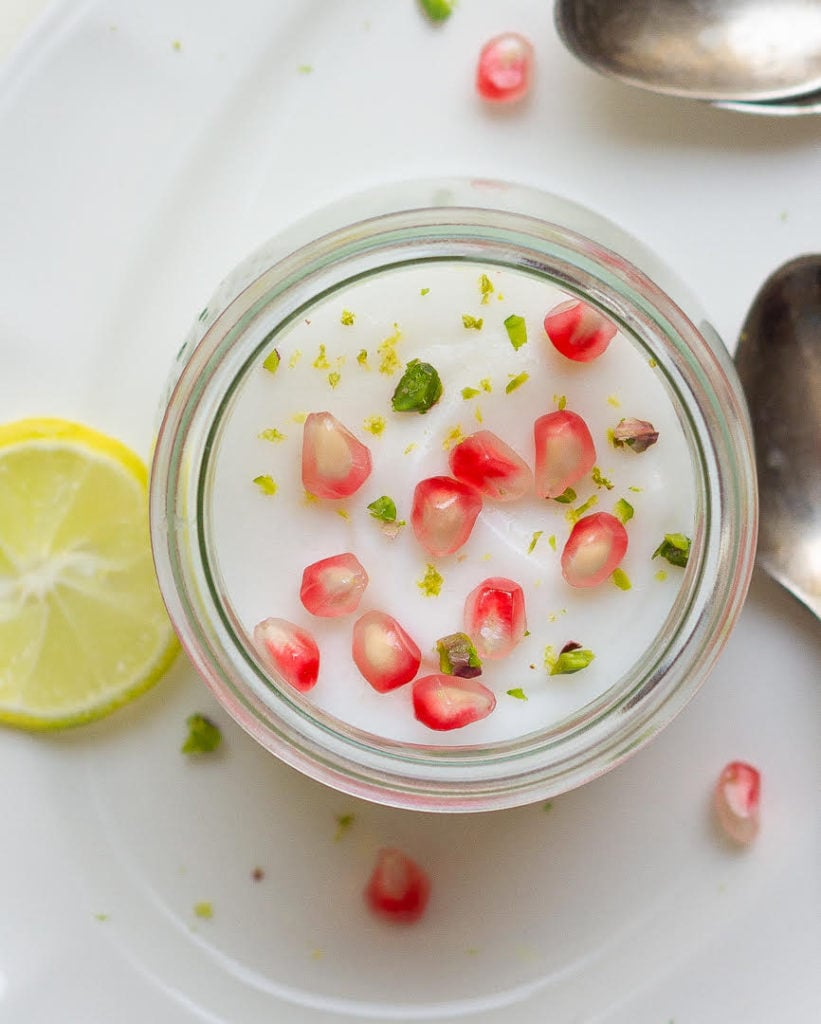 Tips for success when making panna cotta with agar-agar
Keep the heat low. Overheating damages the gelling power of panna cotta. So don't ever bring it to a boil. When you see tiny bubbles around the edges of the pan, take it off the stove.
Full-fat milk is the savior of panna cotta. Choose whichever milk you love, but make it full-fat, not skinny. You don't want it to curdle the minute you stir in lemon juice. I was whisking away like a kid hopped up on sugar, fearing spoiling the milk, but it thickened gorgeously.
After you add the lemon juice, do a taste test, keeping your palate as a guide. If it's too tangy for you, quickly put the pan back on the heat and dissolve more sugar, gently. If it's too cloying, splash some more lemon juice on it.
I prefer my Panna Cottas to refrigerate for 5-6 hours, so they're properly chilled. But somehow, the magic of coconut, lemon, and agar-agar really worked, and this lemon panna cotta was set in 2 hours to a lovely jiggly texture.
Always garnish panna cotta right before you are ready to serve it.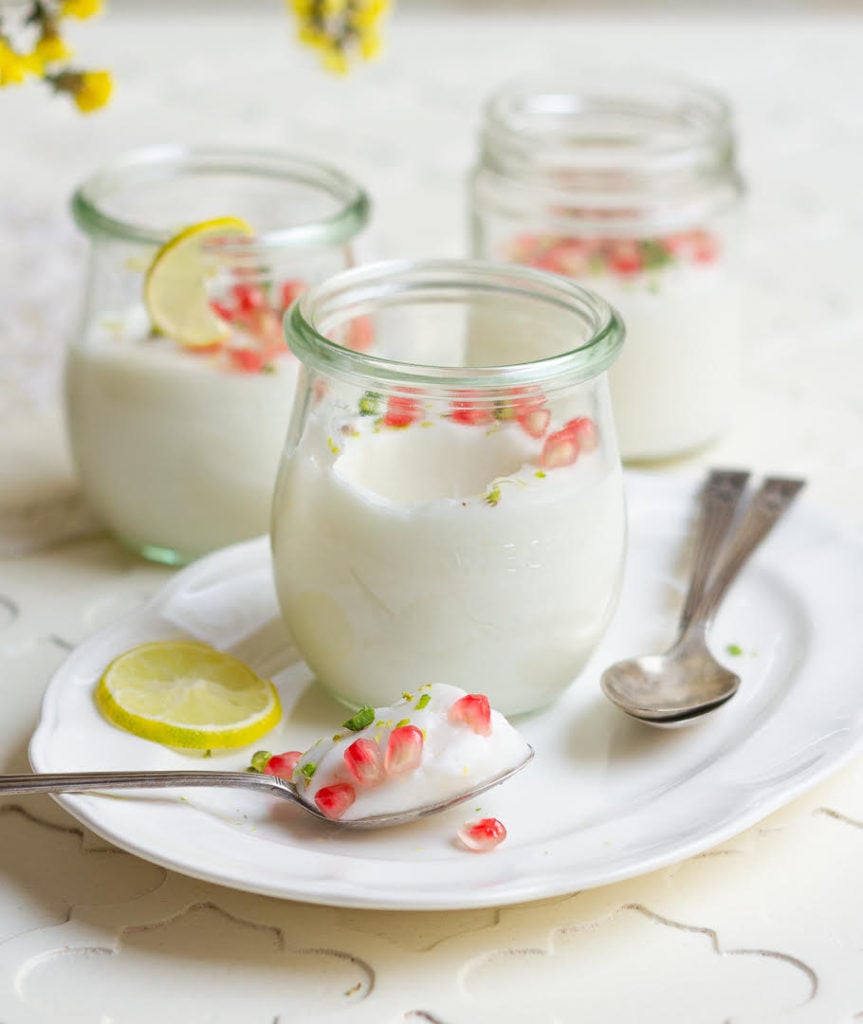 How to serve panna cotta?
Lemon panna cotta is a great make-ahead recipe. But for me, it's always going to be the dessert I make for an impromptu family treat or a last-minute indulgence. The stovetop work is barely 10 minutes; the rest is all cooling and chilling.
Make it in the morning, and it's ready for lunch. Or make it in the evening and serve it for dinner. When it comes to the actual serving, there are endless possibilities with panna cotta, from sparkling glasses to plated desserts.
I grated some zest and paired it with pomegranate arils and finely chopped pistachios for this recipe.
You can offset it with a spoonful of fruit compote. Gooseberry or mango bot will pair deliciously. For a quick recipe on how to make compote out of your favorite fruit, swing by here.
If your heart is set on plating panna cotta, then my advice is to arrange whatever fruits grace your bowl around it or drizzle it with strawberry sauce.
Possibilities for customization in ingredients
Agar-agar: Instead of agar-agar (also known as China Grass), you can use gelatin, as long as you're not making a vegan recipe.
Milk: Don't have full-fat milk? Try cream or half milk/half cream.
Sugar: I stuck to my go-to option of raw sugar, but regular white or cane sugar both work fine here.
How to make a vegan lemon panna cotta?
The only switch you have to make for vegan panna cotta is coconut yogurt instead of regular.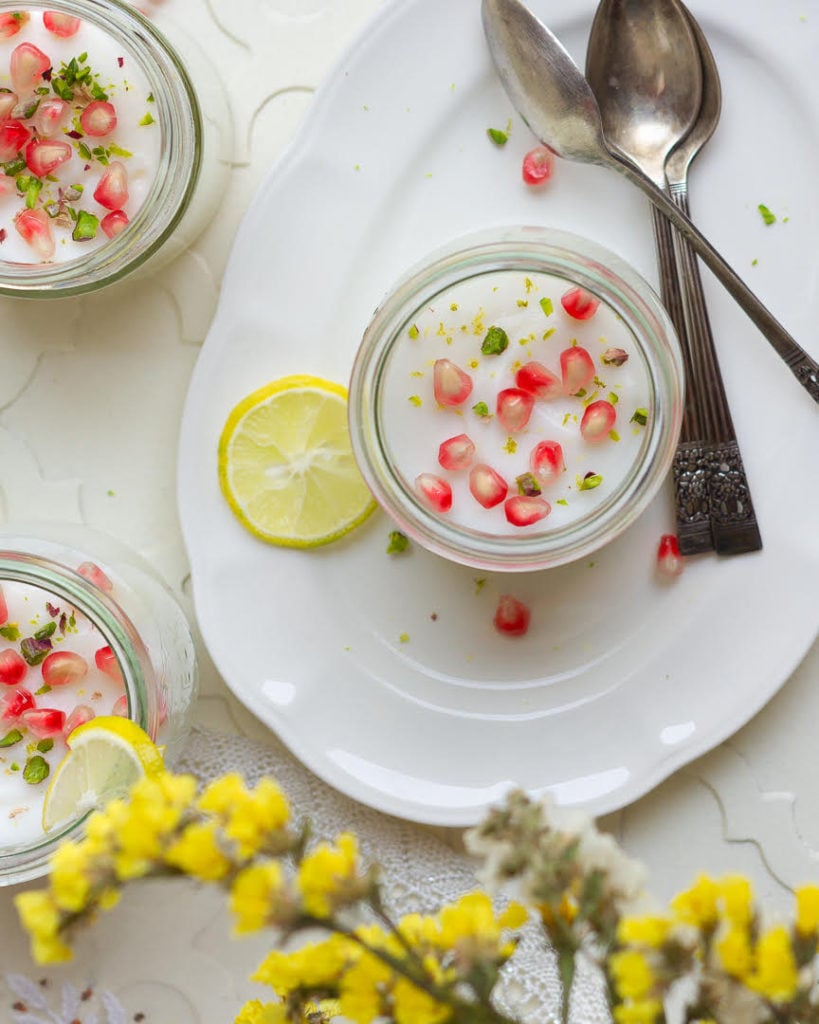 Reasons why I'll make lemon panna cotta again
Requires minimal effort
Comes together quickly and easily
Elegant, delicate dessert perfect for summer
I love rich, dark chocolate, but nothing beats the fresh, clean, and bright flavors of lemon panna cotta
More panna cotta recipes
More lemon recipes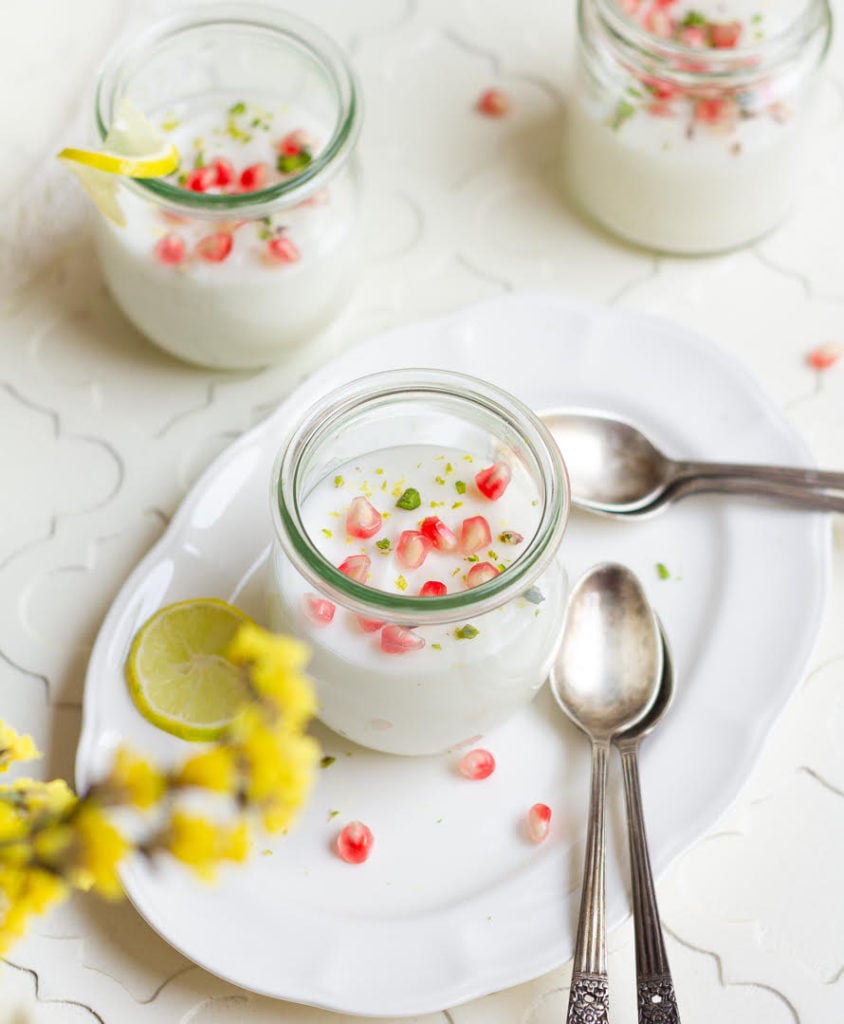 📖 Recipe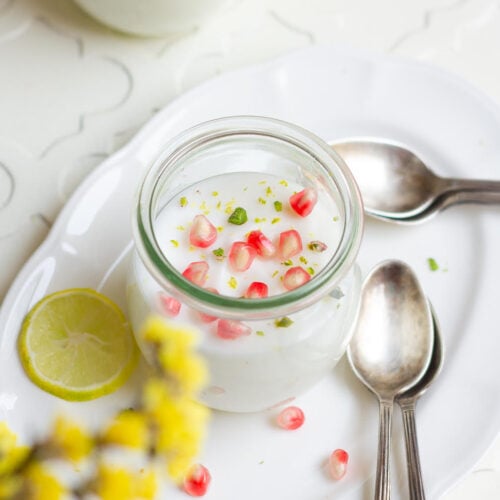 Print Recipe
Lemon Panna Cotta
Lemon Panna Cotta - silky smooth, this creamy panna cotta is a summer delight! So light and fresh, it's amazingly simple to make!
Ingredients
400

ml ( 13.5 oz)

Coconut milk, full fat

65

gms ( 1/3 cup)

Sugar

2.5

tsp

Agar-agar

Zest of 1 lemon

90

gms ( 1/4 cup)

Greek yogurt, plain

2

tsp

Lemon juice

1/2 -1

tsp

Lemon zest
Instructions
In a medium-sized saucepan, bring the coconut milk, sugar, and lemon zest just to a gentle boil until sugar dissolves.

Take off the heat. Whisk in the agar-agar.

Bring back to a gentle simmer. Don't let the mixture boil. Pour the mixture through a sieve to ensure there are no lumps.

Cool the mixture for 10 minutes, until lukewarm.

Stir in the yogurt, lemon juice, and the 1/2 - 1 tsp lemon zest. Mix well.

Pour into your serving bowls and refrigerate to set completely for 2-3 hours. You can even let it set overnight.

Just before serving, top with pomegranate arils, pistachio, and some more lemon zest. Enjoy!