Snickers overnight oats are delicious, filling, and nutritious. If you're looking for a quick, easy, and speedy breakfast, look no further than this overnight oats recipe.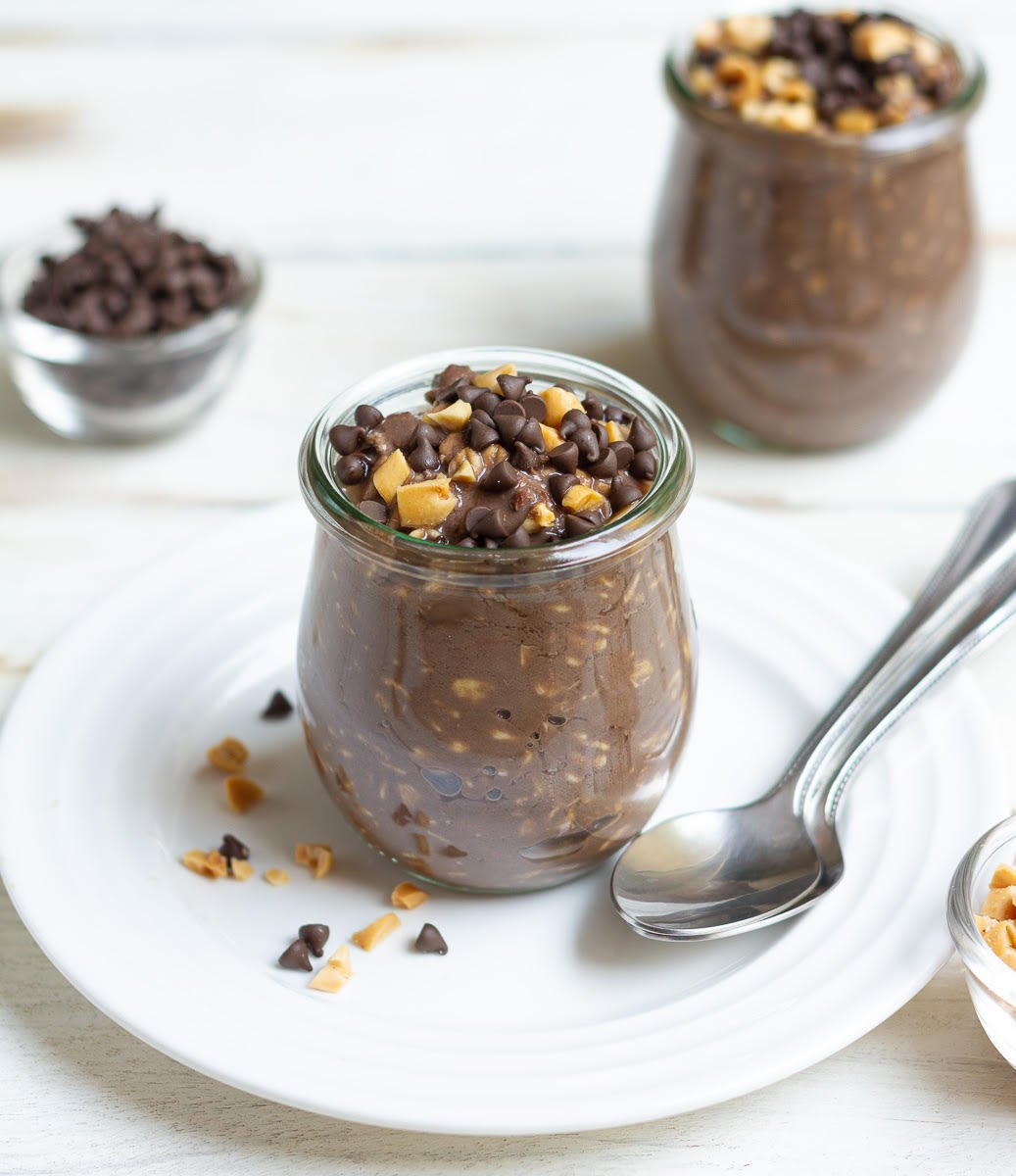 Don't you just love recipes that you can throw together the night before and come AM it's just ready for some spoon-to-mouth action? That pretty much sums up these yummy and satisfying Snickers overnight oats.
Jump to:
Snickers overnight oats recipe
Why you'll love these Snickers overnight oats?
A crowd pleaser and travels well
Super simple, 1-step recipe
Takes all of 5 minutes of prep work
Convenient, on-the-go breakfast or snack
Nutritionally dense (as long as you don't go overboard with the chocolate!)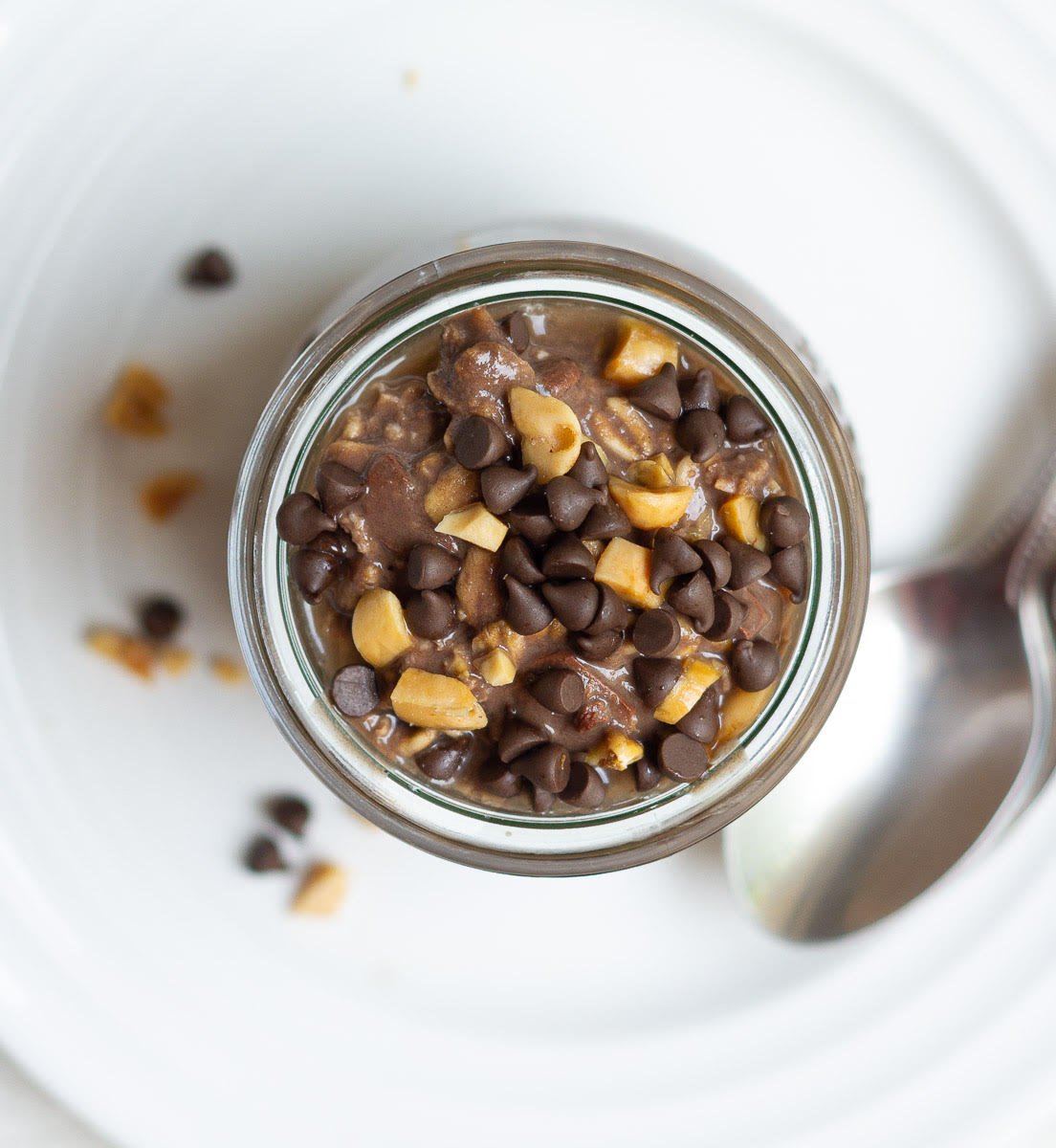 What are overnight oats?
Overnight oats are the miracle that makes sure you have one less thing to worry about on busy weekday mornings. Generally, if you want to have oatmeal, you need to cook raw oats, but with this recipe, you don't have to.
You simply let the oats soak in milk (and sometimes yogurt) optimally for one whole night, so it gets absorbed, making them soft, chewy, and full of delightful flavors. Although, if you're looking for an easy post-workout snack or after-school lunch idea, a couple of hours will do too.
Make a jar or two one night before, and in the morning, you have a ready-to-eat meal. Pick it up on your way to the office and dig in while you travel.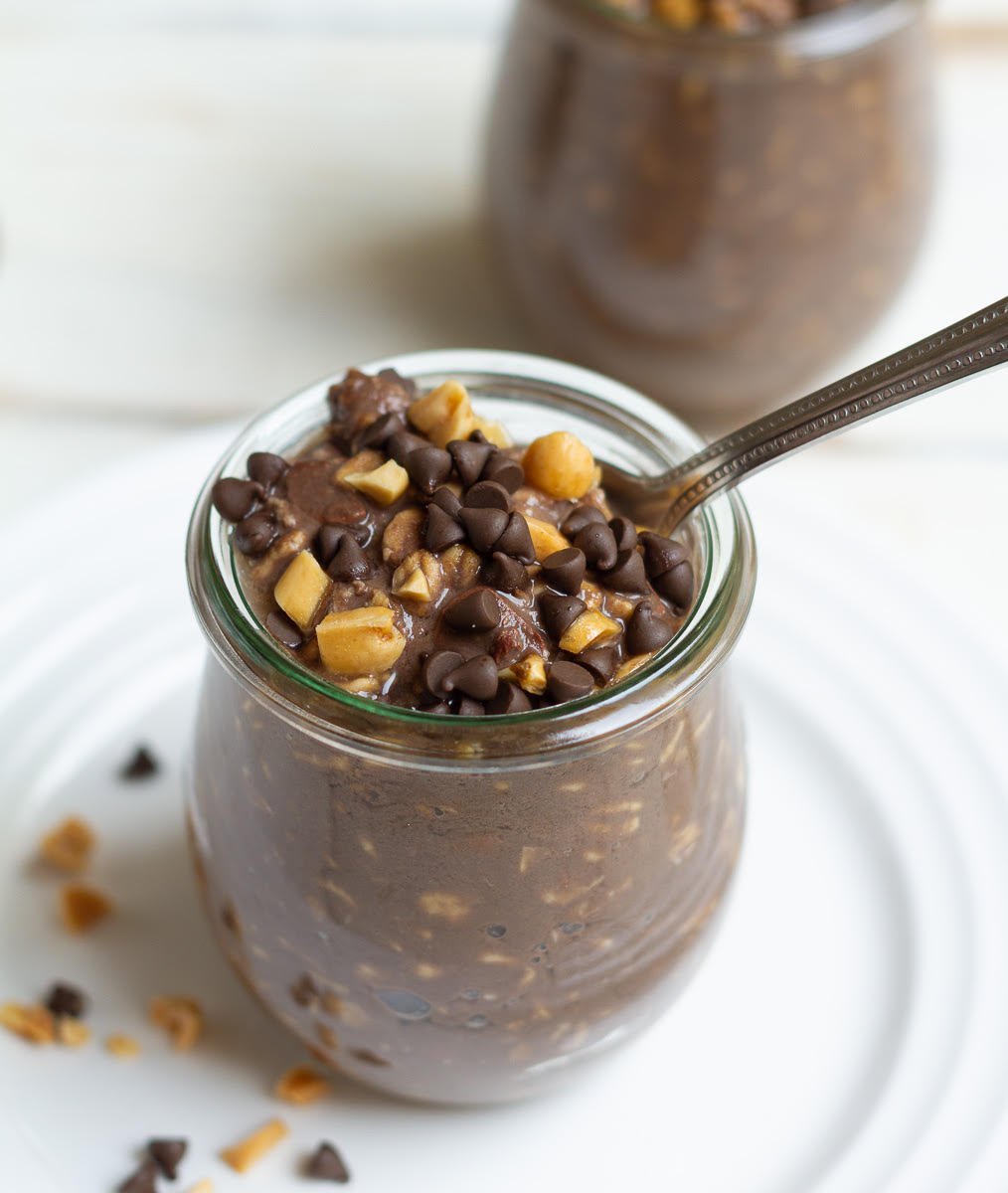 Are overnight oats healthy?
To say that overnight oats pack an almighty punch loaded with nutrients is an understatement. They're a great source of protein and healthy fats, and because they're rich in energy, they leave you satisfied and feeling full for a long time.
Now on to some science. Overnight oats also do wonders for your gut because they have soluble fibers. Plus, soaking the oats breaks down the starch, which makes them easier to digest.
Another reason any overnight oats recipe is fantastic for you is resistant starch. That's a natural carb that cooled starchy foods have in abundance. It not only boosts your digestion but also helps reduce insulin spikes.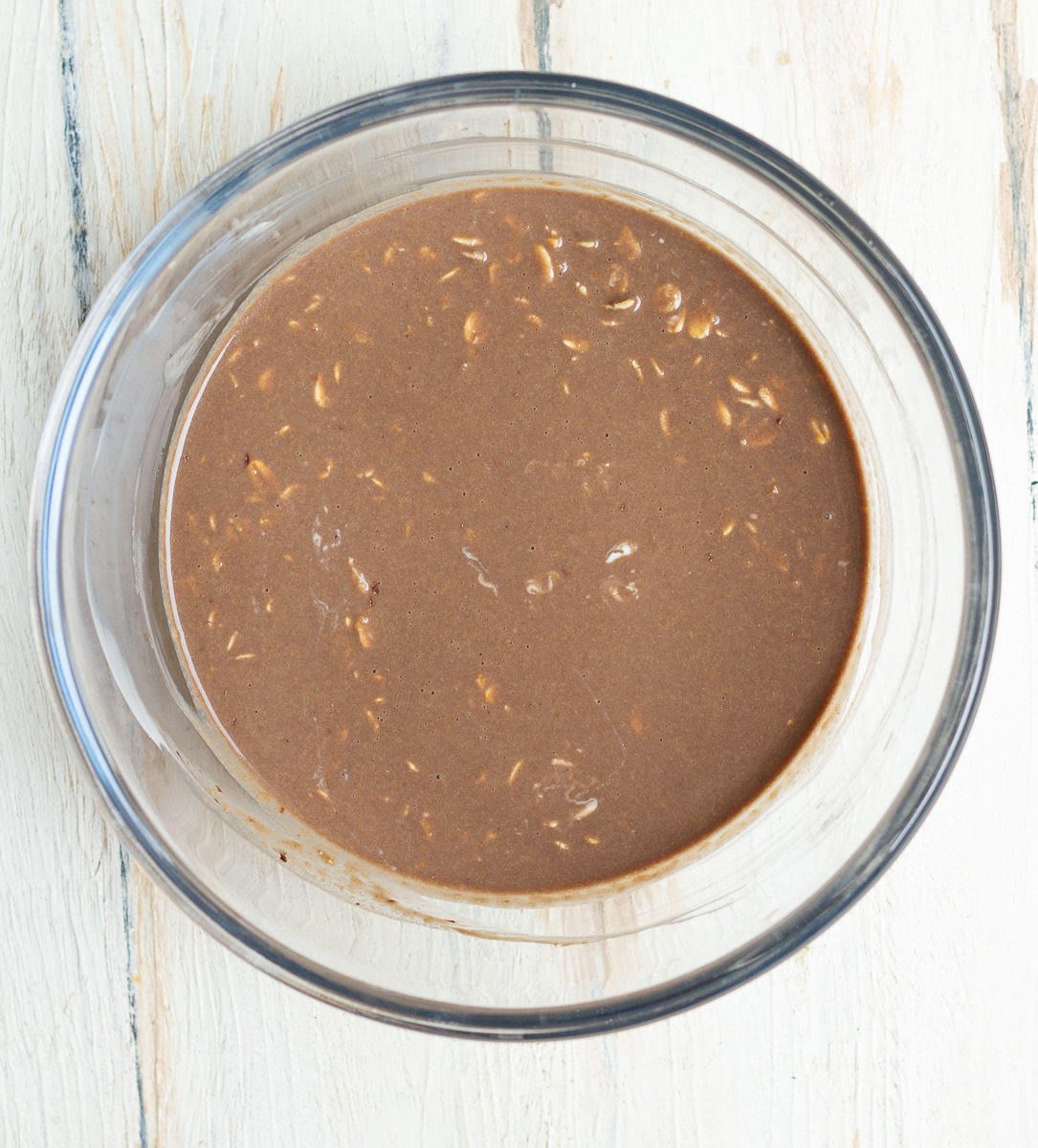 How to make Snickers overnight oats?
Three steps. That's all it takes to get this breakfast, brunch, or snack ready. It's perfect for summer when you want something good to eat but are not willing to stand in front of a hot stove!
Step 1: In a bowl, combine oats, maple syrup, milk, yogurt, cocoa powder, peanut butter, and a pinch of salt to make the flavors come alive.
Step 2: Throw in some dark chocolate chips, cover, and refrigerate overnight.
Step 3: Next morning before eating, stir, and relish.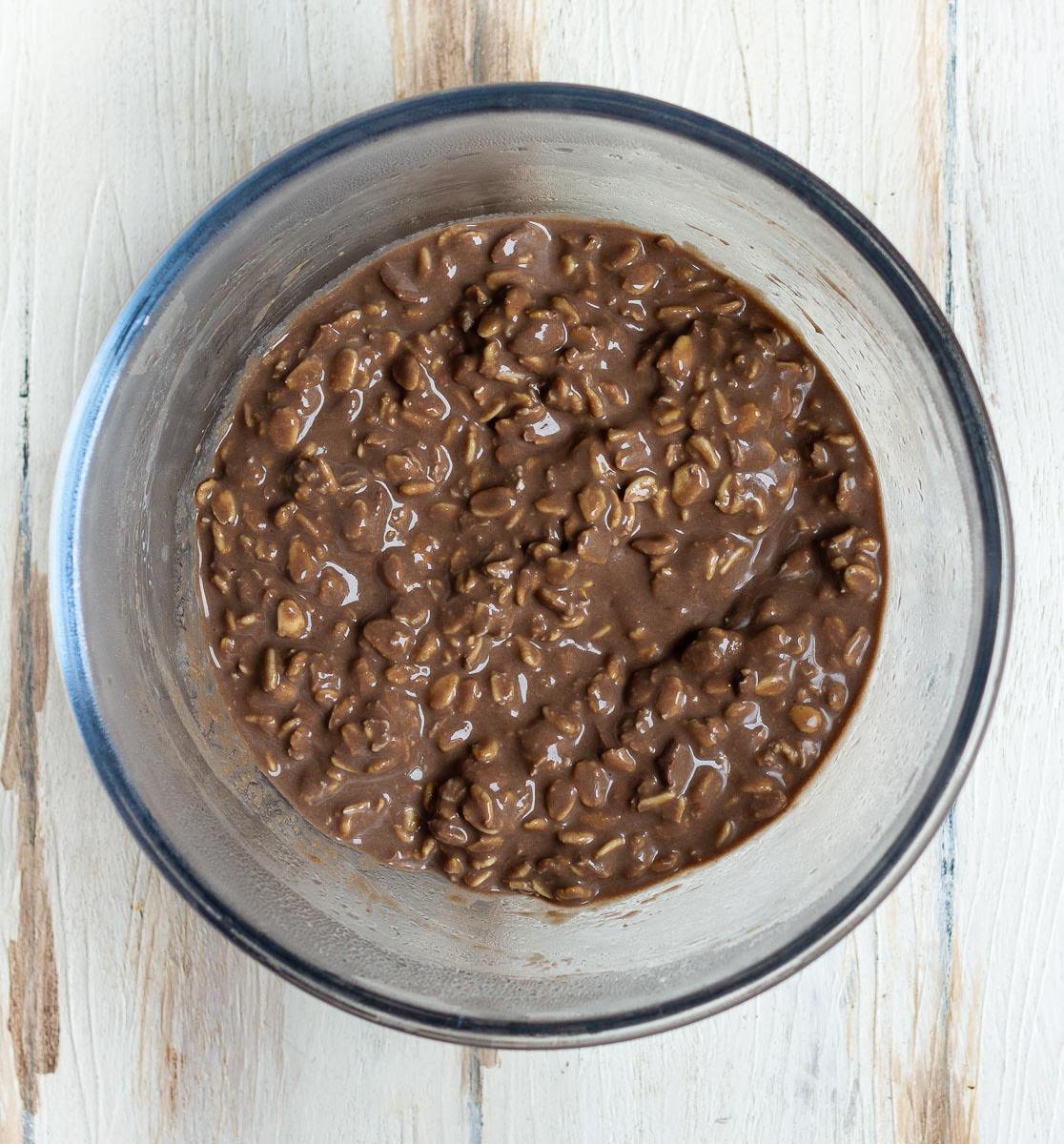 Serving suggestions and toppings for overnight oats
You can serve them in bowls, but I love to use jars. If jars are for you, keep in mind this recipe will make 2 small ones or 1 big one. In either case, you can top these delicious Snickers-inspired overnight oats with a million things:
Sprinkle some more chocolate chips
Dollop of yogurt
Stud with some peanuts
Seeds to add crunch
Fruit of your choice
More nut butter
Always do a taste test before you serve these overnight oats. Add more honey or syrup if they are not sweet enough.
In case the oats are thicker than you like, pour in more milk. And if they're too thin, it's likely because you didn't give them enough time to set. Refrigerate them for a bit longer.
Ingredients and substitutes
Oats: Rolled oats are the best choice because they soak up the milk and yogurt enough to give a glorious creamy feel and not a mushy texture. Instant oats don't hold their shape after 8 to 12 hours in the refrigerator, so what you get is gloppy and no fun to eat.
Make sure to opt for certified gluten-free oats if you want the recipe to be gluten-free.
Yogurt: I love the creaminess of Greek yogurt. Plus, it packs a good protein punch. But homemade yogurt will do in a pinch. Make sure it's been hung well and not watery.
Milk: Regular or plant-based, use any type of milk you prefer. I like to incorporate homemade almond milk in a 1:1 ratio of milk to oats. This makes for thick overnight oats, but not too hefty.
Sweetener: Don't have maple syrup? Use honey.
Peanut butter: Both crunchy and smooth peanut butter are great in this overnight oats recipe. But I would recommend looking for good quality and by that, I mean search for one that has the least amount of additives. My go-to is any organic peanut butter from local sources. Homemade is fabulous!
Cocoa powder: You don't need to go looking for something special. Any cocoa you use for your baking will do in a cinch. You can increase or decrease the amount based on how chocolaty you want the oats to be.
Chocolate chips: Strictly speaking, these are not mandatory, but I won't lie. They make overnight oats so much more fun, it's like having dessert for breakfast. I chopped up a tiny piece of a 70% dark chocolate bar I had on hand. Feel free to skip it or add more.
Peanuts: Roasted peanuts bring so much oomph and a play of texture to Snickers overnight bars. You can mix them in or use them as a topping (like I chose to).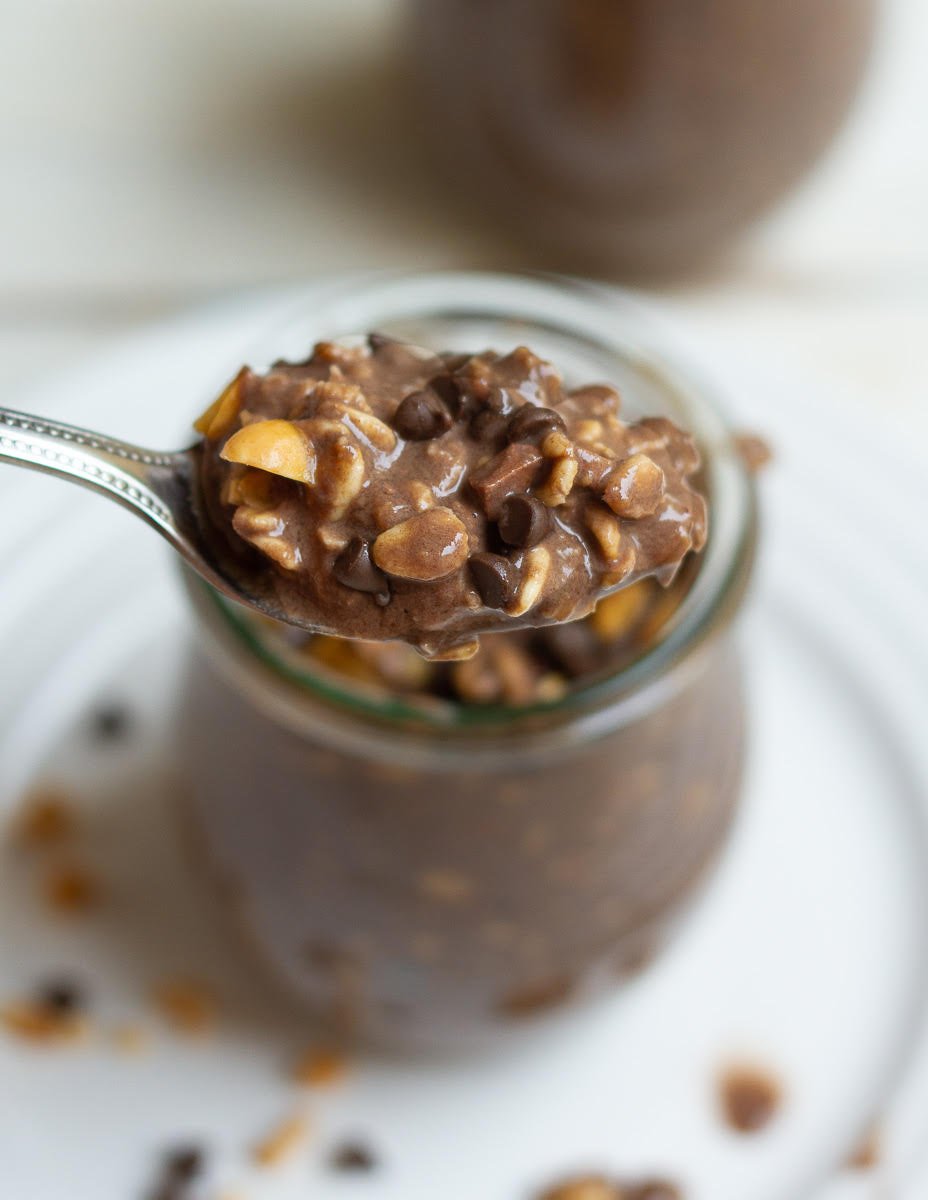 More overnight oats and other recipes
Healthy Chocolate Peanut Butter Balls
📖 Recipe
Print Recipe
Snickers Overnight Oats
Snickers overnight oats are delicious, filling, and nutritious. If you're looking for a quick, easy, and speedy meal, look no further than this overnight oats recipe.
Ingredients
1/2

cup ( 80gms)

Rolled oats

1

cup ( 230 ml)

Almond milk

You can use any milk you prefer

2

tbsp

Greek yogurt

2

tbsp

Maple syrup

1

tbsp

Cocoa powder

1.5

tbsp

Peanut butter

Pinch of sea salt

1

tbsp

Dark chocolate chips (Optional)

Roasted, unsalted peanuts and Dark chocolate chips for topping

Optional
Instructions
In a bowl, combine oats, maple syrup, milk, yogurt, cocoa powder, peanut butter, and a pinch of salt.

Whisk in the chocolate chips, if using.

Cover and refrigerate overnight.

Next morning, stir and taste for sweetness.

Transfer to jars or bowls. Top with roasted peanuts and chocolate chips, if you like. Enjoy!