After a year of hiatus from chia puddings and almost a month from the blog, I'm back with a chocolate orange chia pudding recipe. It's exactly the treat I needed after weeks of recovery from COVID-19. Thick and luscious, the delicious treat is rich and decadent without being heavy.
I agree that of all life's pleasures, few are more indulgent than a good chocolate dessert recipe. But, trust me when I say, adding the citrusy brightness of orange takes the pudding to a whole new zenith.
If you're new to chia seeds or haven't explored the chocolate-orange pairing, this is an awesome place to start. It'll give you a sense of chia's absorption power and the ultimate harmony of good flavor combinations, like orange and chocolate, play in your mouth.
Jump to:
Chocolate orange chia pudding recipe
How to make chocolate orange chia pudding?
Over the years, I've made plenty of chia puddings. Plenty. Why? Because they can be adapted in a range of ways. Seriously, the options are endless. Also, because it's a 3-step process, folks. Mix, chill, and garnish.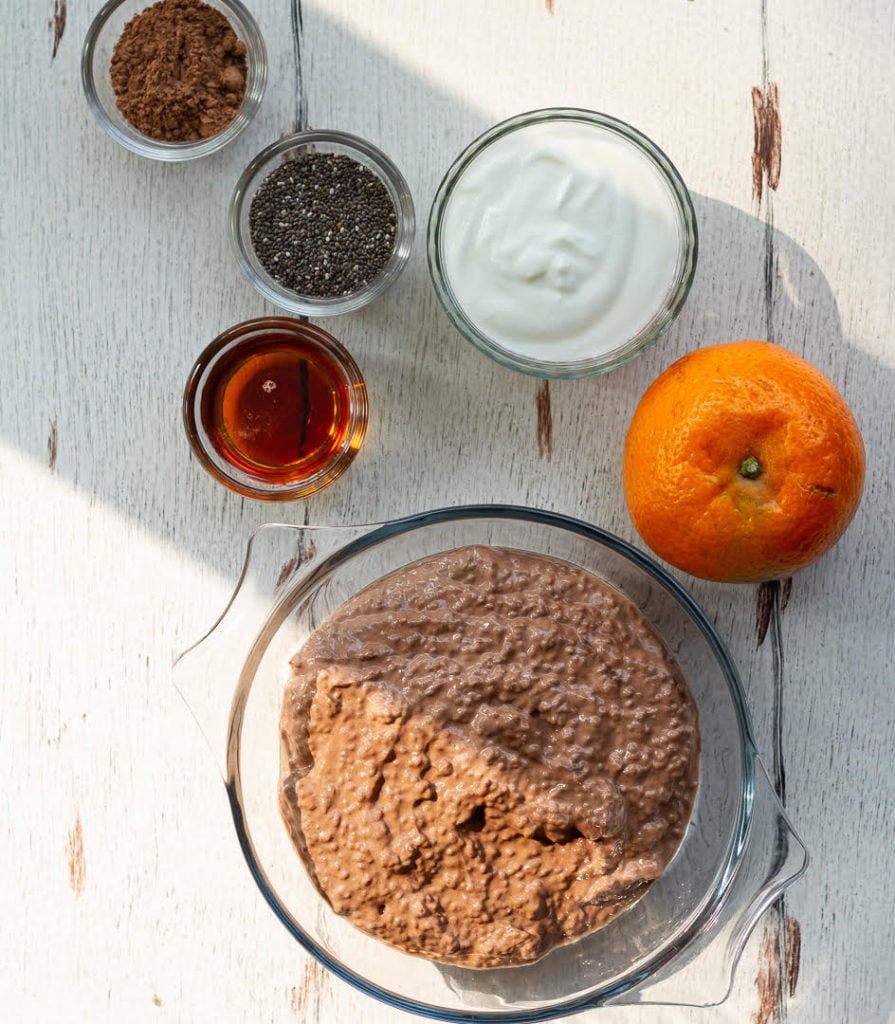 Step 1: Mix everything
Mix yogurt, chia seeds, maple syrup, cocoa powder, fresh orange juice, and zest really well. Cover the jar and set it aside.
Generally, I use milk (non-dairy or usual) as the chia pudding base. Those require overnight chilling. But since I've had no energy or patience (thank you, covid), this time I used yogurt. With yogurt, you don't have to wait (with barely contained patience, in my case) as long for the pudding to set.
Step 2: Let it set
Chia seeds can absorb almost 30 times their weight in water. The process is fairly quick, but the more time you give them, the more they soften and swell. I recommend anywhere between 20 minutes and up to 2 hours to get that perfect gel-like feel.
Once set, give the pudding a stir and check for consistency. Me and mine love a nice thick, creamy chia pudding. But feel free to adjust the consistency.
If it's too thick: add more orange juice or yogurt.
It's too runny: stir in more chia seeds.
Step 3: Get creative with the toppings
Chocolate is most definitely the base note and the backbone of the recipe. The fresh flavor of orange juice and zest balances that intense chocolatiness and lends an explosion of tartness to the pudding. That's why I topped it with a few more curls of orange zest, a thin slice, and some pecans to give it a crunch.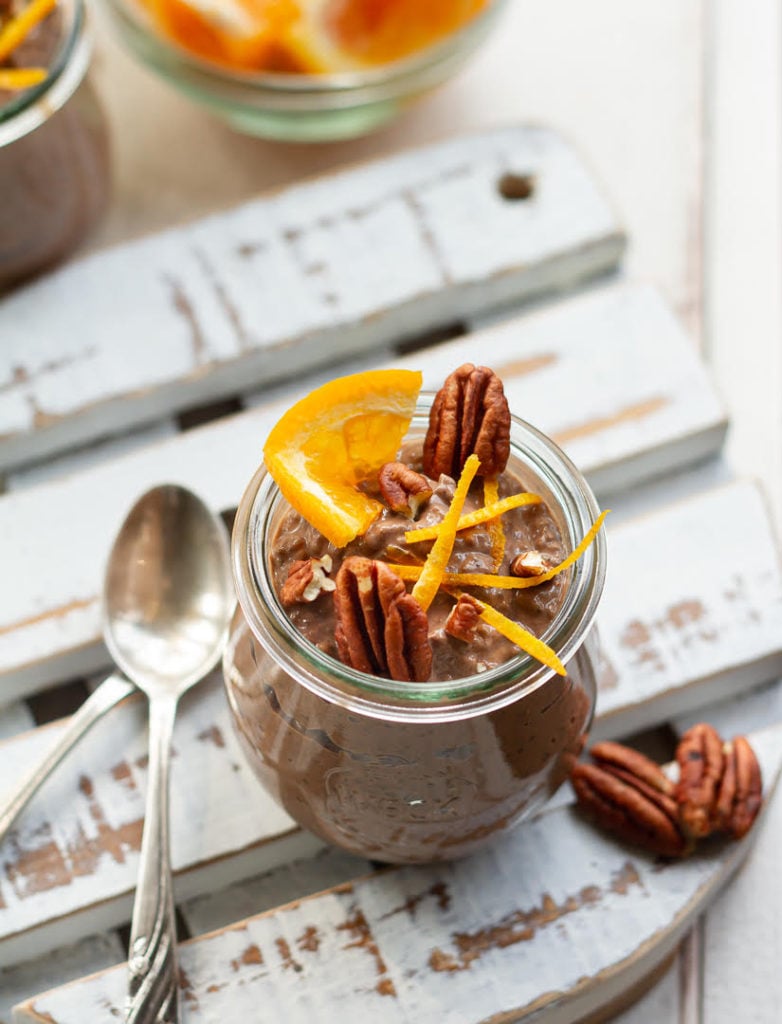 What else can you use in chocolate orange chia pudding?
Sweetener: The nutty, warm taste of maple syrup goes gorgeously with chocolate and orange. If you don't have it, honey or agave works well, too.
The quantity you use is between you and your sweet tooth. Make it as sweet as you want, or leave it with a dark undertone.
Milk: You can switch to any kind of milk you prefer instead of yogurt. The setting time will increase though. If I'm using milk, I like to mix everything and let it all sit together overnight.
Orange: I used kinnow for the chia pudding, and it was super juicy and really sweet, which meant I didn't have to depend upon too much maple syrup.
Nuts: Pecans were just my choice. Almonds, walnuts, or any other nuts you have on hand are just as tasty with the pudding. Sprinkle it with sunflower or pumpkin seeds right before you serve to lend more texture and wholesomeness.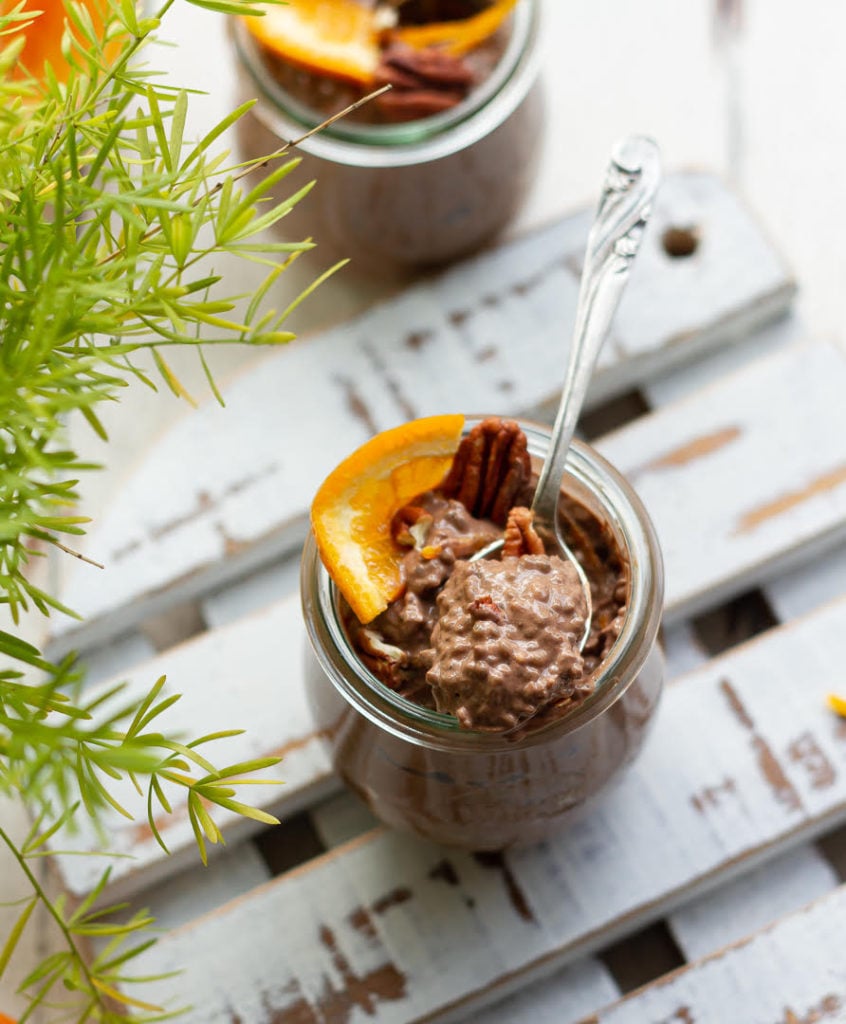 Want to make vegan chocolate orange chia pudding?
Switch to plant-based yogurt and stick to maple syrup to keep the pudding vegan.
How do you make chia seed pudding taste even better?
Add bits of dark chocolate to it or even segments of an orange.
And, oh, this is optional. For those who don't fancy a decadent treat, omit the chocolate and reduce the cocoa powder (or go nuts with both)!
Why try chocolate orange chia pudding?
Because you can have it as breakfast, any-time snack, or dessert (or for all three).
Because the recipe is super easy and super quick. And makes full use of seasonal produce, which I don't know why is far more mouthwatering and scrumptious.
Because it's incredibly healthy and nutritious.
Chia, which is the Mayan word for strength, is a power-packed source of Omega 3, minerals, proteins, fibers, and so much more. Since the seeds don't have a flavor of their own, you can add them to all sorts of recipes, from smoothies to shakes to jams to, of course, puddings.
Sucker for anything in the chocolate-orange category? Try these:
Orange marmalade cake with chocolate glaze
Quinoa orange muffins with chocolate chips
Orange pancakes with dark chocolate chips
Chocolate swirl cake with orange cream cheese frosting
More chia pudding recipes:
Beetroot Mango Chia Pudding Parfait
📖 Recipe
Print Recipe
Chocolate Orange Chia Pudding
Chocolate Orange Chia Pudding - Thick and luscious, the delicious treat is rich and decadent without being heavy. Chocolate and orange are the ultimate harmony good flavor combinations!
Ingredients
1

cup

Yogurt, plain

1/2

cup

Fresh Orange Juice

1.5

tbsp

Cocoa powder

2-3

tbsp

Maple syrup

1

tsp

Orange zest

2-3

tbsp

Chia seeds
Instructions
Mix yogurt, maple syrup, cocoa powder, fresh orange juice, and, the zest really well in a small bowl.

Cover the bowl and set aside for 20-30 minutes.

Give the pudding a stir and check for consistency and sweetness. Feel free to add more yogurt or orange juice or some milk if you like a thinner consistency.

Transfer into serving cups and top with more orange zest, pecans, and fresh orange slices. Enjoy!