Strawberry bits run through these super-soft strawberry banana muffins, with swirls of caramelly banana in the moist batter. The easy muffin recipe comes together quickly and bakes in less than 25 minutes.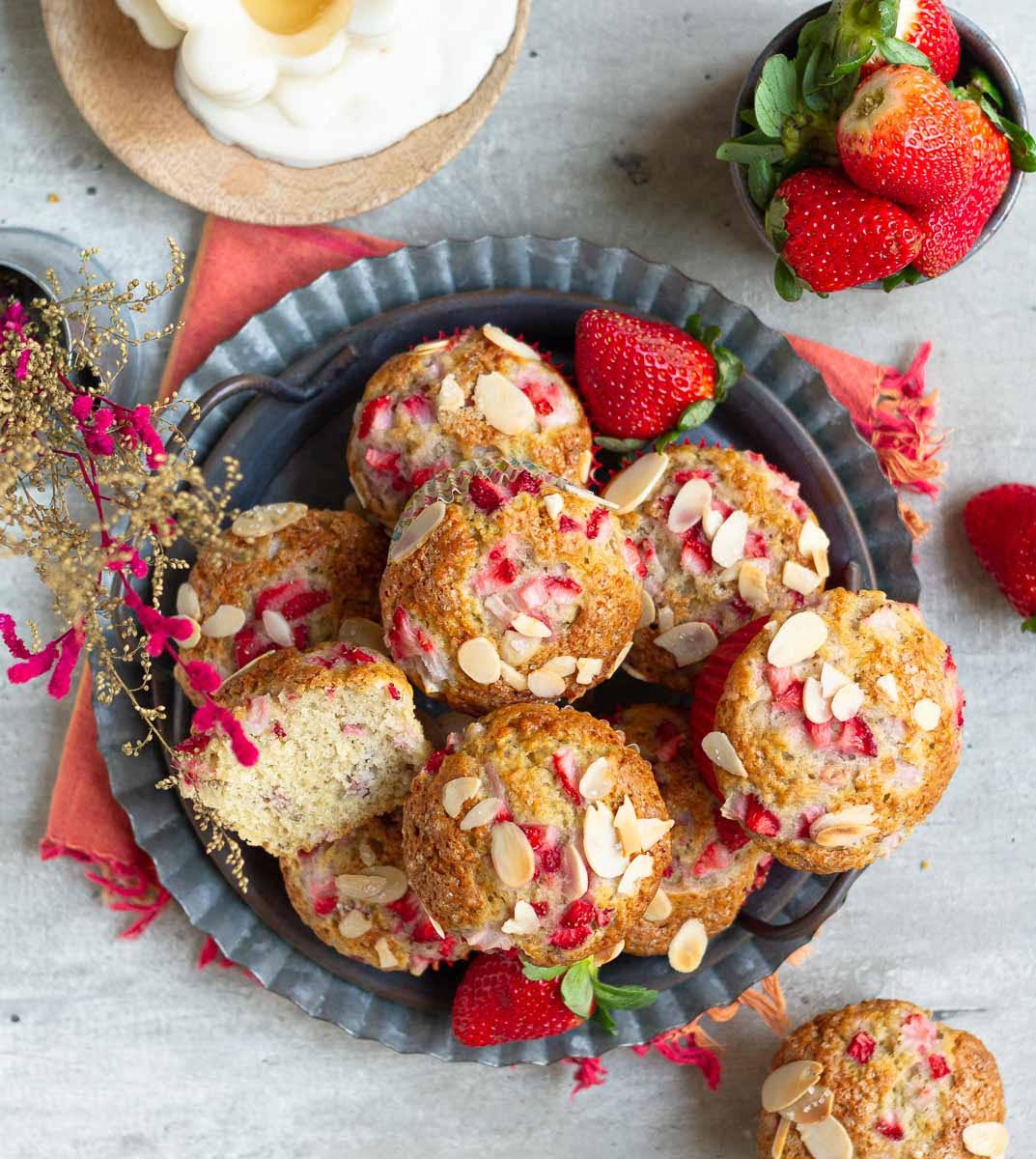 Domed, studded with juicy strawberries, and moist and soft from ripe bananas, this recipe is the perfect way to make buttery, delicate muffins. So, if you find strawberries on sale anytime this month, get a big batch and make these strawberry banana muffins. You and your family will thank me!
Jump to: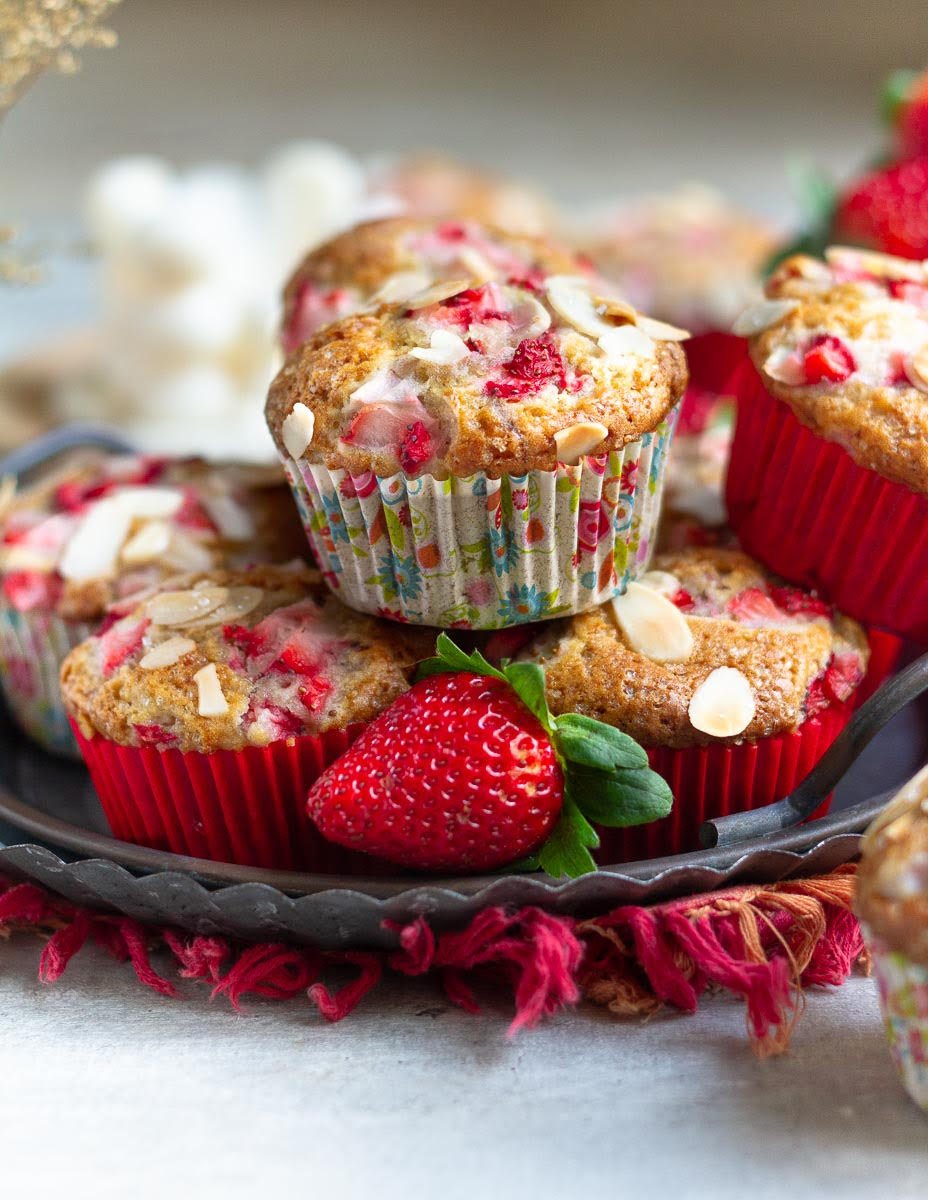 The riper your bananas, the sweeter they taste, almost walking into caramel land, which is why I don't bring a lot of sugar in the picture. The banana and strawberry muffins are light and have just the correct amount of sweetness, exactly how I like my bakes, especially after the sugar-laden Christmas binge.
And because these easy strawberry banana muffins are not cloyingly sweet, they're a great breakfast, a snack to take on the go, and a dessert!
WHY YOU'LL LOVE THIS STRAWBERRY BANANA MUFFINS RECIPE
Easy, uses only a few basic ingredients
Can be modified in a variety of ways
Can be made in 35 minutes without fancy equipment
Just the fruity, fresh company you need with tea or coffee
HOW TO MAKE STRAWBERRY BANANA MUFFINS?
Step 1: Using a fork or masher, mash a super-ripe banana till there are no chunks left.
Step 2: Add vanilla extract, oil, and eggs to the mashed banana.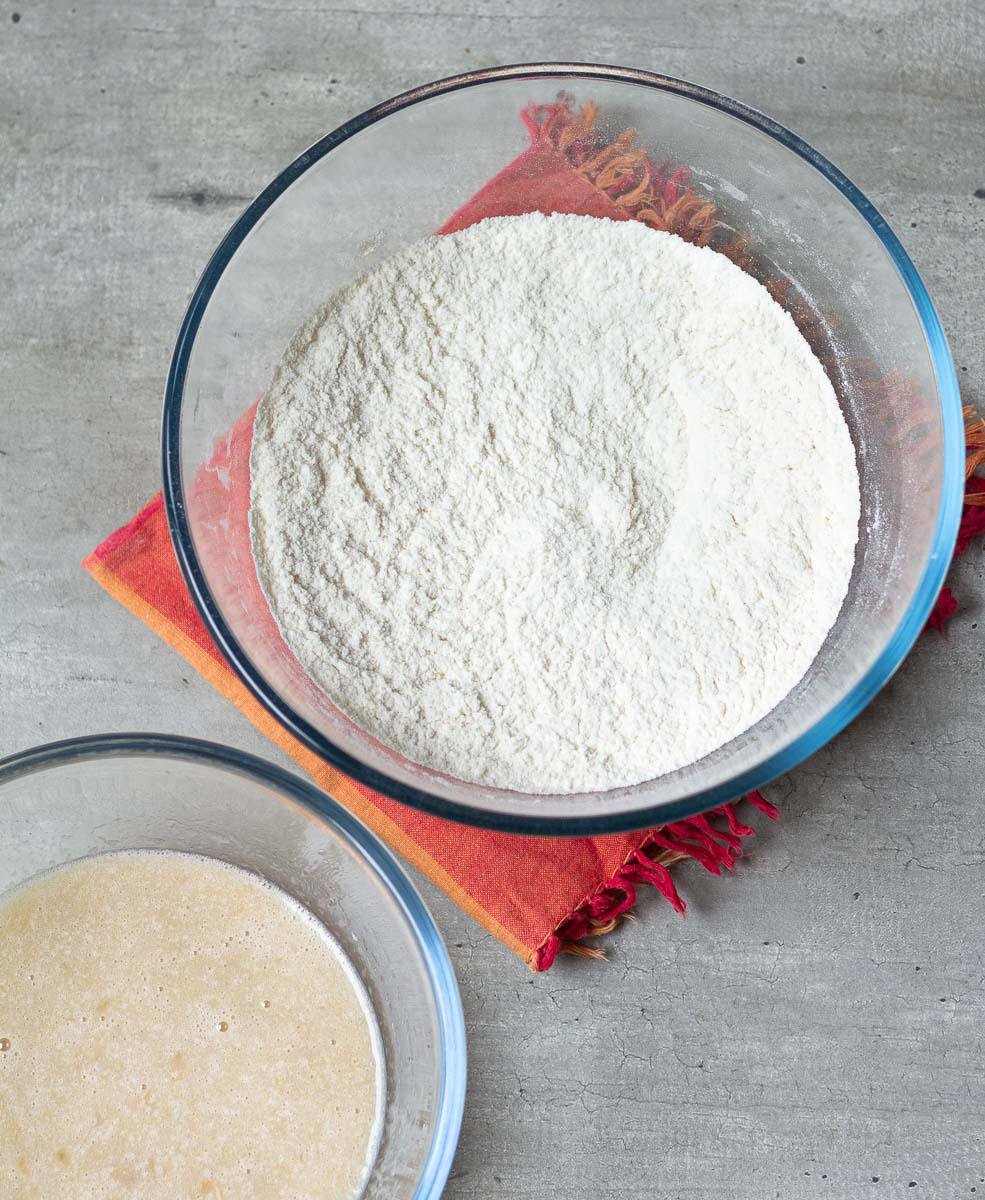 Step 3: In another bowl, sift the flour and then whisk in the baking powder, baking soda, salt, and caster sugar.
Step 4: Pour the wet ingredients into the dry and mix with as few strokes as possible, only until there are no dry streaks visible.
Step 5: Dice your strawberries and toss them in a bit of flour, so they don't sink to the bottom of the muffins.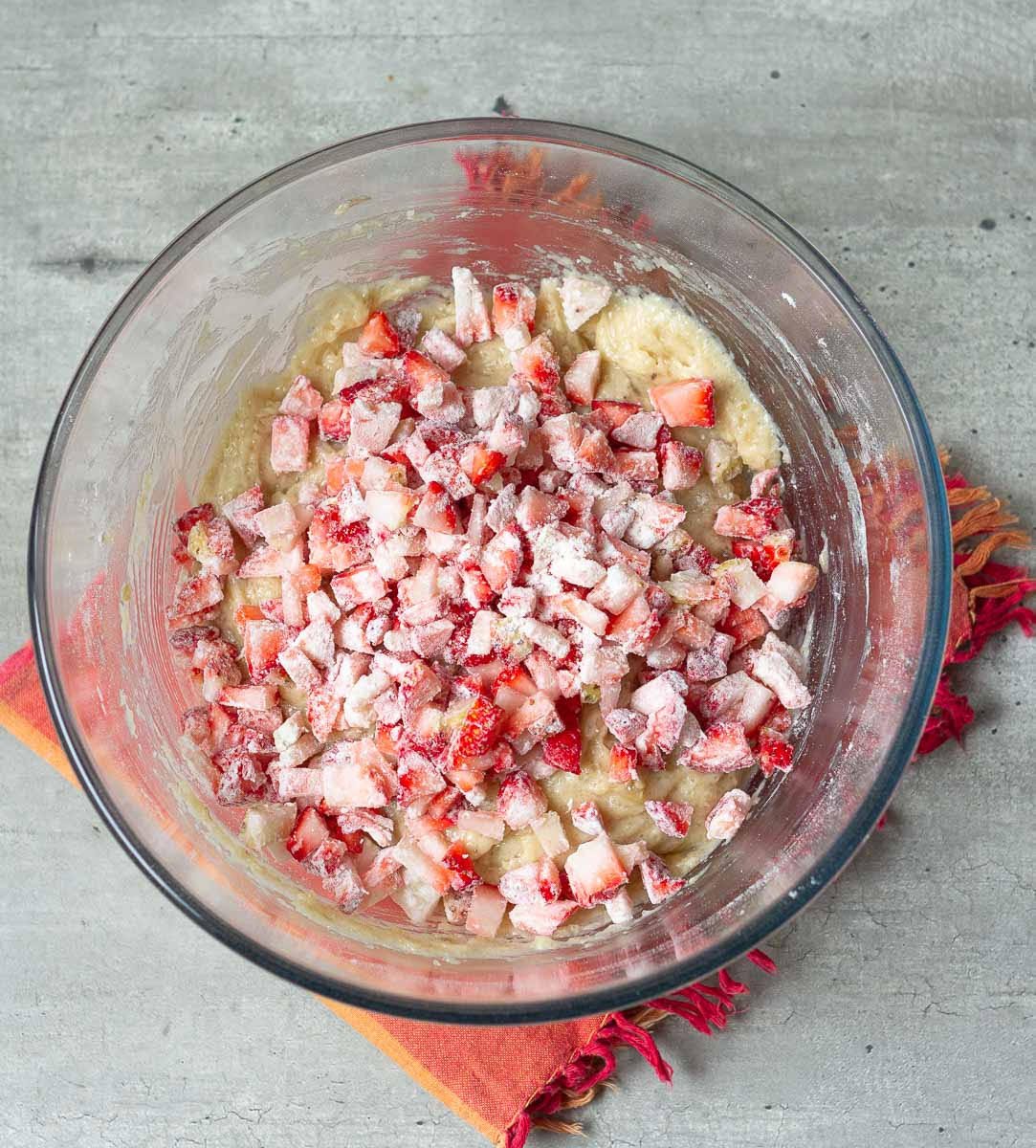 Step 6: Fold the strawberries into the banana-strawberry muffin batter.
Step 7: Scoop the batter into your lined muffin tray and top with more chopped strawberries, almond flakes, and granulated sugar for some crunch and shine.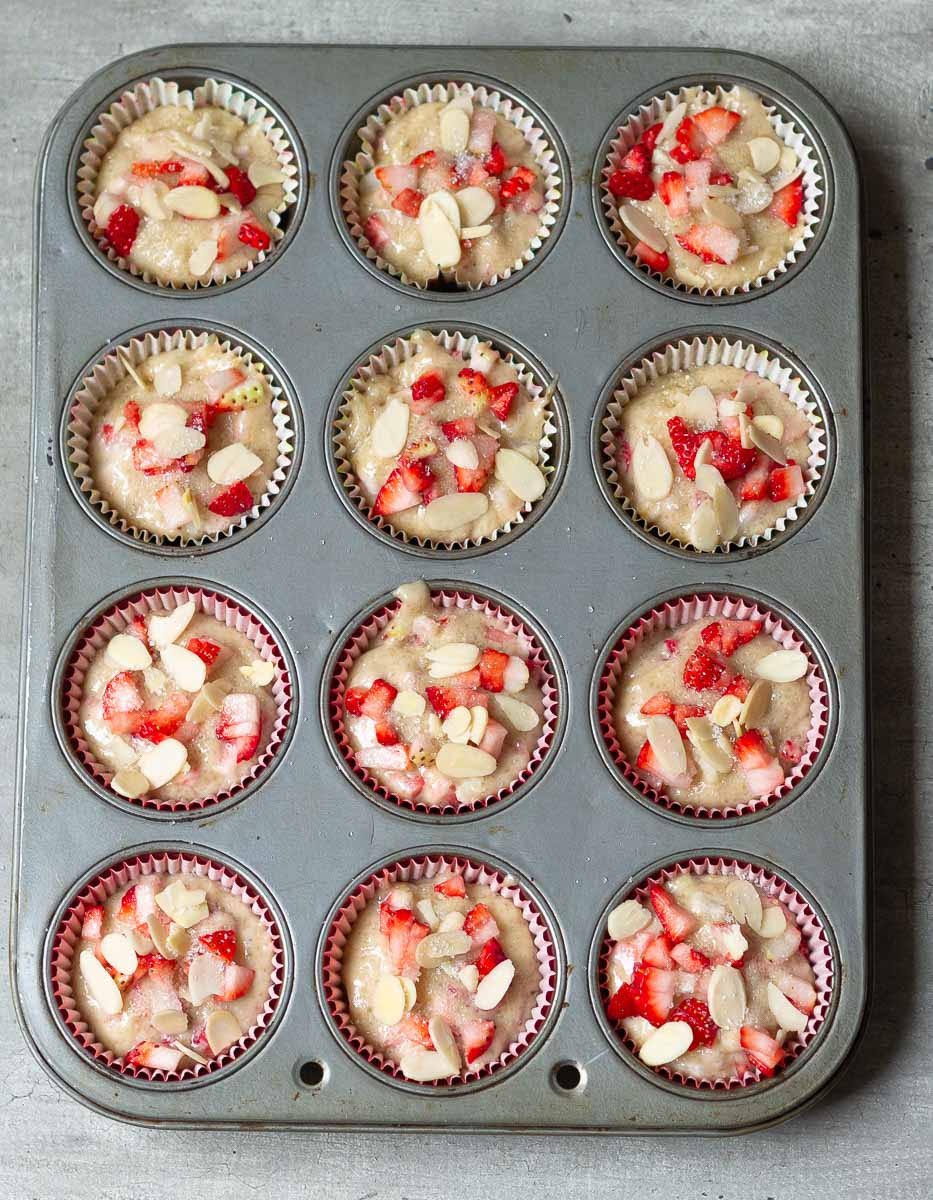 Step 8: Bake for 20 to 22 minutes and then cool on a wire rack.
Final step: Serve!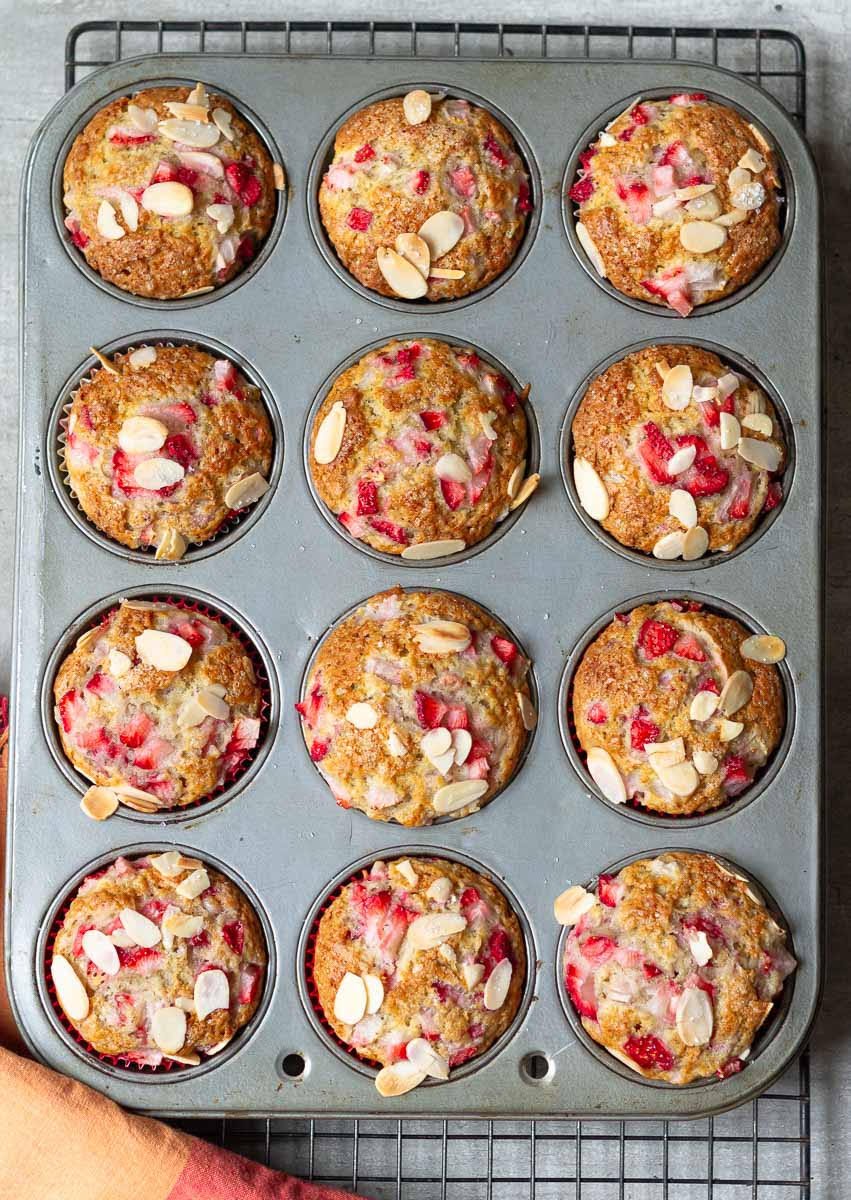 TIPS FOR THE BEST STRAWBERRY BANANA MUFFINS EVER!
Never overmix muffin batter because gluten strands develop the more you fold and mix, which gives you tough and dense strawberry muffins. You want everything to be just
An ice cream or cookie scoop is excellent for loading the muffin tray. It's less messy, keeps your countertop free of batter spills, and makes equal-sized banana muffins with strawberries. If you don't have either, use 2 spoons.
Always fill any empty cavities in the tray with water halfway through to avoid burning.
I find lining my tray does the trick, but you can also grease it thoroughly so the baked strawberry and banana muffins don't stick.
Garnishing before baking makes for bakery-worthy muffins. Plus, it tells people what flavor to expect.
Overbaking dries out muffin crumbs. Insert a toothpick to check if the muffins are baked. It should come out clean.
Get a small kitchen weighing scale, even a cheap one. Your baking life will never be the same!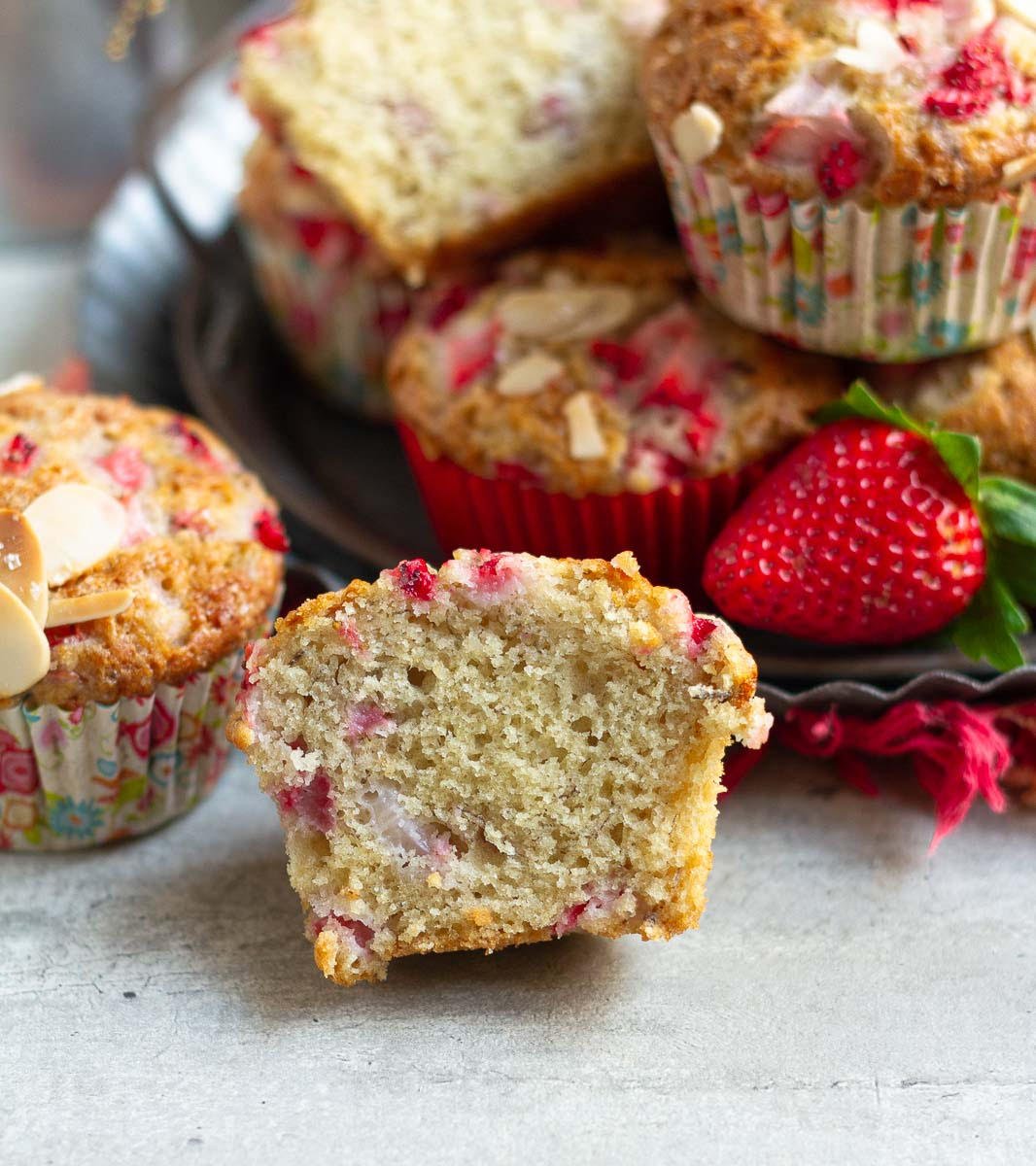 DO YOU NEED BOTH BAKING SODA AND BAKING POWDER FOR MUFFINS?
Yes, banana muffin recipes call for both baking soda and baking powder.
Mashed banana is a heavy ingredient, and the two together give the muffins a double lift, transforming the batter into a soft, fluffy crumb. I highly suggest reading my guide to understand how baking soda and baking powder work. It'll forever demystify the two ingredients.
CAN YOU MAKE STRAWBERRY BANANA MUFFINS USING FROZEN FRUIT?
Absolutely! You can make strawberry banana muffins with frozen strawberries or bananas.
Since no one loves bananas with even a hint of a spot, freezing them is an amazing way to reduce waste. And they're so handy. Thaw them for about 15 to 20 minutes, and then use them for smoothies, cakes, breads, or scones!
INGREDIENT VARIATIONS
Flour: You can replace all-purpose flour with whole wheat flour; its nutty flavor pairs incredibly with bananas. Or you can opt for an equal mix of both.
For gluten-free strawberry banana muffins, try buckwheat flour. I've used it before for mango coconut muffins, to the boundless appreciation of my family.
Sugar: Raw or caster sugar will work in this recipe for healthy strawberry banana muffins. Regular white sugar is good too.
Oil: Melted butter is a good substitute for oil, but I don't prefer it in my muffins because I've found oil lends them an unmatched softness. If you don't want to use regular vegetable oil, coconut oil will work.
For eggless strawberry banana muffins: switch to flax egg (1 Tbsp flax powder + 3 Tbsp water mixed in a till thick and gelatinous), as I did for quinoa orange muffins. Another option is to make strawberry banana muffins with yogurt or buttermilk (lukewarm milk + vinegar).
To make strawberry banana nut muffins: Walnuts, pecans, and hazelnuts are all delicious choices if almonds are not your cup of tea. Feel free to add the nuts on top or fold them in the batter with the strawberries.
Don't want banana-strawberry nut muffins? Leave the nuts out completely!
Add-ins: Oomph it up with seeds or cinnamon powder. Orange zest would do wonders in this muffin recipe, and I'm not just saying this because it's become a favorite flavoring of mine for January.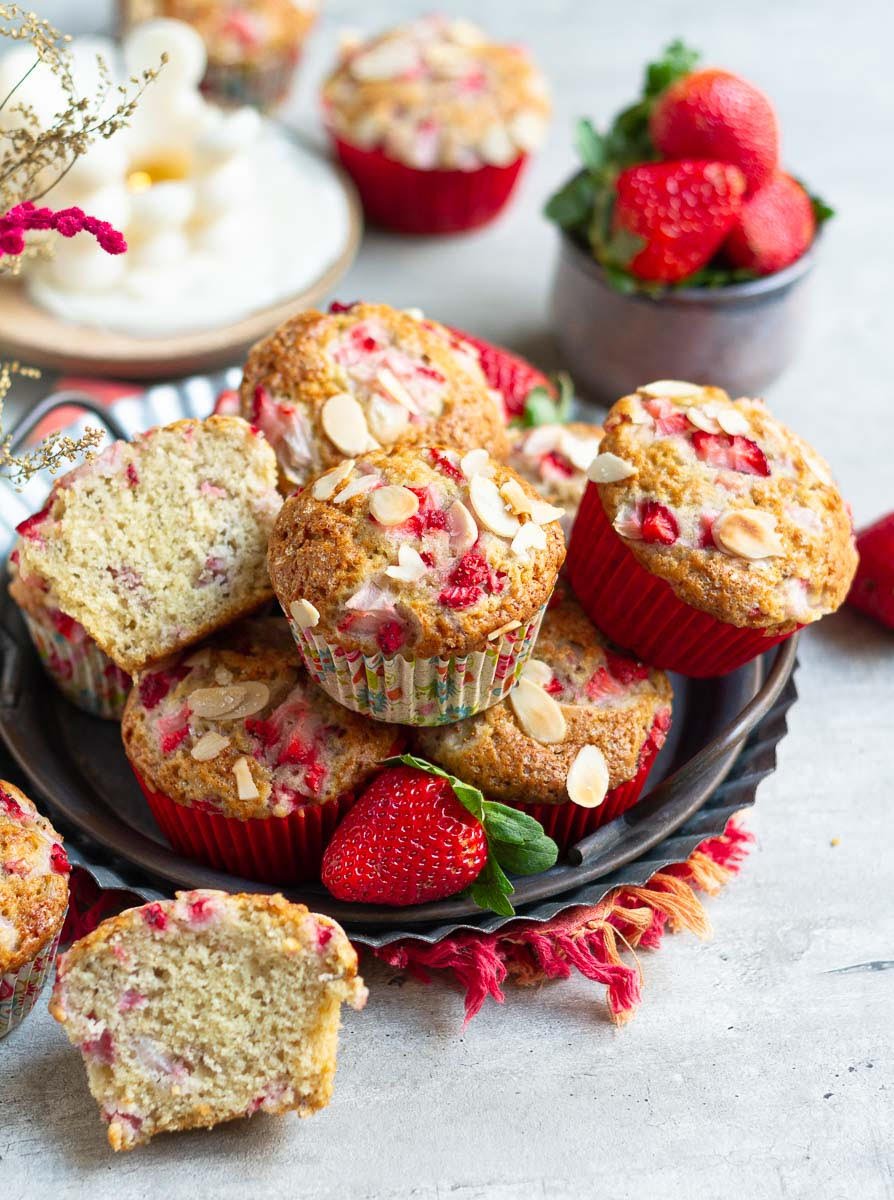 MORE RECIPES WITH STRAWBERRIES
YOU MAY ALSO LIKE THESE MUFFIN RECIPES
Chocolate Cream Cheese Muffins
Half the joy of cooking is sharing it with others, which is why I'm always eager to hear from you. So go right ahead and drop a comment or reach out on Instagram, Pinterest, YouTube, or Facebook. I hope you love these easy strawberry banana muffins as much as we do!
📖 Recipe
Print Recipe
Strawberry Banana Muffins
Strawberry bits run through these super-soft strawberry banana muffins, with swirls of caramelly banana in the moist batter. The easy muffin recipe comes together quickly and bakes in less than 25 minutes.
Ingredients
2

cups /260 gms

All-purpose flour

1

tsp

Baking soda

1

tsp

Baking powder

1/4

tsp

Salt

1/2

cup /120 gms

Caster sugar

2

Bananas

2

Eggs

1/2

cup/ 115 gms

Oil

1

tsp

Vanilla extract

1 1/4

cup /220 gms

Strawberries, diced

1

tbsp

All-purpose flour
Topping
Diced /sliced strawberries, Almond flakes, Granulated sugar
Instructions
Preheat the oven to 180 C. Line the cavities of a 12-cup muffin tray with paper liners.

In a large bowl, whisk together the flour, baking soda, baking powder, salt, and sugar.

In another bowl, mash the bananas, and add the oil, eggs, and vanilla extract.

Pour the wet ingredients over the dry ones and mix until no streaks of flour are visible.

Toss the diced strawberries in 1 tbsp of flour and fold them into the batter.

Use an ice cream scoop or 2 spoons to scoop the batter into the prepared muffin tray.

Sprinkle some more diced/sliced strawberries, almond flakes, and granulated sugar on top.

Bake at 180 C for 20-22 minutes or until the tops are golden, springy, and firm to touch.

Carefully turn out the muffins on to a cooling rack. Serve warm and enjoy!

Storage tips: These muffins store well for 3 days in the refrigerator. You can reheat them in a microwave or in a toaster oven.

You can freeze these for upto 2 weeks. Thaw on the countertop and reheat in the microwave or oven.