These Nutella banana muffins fall somewhere between gooey delight and incredible decadence. It's the fantastic combination of mashed bananas and chocolatey Nutella, making them the sweetest distraction!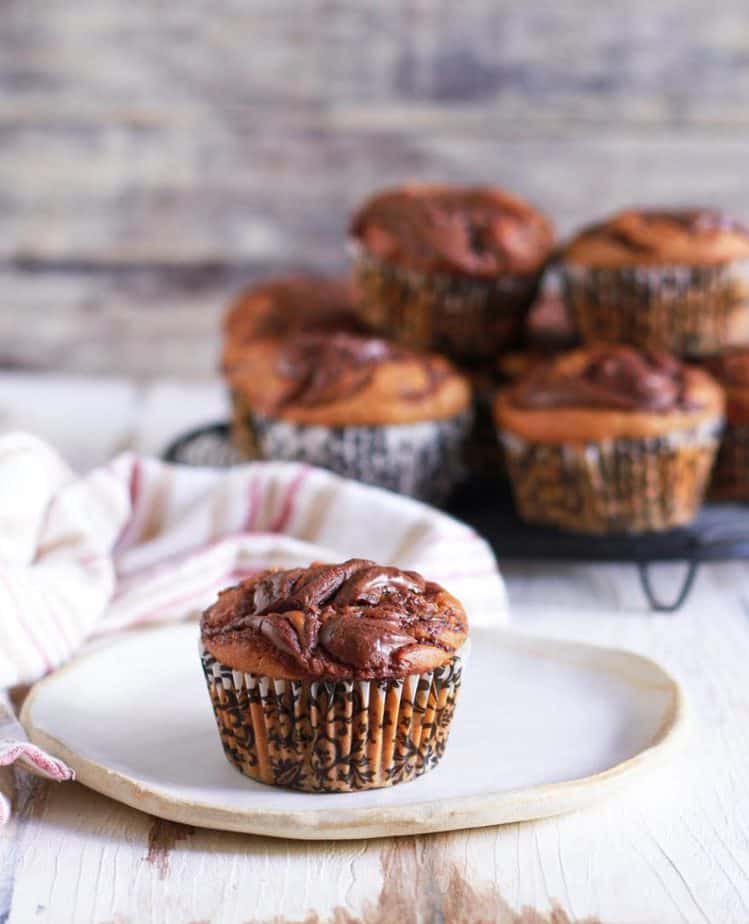 I have a home full of fusspots. One teeny-tiny spot on a banana and the only word I hear is "Ewww." So, what's a mother got to do? Apparently, wait for the bananas to overripe and then turn them into "yummy goodies," as the kiddos call it.
I made a bunch of Banana Cinnamon Pancakes, but I still had some too-brown-to-eat bananas left. And then it struck me; I've made every kind of muffin imaginable yet never baked banana muffins.
To the delight of my kids, I added Nutella into the mix instead of my usual chocolate almond butter or chocolate peanut butter. I'm a huge fan of both as a Nutella substitute because they're healthier, but right now they aren't available and somehow my homemade versions don't come out as delicious (I'm working on that). So, Nutella banana muffins it was!
How to Make Nutella Banana Muffins?
Nutella Banana muffins are indulgent treats that are a hit with the family (because of the scrumptious taste) and me (because they are quick). If you need some sweetness in life, I highly recommend baking them.
Sift all-purpose flour, whole wheat flour, baking powder, baking soda, salt, coconut sugar and cinnamon in a bowl. The spice is a must, because if there is a match made in heaven, then it surely is banana and cinnamon!
In another pan, whisk mashed banana with coconut oil, vanilla extract and coconut buttermilk. The coconut buttermilk is essential to the muffins. I repeat, essential. That's what gives them the tender and beautifully moist crumb.
Quick notes:
For the oil, instead of coconut, you can use any vegetable oil with a neutral taste. To make coconut buttermilk, simply add regular vinegar to coconut milk. You can absolutely use regular milk here. I'm trying to keep it lactose-free because of my "lactose intolerance".
If you don't have coconut sugar, mix what you have at home. You really don't need much. Ripened bananas are already sweet, and when you bring Nutella in the picture, you need only a hint of sugar to give the muffins a balanced sweetness.
Fill the empty cups in your muffin tray, halfway through with water. This prevents the empty cavities from burning and also enables even baking.
Baking the Nutella banana muffins
Add the dry ingredients to the wet and stir them just enough that all the dry ingredients are moist. Never over-whisk muffin batter. Line a muffin tin with paper, scoop one tablespoon of batter into each section and on top add half a teaspoon of Nutella.
Repeat the process to make one more layer. Altogether, you have two layers - batter, Nutella, batter and Nutella. Swirl them gently with a skewer and then slide the tin in the oven and watch them rise! Twenty minutes later, you have the fluffiest muffins that melt in the mouth with each bite.
Variations of Nutella banana muffins
There is Nutella inside. There is Nutella on top. You really don't need to add anything else to these perfect decadent treats. When you break the muffin open, the lovely banana flavor mingled with a hint of cinnamon and dripping in Nutella is all you need to touch nirvana.
If you don't have Nutella, don't worry, chop up any chocolate lying at home and add that to the batter. No chocolate? Throw in some walnuts, raisins, dates..anything works. This is a great basic batter for moist banana bread.
For those who feel a muffin is a bit too small for satisfaction (or don't have a muffin tin), use the recipe to make Nutella banana bread. Follow it as is, but instead of baking in a muffin tin, use a cake tin.
Can I Make Vegan Nutella Banana Muffins?
This is one question I get asked a lot. The answer is unquestionably, yes. If you can get your hands on some vegan Nutella.
When that's not possible, use chocolate peanut butter or chocolate almond butter as an equally indulgent and delightful alternate.
Even some plain peanut butter or any seed butter would work wonders here.
I'd love to hear from you! Please tag me on Instagram @tashasartisanfoods, using the hashtag #tashasartisanfoods. You can also FOLLOW ME on INSTAGRAM, PINTEREST for more fabulous recipes! Do subscribe to Tasha's Artisan Foods so you'll never miss a recipe!
Print Recipe
Nutella Banana Muffins
Ingredients
1

cup

Wholewheat flour

1/2

cup

All purpose flour

2

tsp

Baking powder

1/2

tsp

Baking soda

1/8

tsp

Salt

1

tsp

Cinnamon powder

1/3

cup

Coconut sugar

You can use any sugar

1

cup

Coconut milk

You can use any milk

1

tbsp

Apple cider vinegar

Regular white vinegar will also work

1/3

cup

Coconut oil

You can use any neutral oil

2

tsp

Vanilla extract

2

small

Bananas, overripe

1/3

cup

Nutella

You can also use chocolate peanut butter / almond butter.
Instructions
Preheat the oven to 180C. Line your muffin tray cavities with paper liners.

Combine coconut milk and apple cider vinegar in a bowl. Set aside for 5 minutes.

Sift together wholewheat flour, all-purpose flour, cinnamon powder, baking powder, baking soda and salt in a large bowl.

Stir in the coconut sugar.

In a small bowl, mash the bananas with a fork. Add the milk & vinegar mixture, oil and vanilla extract.

Pour the liquid mixture into the dry ingredients. Gently stir with a spatula, just until moistened.

Put 2 tablespoons of batter in each cup, put 1/2 tsp Nutella on top.

Put another 2-3 tablespoons of batter on top and then another 1/2 tsp Nutella on top of the batter.

With a wooden skewer or toothpick, swirl the Nutella into the batter.

Bake for 20-22 minutes or until a skewer inserted comes out clean with just a few moist crumbs attached.

Serve warm and enjoy!

These muffins can be stored in an airtight container in the refrigerator for 3 days. Reheat in the microwave before eating.