Banana Biscoff Bread is a reminder that in the realm of overripe banana recipes, there are no limits to the possibilities of pleasure.
I had 3 very sad-looking bananas lying in my pantry, and I really didn't want to throw them away. Why? Because in my mother's kitchen thriftiness ruled, and I follow the same zero-wastage adage.
So, I figured, let's make moist banana bread. But somehow, the idea didn't hold any appeal.
Then I remembered I still had some Lotus Biscoff spread left and that led to a banana Biscoff cake—my take on an old, much-beloved, easy banana loaf recipe.
While NOTHING beats a comforting loaf of banana bread, this one can be served as a decadent Biscoff dessert in a jiffy!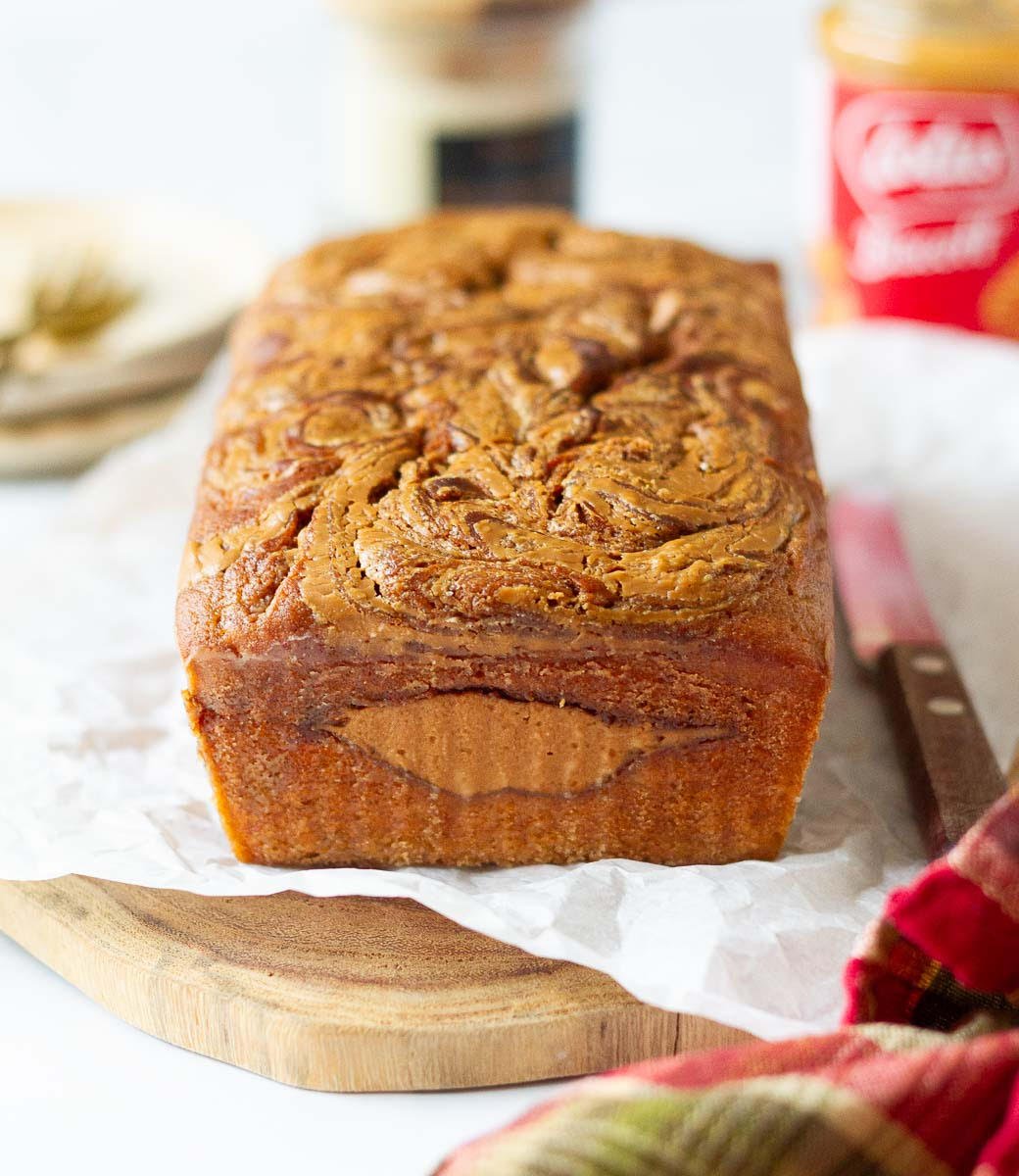 Jump to:
WHAT'S BANANA BISCOFF SPREAD CAKE (AKA BREAD)?
What happens when you combine the fruit that holds a special place in your heart with a cookie butter that is a marvel in its own right? You get a perfect marriage of flavors, textures, and nostalgia.
You get a banana loaf that is moister than any I've made. It almost melts in your mouth and makes all manner of problems vaporize!
WHY SHOULD YOU TRY THIS BISCOFF BANANA BREAD RECIPE?
It's seriously addictive.
It's the essence of joy and comfort in every bite.
You'll want to eat the whole thing by yourself (womanfully resist).
Looking for an easy fall dessert recipe? Banana Biscoff bread is IT!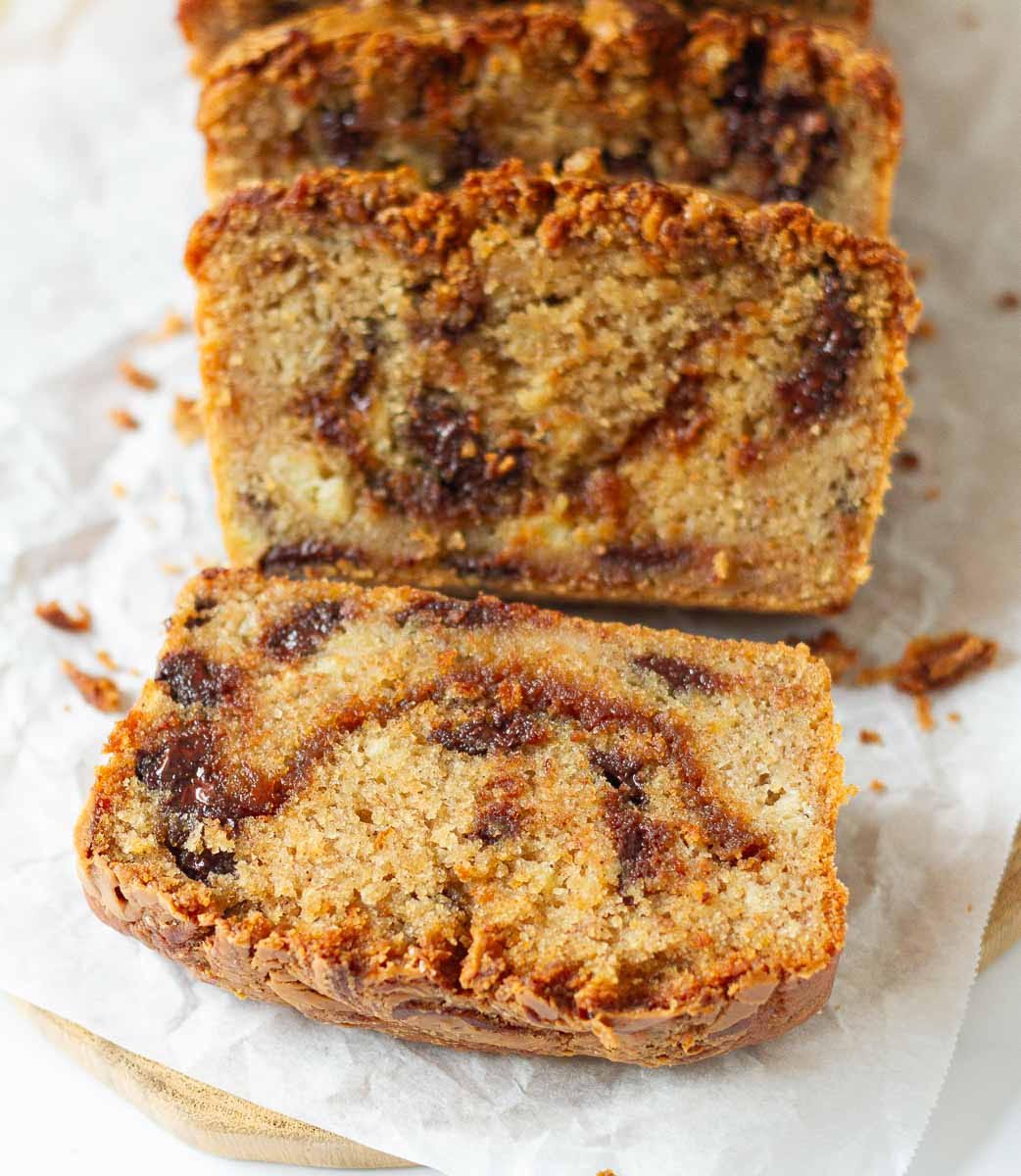 HOW TO MAKE BANANA BISCOFF BREAD?
Step 1: It's eggless banana bread, so we begin with making buttermilk. Stir in a tablespoon of vinegar in a cup of milk. Set it aside.
Step 2: Set your oven to preheat and grease the loaf tin.
Step 3: Combine the dry ingredients. Sift flour, baking powder, baking soda, ground cinnamon, and salt. Then whisk in caster sugar.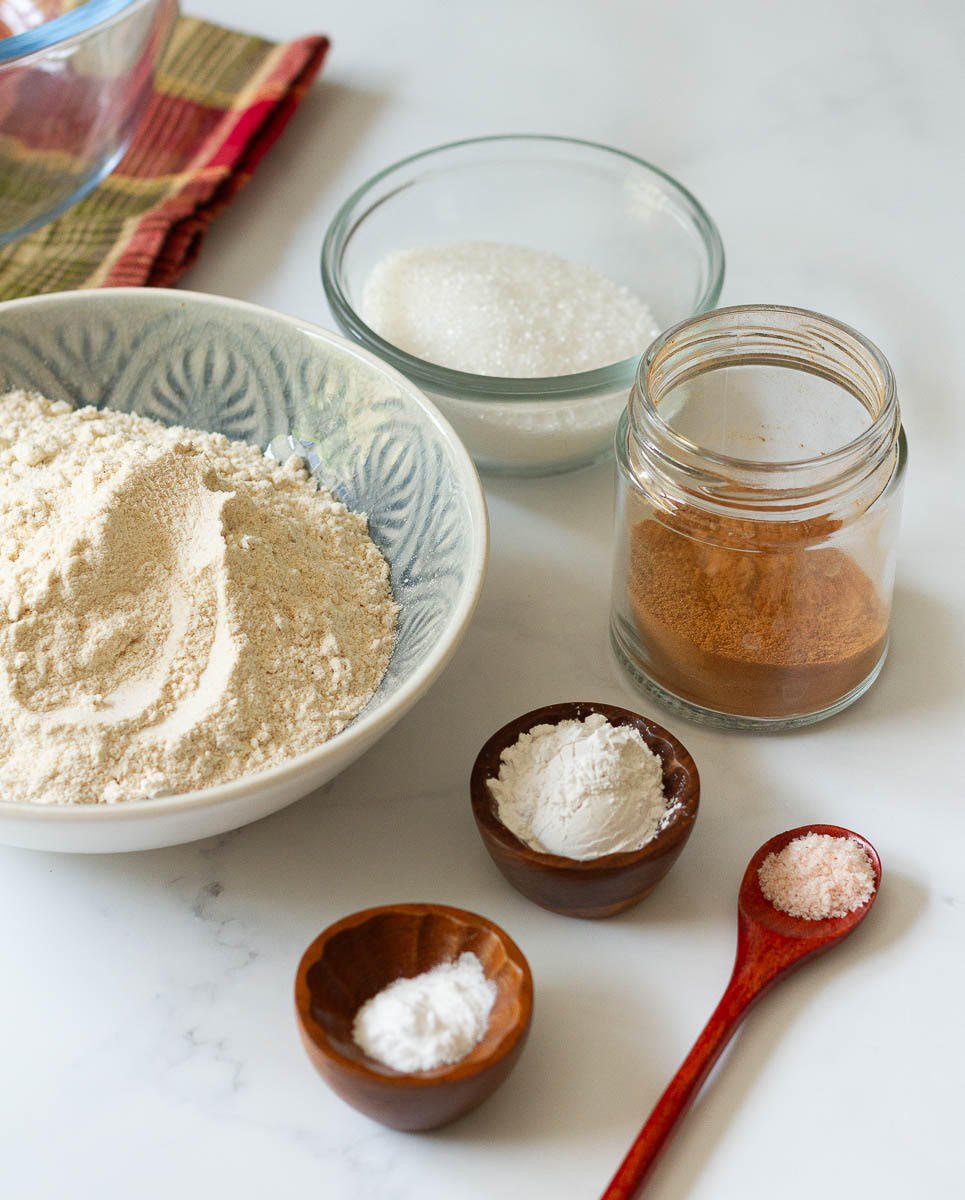 Step 4: Mash 3 small, ripe bananas really well, then add the milk-vinegar mixture, oil, and a splash of vanilla. Stir until well combined.
Step 5: Gradually fold the dry ingredients into the wet ingredients. Mix until just combined, being careful not to overmix. As soon as there are no visible dry streaks, stop.
Optional step: For me, the siren call of baked bananas and Biscoff beckons chocolate chips. Ah! The decadence. So, in they went. This is completely optional.
Step 6: Pour half of the batter into the prepared pan. Then add half of the melted Biscoff spread.
Step 7: Pour the rest of the batter on top, followed by the remaining cookie butter spread.
Step 8: Use a bamboo skewer to swirl the two together and create a marble effect.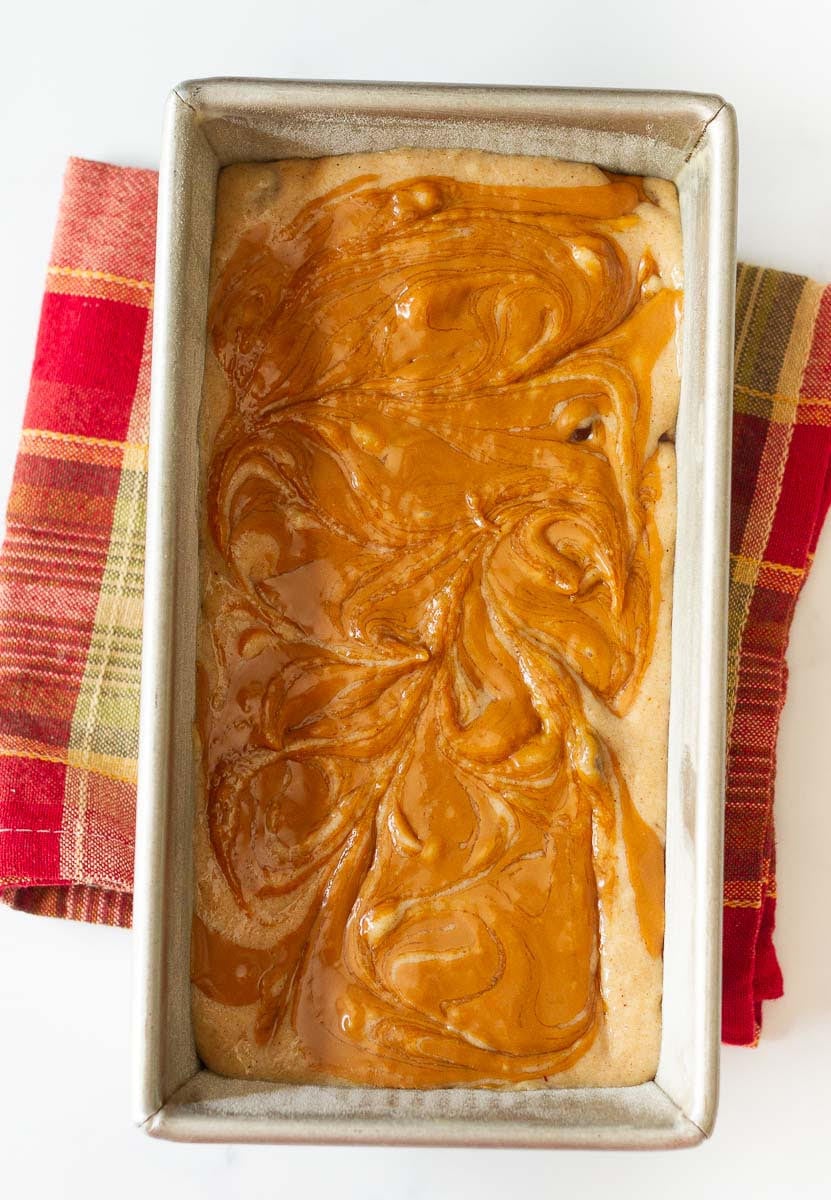 Step 9: Bake for a good 40–45 minutes, or until a skewer inserted into the center comes out clean.
Step 10: Allow the Lotus Biscoff bread to cool in the pan for 15–20 minutes.
Step 11: Slice and serve!
NOTES ON COOKIE BUTTER BANANA BREAD
You want the Biscoff spread to be just slightly softened. How did I melt it? I scooped it into a bowl and nuked it in the microwave for 10-20 seconds.
Banana Biscoff bread is very, very soft. So, give it some solid alone time to reach room temperature before you cut into it.
INDULGE IN THE BLISS OF LOTUS BISCOFF CAKE
This banana Biscoff bread needs no embellishments.
It's soft, moist, rich, and gooey all by its lonesome. Cut a generous piece and pair it with a cup of coffee or tea, and you've got a comforting treat.
It's also decadent and indulgent because of the yummy pockets of dark chocolate running through the crumb. So, I firmly put it in the category of after-dinner dessert.
But if you have a thing for decorating, and you really must, then top it with more melted Lotus Biscoff spread.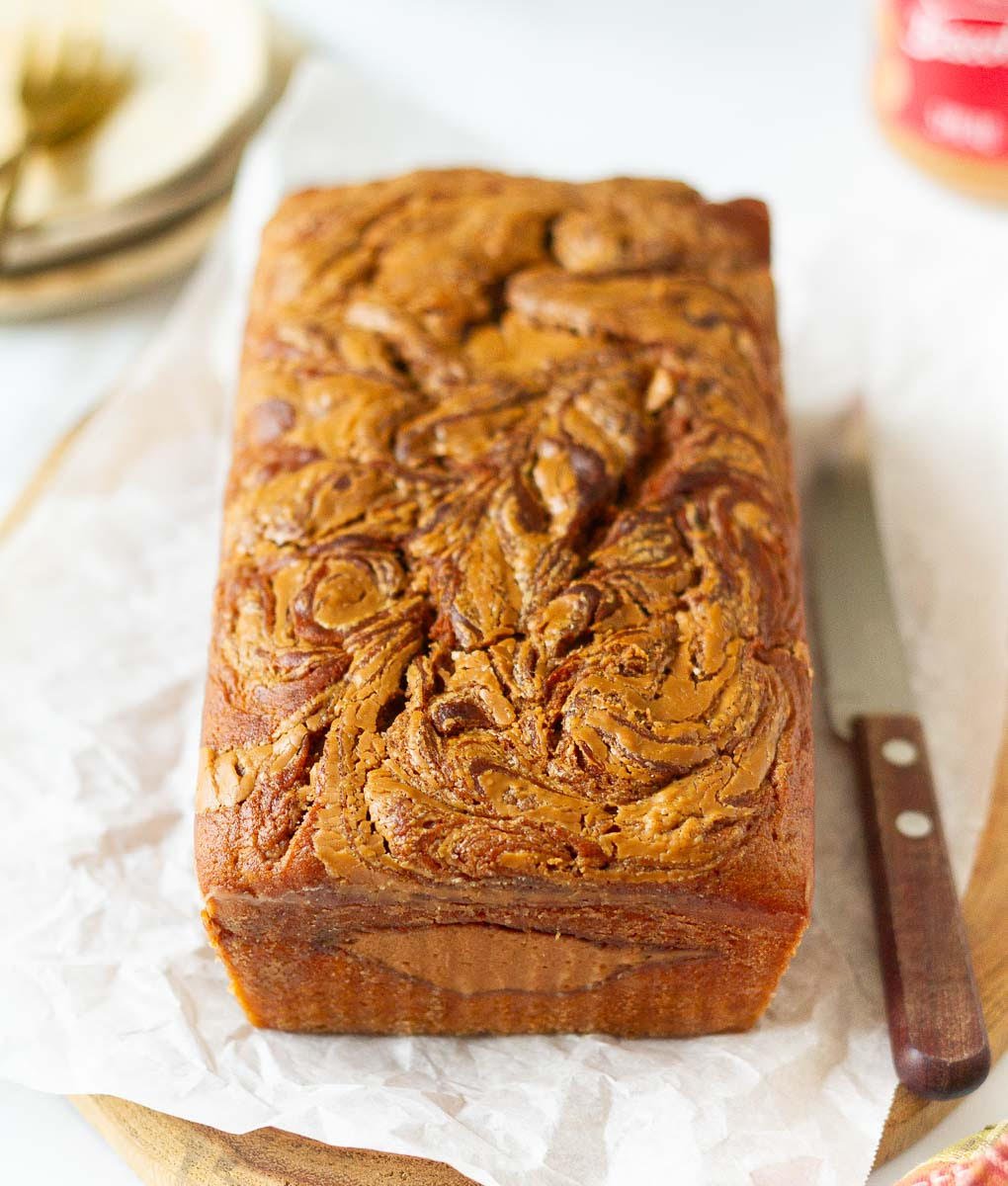 SUBS AND SWAPS FOR BANANA BISCOFF CAKE
Flour: I wanted a hearty banana Biscoff bread, so my choice of flour was whole wheat. The crumb turned out to be soft with a lovely texture. But be my guest and pander to your preference – switch to all-purpose flour or use half-and-half of both.
Sugar: Caster sugar was just a personal pick, and it's why my no-egg banana bread has a lighter hue. You can use brown or coconut sugar; both would bring out a lovely caramelly dimension to it. If you can't get hold of them, cane or raw sugar is fine too.
Oil: When it comes to baking, coconut oil is my preference. Although safflower oil or any vegetable oil works in this recipe for banana Biscoff bread.
Nuts: Where there are bananas, there have to be nuts. So, I imagine walnuts, almonds, pecans, or hazelnuts would make mad sense in this recipe.
CAN YOU MAKE RECIPE WITH BISCOFF AND BANANAS WITHOUT CHOCOLATE CHIPS?
As I said, chocolate is completely optional because the bread is rich and buttery all by itself. But for me (and it's a big one), with bananas in place, not adding chocolate is blasphemous.
So, in case you decide to follow my path, I used 70% Callebaut. But 55%, milk, or any chocolate you like will do its magic of flavor alchemy.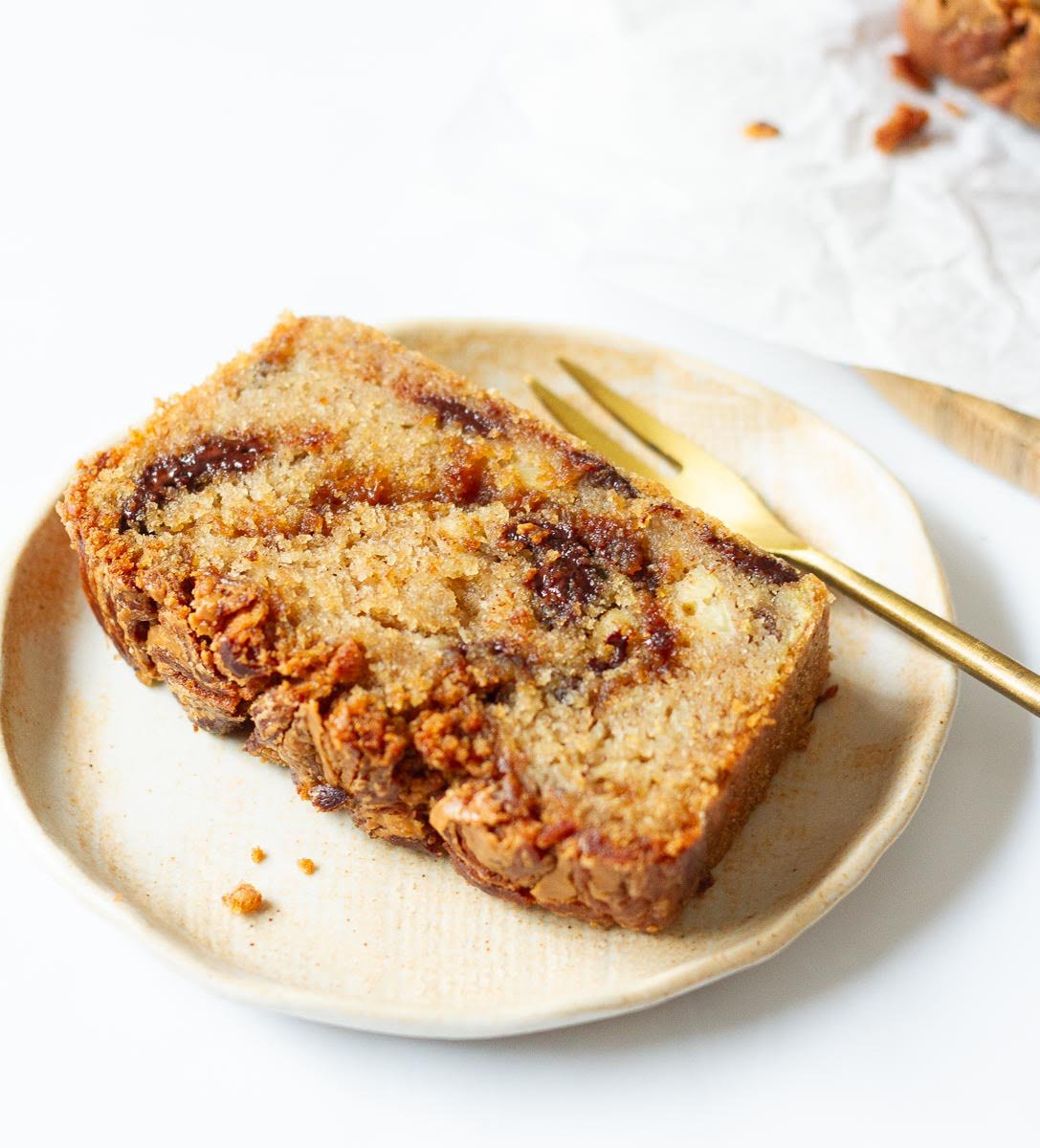 CAN YOU MAKE THIS BISCOFF DESSERTS RECIPE WITH EGGS?
Yes, yes, you can. Half the quantity of buttermilk and add two eggs to the wet ingredients.
HOW TO MAKE VEGAN BISCOFF BREAD?
Since the cookie butter spread by Lotus is already vegan, all you need to do is swap for dairy-free chocolate and plant-based milk like cashew, almond, or oat.
MORE RECIPES WITH BISCOFF
DON'T MISS THESE BANANA BREAD RECIPES
Banana Peanut Butter Chocolate Chip Cake
Half the joy of cooking is sharing it with others, which is why I'm always eager to hear from you. So go right ahead and drop a comment or reach out on Instagram, Pinterest, YouTube, or Facebook. I hope you love this banana Biscoff bread as much as we do!
📖 Recipe
Print Recipe
Biscoff Banana Bread - Easiest Recipe!
Biscoff Banana Bread- Easy, scrumptious, comforting banana bread with a decadent cookie butter twist!
Ingredients
1

cup / 240 gms

Milk

1

tbsp

Apple cider vinegar

You can use white vinegar as well

1 1/2

cup/ 187.5 gms

Whole-wheat Flour

2

tsp

Baking powder

1/2

tsp

Baking soda

1/4

tsp

Salt

1

tsp

Cinnamon powder

1/3

cup / 75 gms

Caster sugar

3

Bananas, small

1/3

cup / 65 gms

Coconut oil

1

tsp

Vanilla extract

1/2

cup / 100 gms

Dark chocolate chips

Optional

1/3

cup / 100 gms

Biscoff spread, melted
Instructions
Preheat your oven to 180 C. Grease a loaf pan very well. I used an 8" x 4" size.

Combine milk and apple cider vinegar in a bowl. Set aside for 5 minutes.

Sift together whole wheat flour, cinnamon powder, baking powder, baking soda, and salt in a large bowl.

Stir in the caster sugar.

In a large bowl, mash the bananas with a fork. Add the milk & vinegar mixture, coconut oil, and vanilla extract.

Pour the dry ingredients into the liquid mixture. Gently stir with a spatula, just until moistened.

Fold in the chocolate chips, if using.

Transfer half the cake batter to your prepared pan.

Spoon over half the melted Biscoff spread.

Carefully pour over the remaining cake batter, followed by the remaining Biscoff spread.

With a wooden skewer or toothpick, swirl the Biscoff into the batter.

Bake for 40-45 minutes or until a skewer inserted comes out clean with just a few moist crumbs attached.

Let the cake cool in the pan for 15-20 minutes. Transfer to a cooling rack.

Serve at room temperature and enjoy!