Decadent, sinful, and heavenly, these banana blondies are for those who love a rich, indulgent treat for special occasions, holidays, or just the same-old, same-old Wednesday. It's a simple one-bowl dessert recipe teeming with caramel flavor from ripe bananas, muscovado sugar, and browned butter!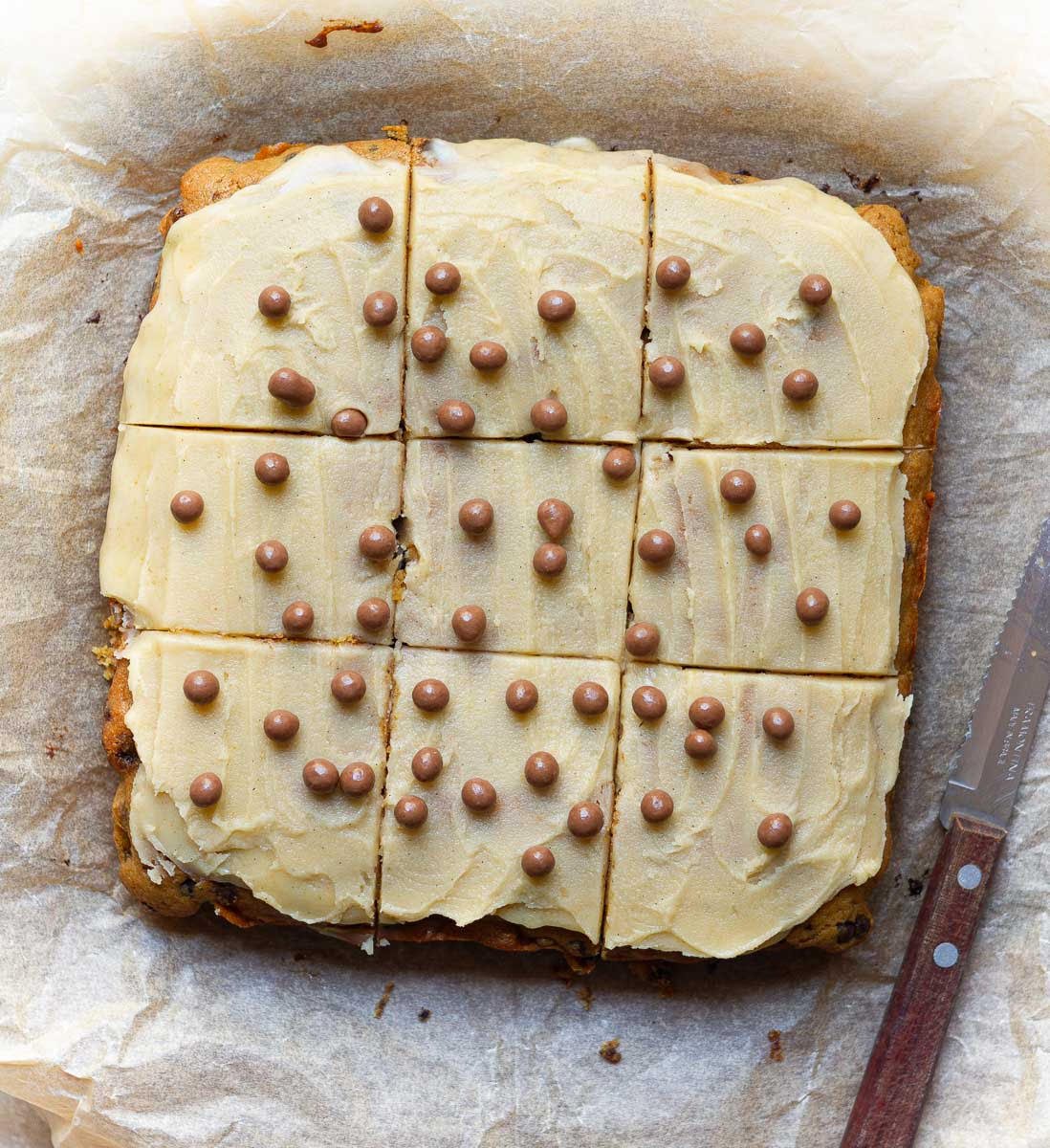 I've been making brownies, blondies, and breads for years now, and through all the whisking, folding, and stirring, I've learned one truth. There is no comparison to ripe banana dessert recipes. And that's why this is the best blondie recipe!
Moist and dense, the chewy blonde brownies have strong, sweet, and slightly burnt caramel notes with the muscovado sugar ringing in a delightful surprise. Although I'll be honest, these banana blondies are not as chewy as a typical blondie because I did sneak in some baking powder.
Jump to:
WHAT ARE BLONDIES?
The exact date of the creation of blondies remains a mystery, but we do know that sometime in the late 19th century, a brilliant baker decided to add molasses to a brownie recipe, making the fudgy bars lighter in color and giving them a sweet and sassy personality.
How do blonde brownies (as they were originally called) differ from their ancestors, the brownies?
Well, first of all, they don't need cocoa to be irresistibly yummy. Instead, they have vanilla and brown sugar, creating a butterscotch-like flavor. Their texture is also not as gooey as a brownie, but slightly crumbly and cake-like. And for that extra oomph that makes you weak in the knees are add-ins like nuts or chocolate chips.
WHY TRY THIS RECIPE FOR BLONDIES?
Because it needs just one bowl
Because these use up your sad overripe bananas
Because the brown butter icing makes them damn irresistible
Because they are extravagant, opulent, and hedonistic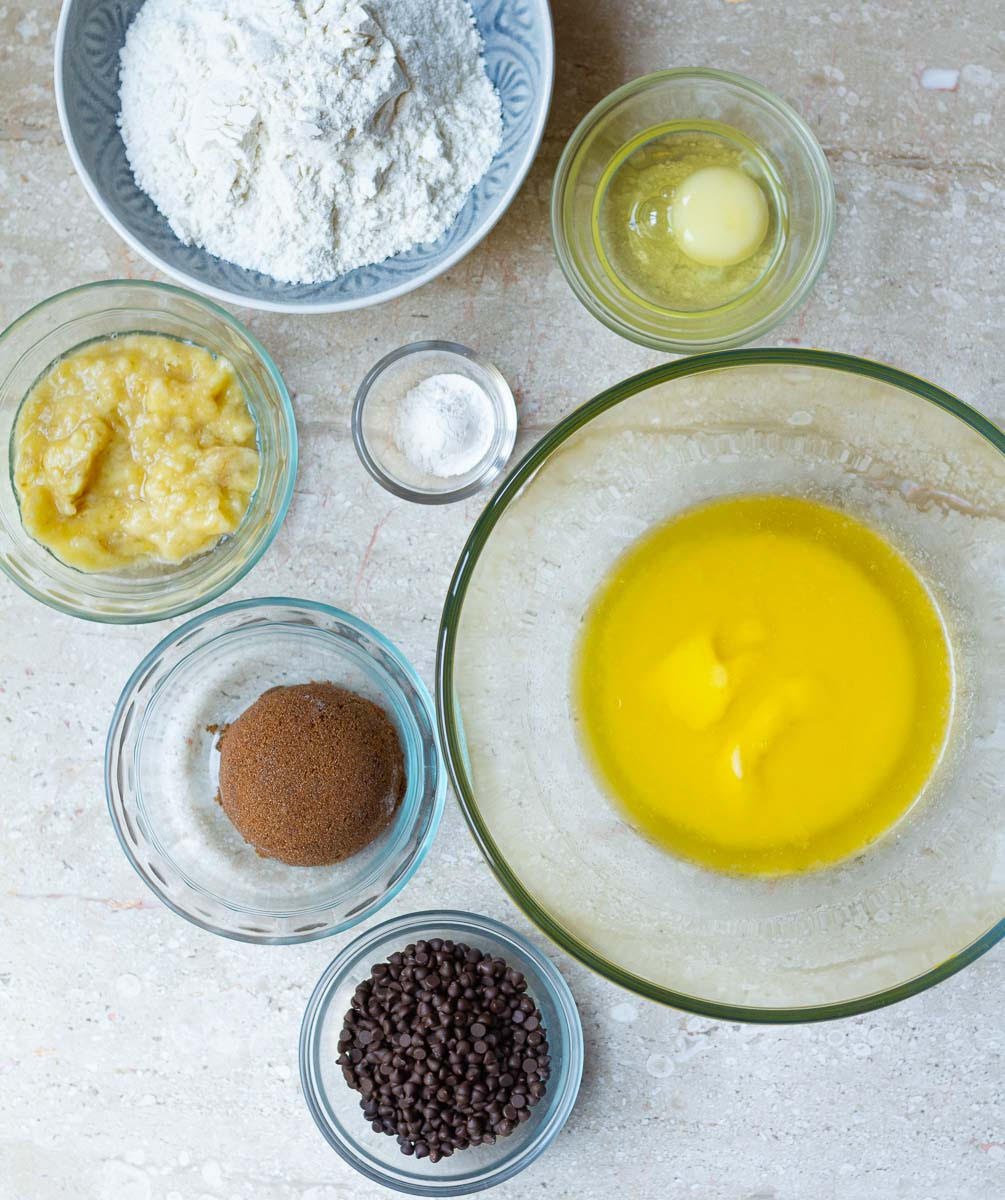 HOW TO MAKE BANANA BLONDIES?
Step 1: Set your oven to preheat, and then either grease (really well) or line your 8-by-8 baking pan with parchment paper.
Step 2:Whisk the muscovado sugar in the melted butter, then stir in the egg, followed by the vanilla extract.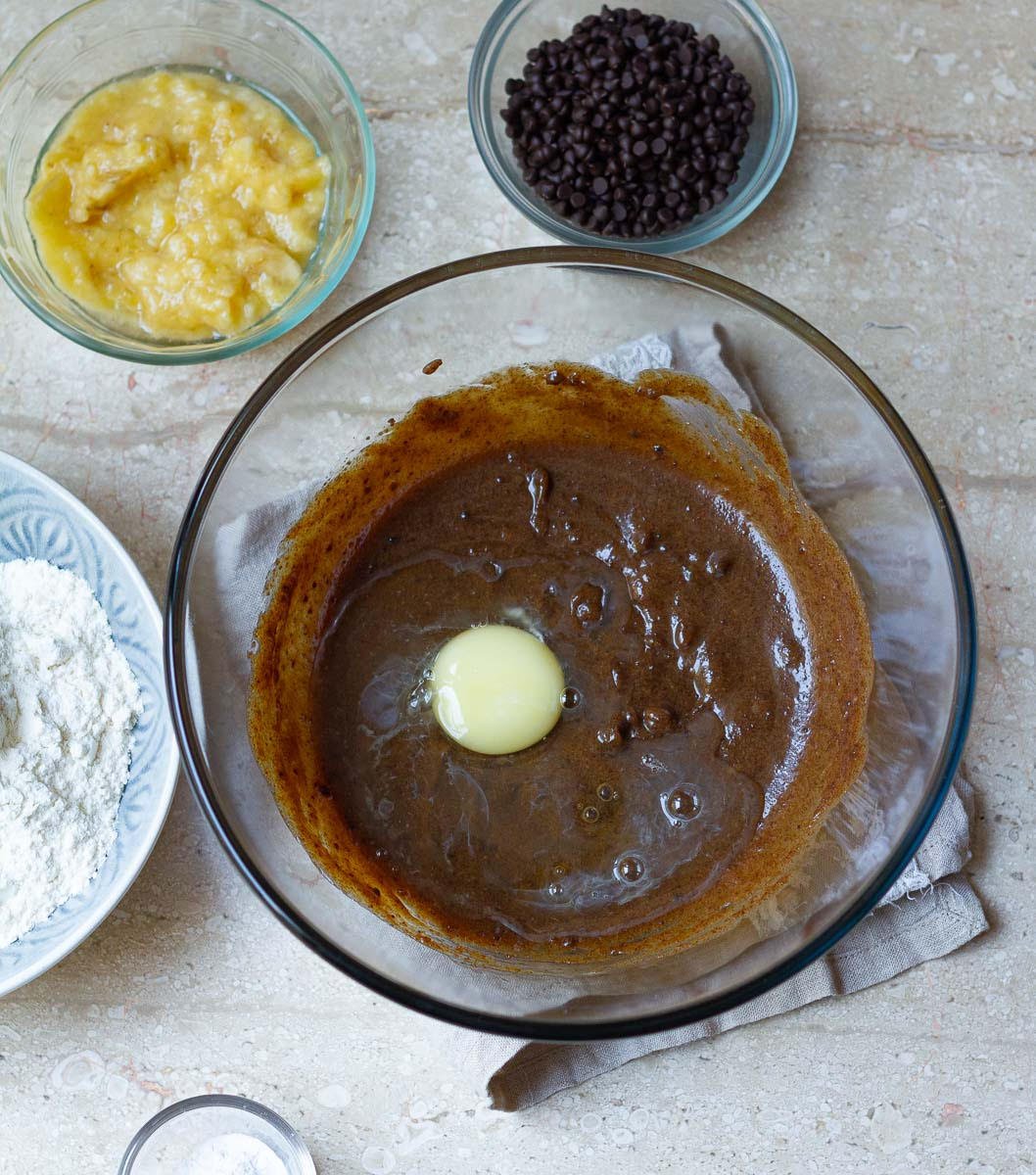 Step 3: Whisk in flour, baking powder, and mashed bananas and mix till you have a nice, thick, and smooth mixture.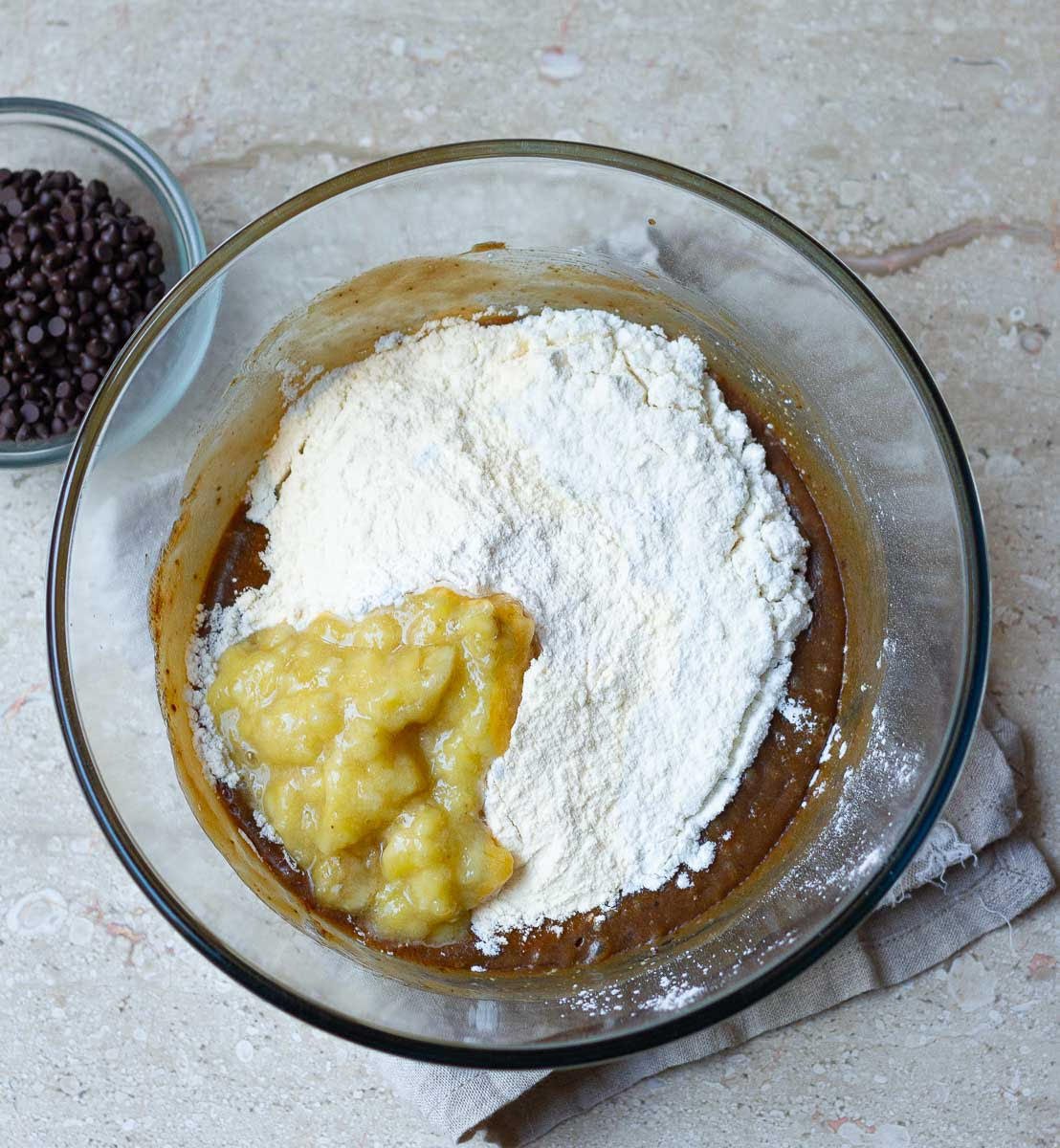 Step 4: Fold in chocolate chips (I used mini, dark ones). While chocolate chips in banana blondies are optional, the result is sensational for sure.
Step 5: Scrape the batter into your tin, smooth the top, and bake for 30 to 35 mins. Don't overbake; you don't want dry banana blond brownies.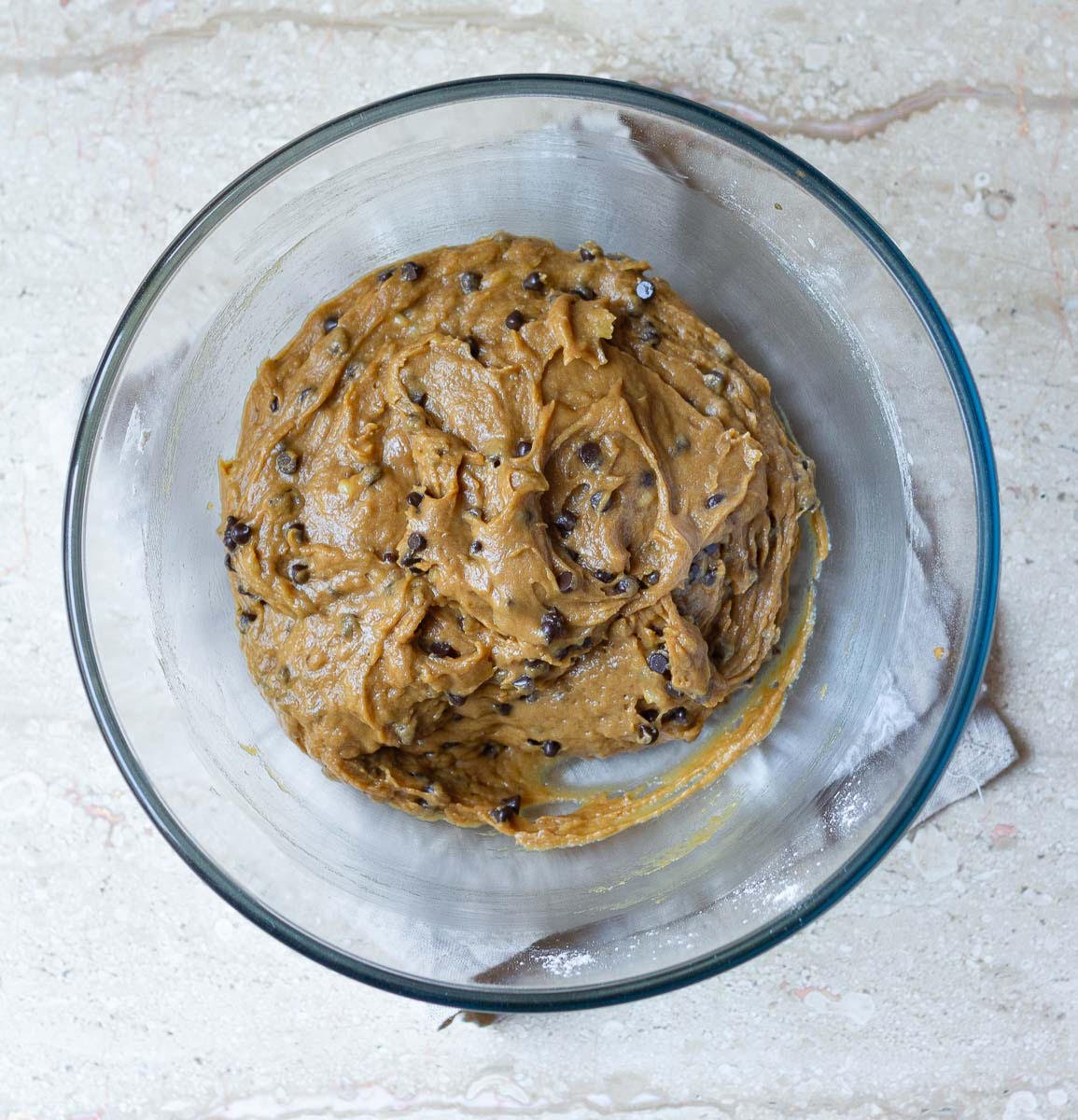 Step 6: Cool, cut, and enjoy!
SERVING THE TEMPTING BANANA BLONDIE BARS
Serve them warm, at room temperature, or cold. Stack 'em up or arrange them in neat rows - they will test your willpower mercilessly. So, in the end, it doesn't matter how you serve this banana dessert; only that you had fun while baking!
But, as ever, I decided to go ahead and be sinful.
I glazed these with brown butter. Why? Because brown butter frosting lends a divine, scrumptious dimension to them. The glaze is so delicious, you can have it by the spoonsful!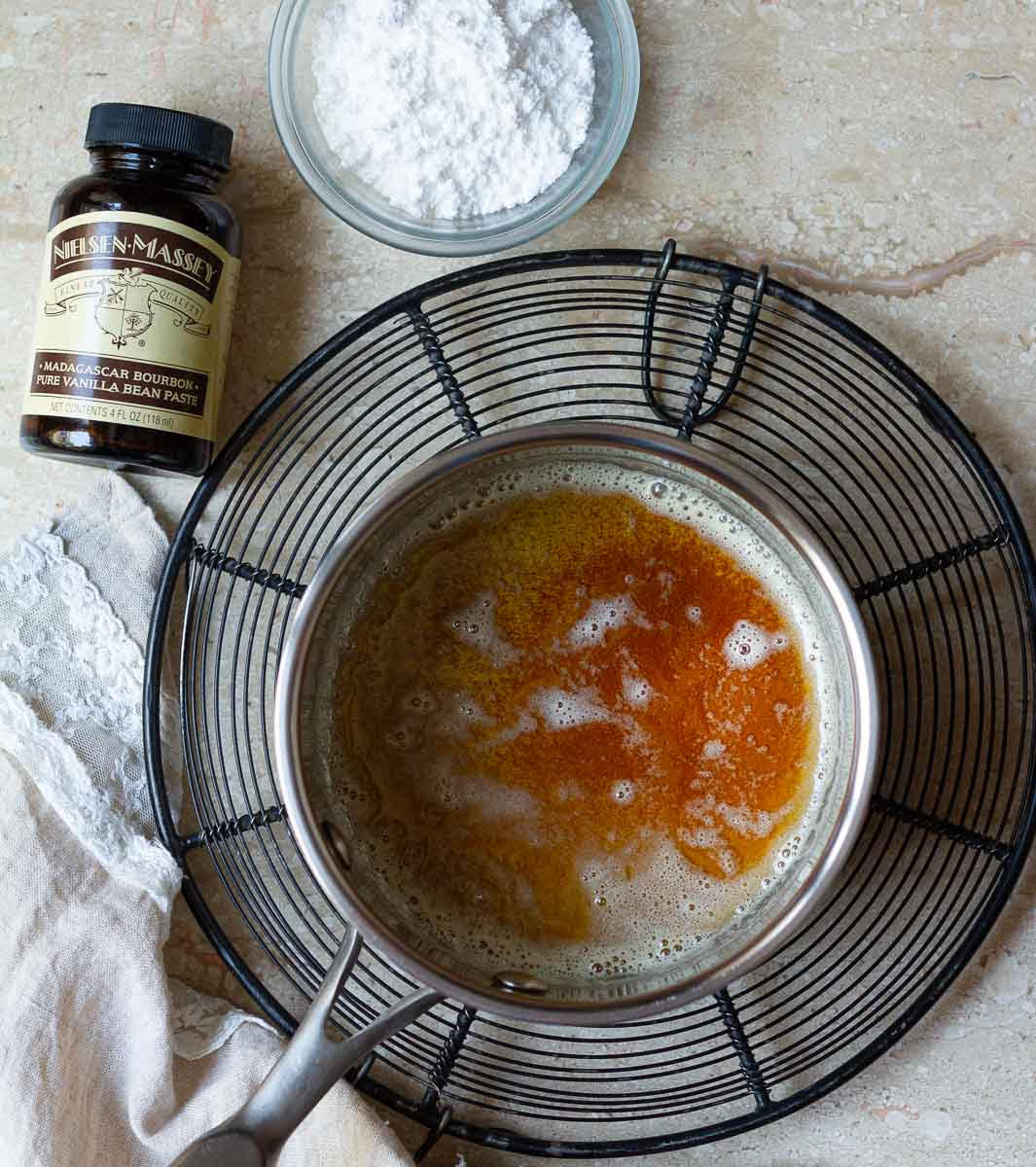 HOW DO YOU MAKE BROWN BUTTER GLAZE?
Heat butter in a pan over medium-low until the milk solids separate and the butter gains a toasted, nutty flavor. Take the browned butter off the heat and let it cool.
You can now use it as-is or strain the solids. I love to include the lovely caramelized solid bits because they infuse so much flavor into all-overripe banana recipes.
Whisk in icing sugar and vanilla bean paste (or you can switch to vanilla extract). I learned that this brown butter glaze asks for additional milk, about a tablespoon or two, to reach that gloppy consistency.
FYI, the frosting sets fast, taking about 2 minutes to stop being sticky, so you can still stack them up before storing them.
If you really want to go wild like me, finish off banana blondies with chocolate-coated caramels.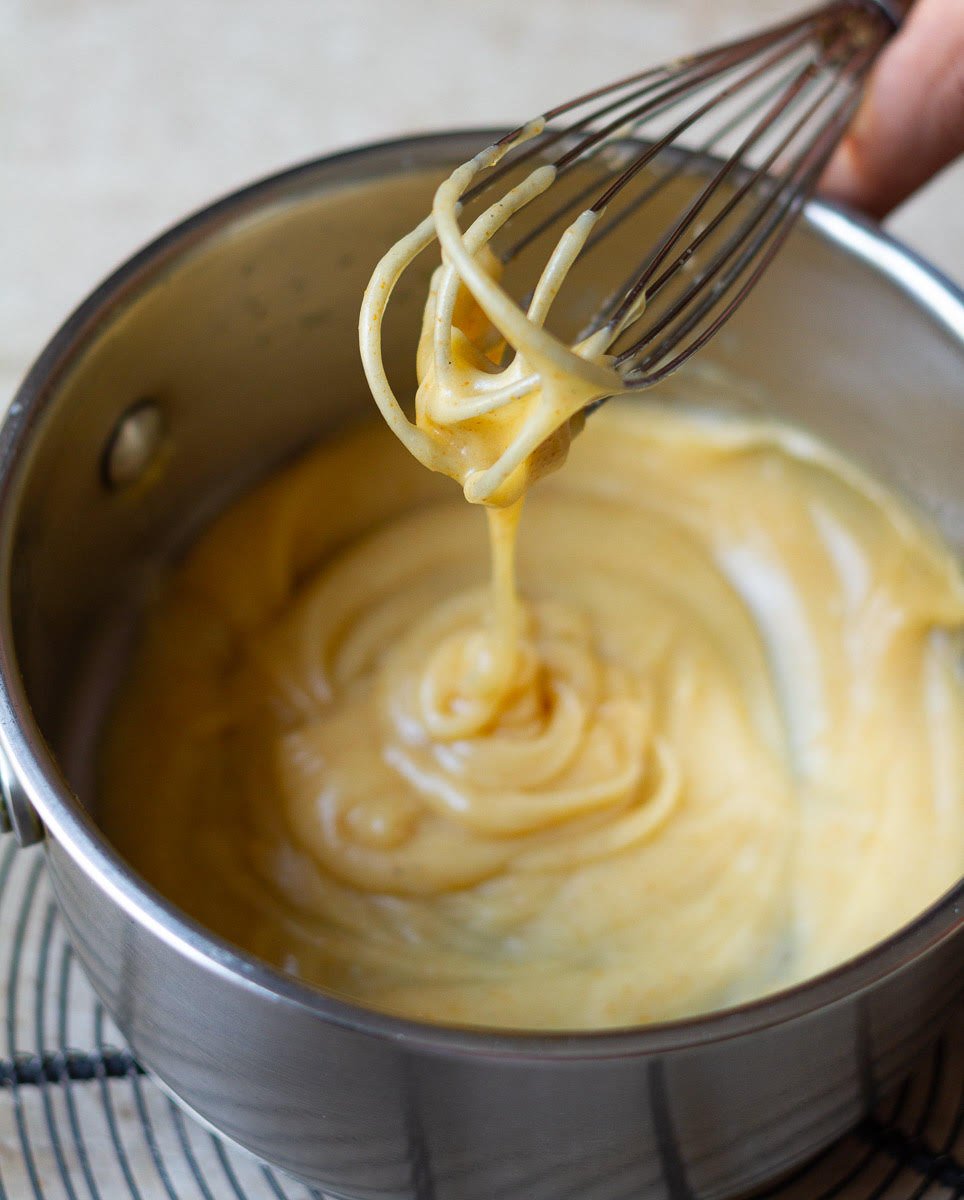 QUICK NOTES ON HOW TO MAKE A BLONDIE
Always, and this indeed bears repeating, always cool the banana blondies before you cut. Get that knife in too early, and you'll end up with crumbly edges, not sharp, clean ones.
When you're browning the butter, you have to keep an eye on it. It goes from browned to butter faster than you can say Jack Robinson.
Give the brown butter time to cool a bit before you incorporate icing sugar.
And finally, and very importantly, sift the icing sugar. I love everything about baking, but I don't enjoy sifting dry ingredients. However, icing sugar has a bad habit of clumping, so it's worth your while to sift it and get a silky-smooth glaze.
Use slightly warm or lukewarm milk in the glaze. Not cold, because that will make the butter stiffen up.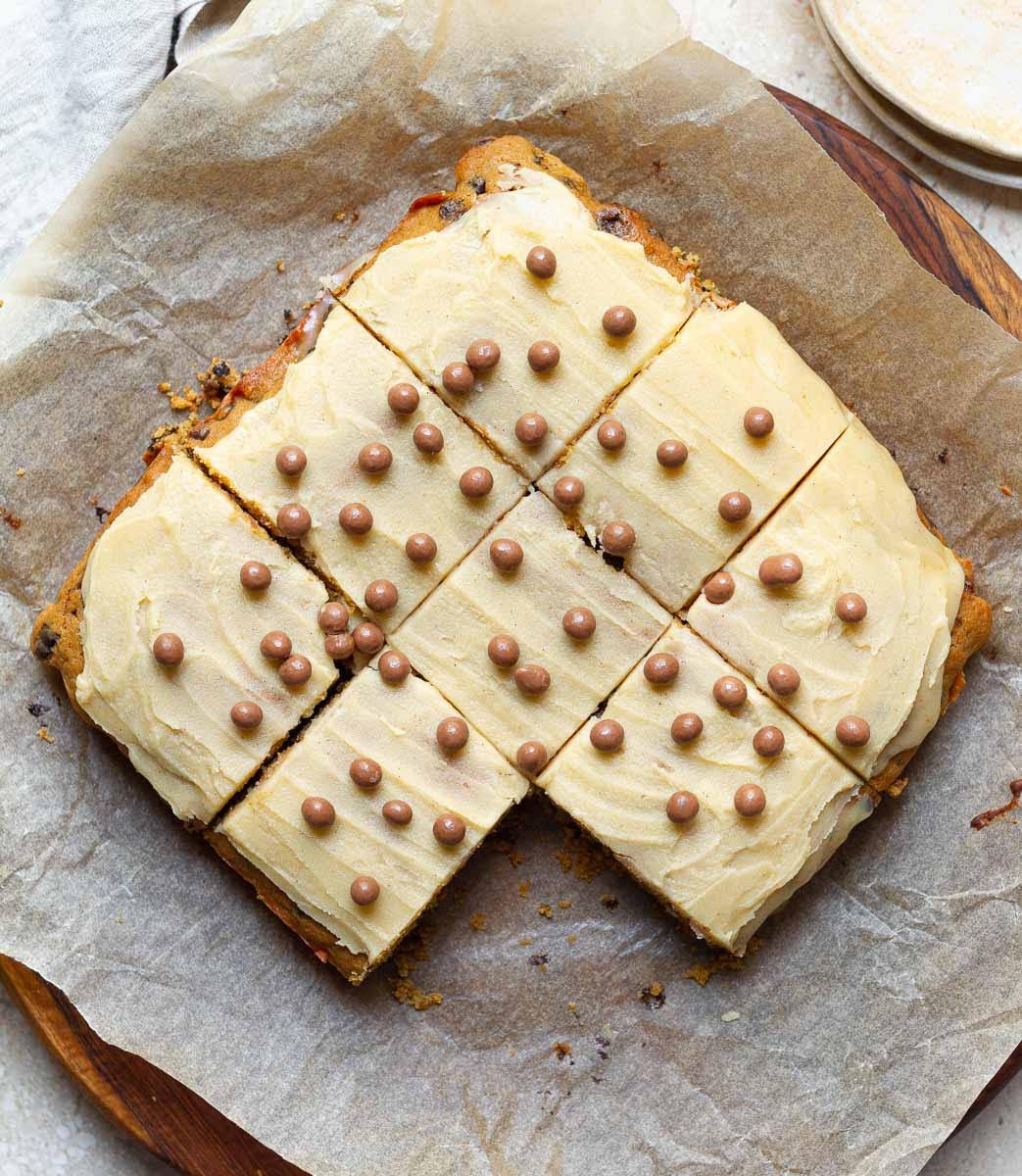 BANANA BLONDIES RECIPE INGREDIENT SUBSTITUTES
Flour: You can stick with all-purpose flour or switch to wholewheat. Another option is to do half of both. Want more choices? Here's what I have for you:
Egg: I haven't made any blondie recipes without eggs, but I think flax eggs would work here. Mix 3 tablespoons of water with 1 tablespoon of your flaxseed powder.
Muscovado sugar: This unrefined brown sugar has a natural molasses content that lands on any recipe like a tidal wave of flavor. For the banana bars, it imbues them with a deep, almost toffee-like taste. It also keeps the texture moist and soft, so it's great for baking.
But is there a raging need for muscovado sugar in banana blondies?
Of course not.
You can easily switch to regular brown sugar.
Add-ins: I always say, pander to your taste. Omit the chocolate chips if that's what your heart wants. Switch them with walnuts, or keep the blondies plain. And if you're looking to jazz them up, then a pinch of cinnamon will go a long way. Because when bananas are in the mix, cinnamon is a must.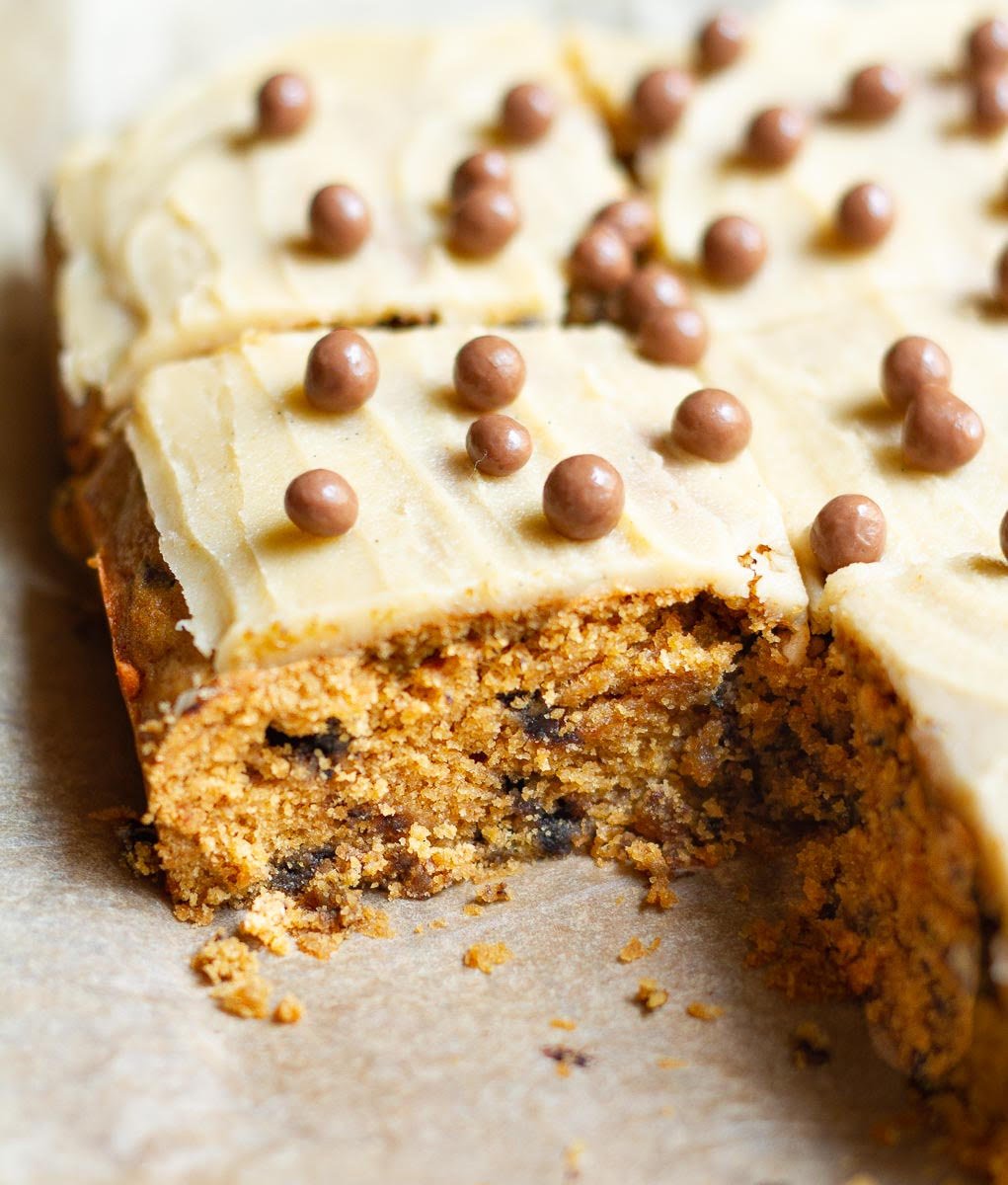 MORE RECIPES FOR OVERRIPE BANANAS
Cream Cheese Swirl Banana Bread
MORE BROWNIE RECIPES
Gluten-Free Chocolate Brownies
Sourdough Peanut Butter Brownies
Half the joy of cooking is sharing it with others, which is why I'm always eager to hear from you. So go right ahead and drop a comment or reach out on Instagram, Pinterest, YouTube, or Facebook. I hope you love the banana blondies as much as we do!
📖 Recipe
Print Recipe
Banana Blondies with Brown Butter Icing
Decadent, sinful, and heavenly, these banana blondies are for those who love a rich, indulgent treat for special occasions, holidays, or just the same-old, same-old Wednesday. It's a simple one-bowl dessert recipe teeming with caramel flavor from ripe bananas, muscovado sugar, and browned butter!
Ingredients
1/2

cup / 115 gms

Butter, melted

I used salted butter

3/4

cup / 135 gms

Muscovado sugar

1

Egg

1.5

tsp

Vanilla extract

1.5

cups/ 210 gms

All-purpose flour

1.5

tsp

Baking powder

1/2

cup / 2 small

Bananas, mashed

1/2

cup /90 gms

Mini dark chocolate chips
Brown Butter Icing
4

tbsp

Butter

2/3

cup/ 65 gms

Icing sugar

2-3

tbsp

Milk, lukewarm

1/2

tsp

Vanilla bean paste / Vanilla extract
Instructions
Preheat your oven to 180C. Line an 8" square pan with parchment paper or grease it well.

Combine the melted butter and muscovado sugar in a large bowl.

Add the egg and vanilla extract. Mix well.

Whisk in the flour, baking powder, and mashed bananas.

Fold in the chocolate chips and transfer the thick batter into your prepared pan.

Let the blondies cool in the pan for 5-10 minutes before taking them out on the cooling rack to cool.
Brown Butter Icing
Heat the butter in a small saucepan, on low heat. The butter will be bubbly and foamy and then will start to change color. Once it's brown in color, take the pan off the heat and let it cool a bit.

You can also strain the butter into a small bowl if you don't want the milk solids in the icing. I skipped this step.

Whisk in the icing sugar and vanilla bean. Add milk, 1 tbsp at a time until you get a smooth, viscous mixture.

Pour the icing over the cooled blondies and spread evenly. Sprinkle some chocolate-coated caramel balls on top if you wish.

Slice and serve. Enjoy!