Cakey, chewy, crumbly, chocolatey or, cocoa-ey. Brownies can be all this and more. I know because I've been baking them for an eternity. This time I wanted to make a batch with all the brownie hallmarks pushed to their natural limits. That's how the fudgy miso brownies were born.
What is miso?
It is a Japanese condiment with a very distinctive taste. Made from fermented soya beans and other ingredients, it has a bold kick with the uncanny ability to expand flavors. Anything miso touches, sweet or savory, detonates with flavors – the reason for my continued obsession.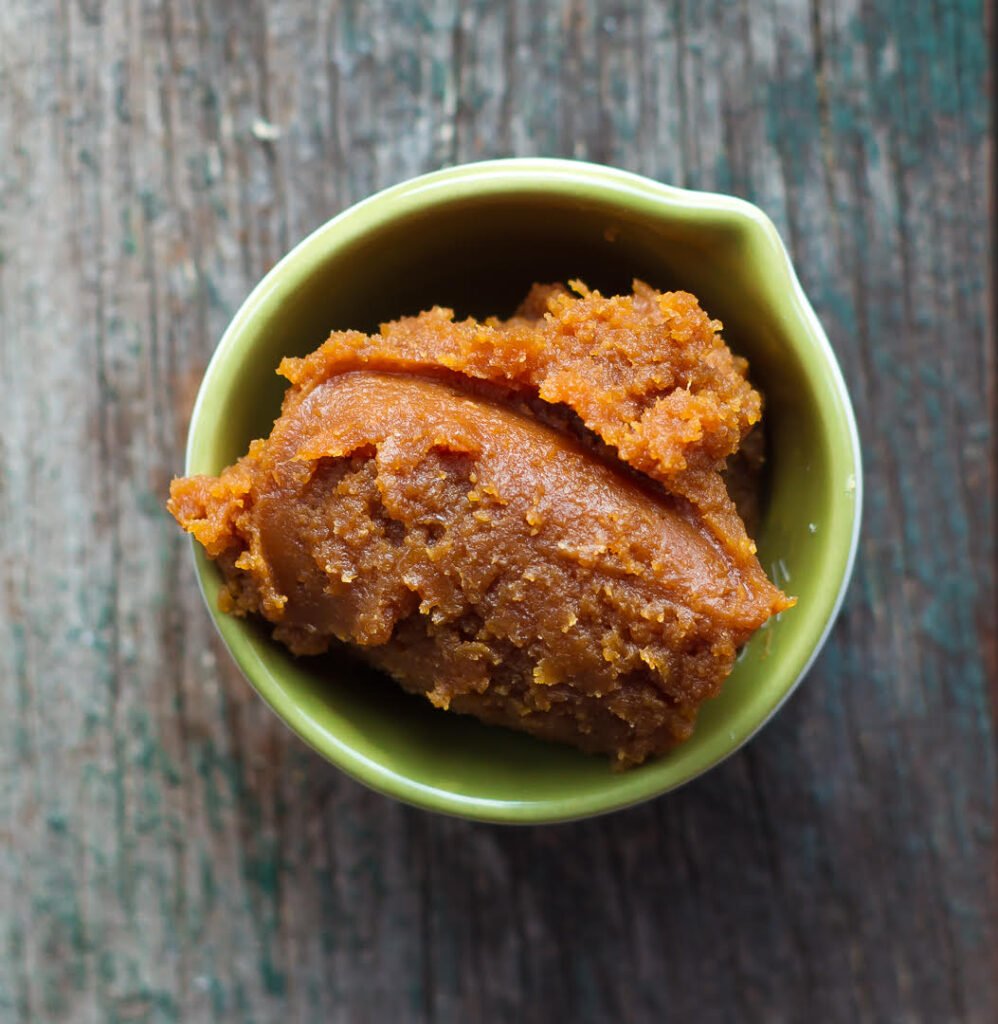 In brownies, miso imparts a lingering richness with a mellow maltiness without interfering with the inherent brownies taste. It's precisely the same effect sea salt lends to chocolate, subtly elevating the entire flavor profile.
It also makes the sweet bites dense, adding a luxurious mouthfeel. So, when you tuck in, you get that nice caramel-like taste on your palate.
How to make fudgy miso brownies?
I may have said this for every brownie I bake, but miso brownies take the cake and bakery when it comes to fudginess. It is almost like you are eating chocolate fudge. And yes, they are delightfully chewy too.
Start with making a double boiler to melt chocolate and coconut oil.
Keep stirring gently to combine.
Right before everything is just about melted, incorporate a couple of tablespoons of miso.
Take the mixture off the heat when you have a smooth, glossy mixture.
Mix in coffee powder.
And then stir in your raw sugar immediately so that the heat dissolves the crystals.
How to make a double boiler?
Fill a pot with an inch or so of water. Bring it to a simmer. Nestle a bowl, glass or metal, on top of the pan and add the ingredients to this bowl. This method of melting chocolate gives you more control over temperature, saving you from burning the chocolate.
Baking the fudgy miso brownies
After the sugar is mixed, let the mixture cool a tad.
Then whisk in coconut yogurt (or Greek yogurt) and vanilla extract using a wooden spoon or spatula.
Finally, mix in the dry ingredients you've already sifted together - all-purpose flour, baking powder, and cocoa powder.
Pour the thick batter in an 8-inch square pan lined with parchment (or greased well).
Bake for 22 to 25 minutes.
Tips for baking brownies
Your yogurt, whichever one you use, has to be at room temperature when you combine it with the chocolate-miso mixture. Else, it will curdle.
Don't overmix the dry ingredients into the wet. A quick couple of rounds will do till there are no visible white streaks. Overmixing gives you dry brownies.
Keep an eye on the baking time: Overbake and the texture of the brownies' ruins.
My fudgy miso brownies didn't have the characteristic crackly top. But they did have a series of tiny, satiny pebbles and ridges that shattered with every bite. Follow these three tips, and you'll have the same glimmer and sheen that's almost like a paper-thin crust.
Variations of miso brownies recipe
I choose to make vegan miso brownies, and because they are primarily eggless, I am not entirely sure about making them gluten-free.
I have tried gluten-free chocolate brownies before, but I always add eggs. So, if you attempt the miso brownies with gluten-free flour, incorporate two eggs instead of coconut yogurt.
Again, keep in mind that the eggs are at room temperature.
What oil can I use for brownies?
I've tried brownies with regular butter, olive oil, and, as in this case, coconut oil. Take your pick. They all work. You can even use plant-based butter to keep it vegan.
Can I use white sugar in brownies?
Yes, regular white sugar is absolutely fine for the miso brownie recipe. You can even test cane sugar instead of raw sugar.
Which flour is best for brownies?
All-purpose flour does the trick best. But go ahead and experiment with whole wheat flour if that's what you fancy.
What can I add to brownies?
Chocolate chips, fistfuls of them. Add them in the batter or on top. Nuts are another delicious choice to bring in more texture. Since miso already has a salty undertone, I recommend forgoing any sea salt as an add-in. But, go ahead add some if you enjoy that extra savory kick!
Can I store miso brownies?
Miso is a natural preservative. Any sweet laced with it lasts a long time. So, as long as you refrigerate the brownies in an air-tight container, you're good to go.
Serving the fudgy miso brownies
The hardest, hardest part of baking brownies is the wait. You have to manfully resist till they are completely cool. Slice them when they're still warm, and they'll crumble on you.
That's why I personally like to refrigerate brownies for a few hours. It ensures that you have nice, clean cuts. For serving, I kept the miso brownies plain except for a dusting of cocoa powder.
No one cared about adding ice cream, except the young lady of the house who simply couldn't imagine them without a scoop. The miso imbues them with a luscious, buttery dimension and caramel-esque essence that seriously need no accompaniment.
Ever since I made miso scones, I vowed to try more of the umami-flavored paste in my bakes. The household did have serious misgivings, but once they sampled the first uber moist, fudgy miso brownie, all of them were laid to rest. I now see a future where the deep earthy flavors of chocolate and miso pairing are a staple in my abode!
I'd love to hear from you! Please tag me on Instagram @tashasartisanfoods, using the hashtag #tashasartisanfoods. You can also FOLLOW ME on INSTAGRAM, PINTEREST for more fabulous recipes! Do subscribe to Tasha's Artisan Foods so you'll never miss a recipe!
📖 Recipe
Print Recipe
Fudgy Miso Brownies
Fudgy Miso Brownies- lusciously rich and luxurious, these vegan brownies are super fudgy and chewy. Just the way brownies should be!
Ingredients
1/2

cup ( 120 gms)

Coconut oil

You can use butter

1

cup ( 175 gms)

Dark dairy-free chocolate or 70% dark chocolate

2.5

tbsp

Miso paste

1.5

tsp

Coffee powder

1

cup ( 180 gms)

Raw sugar

You can use regular white sugar

1/2

cup (115 gms)

Coconut yogurt / Greek yogurt / 2 eggs

1.5

tsp

Vanilla extract

1/2

cup ( 70 gms)

All-purpose flour

1

tsp

Baking powder

1/4

cup ( 20 gms)

Cocoa powder
Instructions
Preheat your oven at 180C. Line an 8" square pan with parchment paper or grease it well.

Heat water in a saucepan. When the water starts simmering, place a bowl on top of that.

Combine coconut oil and chocolate in the bowl on top of simmering water.

Stir until the chocolate and oil are almost melted. Add in the miso paste. Stir until you get a shiny, smooth mixture.

Take it off the heat and add coffee powder.

Mix well and then immediately add the sugar.

Stir well until combined. Let this cool for a few minutes.

Mix in the coconut yogurt or Greek yogurt or eggs.

Stir in the vanilla extract.

Sift the dry ingredients - flour, baking powder, and cocoa powder in a small bowl.

Fold the dry ingredients into the chocolate mixture. Mix until no white streaks remain. Don't overmix.

Pour the batter into the prepared pan and bake for 22-25 minutes.

Let the brownies cool completely then refrigerate for 1-2 hours before slicing them. Dredge with cocoa powder and enjoy!