Peanut butter has been on my mind. With cravings hitting me at the oddest moments. I thought the Chickpea Protein Bliss Balls would be enough to indulge the hunger.
But one is never enough, is it?
Moving onwards and upwards, I had to decide what sweet thing to throw at my apparently bottomless craving for PB. Since it's been some time I baked brownies (the last batch was gluten-free and way back in June). And because many of you asked for eggless variation, peanut butter brownies were it!
To give the brownies a Tasha Twist, I baked them with sourdough starter discard!
The sourdough peanut butter brownies turned out sublimely moist with a barely perceptible tang. The delicious ribbons of peanut butter running through the fudgy interior made them delectably soft.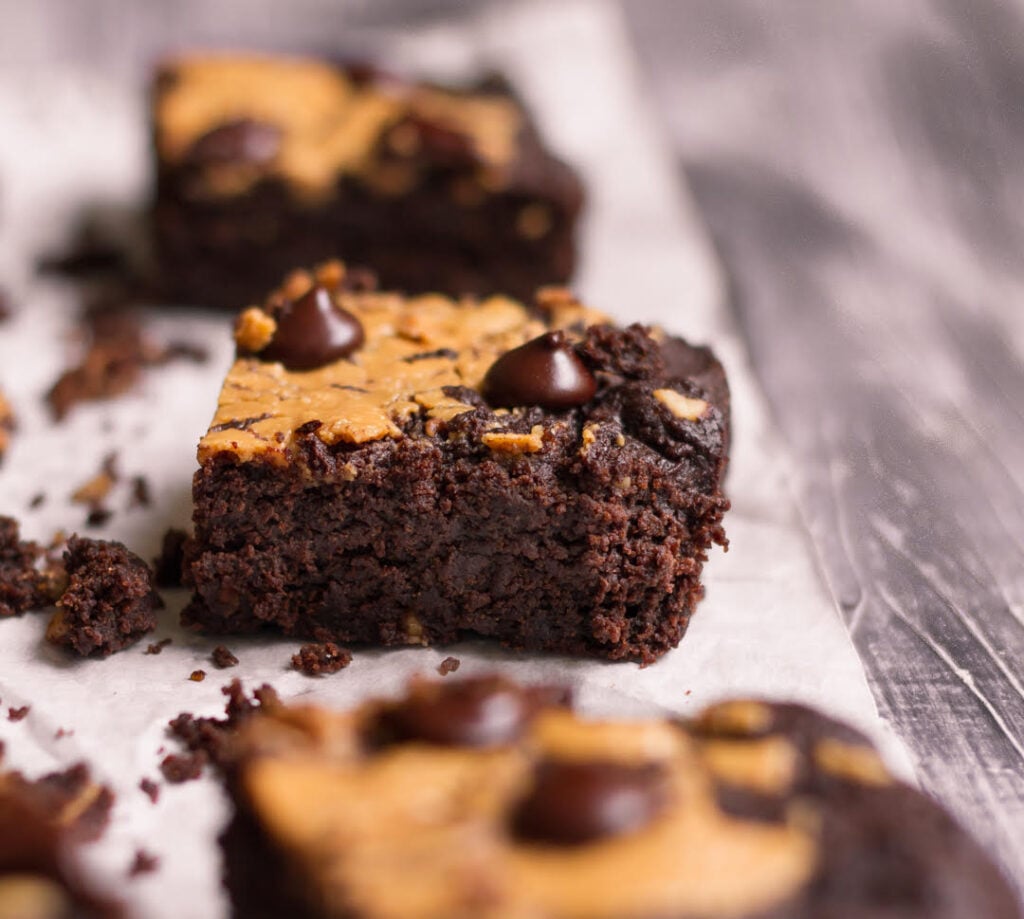 What's sourdough starter discard?
If you're new to sourdough (just in case), here's the whole spiel.
The very nature of feeding sourdough starter means you have to discard some of it with every feeding. And that's called sourdough discard. 
It's perfectly usable, so I like to sneak it in dishes such as galettes, pancakes, crackers, waffles, and cookies.
Lately, I've been adding it fairly regularly to my everyday bread. So instead of worrying about the sourdough discard jar languishing in my fridge, I have had to save some!
Oh, I'm still ironing out the wrinkles in the sourdough bread recipe, but keep an eye out. I'll be sharing it pretty soon.
Coming back to the sourdough peanut butter brownies – they're eggless. They're made from a local, organic peanut brand in my bid to support small businesses, given the current economy.
How to Make Sourdough Peanut Butter Brownie?
Start by whisking flax powder with water in a 1:3 ratio. Leave it for 5 to 10 minutes till it's thick and goopy.
Meanwhile, melt butter, peanut butter, and chocolate in a double boiler. I used 70% dark chocolate because I was gunning for the intense chocolate taste, and the complex flavor profile truly elevates the brownies.
Why a double boiler and not a microwave?
Because chocolate is temperature-sensitive. Too much heat and you'll be scraping burnt smudges of it from the pan – not something I wanted my precious dark chocolate to end up as.
The double boiler gives me better control over the heat than a microwave.
How do you make a double boiler?
Fill a pot with an inch or two of water and bring it to a simmer. Place a metal or glass bowl on top of it. The fit should be snug. Add the butter, chocolate, and peanut butter to the upper bowl.
Keep stirring the ingredients until they are just about melted. Remove the heat source and then mix it till it's shiny and smooth.
Stir in raw sugar to this, followed by the flax egg, sourdough discard, vanilla extract, and all-purpose flour. Some cocoa powder, mix, and you'll have a thick batter ready to be poured in your baking pan.
Baking the sourdough peanut butter brownies
Right before you slide the batter in the oven, drop spoonfuls of peanut butter on top. With a wooden skewer, swirl the peanut butter and then bake.
Quick notes:
It doesn't take long to bake brownies. For the final touch, scatter some chocolate chips on the surface as soon as you take the brownies out. The heat will help them nose their way into random pockets of melted goodness.
Don't overmix the batter, and don't bake them too long. Those are the golden rules for making uber moist, fudgy, and chewy brownies.
Keep an eye on the oven because overbaking will give the sourdough brownies a dry-ish texture.
I used crunchy peanut butter in the batter and smooth peanut butter on top to give the brownies a layered texture. If you don't prefer the feel of crunchy peanut butter or don't have access to it, the smooth version will do in a pinch!
For the chocolate, I exceedingly recommend any good quality option. That's what gives the brownies the deep, earthy taste that pairs so well with peanut butter and adds all the jazz.
Variations of the recipe:
For vegan sourdough peanut butter brownies, use a plant-based butter or coconut oil. I was short on coconut oil, so I stuck to regular butter.
If you don't want eggless sourdough brownies, replace the flax eggs with ordinary eggs.
To give the brownies a bit more crunch, sprinkle peanuts on top. You can even toss them in the batter, as long as you toast them first.
In case you don't have sourdough, use a couple of tablespoons of Greek yogurt to give the brownies the tang. Though truth be told, it is so subtle that my kids didn't even realize there was sourdough in the brownies!
You can even bake the peanut butter brownies without sourdough or yogurt.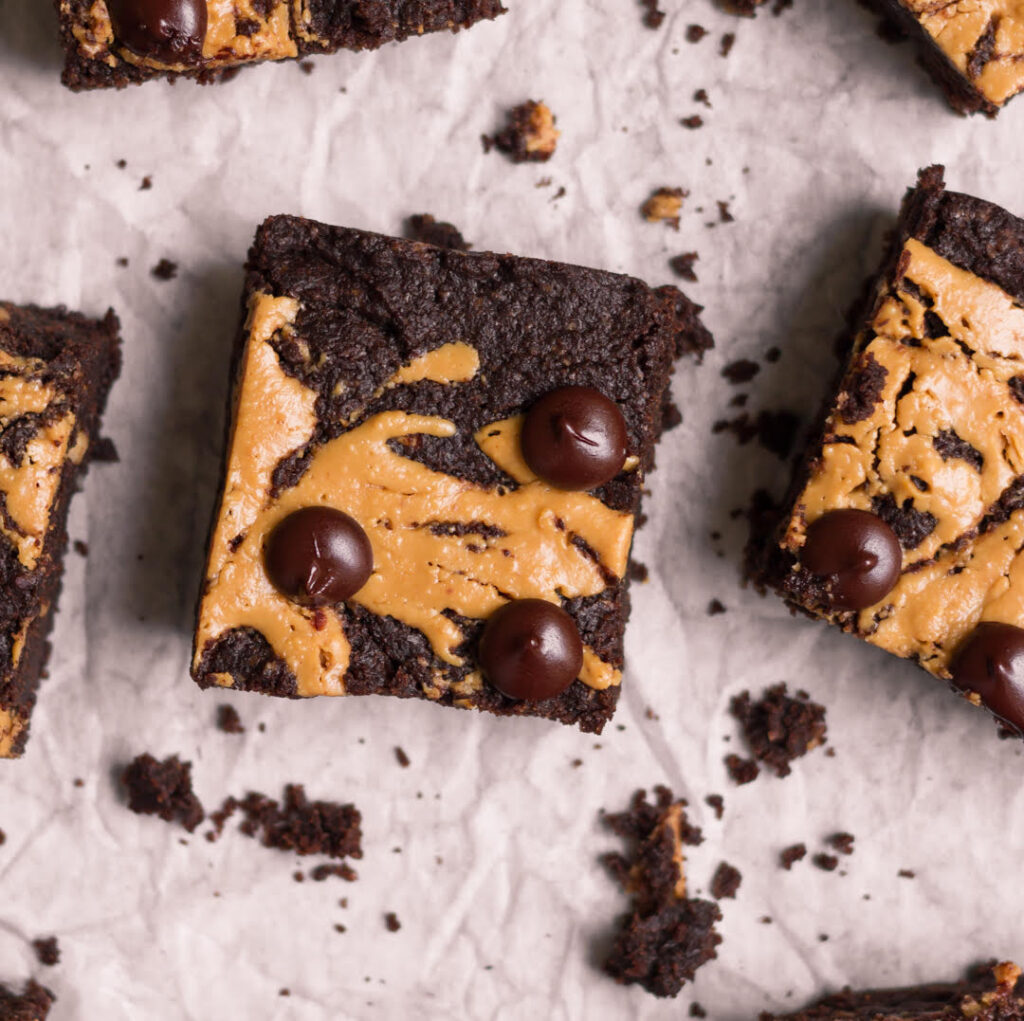 Serve the sourdough peanut butter brownies
Cut the brownies and serve. That's it. You don't need to bother with anything else.
The hardest part will be manfully resisting till the sourdough brownies have cooled. If you try to cut them fresh out of the oven, they will crumble.
I refrigerated the brownies for a few hours. Chilling them imparted a fudgier texture and more developed flavors, making them even better.
The nutty richness of peanut butter dancing with sourdough discard deepened the dark chocolate bite, saving them from being excessively sweet. Suffice to say the whole was unquestionably greater than the sum of its parts!
But I'll leave it up to you on how you enjoy the sourdough peanut butter brownies – warm, barely cool, or chilled!
I'd love to hear from you! Please tag me on Instagram @tashasartisanfoods, using the hashtag #tashasartisanfoods. You can also FOLLOW ME on INSTAGRAM, PINTEREST for more fabulous recipes! Do subscribe to Tasha's Artisan Foods so you'll never miss a recipe.
📖 Recipe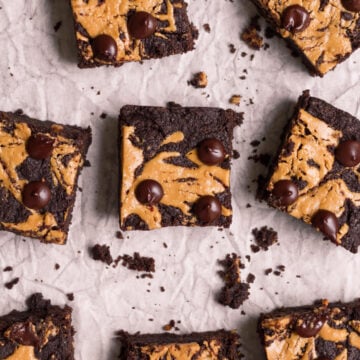 Print Recipe
Sourdough Peanut Butter Brownies
The sourdough peanut butter brownies turned out sublimely moist with a barely perceptible tang. The delicious ribbons of peanut butter running over the fudgy interior made them delectably soft. 
Ingredients
2

tbsp

Flaxseed powder

6

tbsp

Water

1/3

cup ( 100 gms)

Butter

3/4

cup

Dark 70% chocolate

1/2

cup

Peanut butter, smooth or crunchy, either will work

1

cup

Raw sugar

1/2

cup

Sourdough discard

1

tsp

Vanilla extract

3/4

cup

All-purpose flour

1/4

cup

Cocoa powder
Toping ( optional)
2

tbsp

Peanut butter, preferably smooth

1/4

cup

Dark chocolate chips
Instructions
Combine the flaxseed powder and water in a small bowl. Set aside for 5-10 minutes until the mixture thick and gelatinous.

Preheat your oven to 180C. Line a 9" square pan with parchment or butter paper for easier clean up.

Combine butter, peanut butter, and chocolate chips in a large bowl. Place this bowl over a pan of just simmering water.

Mix the butter, peanut butter, and chocolate until just melted.

Take it off the heat. Stir until the mixture is smooth and glossy.

Whisk in the flax eggs, sourdough discard, and vanilla extract.

Fold in the flour and cocoa powder. Mix until no white streaks remain.

Spoon the batter into the prepared pan. Drop spoonfuls of peanut butter on top and make swirls with a wooden skewer or knife.

Bake at 180 C for 25-30 minutes. Mine usually gets done in about 28 minutes.

Don't over bake this. A skewer inserted in the center should come out with very moist crumbs attached.

Scatter some chocolate chips on the brownie, as soon as it comes out of the oven.

Let cool for at least 1 hour before cutting into squares. Enjoy!