Peanut butter oat bites are tiny morsels healthy hedonism and a lush combination of dark chocolate, gooey peanut butter, and chewy oats. Decadent but not overwhelming, the treats are a sensation of textures that will, for sure, become a summer staple.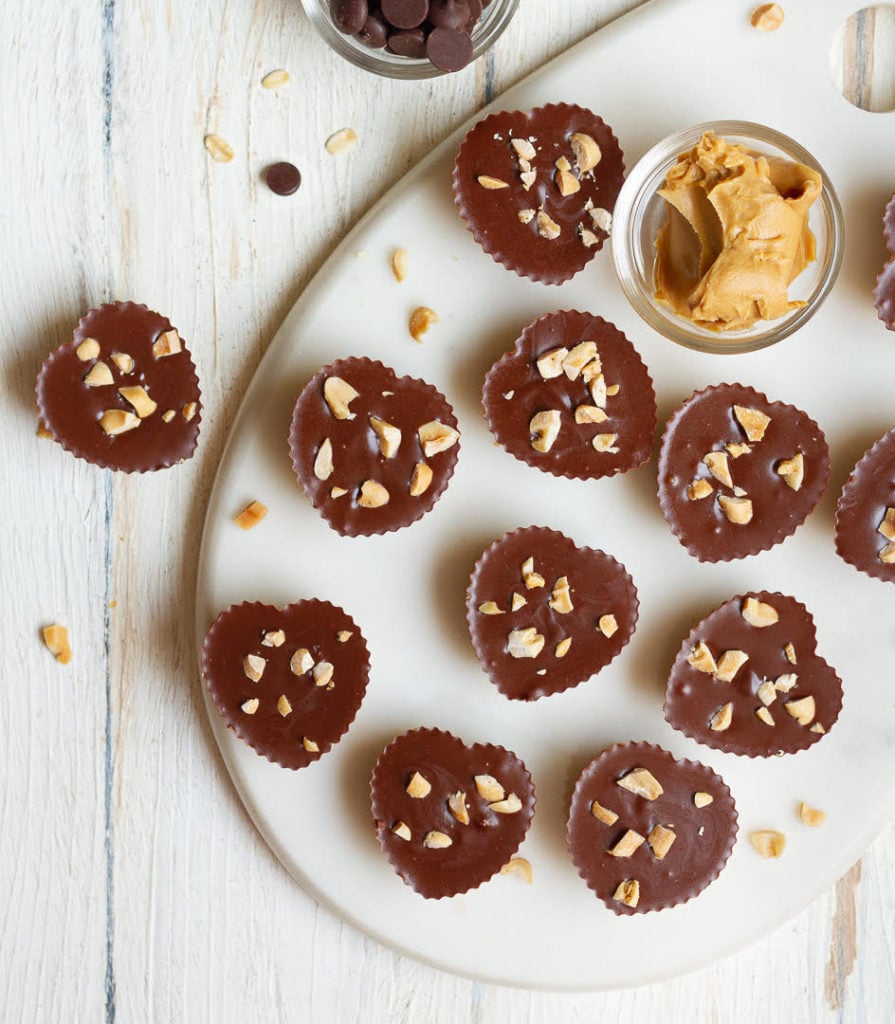 Jump to:
Peanut butter oats bites recipe
How to make peanut butter oats bites?
There will come a time when I'm ready to turn on the oven again. That time is not now. So, I'm happy to continue with my no-bake recipe streak. This one is an adaptation of Nadia's Healthy Kitchen with a few tweaks to her peanut butter oat bites recipe.
If you love and adore the idea of having chocolate not just for dessert but any time of the day or night, don't sleep on this recipe!
Step 1: Make your oat base by mixing rolled oats, peanut butter, and maple syrup until everything is well moistened and clumpy.
Step 2: Spoon the mixture into silicone cups, press it down, and then place them in the freezer for a few minutes to set.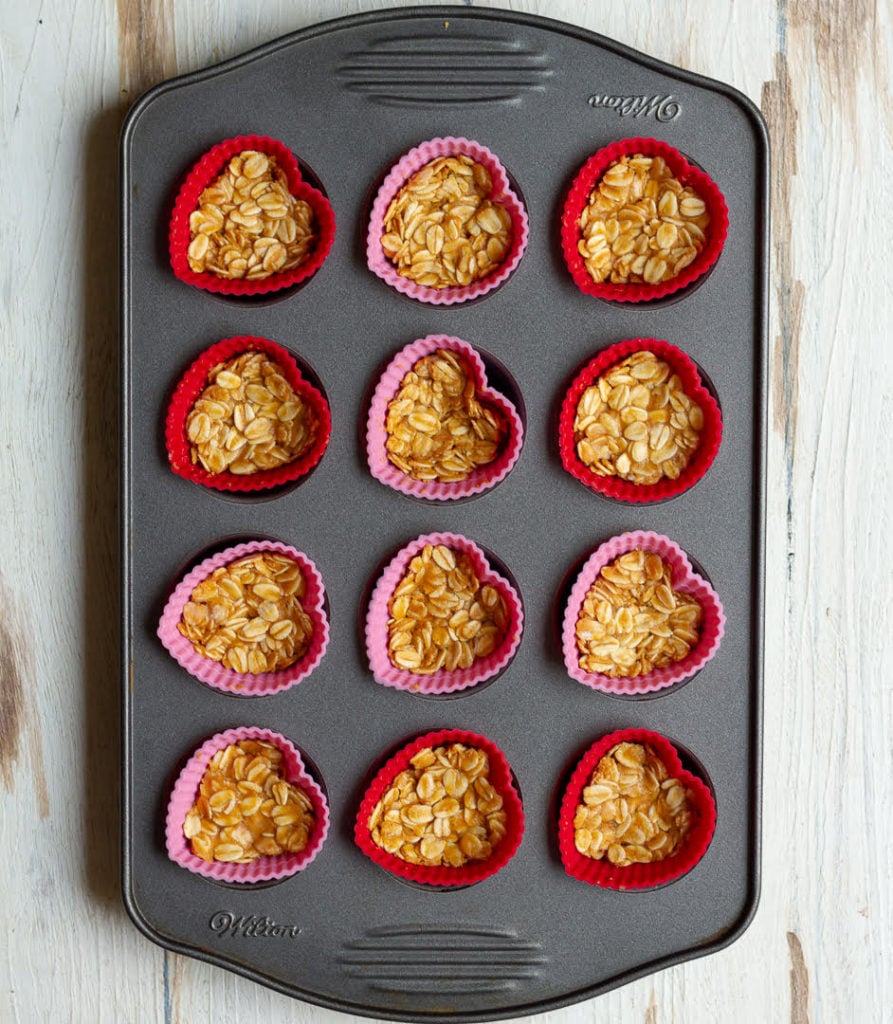 Step 3: Melt dark chocolate in a double boiler. Add peanut butter. Then whisk, whisk, whisk till it's shiny and glossy,
Step 4: Pour over the oat base. Sprinkle chopped peanuts on top.
Step 5: Place them back in the refrigerator till completely set.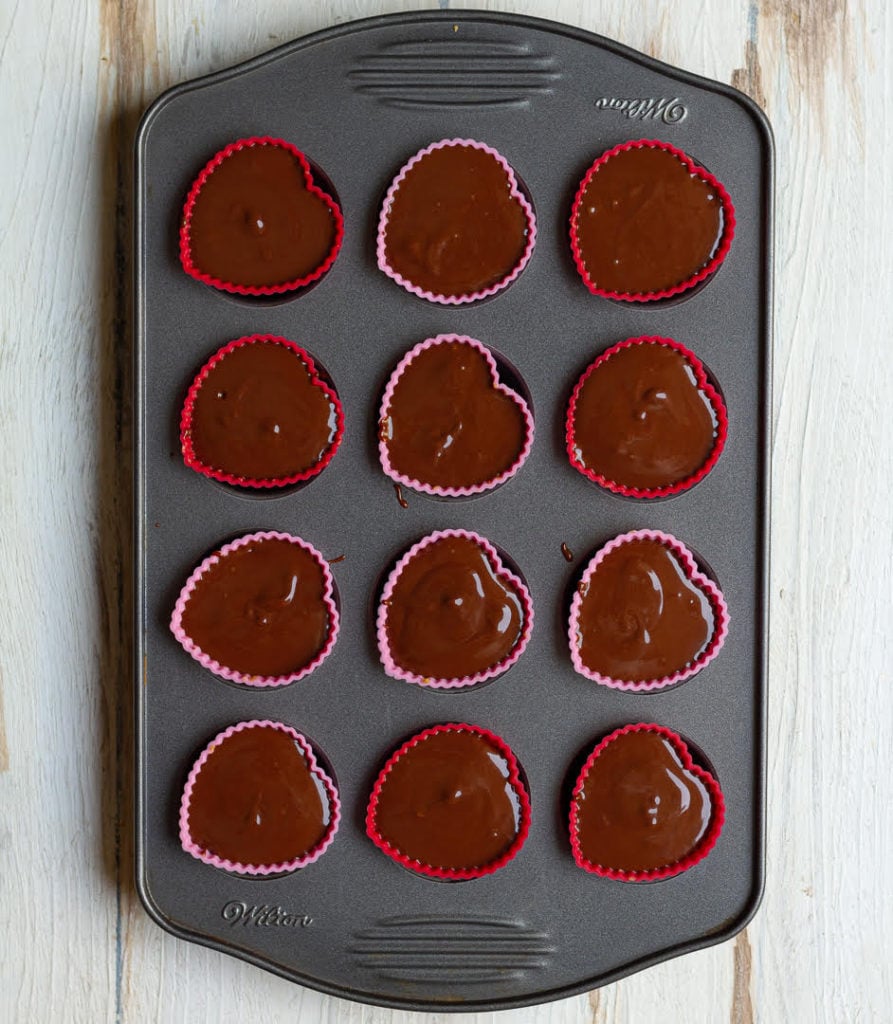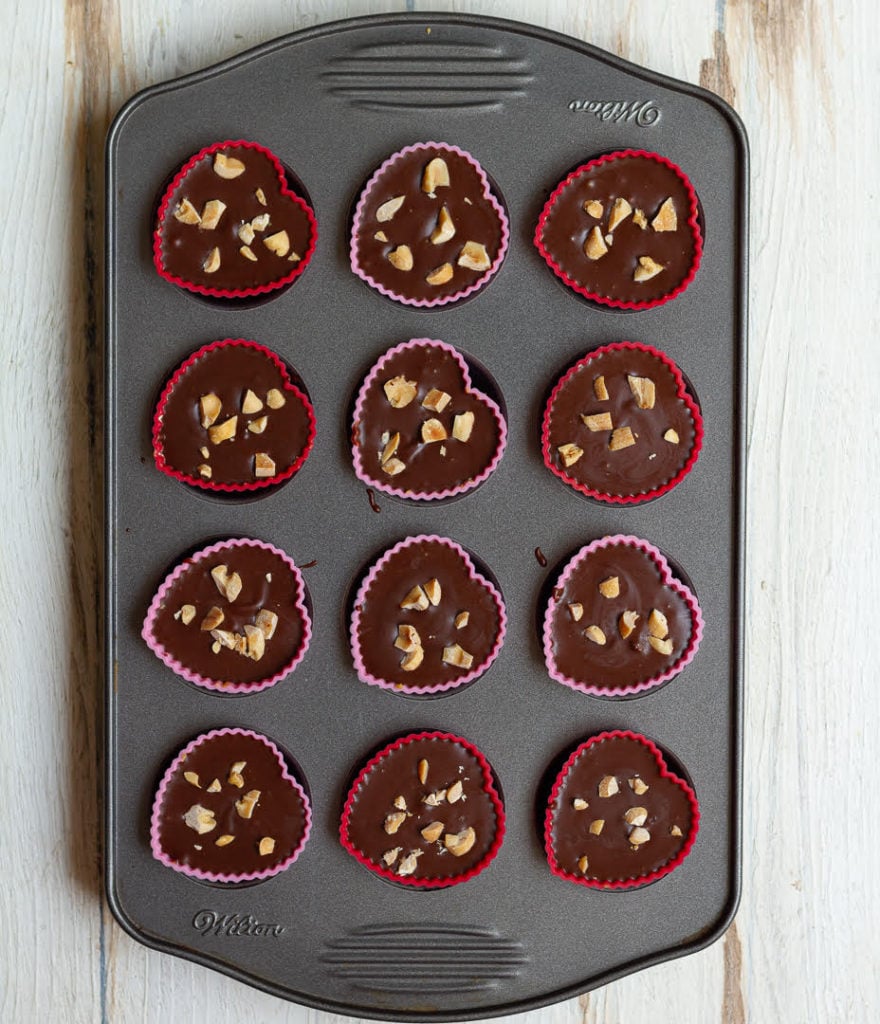 Simple tips
I used smooth peanut butter. But after having 2 (or 3) of these cups, I'd say crunchy peanut butter would have been oh so glorious!
To make it easier to transport the peanut butter oat bites, put your silicone cups in a mini muffin tray. Don't have silicone liners? Mini muffin paper cups work just as well.
Don't rush the chilling time. Give these tiny bites of healthy heaven at least 2 to 3 hours of refrigerator time to get that perfect texture and consistency.
Don't have time for the cups to firm up? Expedite things by sliding them into the freezer.
I've made plenty of batches by now, and all of them had a good shelf-life. Just transfer the peanut butter oat bites into an airtight container and store them in the fridge.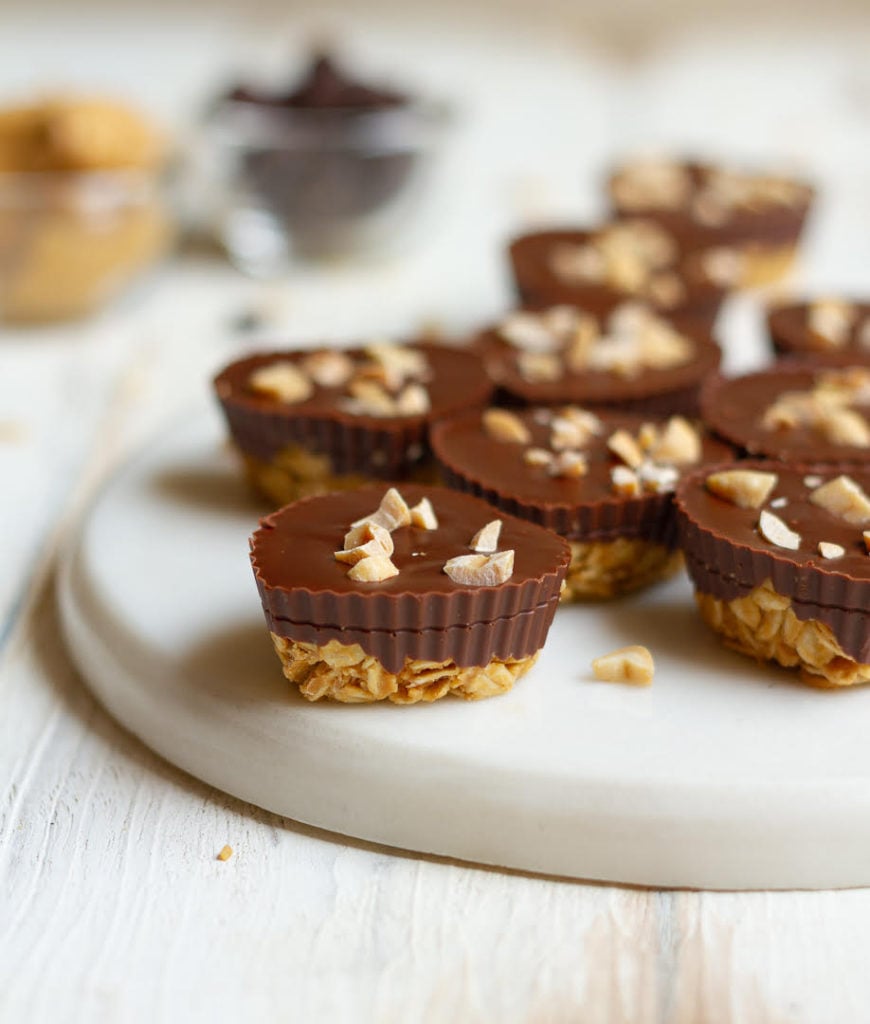 Peanut butter bites with just 4 ingredients (and a few variations)!
Oats
I used old-fashioned rolled oats for these peanut butter chocolate cups, and they are extra chewy for sure. If you don't enjoy the heartier texture, use instant oats to give the cups less of a bite. While oats are naturally gluten-free, grab only certified gluten-free oats, if that's where your appetite lies, because cross-contamination is common with them.
Peanut butter
The recipe has barely any ingredients, so please make sure they are of the best quality you can get your hands on. Natural and organic peanut butter is what I prefer. Homemade will work wonders!
If you're using store-bought, make sure it contains only peanuts, and no added sugars or flavors. Almond butter is a great choice, or for those with allergies, seed butters.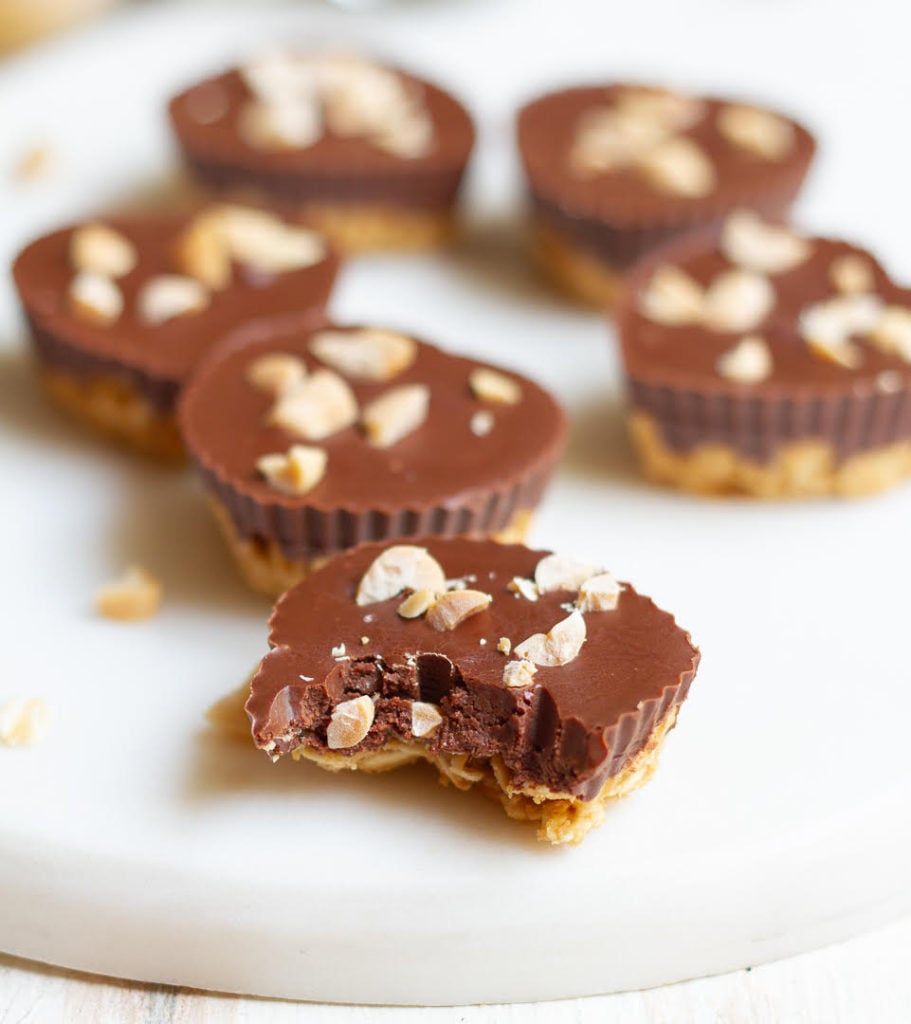 High-quality chocolate
Anytime I want to bump up the overall flavor of any of my recipes, I sneak in dark chocolate. And these peanut butter oat bites were no different. The dairy-free, 70% dark chocolate was insanely good and brought balance to the creamy peanut butter.
In case that tiny hint of bitterness is not up your alley, try 55% chocolate. Even milk chocolate would be a delicious match.
Maple syrup
Chocolate and PB make a decadent duo, but maple syrup ties the two layers together. Other sweeteners that pair well in these peanut butter chocolate cups are honey or date syrup.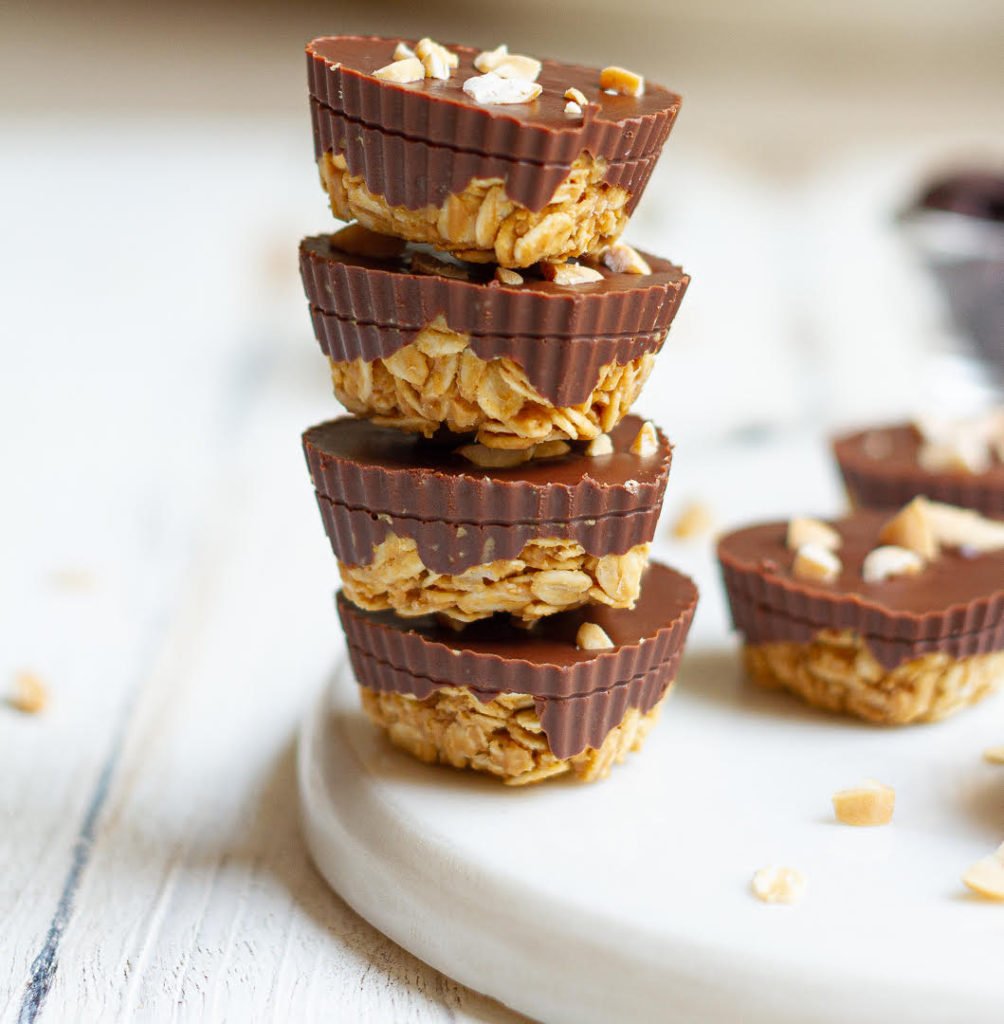 Give the peanut butter oat bites a whirl
4-ingredient, 5-steps super simple recipe
Healthier than an average in-between snack
Mini-sized, so ideal for portion control
Hit the spot for something sweet after dinner
Even a big batch stores well for weeks in the fridge
Super tasty on-the-go treat, especially if you have a kid sitting for exams (like me!)
More chocolate peanut butter desserts
Chocolate Peanut Butter Pudding
Chocolate Peanut Butter Smoothie
Healthy Chocolate Peanut Butter Balls
Vegan Chocolate Peanut Butter Cups
No-Bake Peanut Butter Chocolate Cookies
Vegan Chocolate Peanut Butter Cookies
Want more simple desserts?
📖 Recipe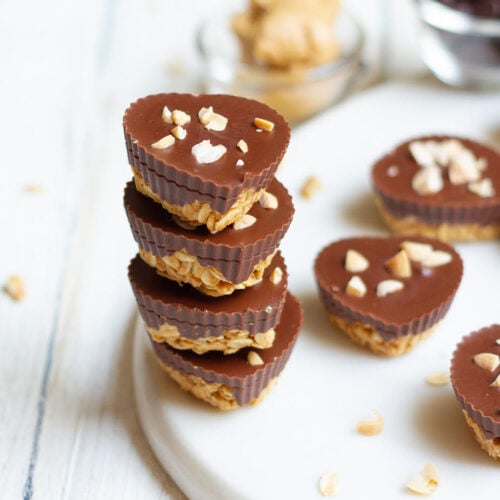 Print Recipe
Peanut Butter Oats Bites
Peanut Butter Oats Bites are tiny morsels of healthy pleasure and a lush combination of dark chocolate, gooey peanut butter, and chewy oats.
Ingredients
Crust
75

gms ( 1/2 cup)

Rolled oats

2

tbsp

Peanut butter

2

tbsp

Maple syrup
Filling
85

gms ( 1/2 cup)

Dark chocolate chips 70%

2

tbsp

Peanut butter

Chopped peanuts for topping
Instructions
Crust
Mix all the ingredients in a bowl. The mixture should be well moistened and clumpy.

Drop small spoonfuls in small silicon cups or mini muffin tray, lined with paper liners.

Press down well and freeze for 5-10 minutes.
Filling
Melt the chocolate and mix in the peanut butter until the mixture is smooth.

Drop spoonfuls of this mixture on top of the oats crust.

Top with chopped peanuts if you like.

Refrigerate until set. Store in an air-tight container in the refrigerator. Enjoy!