The peanut butter stuffed dates recipe is so, so simple that it's almost embarrassing to write it down. But it is such a good idea that not sharing it with you would have been sacrilegious.
The delicious, healthy snack made with the addictive combination of just 3 ingredients—caramel-tinged dates, meltingly soft peanut butter, and deep, rich chocolate— simply begged to be shared.
And when I say healthy, I really mean it.
In addition to being naturally sweet with the softest, chewiest texture, dates pack a nutritional wallop. They have generous amounts of fiber, potassium, vitamin B6 and K, manganese, copper, and many other minerals. They're also low in fat and have a lower glycemic index, which just means they don't spike your blood sugar to Himalayan heights.
Jump to
Peanut butter stuffed dates recipe
More healthy and indulgent recipes
How to make peanut butter stuffed dates?
With stuffed dates, we're looking at a very healthy recipe that's also incredibly addictive and the kind of dessert (or snack) that takes no effort. If you have kids, make it a fun family affair with different stations set up to pit, fill, and dip the dates.
Cut a slit on the dates lengthwise to split them open and remove the pit.
Stuff the open pocket with peanut butter using a small teaspoon.
Then, with your fingers, gently squeeze the two halves of the date so they stick together (and they do rather deftly, with nary a mess in sight).
You can stop right now and pop the stuffed date into your mouth as the most nutritious snack. Or you could spend 5 more minutes loading up the gooey treat with dark chocolate decadence.
Melt your dark chocolate. I really recommend 70% to dial up the health quotient.
Dip half of the stuffed date into it.
Again, you stop right here and enjoy this chocolate-covered incarnation. Or you could give them a crown of nuts.
Sprinkle very finely chopped pistachio and toasted sesame seeds and your amazing snack is ready.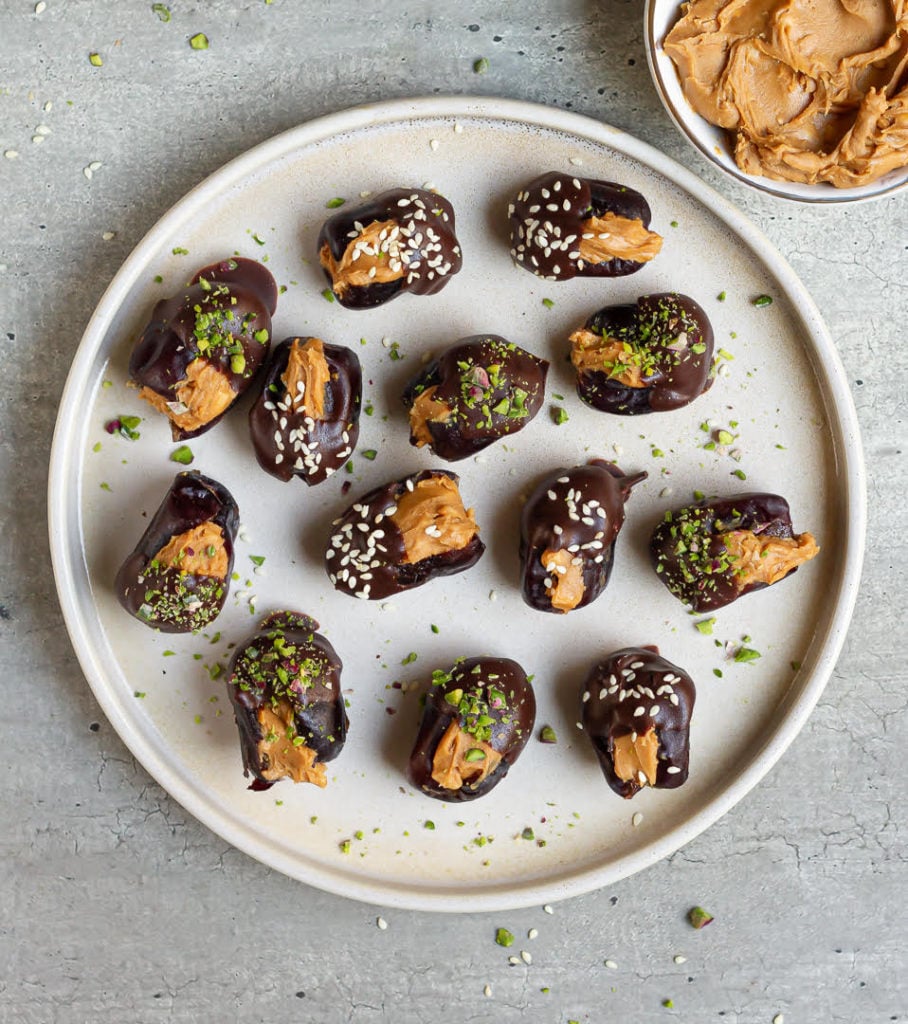 As with all desserts, practice portion control with these chocolate-covered stuffed dates. While they are nutritious (thanks to the healthy fat and protein in peanut butter and the goodness of dates), too much of anything is good for nothing.
How can you easily stuff dates?
If your dates are soft, you can open them with your hands to house the peanut butter. If they're harder, use a knife.
For very sticky dates, the trick is to refrigerate for a bit. It makes them easier to handle.
The consistency of your peanut butter needs to be just right to make for mess-free and effortless stuffing:
When peanut butter is too hard, microwave it for 30 seconds to make it scoopable.
When peanut butter is too runny, chill it to stiffen it up a little.
When you're not looking for a quick snack and have the time, refrigerate the stuffed dates before you dip them in chocolate. The peanut butter and date will stick to each other like long-lost friends.
The chocolate sets faster on cold dates. So that's an additional benefit of popping them in the fridge. Although I will say, this is not an essential step, as they do set easily even without refrigeration. I didn't, and they turned out well.
Wholesome chocolate covered stuffed dates ingredient ideas
Peanut butter: Creamy, crunchy, sweetened, unsweetened, choose whichever peanut butter you prefer. I leave that decision between you and your palate. However, find the very best quality peanut butter you can.
It's very, very important because when a recipe has so few ingredients, they really need to shine. Homemade is best, or find an organic alternative. Read the label to make sure it's all peanuts.
For those with peanut allergies: try almond or cashew butter. Even seed butter like sunflower makes an ace choice. Or try tahini!
Chocolate: Dipping the stuffed dates is not a mandatory step, but I will say this. Once you see those chocolate-covered dates, they will test your willpower mercilessly. Want to make the snack extra, extra decadent? Go for the full dip instead of half.
Toppings: Like chocolate, they are optional. Don't like pistachios? Pick any nut you prefer. Don't want to give the dates a crunch? Dust them with sea salt. For a pop of color, use pomegranate arils. Or just leave them plain.
All the reasons you should try peanut butter stuffed dates
Low-effort recipe
Super quick and uber easy
No cooking or baking, just prep
Honestly healthy (and just as drool-worthy)
Can be stored in an airtight container (use wax paper or parchment to separate layers)
Depending upon how many you make, they last for a good 3 to 4 days (mine were gobbled before they could see the light of the next day!)
Love healthy date recipes? Try:
More peanut butter recipes
Chocolate Peanut Butter Smoothie
Sourdough Peanut Butter Brownies
No-Bake Oatmeal Peanut Butter Bars
Chocolate Peanut Butter Pudding
📖 Recipe
Print Recipe
Peanut Butter Stuffed Dates
Peanut Butter Stuffed Dates -The delicious, healthy snack made with the addictive combination of just 3 ingredients—caramel-tinged dates, gooey peanut butter, and deep, rich chocolate!
Ingredients
15

Dates

4

tbsp

Peanut butter

4

tbsp

Dark chocolate 70%

Toasted sesame seeds and finely chopped pistachios for topping
Instructions
Carefully cut each date lengthways and remove the pits.

Add half a teaspoon of peanut butter into each date. Lightly press the dates to help the filling adhere well.

You can place the dates in the refrigerator for a few minutes to help it set better.

Melt the dark chocolate. Dip each date halfway into the melted chocolate.

Sprinkle the toppings on the dates and let them set for a few minutes.

Eat immediately. Store in an air-tight container in the refrigerator. Enjoy!