When it comes to healthy snacks, granola bars are our first sweethearts. It was love at first bite, and we thought there would be no looking back.
Oh, the hubris of our unschooled palates. It took a single look, and we cheated on our first love. Thoroughly.
With what? Bliss balls.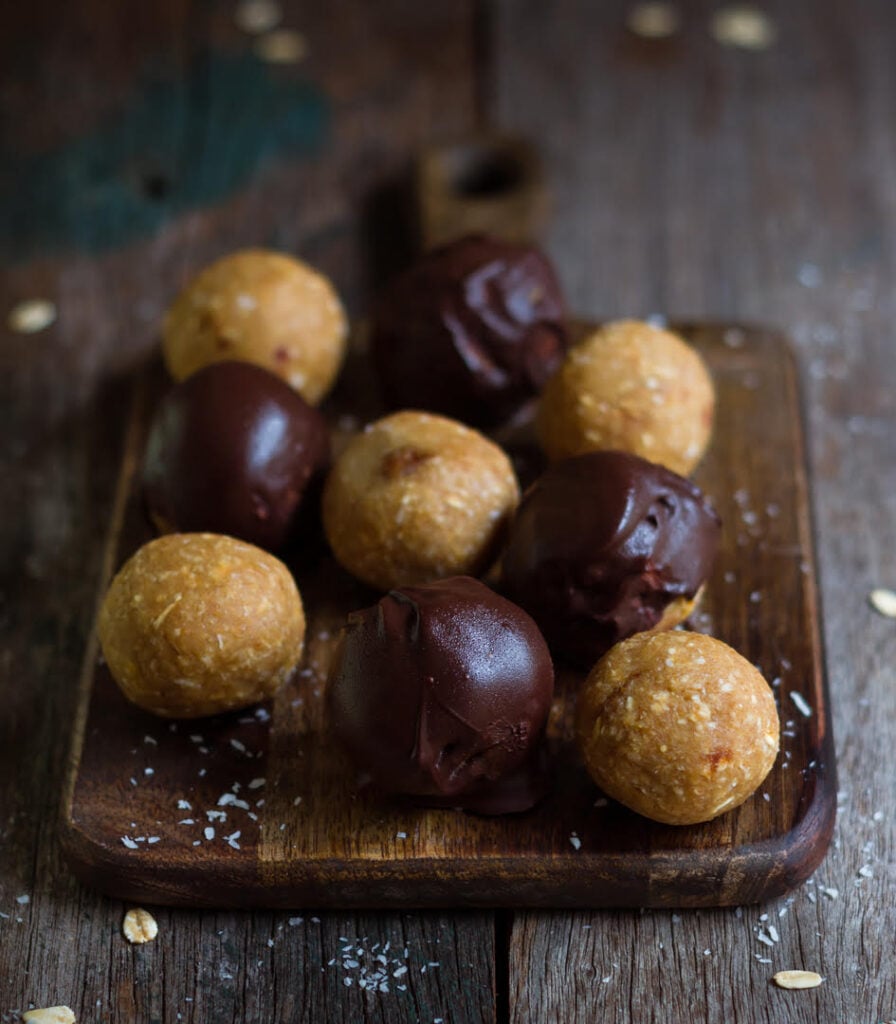 These little spheres of joy are wholesome, nutrient-packed snacks that make you forget that you're actually eating something healthy. They're that good.
Over the past four years, I've made tons of them. If it's winter, I stick to something like Date & Fig Bliss Balls. The ingredients warm the soul and the body.
If it's monsoon, like now (if you can call one day of rain followed by 5 days of humid hell monsoon), I create slightly less heavy versions like the Fudgy Brownie Bliss Balls.
This time I went for chickpea protein bliss balls.
Chickpeas are a staple in Indian food. My family adores it in all forms. That's why I always keep cooked chickpeas in the freezer. They're handy for recipes that need it as an ingredient.
But I've never used chickpeas in dessert, something I've been coming across ad nauseam on the internet lately. The chickpeas protein bliss balls are my take on this avant-garde concept of chickpeas in sweets.
And yes, bliss balls make for a lovely dessert. They give you a sugar fix without the unhealthy high!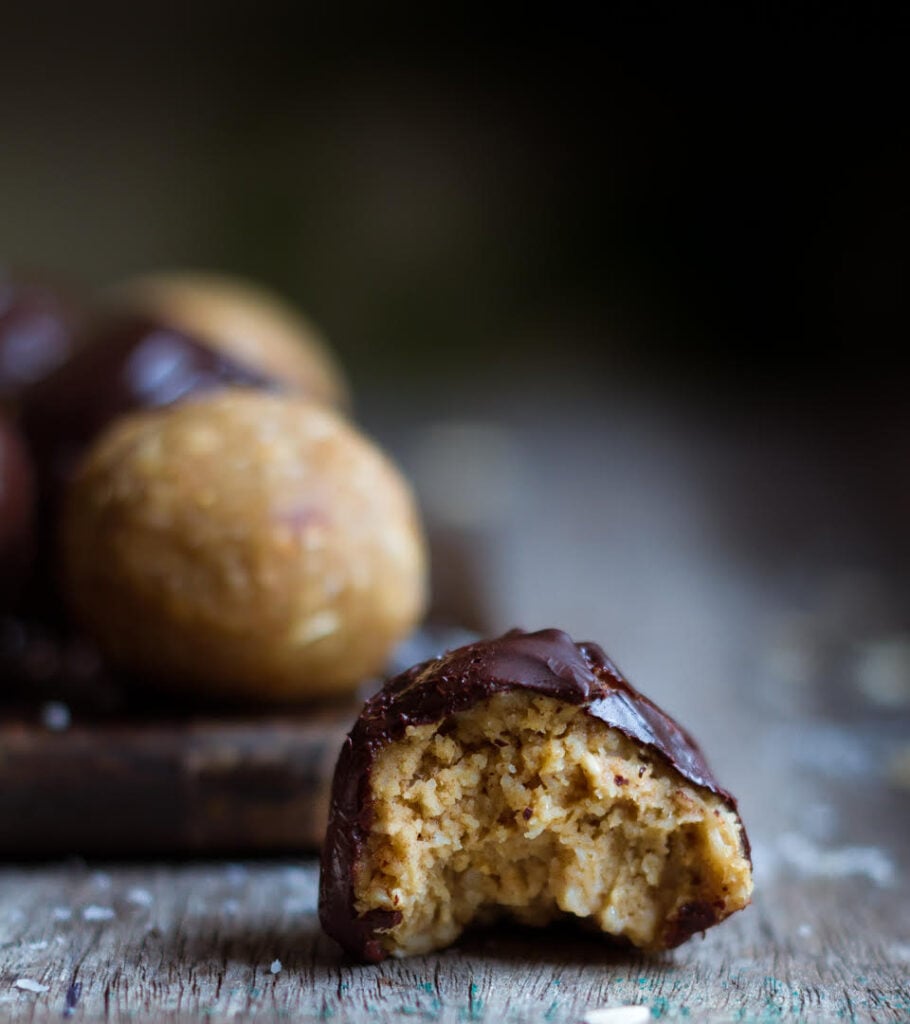 What's so great about chickpeas?
The legume has a remarkable nutrition profile. Chickpeas are not only a profound source of protein but also minerals, fibers, and carbs. If you're a vegetarian or vegan, they are the best replacement for meat.
Besides, they are full of iron, phosphorus, folate (and other Vitamin B compounds), Zinc, and magnesium– all minerals and vitamins your body needs.
Plus, the grainy texture of chickpeas and nutty taste pairs excellently with plenty of ingredients.
How to Make Chickpeas Protein Bliss Balls?
You whizz all the ingredients in a processor and convert it into balls or laddoos (as we call them in India).
Making bliss balls is that simple.
Take cooked chickpeas (safed chana), rolled oats, dates, peanut butter, vanilla extract, and desiccated coconut. Grind it all till you have a sticky, smooth mass that appears like dough.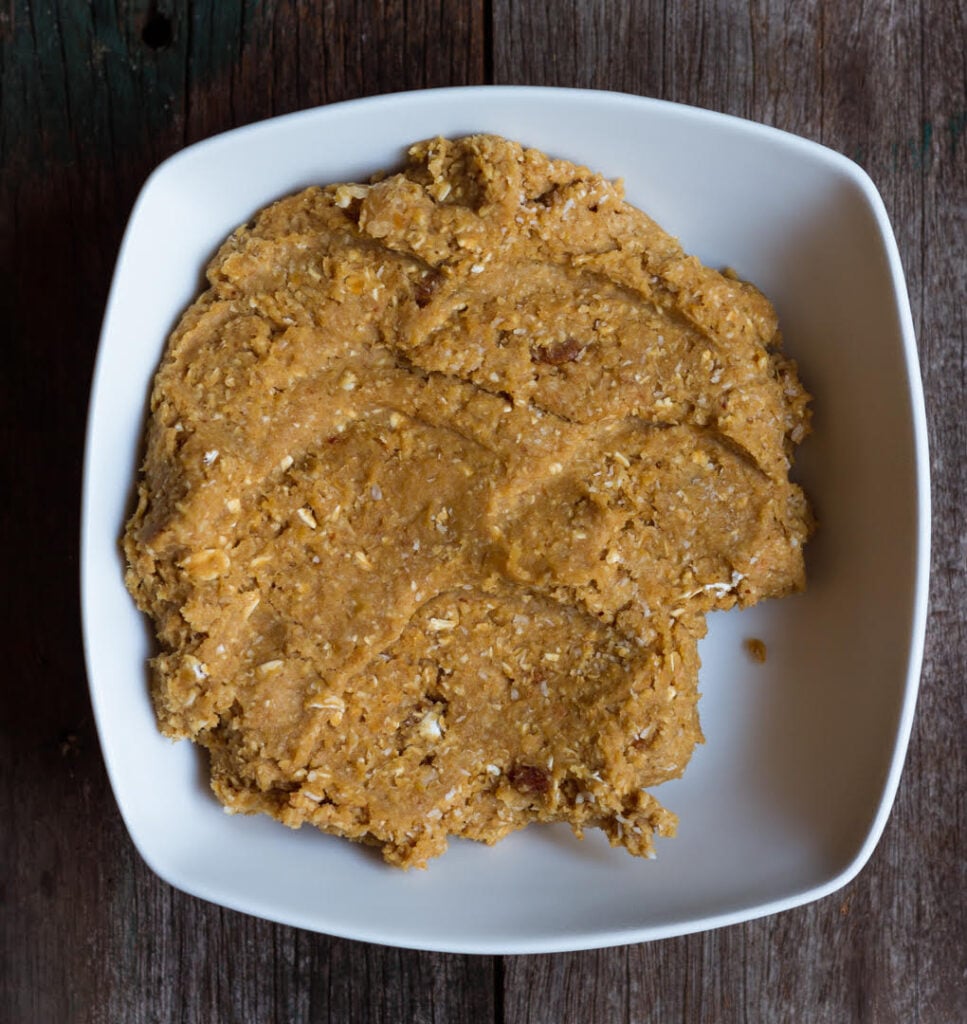 Refrigerate the dough for 15 to 20 mins, expressly if it's hot and humid where you live. Cooling the dough allows you to handle the mixture easily.
Once chilled, roll the dough into equal-sized balls and voila!
The next step is optional, though not in my home. You dip the balls in 70% dark chocolate and then enjoy it. I made half and half, and the kids were delighted with both types!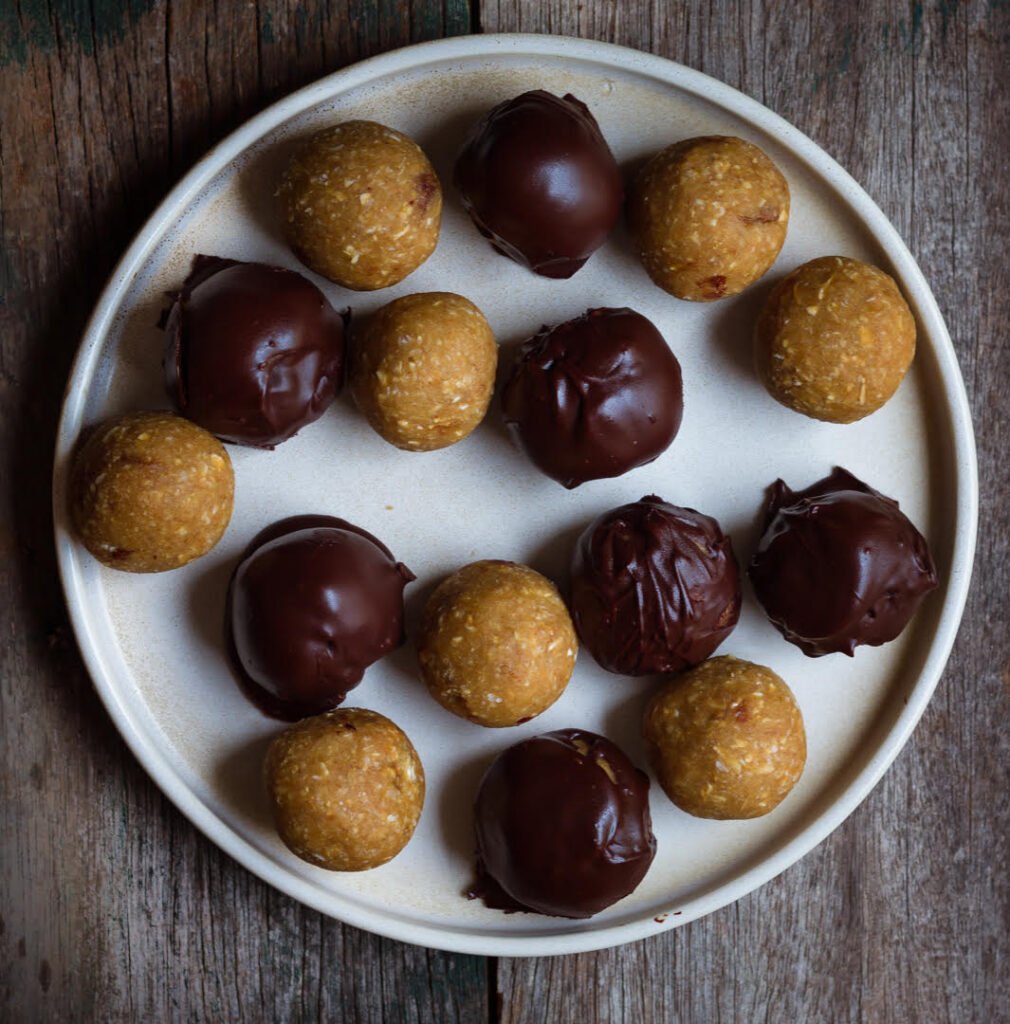 Quick notes
The dates have to be soaked before you pulse them. 10 minutes in warm water should do the trick and soften them.
Save the date-water. It'll come handy if the dough is too dry or crumbly. Simply add spoons of water as needed into the mixture, and it'll act like glue. You can even use regular water.
In case your dough feels too sticky or wet to you, toss some rolled oats into it. Wet your hands when you're rolling the protein bliss balls, and it'll be more manageable.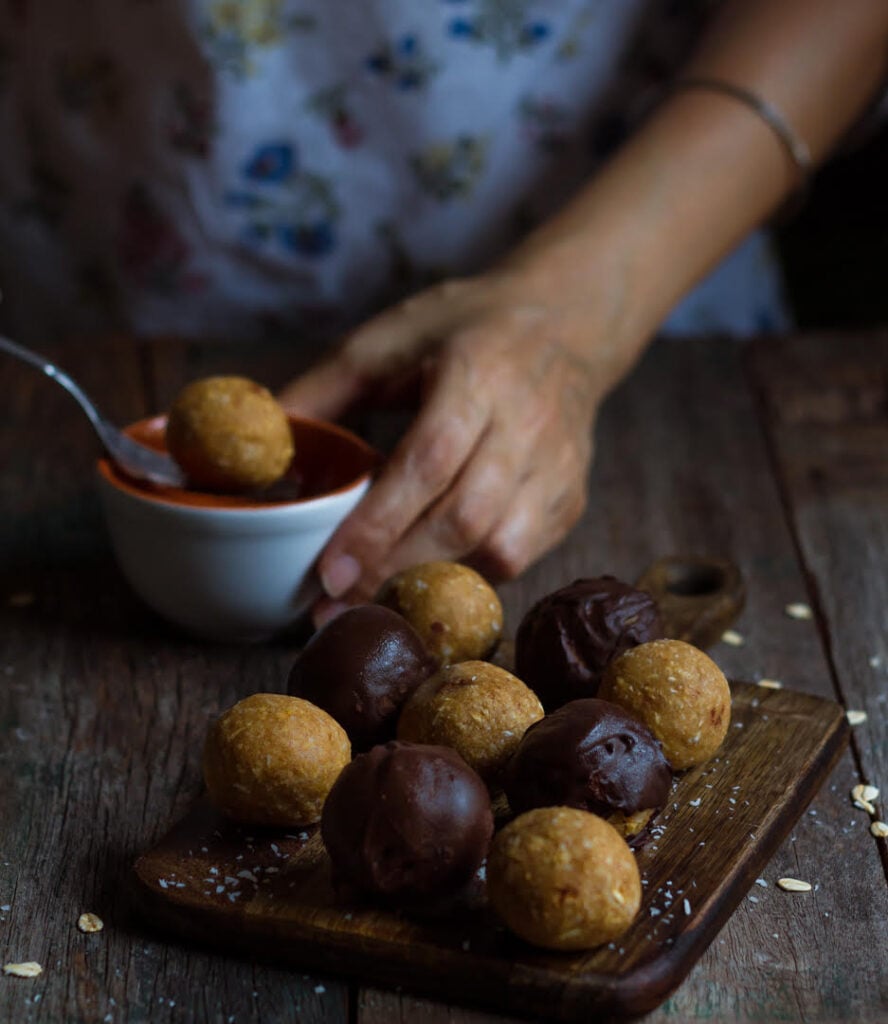 Variations of chickpeas protein bliss balls
If you don't have peanut butter, tahini or almond butter is a great substitute. Cashew butter will also work.
In case you're allergic to nuts or don't want them in the protein bliss balls, switch to a seed butter like sunflower.
Instead of desiccated coconut, you can utilize almond meal or any nut you prefer. You can even leave it out if you don't care for the taste of coconut.
Regular oats work like a charm if you're all out of rolled oats.
For those using canned chickpeas, I'll advise draining them. Else the mixture will be too wet. If it's still very sticky, add more oats.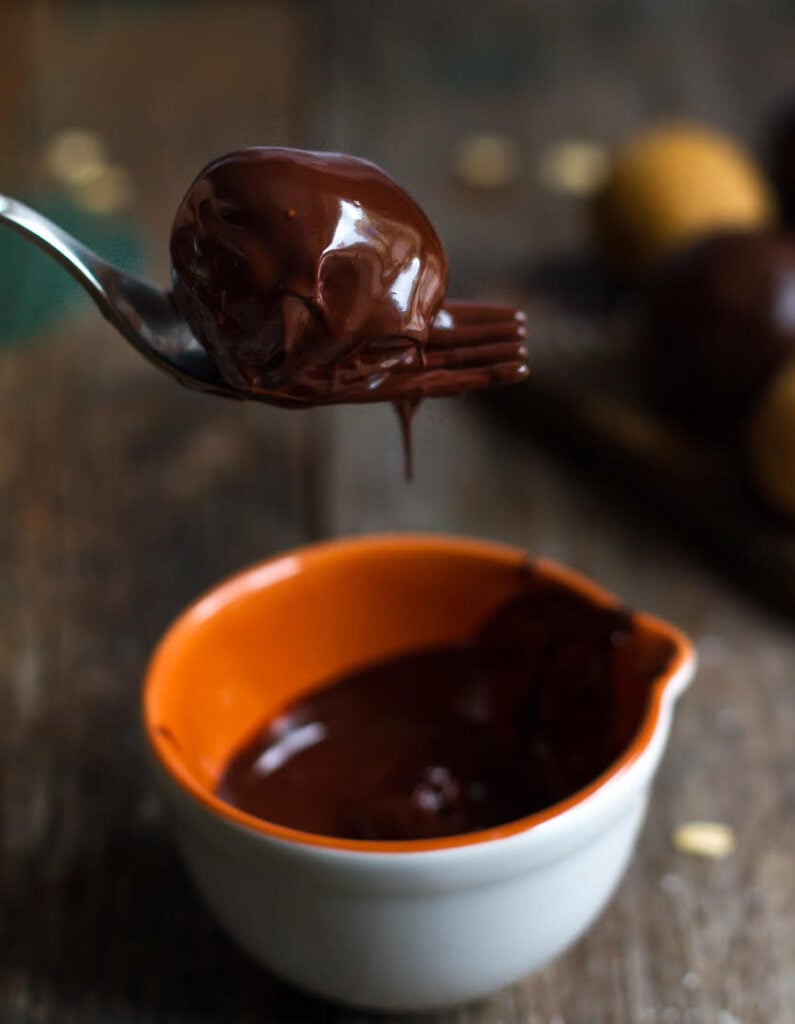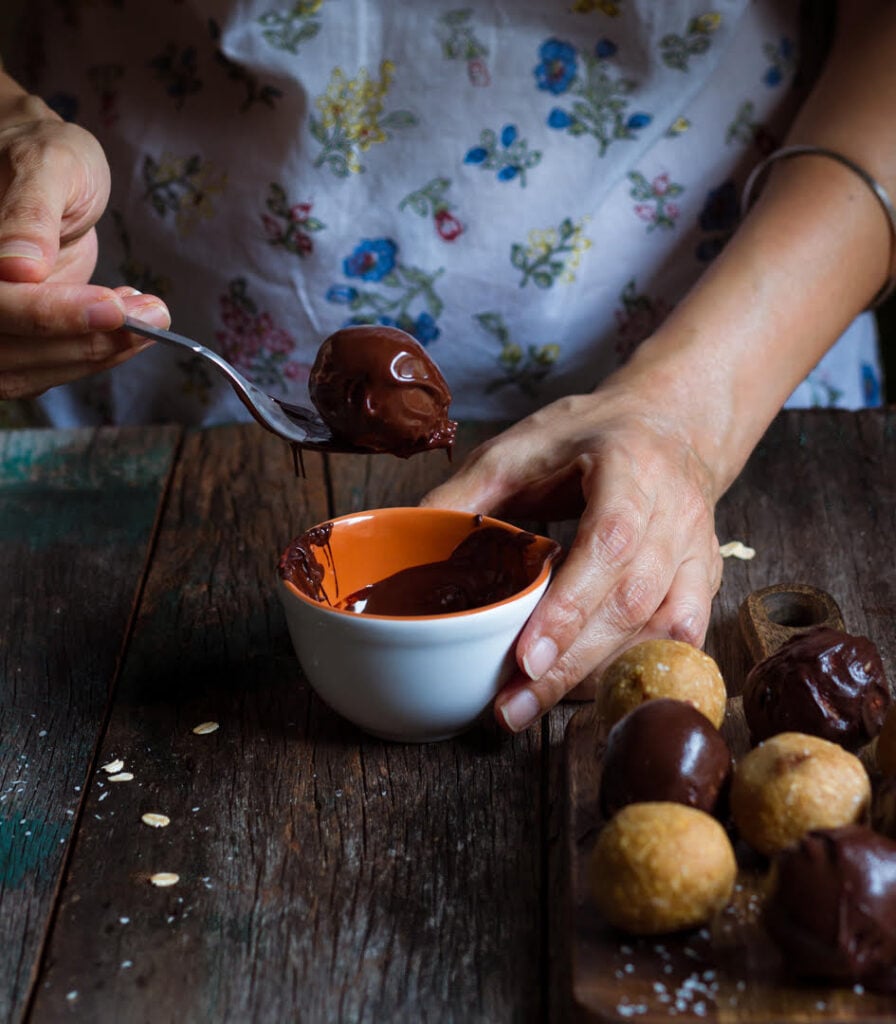 Serving the Chickpeas Protein Bliss Balls
You can store these gluten-free, refined-sugar free and vegan bliss balls in an airtight container in the refrigerator.
They make for a great anytime snack. Think post or pre-workout. They're also easy to pick and eat on-the-go food.
I don't need to pack tiffin boxes anymore, but if you do, they are an excellent treat for lunch to add a boost of energy.
Although they are rich in protein and fiber, the hearty, nutritious bliss balls don't sit heavy in your stomach. And they're so delicious that no one can tell that the main ingredient is chickpeas!
We savored the chickpeas protein bliss balls as small bites of dessert after dinner. The smooth, fudgy and very moist bliss balls were sweet enough to satisfy our craving for something sugary.
The chickpeas gave them heft, the rolled oats married with coconut a beautiful crunchy, chewy texture, and the peanut butter rounded it off with perfect gooeyness.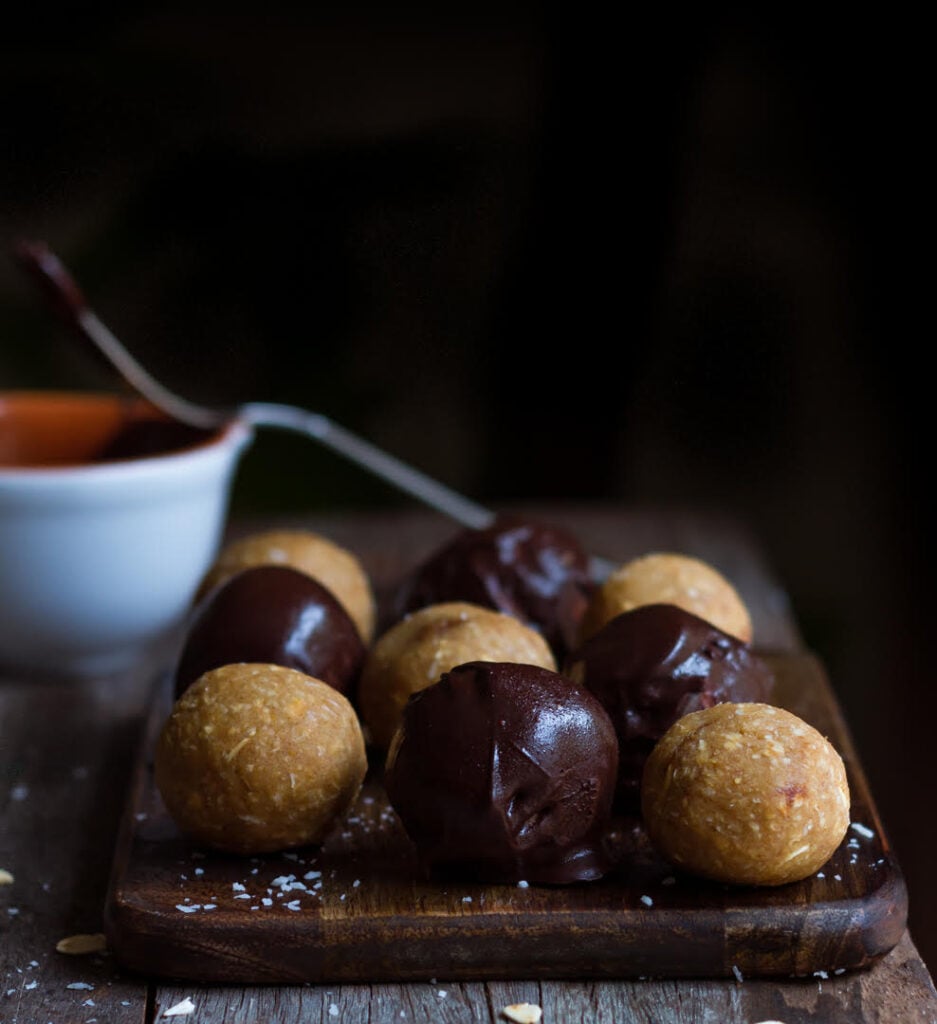 I'd love to hear from you! Please tag me on Instagram @tashasartisanfoods, using the hashtag #tashasartisanfoods. You can also FOLLOW ME on INSTAGRAM, PINTEREST for more fabulous recipes!
📖 Recipe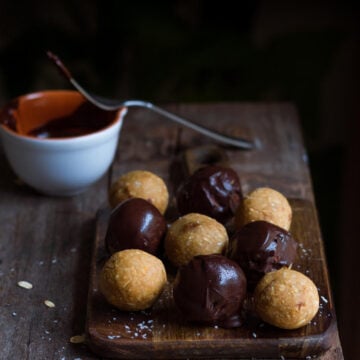 Print Recipe
Chickpea Protein Bliss Balls
Deliciously crunchy, chewy with perfect gooeyness, these healthy Chickpea Protein Bliss Balls are a delightful snack or dessert!
Ingredients
1.5

cups

Cooked chickpeas

You can use canned chickpeas. Please drain them well.

3/4

cup

Rolled oats

You can use quick cooking oast too.

8-10

Dates, pitted and soaked in warm water for 5 minutes

2

tbsp

Peanut butter

2

tbsp

Desiccated coconut

1

tsp

Vanilla extract
Topping ( optional)
1/3

cup

Dairy-free dark 70% chocolate

You can use regular dark chocolate too.
Instructions
Place all the ingredients - chickpeas, rolled oats, dates ( without their water), peanut butter, desiccated coconut and vanilla extract in a blender. Blend until well combined.

If the mixture is too dry, add water in which dates were soaked, a teaspoon at a time until you get a slightly sticky dough - like consistency.

If the mixture seems too sticky, add some more oats or desiccated coconut.

Refrigerate the dough for 15-20 minutes. It makes handling easier.

Once the dough is chilled a bit, roll into even sized balls. 

The bliss balls are ready to eat!
Chocolate Dip ( Optional)
Melt the chocolate in a microwave or in a double-boiler.

Dip the bliss balls and place them on a baking paper-lined tray. Refrigerate till the chocolate sets.