I call it the easy fruit tart because it's a super easy summer fruit dessert. Making the crust and the filling take all of 15-20 minutes from start to finish, and there's not much technique to it. So, if you're looking for a perfect summer dessert to celebrate seasonal fruits, this is it!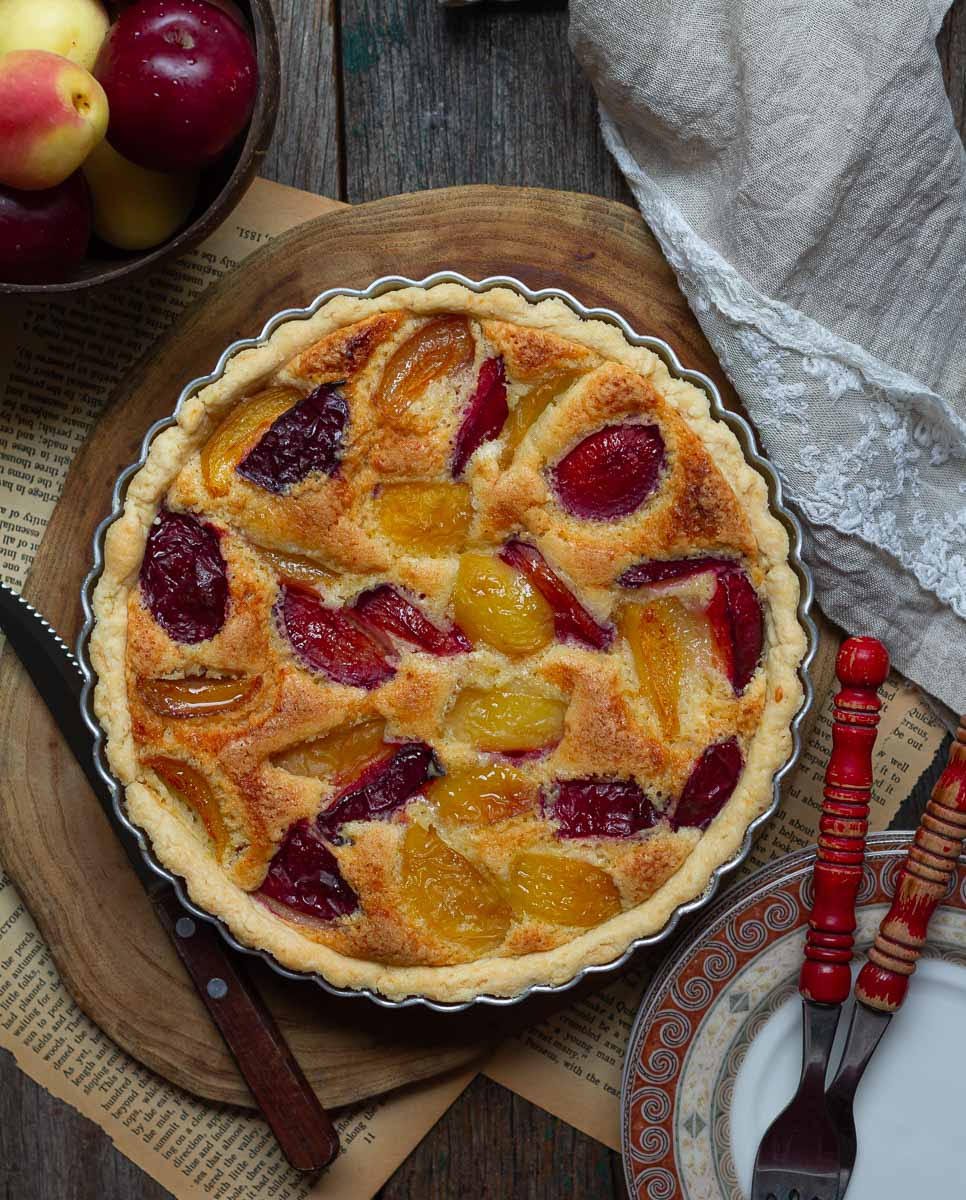 I didn't know if I should call it a plum tart or an apricot tart. I did know it was not a fruit tart with puff pastry like my strawberry tart or cherry tart. So, I christened it an easy fruit tart, and it's a symphony for the senses.
The exquisite balance of ripe juicy sweetness and bright acidity of the plums and apricots rounds out the soft, and sweet sponge cake filling. But it's the firm yet delicately crumbly tart shell that puts this summer fruit dessert on a pedestal for me.
Jump to: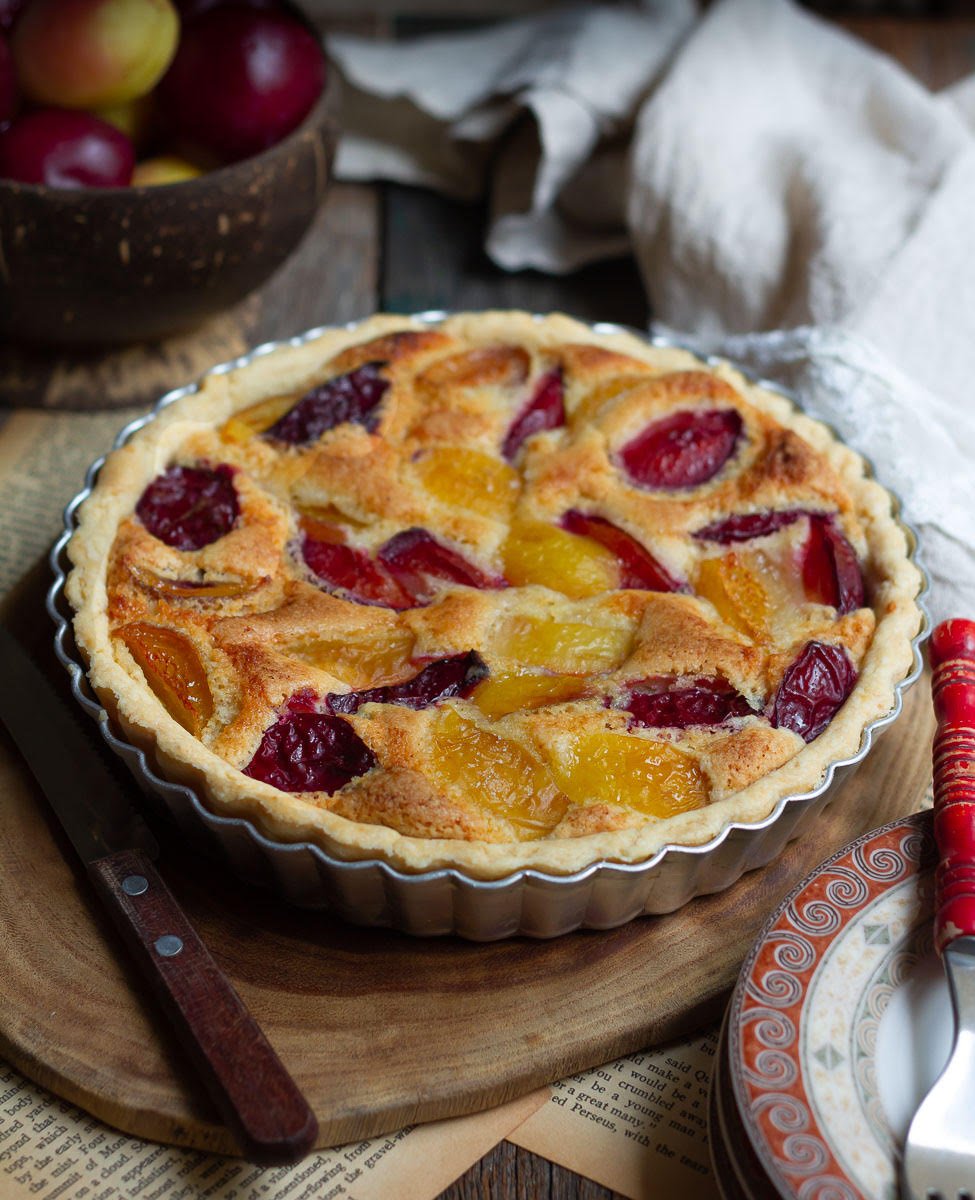 Why make this fruit tart?
A showstopper that takes very little time or skill
You get the best of three worlds: cake, pastry, and juicy fruits
You get to divide the work by making the tart shell dough a day before
It's a culinary triumph that doesn't make the pastry soggy
How to make an easy fruit tart?
This summer fruit tart recipe is adapted from one of the loveliest baking books I have on my shelves, The Popina Book of Baking. It's foolproof and one I recommend to novices as well as expert bakers if you want to learn the art of tart. You simply can't go wrong with it.
Popina uses a very unique style of making fruit tarts. The shell is a shortcrust pastry bursting with sponge cake filling and stone fruits. As the tart bakes, the sliced fruits sink in, so every bite is an explosion of textures and voluptuous, juicy flavors.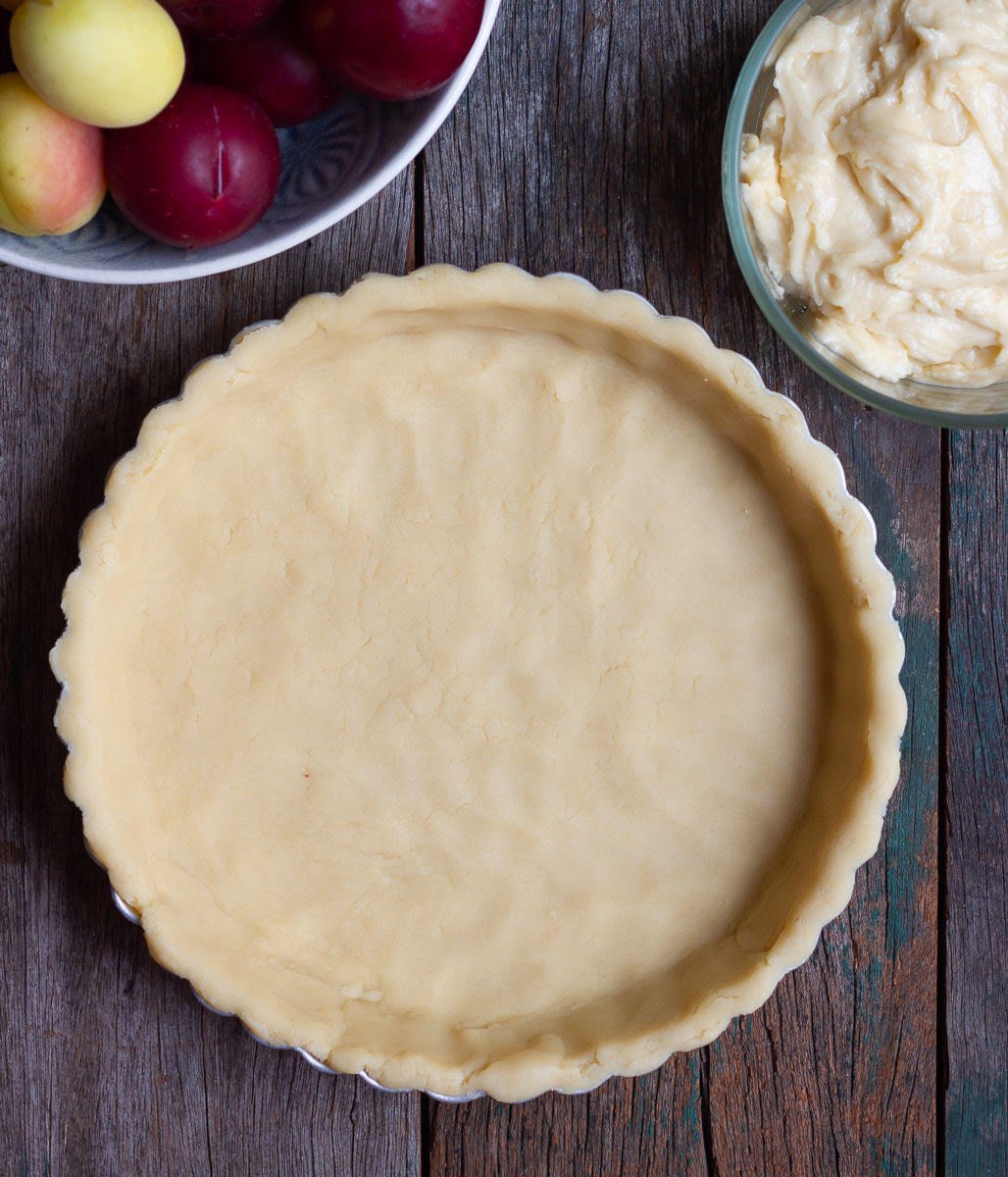 Make the tart shell
Step 1: Like most tart recipes, begin by combining flour with caster sugar. Then cut in the chilled butter using your fingertips (or a pastry cutter).
Step 2: When the mixture starts resembling coarse breadcrumbs, add chilled water, one tablespoon at a time. You won't need more than 3 or 4 of them.
Step 3: Bring together the scraggy dough. It's easy to handle, and you will not need to knead it.
Step 4: Pat it into a disk, cover with cling wrap, and refrigerate for about 15 to 20 minutes to give any butter that's melted time to chill again.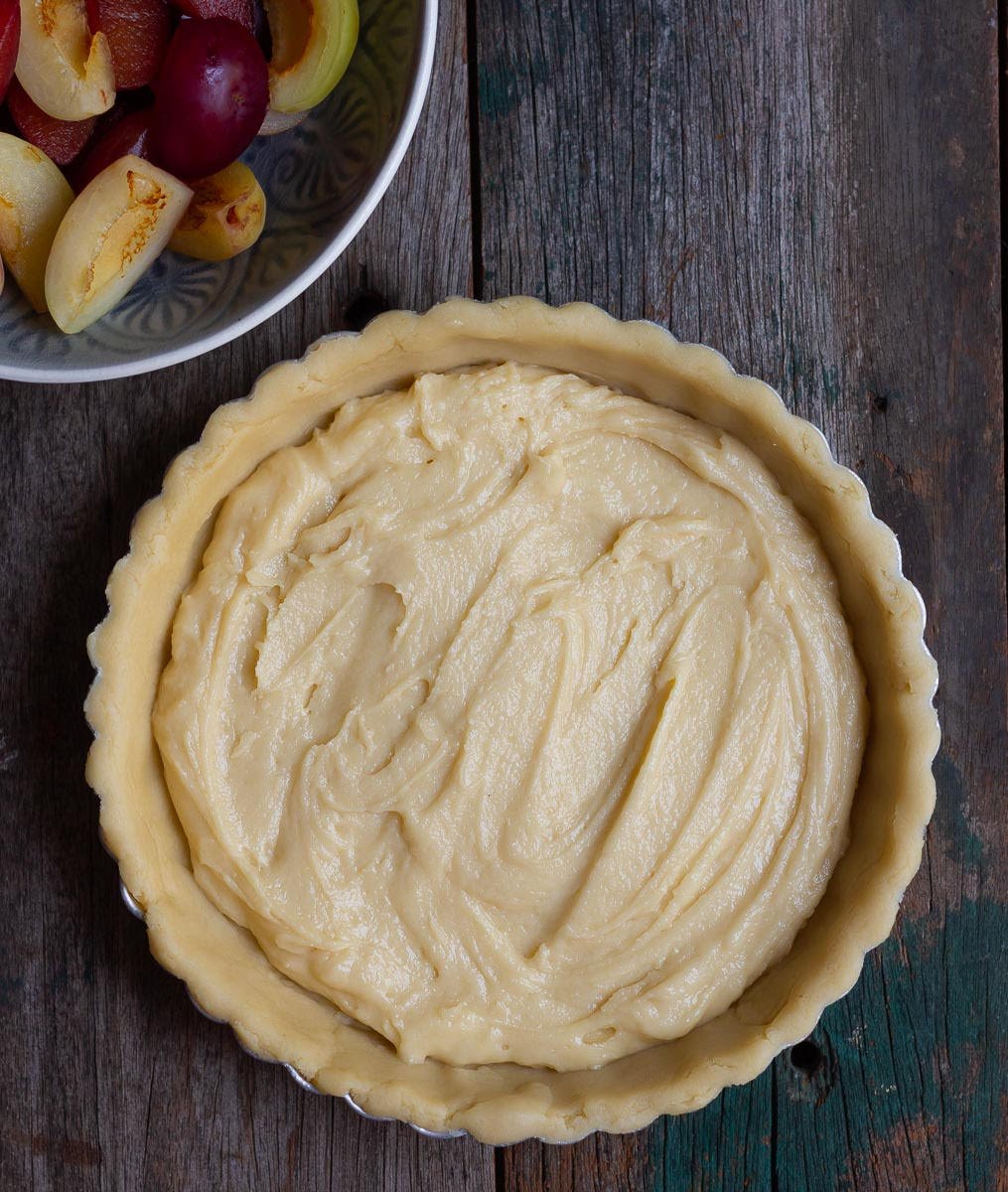 Sponge filling
Step 5: While the tart shell rests, cream room temperature butter with sugar using a hand whisk (like me) or an electric beater.
Step 6: When they're mixed well, add in your egg. Then fold in all-purpose flour and baking powder.
Bake the stone fruit tart
Step 8: Set your oven to preheat at 180 and then take out the tart shell dough.
Step 9: Lightly flour your prep area and roll the dough out in a 10-inch round.
Step 10: Carefully pick it up and drape it over your tart tin.
Step 11: Spoon the sponge filling into an even layer. Next, arrange the leftover plums and apricots.
Optional step: Sprinkle caster sugar on top.
Final step: Bake for 50 minutes till the sponge has risen to create cozy, golden nooks for the plums and apricots.
Summer fruit tart tips
For the tart shell, use chilled butter. There are two ways you can go about it. Cube it in pieces while it's still soft and at room temperature and then freeze and add it into the flour. Or you can take the easier route and freeze it first and then grate it into the flour.
If your tart shell dough feels dry, use more ice-cold water to moisten it.
For those who prefer short-crust pastry with an egg, I recommend reducing the amount of water you use.
A lump of butter here and there in the dough is perfectly fine. Don't panic if you see them.
Don't knead the dough, simply bring it together with your hands.
It's a good make-ahead recipe. You can make and refrigerate the dough overnight.
Depending upon the size of your stone fruits, slice them in quarters or go thinner.
Serving ideas
Let the baked apricot and plum tart cool for a few minutes. Then take it out of the tin.
You can enjoy it warm or cold, as-is.
A scoop or two of vanilla ice cream would have been fantastic with it, but we were too much in a hurry to enjoy the summer dessert to bother.
Chilled custard would be just as delicious with the tart.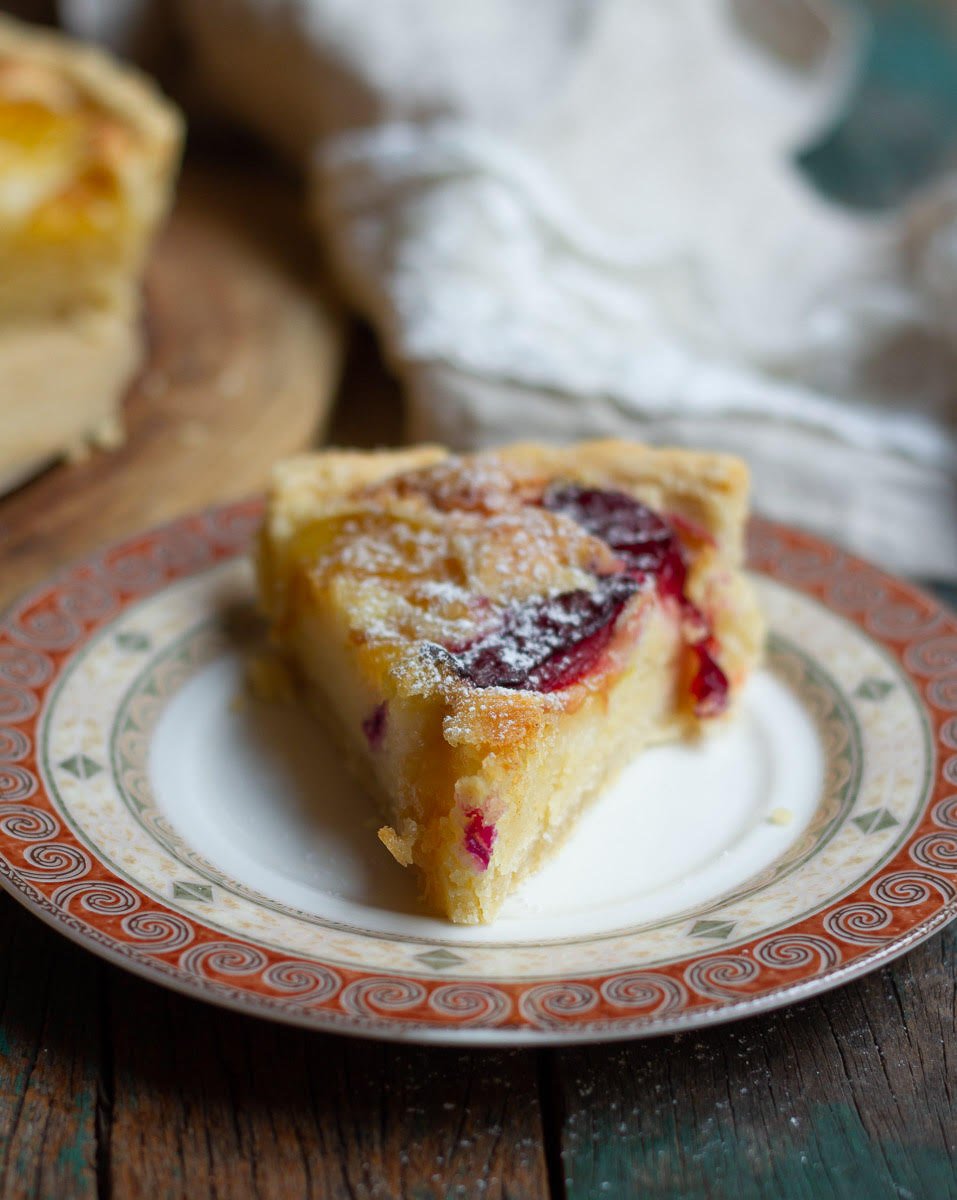 Variations
Fruits: The original recipe calls for drupes or stone fruits. What is stone fruit? Any fruit that has a seed right at the center, like cherries, peaches, plums, apricots, lychees, and mangoes. Since I love them, I stuck to plums and apricots.
Don't want to bake an apricot tart or plum tart? Use grapes, apples, or an assortment of berries. Any fruit will do as long as you're not stingy with it. They're the protagonist of this fruit dessert.
Toppings: Try almond flakes or chopped walnuts for a flair of texture.
Egg: Substitute the egg with Greek yogurt to make an eggless plum and apricot dessert.
More plum dessert recipes
Gluten-free Chai Spiced Plum Galette
Cardamom Spiced Plum and Granola Popsicles
More apricot dessert recipes
Plum Apricot Sourdough Galette
📖 Recipe
Print Recipe
Easy Summer Fruit Tart
Ingredients
Pastry
1.5 cup + 1 tbsp

250 gms

All-purpose flour

1/2

cup ( 125 gms)

Butter, chilled, and cut into small pieces

2

tbsp

Caster sugar

4-5

tbsp

Chilled water
Sponge Filling
1/4

cup ( 45 gms)

Butter, softened

1/2

cup ( 90 gms)

Caster sugar

1

Egg, room temperature

1

tsp

Vanilla extract

3/4

cup ( 90 gms)

All-purpose flour

1.5

tsp

Baking powder

4-5

Plums, pitted and sliced

4-5

Apricots, pitted and sliced
Instructions
Pastry
Combine the flour and sugar in a large bowl. Rub the chilled butter in the mixture, using your fingertips.

When it resembles coarse breadcrumbs, add iced cold water, 1 Tbsp at a time, just enough to bind the dough. It can be a bit scraggy at this point but don't worry, it will come together.

Using the palm of your hand, push the dough away from you 4-5 times until its smooth.

Roll into a ball and flatten it into a disk. Wrap in clingwrap and refrigerate for 15-20 minutes.
Sponge filling
Beat together the butter and sugar in a bowl.

Add the egg and vanilla extract, mix well.

Fold in the flour and baking powder.
Assembly
Preheat your oven to 180C.

On a lightly floured surface, roll out the dough to about a 10"/11" circle.

Place the dough gently into an 8" pie pan. Trim the edges of the pastry to fit the sides of the pan.

Spoon the sponge filling into the pie, spread evenly.

Place the cut fruits on top and sprinkle with a tablespoon of caster sugar (optional).

Bake for 45-50 minutes at 170 C, until the sponge and pastry is golden.

Let the tart rest for 15-20 minutes before taking it out of the pan.

Serve warm or at room temperature.