This fragrant, delicate rice dessert is a family specialty that brings me so much joy to recreate. Jaggery Rice is a Lohri tradition in our household and blessedly comforting in winter nights.
This recipe is particularly dear to me, having learned it from my father who was the king of desserts. He would make Gur wale Chawal – Jaggery Rice, for the family every year on Lohri, a festival that we grew up looking forward to just for the food! This dish is full of flavor and subtle sweetness. While I can not claim to have mastered it as well as he did, with some guidance from my mother we made a version that I am sure would do him proud.
Making Gur wale Chawal is both simple and therapeutic. It is done in a few easy steps that will immediately have your home smelling incredible! All you need to do it cook basmati rice with some whole spices – including but not limited to cinnamon, cloves, bay leaves, fennel. Add in a lovely fragrant jaggery syrup and cook it all on low heat. That's all!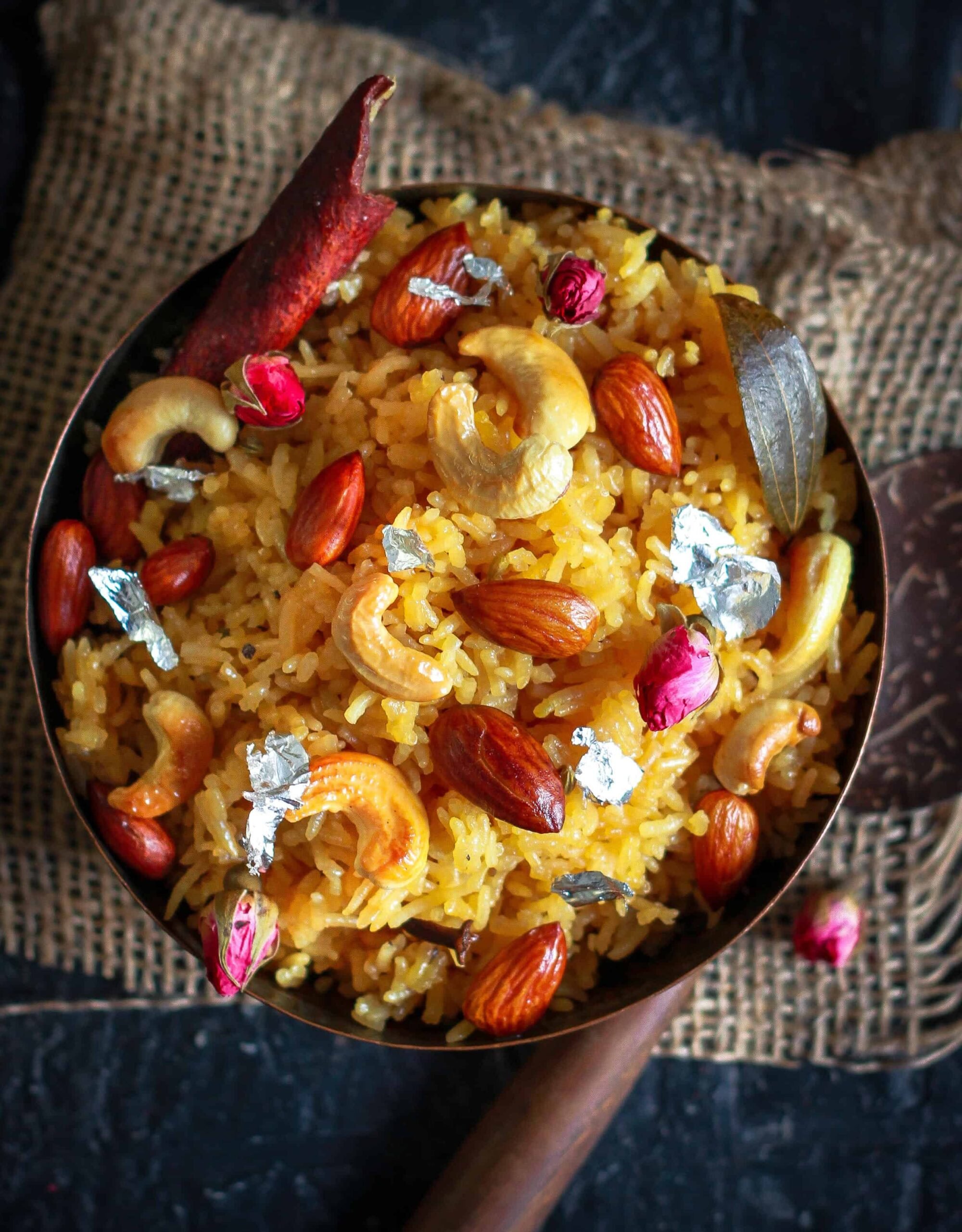 What Is Lohri?
Lohri is a Punjabi festival to celebrate the end of peak winter (finally!) and bring in the spring season. We celebrate this festival every year with a simple, hearty homecooked meal that is eaten around a cozy bonfire. Our fare is always the same; fire-roasted shakarkandi (sweet potato), sarson ka saag eaten with makki di roti and of course, the star of the night – Gur Wale Chawal.
How to Make It
Firstly, we cook Basmati rice – with a good amount of ghee. I have learned to accept that for most Punjabi dishes, don't bother holding back on the ghee. Pour it in abundance and everyone is happy!
Cook the rice with ghee and add in whole spices. I used cinnamon, cloves, fennel seeds, and bay leaf. Let me tell you – at this point you have already got a wonderful aroma in the kitchen! The combination of these spices is incredibly relaxing.
While your rice cooks, get started on the jaggery syrup. Gur traditionally comes in a brick form that you break/grate it to get the amount you need. I used the jaggery powder for convenience sake – brick breaking is not one of my strengths. To make the syrup, combine water and jaggery powder on low heat and until the jaggery dissolves. I also added a touch of freshly pounded cardamom powder to the syrup. Be careful about the heat you make the syrup on – jaggery burns easily!
Add the syrup to the rice when it is 3/4th of the way cooked. When the rice is done, fluff it lightly with a fork and transfer to a bowl.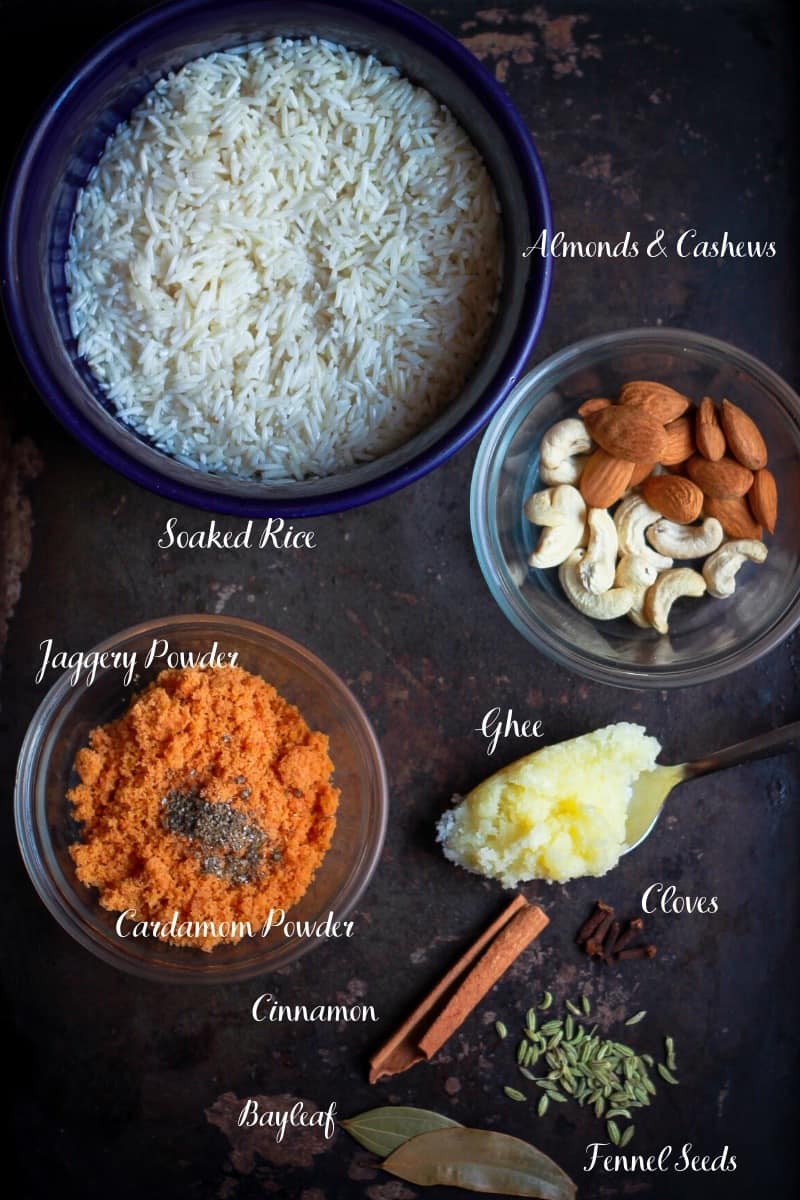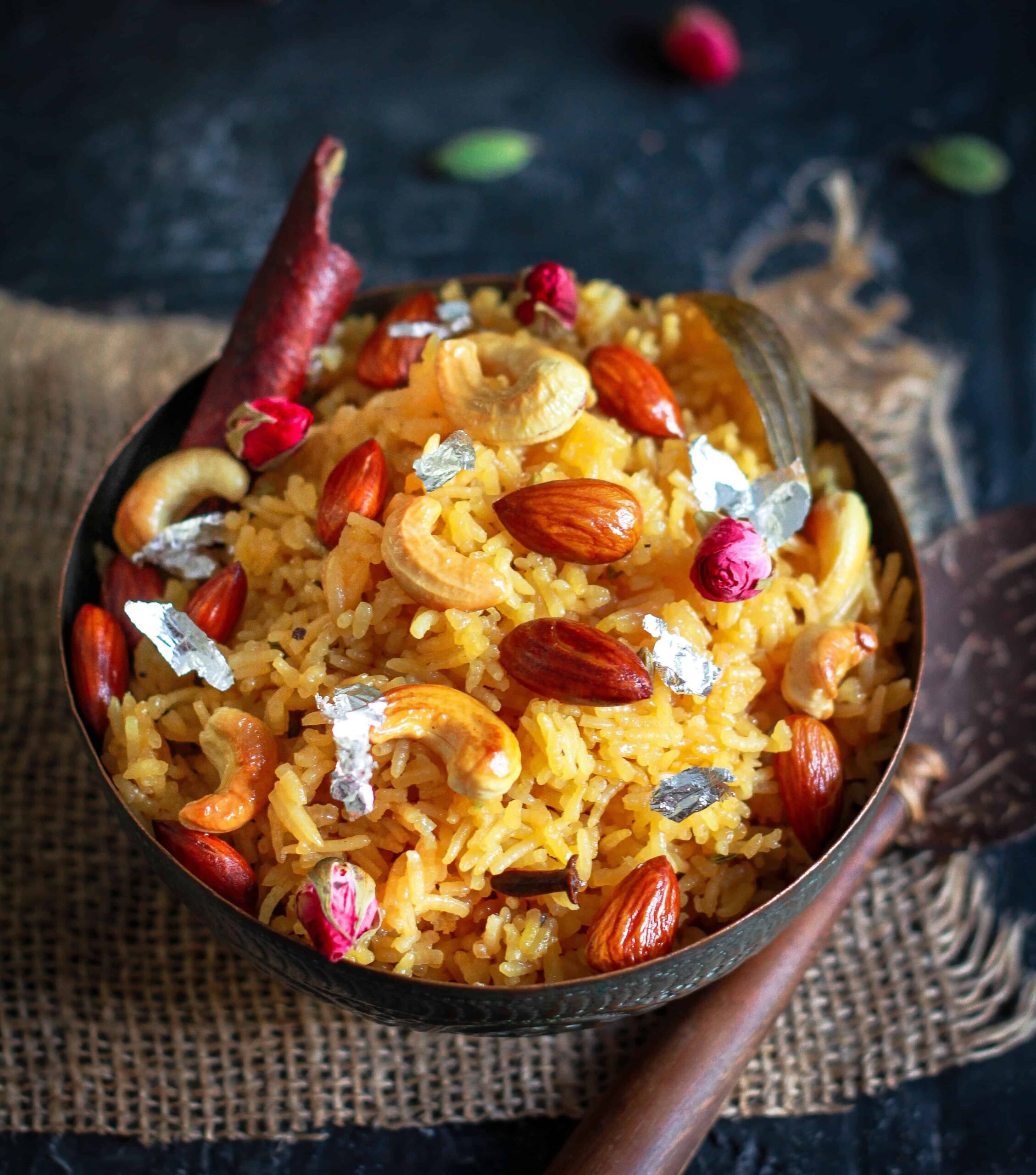 Final Touches
Now for the garnish! I managed to limit myself to a handful of my favorites – cashews, almonds, rose petals and a little bit of varq (silver leaf). Now your Jaggery Rice will look as wonderful as it tastes and smells! My bias notwithstanding, this really is a knockout dish that has a great balance of sweetness and spices. 
Traditional dishes like these are really a treasure. They conform to the season, are healthy and are, of course, are filled with love and beautiful memories.
I'd love to hear from you! Please tag me on Instagram @tashasartisanfoods, using the hashtag #tashasartisanfoods. You can also FOLLOW ME on INSTAGRAM, PINTEREST for more fabulous recipes! Do subscribe to Tasha's Artisan Foods so you'll never miss a recipe!
Print Recipe
Jaggery Rice / Gur Wale Chawal
This fragrant, delicate rice dessert is a family specialty that brings me so much joy to recreate. Jaggery Rice is a Lohri tradition in our household and blessedly comforting in winter nights.
Ingredients
1

cup

Rice

2

cups

Water

3/4

cup

Jaggery Powder

1.5

tbsp

Ghee

4

Cloves

2

small

Dried bay leaves

1

stick

Cinnamon

1

tsp

Fennel seeds/ Saunf

1

tsp

Cardamom powder

Almonds, Cashew nuts, Varq (silver leaf)

Garnish
Instructions
Make the jaggery syrup - heat the jaggery and cardamom powder in 1/4 cup water. Let it come to a gentle boil. Make sure the jaggery powder is completely dissolved. Keep aside.

Wash the rice well and soak it for 30 minutes. Drain the rice.

Heat ghee in a thick bottomed pan. Add the cloves, cinnamon stick, bay leaves, and fennel seeds. As soon as they start spluttering, add the drained rice. Add 2 cups of water. Let it come to a boil, then lower the heat and cover the pan.

When the rice is 3/4 of the way done, open the lid, pour in the jaggery syrup. Put the lid back on and let the rice cook on low heat.

Fluff the rice gently with a fork. Garnish with almonds, cashew nuts, and some varq ( silver leaf).