It's the aroma that sucks you in, but it's the flavour that makes you go back. Coconut rice has the perfect fluff and fragrance to elevate any meal!
There are some days my mind absolutely refuses to cook up options. You'll ask me what should we have for lunch today, and I'd be a blank slate. For someone who adores food, not just the making but the eating, it a horrifying state to be.
Luckily, I've found the answer for those days, rare as they may be - coconut rice. The savoury dish is like a white prop for photography; pair it with anything, and yet the outcome is perfect.
It is laughable to know what got my imagination running. A single piece of coconut that I tossed in while grocery shopping! As my eye glanced over it, I thought why not make something with freshly grated coconut?
I was a bit short on time, which is happening more and more these days, so it had to be a quick recipe. I cooked the rice and then tempered it with some goodness....of ghee and curry leaves. That aroma is magical!
How To Make Coconut Rice
Making this dish is really a simple process. To the warm ghee, add chana dal, and mustard seeds. Once the chana dal turns a warm, golden colour, then sprinkle in some curry leaves, ginger, and asafoetida along with a few red and green chilli. Stir in the grated coconut and then toss in the rice.
When you're done, garnish with golden brown roasted cashews and some more freshly grated coconut. The crunch of the cashew evens out the delicacy of coconut. If you can't resist the pull of some extra texture and crispy topping, try sautéing the shredded coconut. Wait till it turns crisp and golden and then garnish the dish with it.
It's quick. It's handy, and it's done in a few minutes. On days when you have unexpected guests over, coconut rice is precisely what you need to get bellies rumbling over its rich fragrance.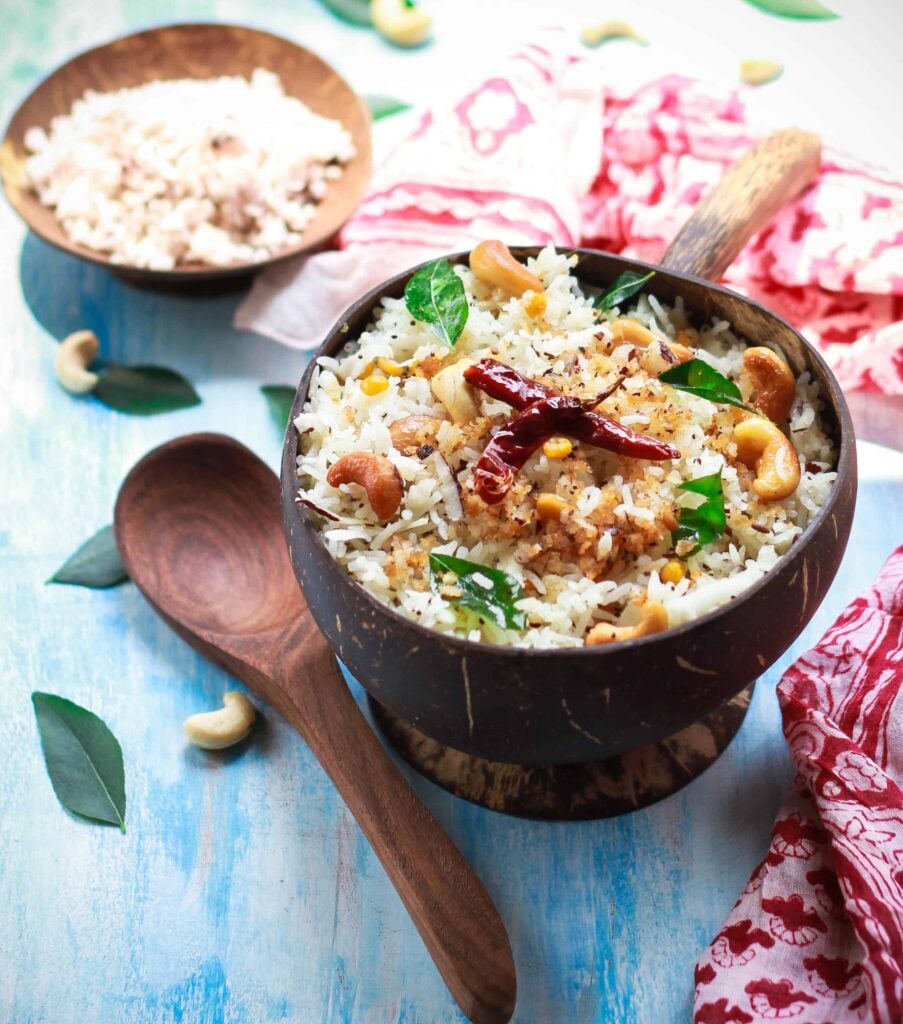 What Can I Serve With Coconut Rice
You can serve this rice without any accompaniment, and it remains a complete meal. Feel free to add a bunch of finely chopped vegetables to it, if you wish. Serve it as a side to any curry or dal ( lentils). Sambhar or rasam goes really well with it as does a dish of spicy masala prawns!
My favourite is yogurt. Cool, thick, creamy homemade curd is exactly the balance my palette wants with this delicious aromatic rice.
NOTE:
The key to the simple recipe is fresh coconut. Somehow desiccated coconut doesn't give you the same taste. Believe me, try it once with newly grated coconut, and you'll be embarrassed at the number of times coconut rice crops up on your monthly menu!
I'd love to hear from you! Please tag me on Instagram @tashasartisanfoods, using the hashtag #tashasartisanfoods. You can also FOLLOW ME on INSTAGRAM, PINTEREST for more fabulous recipes! Do subscribe to Tasha's Artisan Foods so you'll never miss a recipe!
Coconut Rice
It's the aroma that sucks you in, but it's the flavor that makes you go back. Coconut rice has the perfect fluff and fragrance to elevate any meal!
Ingredients
2.5

cups

Cooked rice, cooled

1

tbsp

Ghee/ oil

2

tsp

Chana dal

1.5

tsp

Mustard seeds

1/4

tsp

Hing/ asafoetida

2

Dry red chillies

1/2

inch

Fresh ginger root, finely chopped

1

Greeen chilli, finely chopped

12-15

Curry leaves

12-15

Cashews

1/2

cup

Fresh grated coconut

Salt to taste
Instructions
Heat ghee or oil in a wide pan. Add the chana dal, mustard seeds and hing / asafoetida.

Once the seeds start crackling add the ginger, curry leaves, cashews, and red chilies.

Once the cashews are light golden in colour, stir in the coconut and green chillies. Cook for a couple of minutes.

Now add in the cooked rice and salt. Stir well and serve warm with raita, plain yogurt or any curry or dal of your choice. Enjoy!
Notes
Notes:
For an extra crispy topping, saute some grated coconut till its golden and crisp. Sprinkle on top of the rice before serving.
I always like to soak my chana dal in warm water for 10-15 minutes 9 longer if possible) before adding it to the tempering. It turns out more crisp.