Cookie baking season is definitely here. And these chewy, gooey, slightly crispy and tad crumbly ginger cranberry oatmeal cookies are an absolute must!
The classic ginger cookies have always been a part of my holiday baking repertoire. So, have been the oversized oatmeal cookies that I can never seem to bake enough. (I kid you not the cookie jar is half empty within hours!)
With Christmas in the air, I thought, why not mix my two loves. Let's ginger-ise the oatmeal. The result was as delicious as their snappy cousin but a lot more soft, chewy and so good!

How to Make Ginger Cranberry Oatmeal Cookies?
Raisins are the traditional accompaniment to ordinary oatmeal cookies. But ordinary doesn't suit December. It demands indulgence. So, to transform the cookies into seasonal gems out went raisins and in came cranberries.
The recipe is quick and completely vegan. In a small bowl, combine the whole grains – oats ( I coarsely grind them ), quinoa flour, and whole wheat flour. Stir in ginger powder and just a touch of cinnamon.
The ginger brings in a melodious tang without overpowering everything else, and the cinnamon gives the cookies a pinch of zest. Lastly, sprinkle a bit of salt, the alchemist that balances it all. Make sure that there are no lumps in the dry ingredients before the wet ingredients follow.
To make the cookies eggless, I used flax egg. If you're new to the wonders of flax egg, read my mocha biscotti blog. I rhapsodize about it to no end and hey, you get another scrumptious recipe for the season!
Since I prefer baking dairy-free treats, I mixed in soy milk and coconut oil. Trust me, once you switch, you'll never go back to regular milk or butter. But if your palate isn't cut-out for soy, any other plant-based milk works just as well or even regular milk!
Finally, add coconut sugar and knead into a soft dough.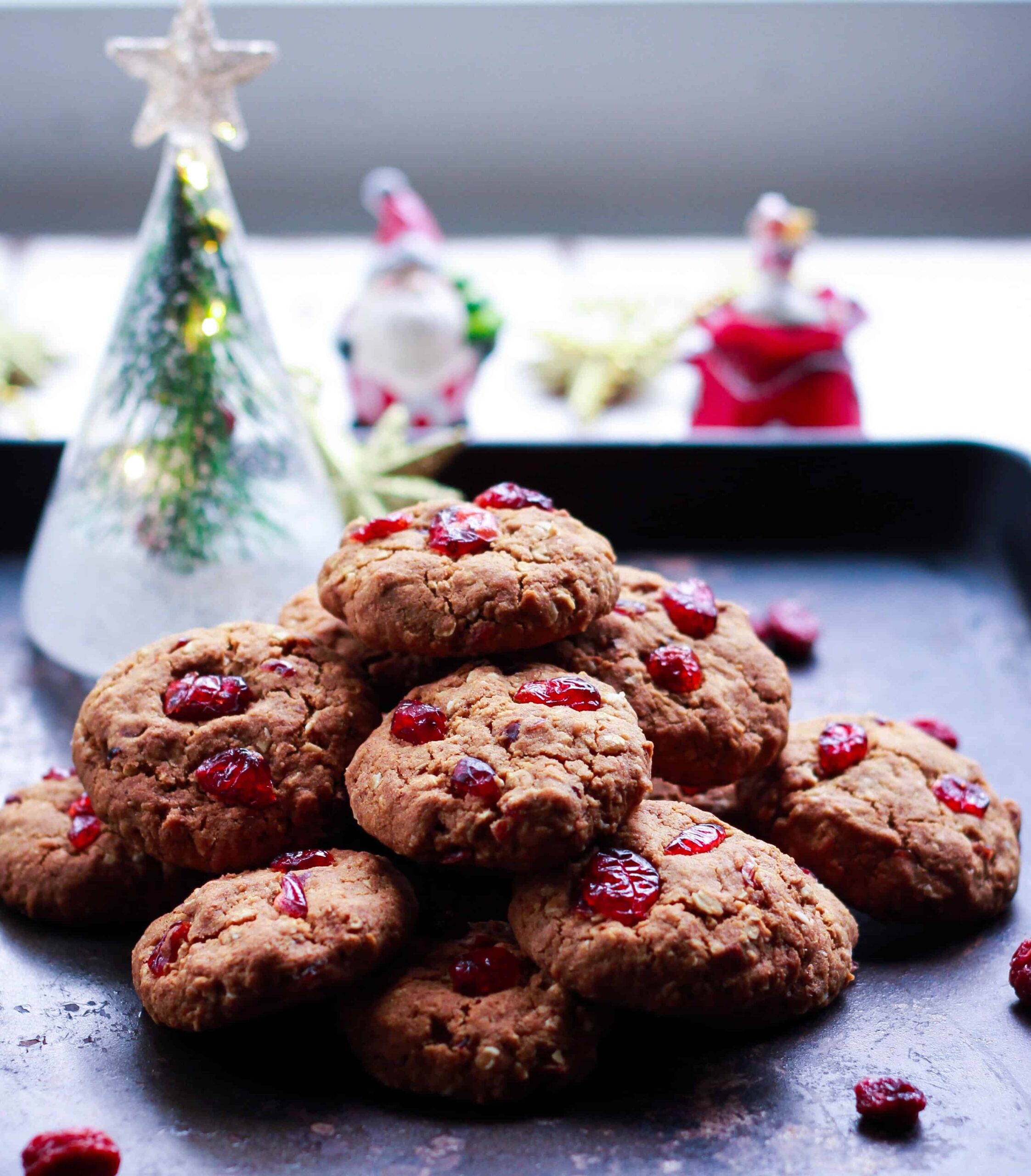 The Fun Part: Baking the Ginger Cranberry Oatmeal Cookies
Now begins the fun part!
Fold in the cranberries. They offer a naturally tart counterpoint to the sweetness of the dough that you'll genuinely love.
Once the cranberries are in, make even-sized balls, flatten them a tad and then bake until golden. It takes about 12-14 minutes for cookies to bake.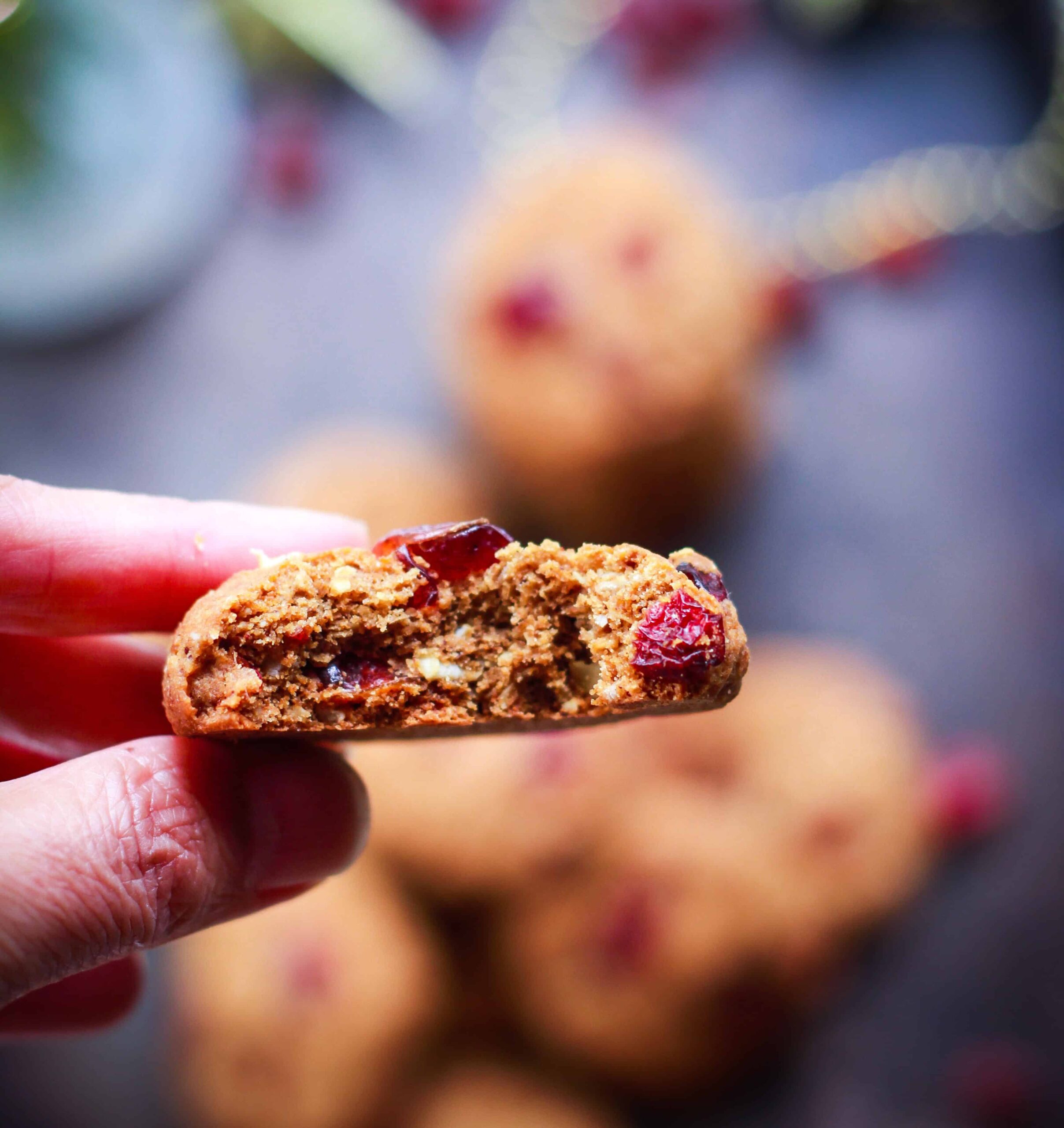 A Few Points to Note:
With the windy winter in full blast, you'll need to melt and cool the coconut oil when you make the cookie batter.
After kneading, if you feel the dough is too soft to handle refrigerate it for 10-15 minutes. I've baked these cookies, and variations of, ad nauseam. So, there's only a slight chance that you'll have to chill it.
Just hot out of the oven, the ginger cranberry oatmeal cookies feel a little under-baked on the top; but they firm up as they cool down. If you still want an extra crunch to them, increase the bake time a smidgen.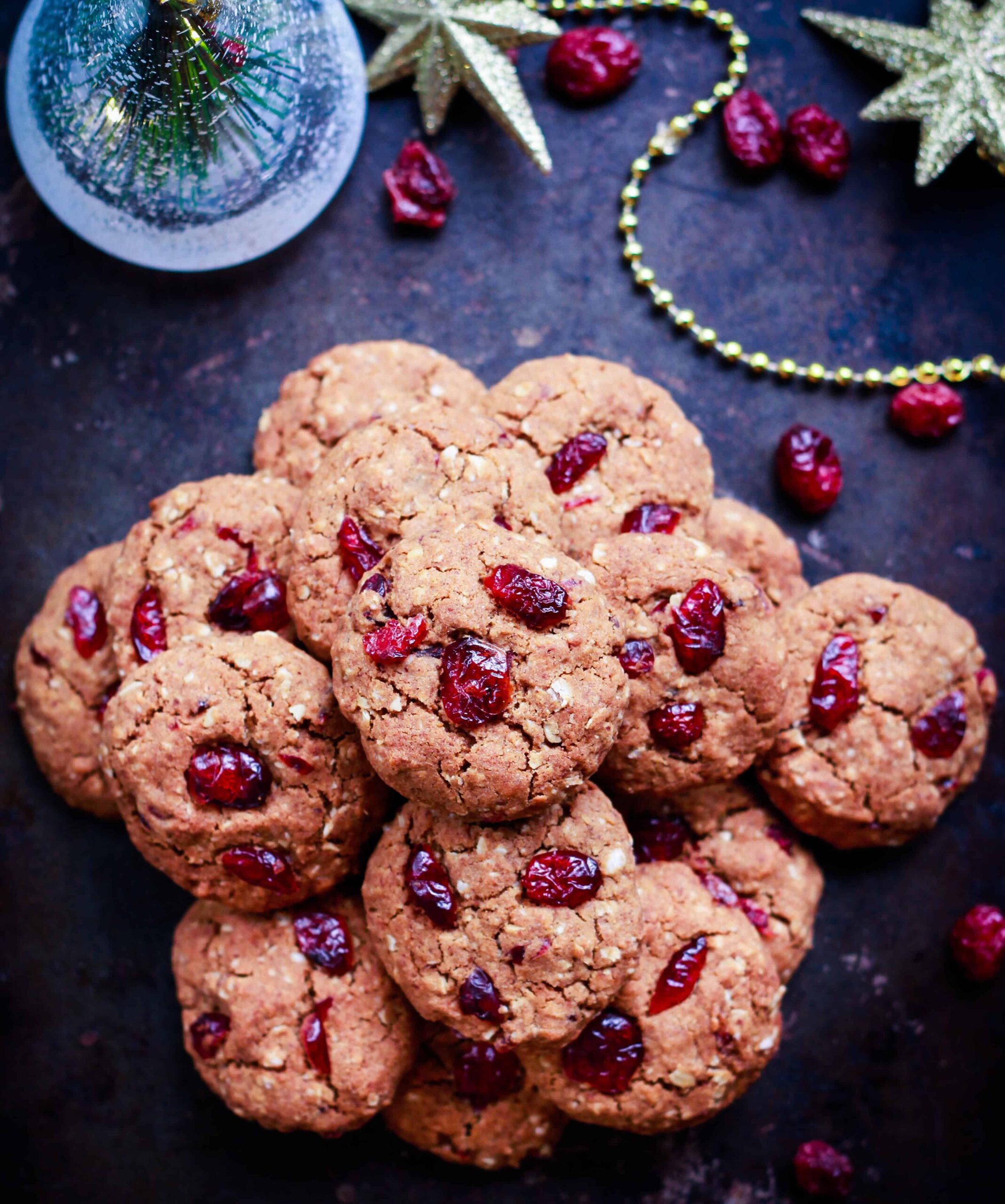 Time to Serve the Easy Ginger Cranberry Oatmeal Cookies
Being refined sugar-free, these oatmeal cookies are a whole lot healthier and a whole lot tastier with ginger, cranberry, and cinnamon. They are unquestionably worth gobbling up during tea-time.
Plus, they blend in with any Christmas spread beautifully!
Their light, crisp edges and chewy middles laced with cranberry will have your hand sneaking in the cookie jar at all times.
Print Recipe
Ginger Cranberry Oatmeal Cookies
Ingredients
1

cup

Oats, coarsely ground in a coffee grinder

3/4

cup

Wholewheat flour

1/3

cup

Quinoa flour

1

tsp

baking soda

1.5

tsp

Ginger powder

1

tsp

cinnamon powder

1/4

tsp

salt

1/2

cup

Coconut sugar

1/2

cup

Coconut oil, melted

1-2

tbsp

Soy milk

You can use any plant milk or regular milk

1/3

cup

Cranberries

1

tbsp

Flax powder

3

tbsp

Water
Instructions
Preheat your oven to 180C. Line a baking tray with parchment or silpat.

In a small bowl combine the flax powder and water. Stir and keep for 10-15 minutes to thicken up a bit.

In a large bowl, mix, oats, wholewheat flour, quinoa flour, baking soda, ginger powder, cinnamon, and salt.

In another bowl, whisk together oil, coconut sugar, flax egg, and soy milk.

Add this to the flour mixture. Mix well gently.

Fold in the cranberries. You may want to chill the dough a bit here for easier handling. Make even sized balls with the dough, flatten them just a bit. Stick a couple of cranberries on top if you want.

Bake for 12-14 minutes. If you want a crisper cookie, bake for another 2 minutes. The cookies will harden as they cool.

Let cool on baking sheet for a few minutes then transfer to a wire rack to cool completely. Store in an airtight container. Enjoy!