What I was gunning for with these light, tender and crispy eggless Butter Cookies was Swedish spritz cookies. Even minus the egg, these tiny bites snap between your teeth and melt the second they reach the tongue.
But my dough just would not cooperate. It kept stiffening due to the cold, throwing my dream of using the cookie press out the window.
FYI, the word spritz originates from the German "spritzen," which means to squirt. That's where the cookies get their name from - the dough is so soft that it can be pushed (or squirted) through a cookie press.
I might now have made all sorts of festive shapes, but the cookies still tasted gosh darn delicious. The hint of vanilla and the intense nuttiness of almonds made them addictive.
That's the beauty of butter cookies – it's the taste that matters because you can't mess up butter, sugar, and flour whipped together.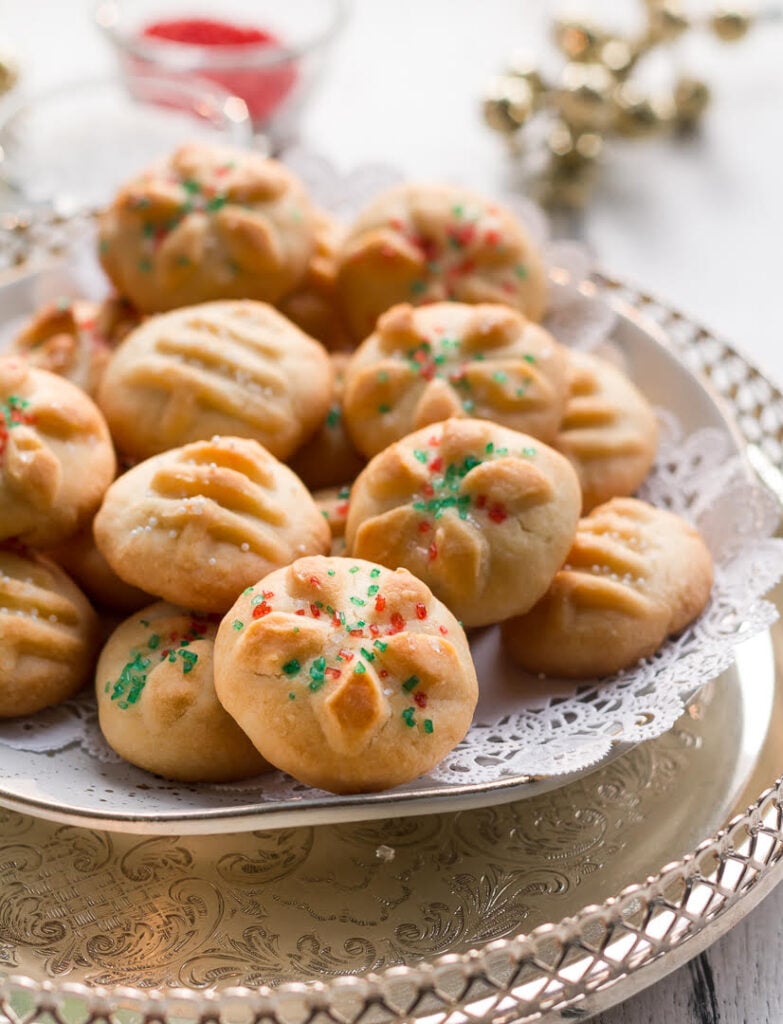 How to make eggless butter cookies?
The theme for Christmas 2020 is easy and simple – cookies that ask for no effort – and these butter cookies fit right in!
Start by creaming butter with icing sugar.
Then add almond extract and vanilla extract.
Follow it with finely ground almonds.
Almond meal has a coarser texture. What you need for butter cookies is almond flour to make them tender, moist, and heavenly. To make the flour, blanch, peel and dry almonds. Then pulse them in your food processor.
The last step is stirring in all-purpose flour. The trick is to use your hands to bring everything together.
Since the recipe is eggless, you may need 3 to 4 tablespoons of milk to make a soft dough. If the dough feels dryish to you, add small amounts of milk till you have a pliable consistency.
If the dough still feels too soft and doesn't hold together, refrigerate it. (I didn't need to, thanks to the cold temperatures here.)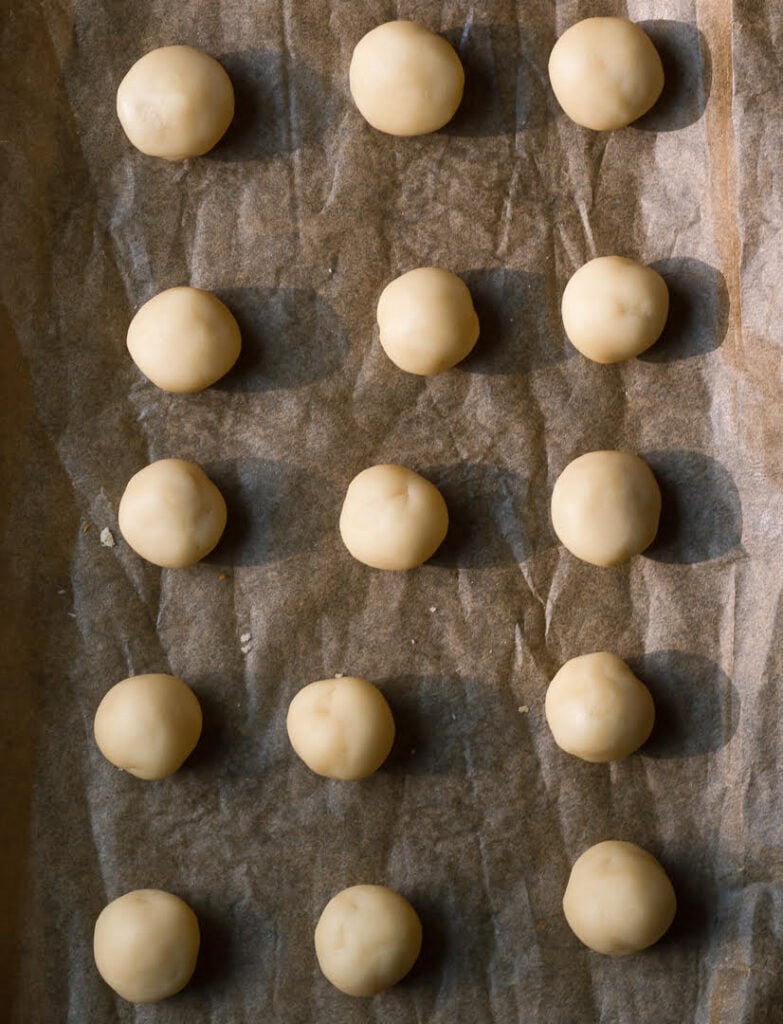 Baking the cookies
As I said before, my dough kept firming up. So, the cookie press was not an option. But if you have one and can wield it more successfully than me, then this is where you use it.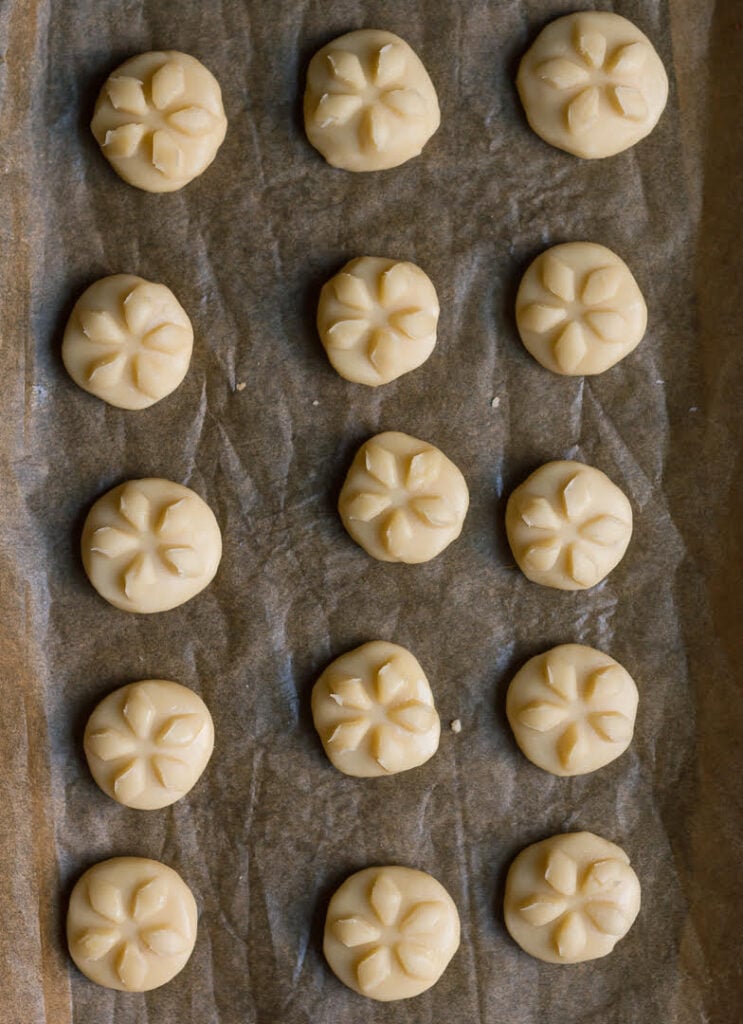 For all others:
Divide your dough into equal portions.
Roll them into balls with your hands and then flatten slightly.
Create designs using cookie molds.
Top with sprinkles.
Then bake for 14 to 15 minutes till the cookies are light golden brown.
Variations of the butter cookie recipe
If you don't have molds or a cookie press, use the bottom of a cut-glass tumbler to imprint the dough with designs. You can even use the tines of a fork.
Or leave them as-is. The butter cookies will look really cute even with such little effort.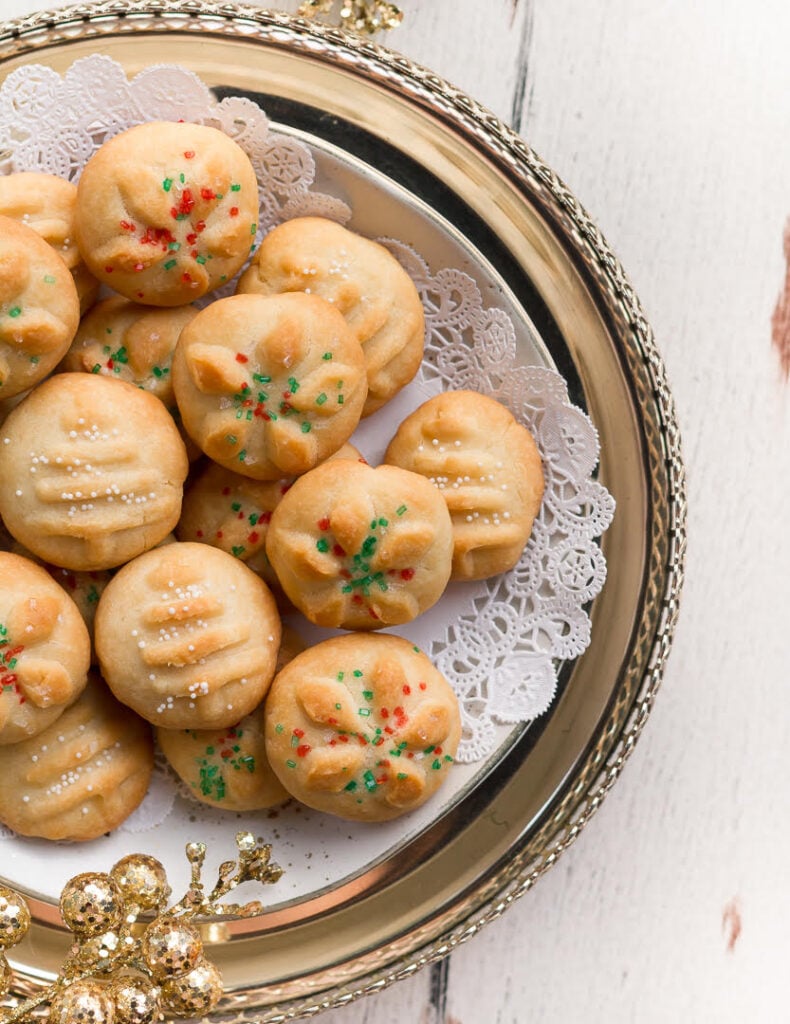 What is the best way to decorate cookies?
Pick any sprinkles of your choice, like I did, toadd holiday cheer and fun. Drizzle them with chocolate for some decadence or a citrus glaze to brighten the flavor.
Even caramel will go well here or leave them plain. Pander to your own taste and preference, the buttery cookies will not disappoint!
How to make vegan butter cookies?
Use plant-based butter and milk to make vegan cookies. Coconut oil is another fabulous substitute, as long as it is thoroughly chilled.
What is the best gluten-free flour for cookies?
Buckwheat flour is an excellent choice for making gluten-free butter cookies. I've made lemon Linzer cookies and almond Linzer cookies with it to the kids' great delight.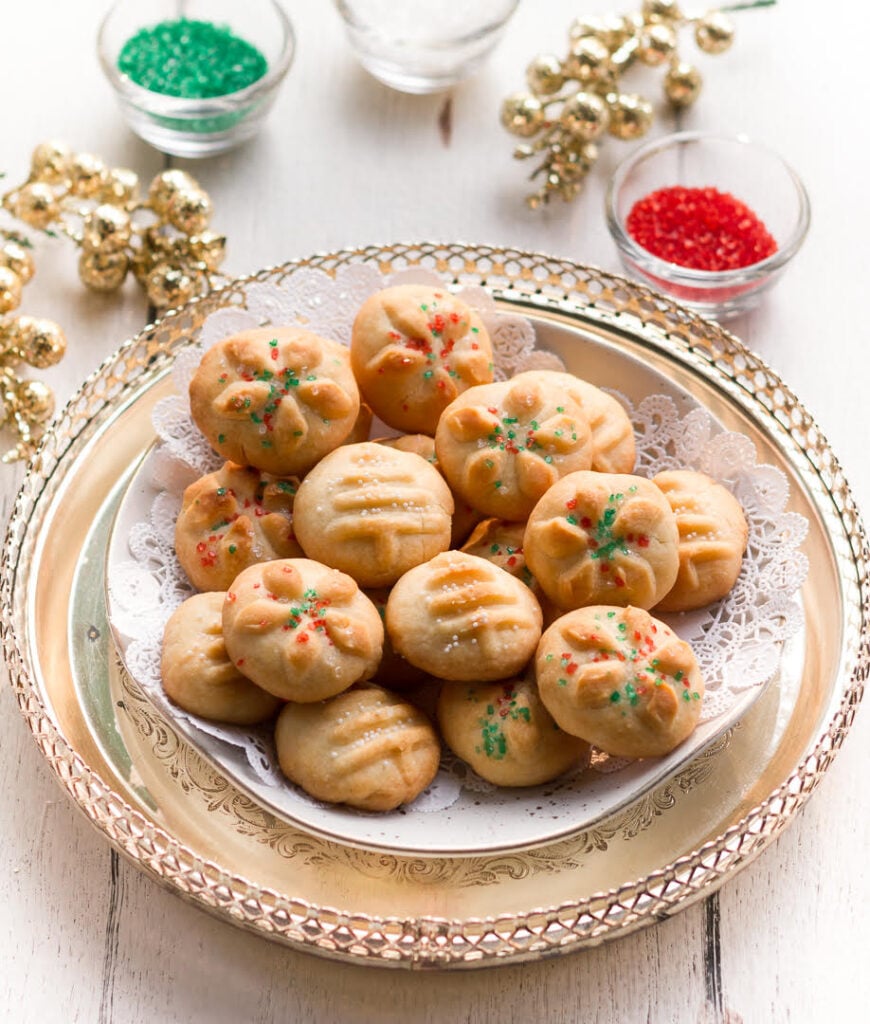 Can you make icing sugar at home?
Yes, you can.
Icing sugar is just a mixture of finely powdered sugar and cornflour (or cornstarch). Simply add 1 tablespoon of cornstarch/ cornflour to 1 cup of granulated sugar. Process until finely powdered. It adds to the tenderness of the cookies.
To make it at home, grind your regular granulated sugar into a very fine powder. After you add it to your dough, follow it by stirring in some cornstarch.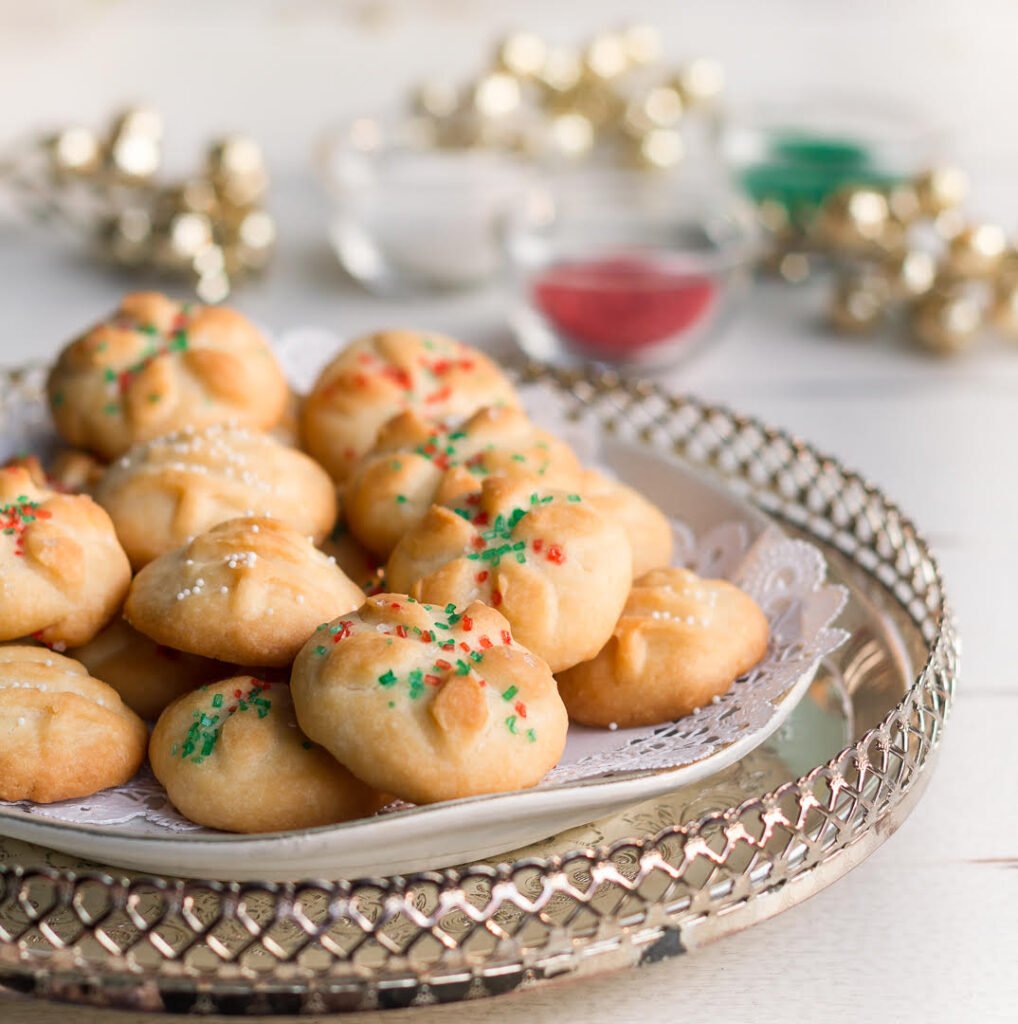 Can I freeze the cookie dough?
Absolutely.
Shape the butter cookie dough into a log, wrap it tightly, and pop it in the freezer. When you are ready to bake, slice off pieces using a sharp knife as I did for my Pistachio cookies and slide them in the oven.
Serving the eggless butter cookies
I purposely made the butter cookies tiny and fun-sized. I just didn't realize that we'll polish off the whole batch so quickly.
The combination of almond savor and rich, buttery vanilla creates a whole new level of deliciousness that's irresistible. While the crisp yet tender texture is perfect for dipping in hot cocoa, making the butter cookies a classic holiday staple.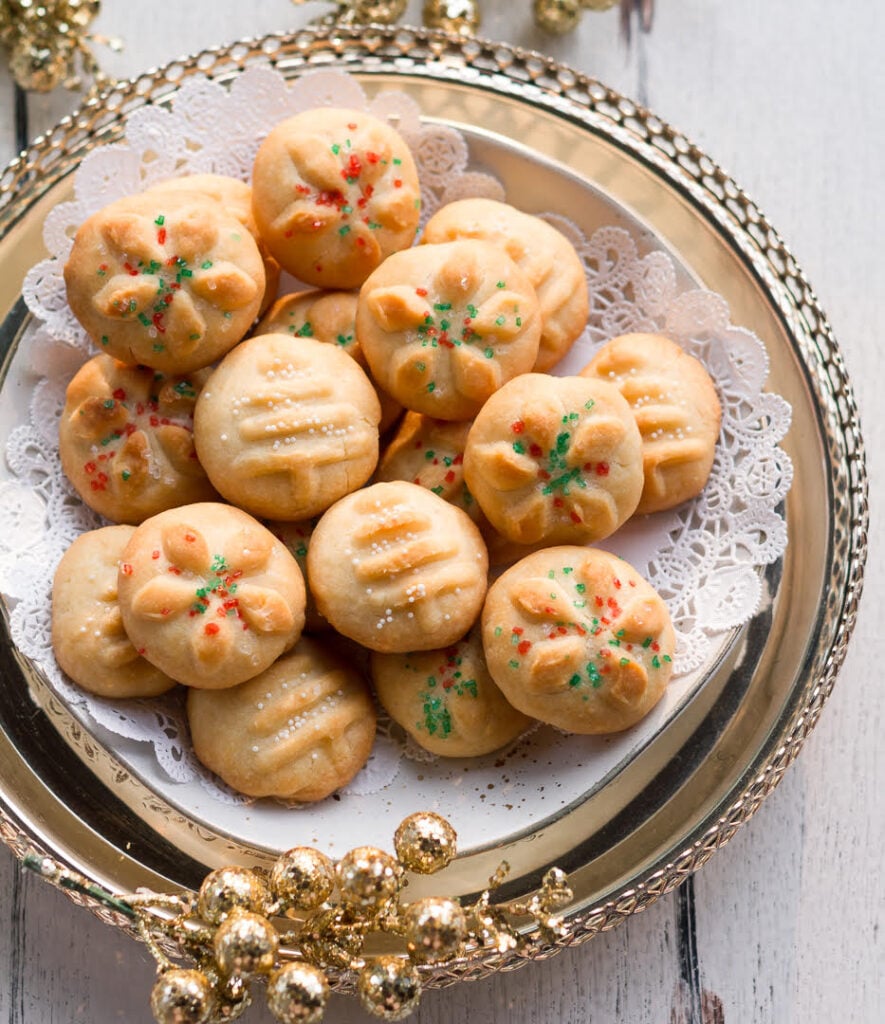 I'd love to hear from you! Please tag me on Instagram @tashasartisanfoods, using the hashtag #tashasartisanfoods. You can also FOLLOW ME on INSTAGRAM, PINTEREST for more fabulous recipes! Do subscribe to Tasha's Artisan Foods so you'll never miss a recipe!
📖 Recipe
Print Recipe
Eggless Butter Cookies
Eggless Butter Cookies - The combination of almond savor and rich, buttery vanilla creates a whole new level of deliciousness that's irresistible. While the crisp yet tender texture is perfect for dipping in hot cocoa, making the butter cookies a classic holiday staple.
Ingredients
1

cup ( 175 gms)

Butter, softened

3/4

cup (75 gms)

Icing sugar

3-4

tbsp

Milk

1

tsp

Almond extract

1

tsp

Vanilla extract

1/4

cup

Almond flour/ powder

I simply ground blanched and peeled almonds in my food processor

2

cups ( 270 gms)

All-purpose flour

Sprinkles for topping
Instructions
Preheat your oven to 180C. Line your baking tray with parchment paper or Silpat.

Whisk together the butter and icing sugar until light and fluffy.

Add the almond and vanilla extracts.

Stir in the almond powder.

Now mix in the flour. You may need to use your hands to bring the dough together.

If the dough seems too dry, add milk, one tablespoon at a time, until you get a smooth, soft dough.

If the dough seems too soft, refrigerate for 20-30 minutes, until a bit firm.

Divide the dough into equal-sized pieces. Roll them into balls and flatten them slightly. Place them on the prepared cookie tray.

If using a mould, pressing down with the mould, will flatten the cookie dough balls a bit.

You can use the bottom of a cut-glass tumbler or even tines of a fork to create designs on top.

Top the cookies with sprinkles and bake for 12-15 minutes, until the cookies are light golden brown.

Let the cookies cool for a few minutes on the tray before transferring them on a cooling rack.

Store these in an air-tight container for upto 1 week. Enjoy!