as any new season approaches, I start looking out for the bounty that it has to offer. case in point, these fabulous juicy mulberries that I literally steal from my neighbours! This time the stolen treasures went into the making of a glutenfree mulberry crumble pie!
To be honest, I was completely unsure of how this Glutenfree Mulberry Crumble Pie would turn out, given that I had no recipe to start with! I completely winged this one, going with my trusted buckwheat pie base in this PLUM GALETTE and APPLE MARZIPAN GALETTE . Trust me, it is good one.
Mulberries are wonderful in baking. Juicy and sweet, they become all jammy and gooey when baked. Almost like dates! So you don't need to add much sugar at all to the filling. Nuts and some orange zest bring a certain depth to the flavours. A quick little crumble adds a lovely crunch contrasting with the soft fruity filling.
Pie baking can be a bit overwhelming for a lot of people. But really, as long as you have a good pastry recipe, you can do it. If I can, anyone can. This pie, does require a little bit extra baking before you put the filling in. I did that just to make sure I don't get a soggy pie base.
NOTES:
I made the pie vegan, using chilled coconut oil. Please feel free to use chilled, cubes of butter if you'd like. Both are absolutely fine.
Do make sure the water you use for binding the dough is also chilled.
You can use honey, maple syrup or any sweetener of your choice to the filling.
If your mulberries are sweet, you won't need to add more than a tablespoon or two of the sweetener.
If you don't wish to use buckwheat, please use all-purpose flour or wholewheat flour like in this PLUM GALETTE .
So lets celebrate our summer's beautiful blessings with this ambrosial Mulberry Crumble Pie. I'd love to hear from you. Please do rate and comment below! You can also FOLLOW ME on INSTAGRAM , PINTEREST and FACEBOOK for more fabulous recipes!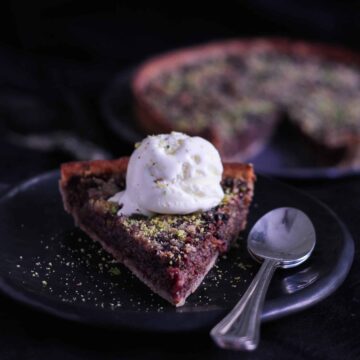 Print Recipe
Glutenfree Mulberry Crumble Pie
Absolutely scrumptious and delicious, Glutenfree Mulberry Crumble Pie is a cinch to make! Fresh, in season, berries make the flavours really pop out!
Ingredients
Pastry
250

gms

Buckwheat flour

100

gms

Coconut oil, chilled

or Butter, chilled

2

tbsp

Powdered sugar

3-4

tbsp

Chilled water

1/2

tsp

salt
Filling
350

gms

Mulberries, roughly chopped

1

tbsp

sugar

1

tsp

Cornstarch

2

tbsp

Almonds, roughly chopped

2

tbsp

Walnuts, roughly chopped

Zest from one orange

Lemon zest would also work well here.
Crumble
1/2

cup

Buckwheat flour

2

tbsp

Coconut oil, chilled

or Butter, chilled

2

tbsp

Granulated sugar

Pistachio, chopped finely for sprinkling on top

Optional
Instructions
Pastry
Combine the flour, sugar and salt in a large bowl. Rub the chilled coconut oil/butter in the mixture, using your fingertips. When it resembles coarse breadcrumbs, add iced cold water, 1 Tbsp at a time, just enough to bind the dough. It can be a bit a scraggy at this point, but don't worry, it will come together. Using the palm of your hand, push the dough away from you 4-5 times until its smooth.

Roll into a ball and flatten it into a disk. Wrap in clingwrap and refrigerate until ready to use. This should rest for at least an hour.

When you're ready to bake, line a baking tray with parchment paper or silpat. Preheat the oven to 180C. Keep an 9" pie pan handy.

Flour your work surface well. Roll the dough out into a rough 12" circle. Don't worry if its not perfect. Place the dough gently into a 9-inch pie pan; you can do this by flouring a rolling pin and rolling the dough loosely around it, then unrolling it into the pan. Brush away any excess flour on the surface. With a sharp knife, trim the edges of the pastry to fit the pie pan.

Place a piece of foil on the base of the pastry, cover with baking beans ( I use dried chickpeas). Bake the pastry for 10-12 minutes, to cook it just a bit. Remove the foil and the beans.
Filling:
In a medium sized bowl, combine all the filling ingredients together.
Crumble
Combine the flour and sugar in a small bowl. Rub in the coconut oil or butter till it resembles coarse breadcrumbs.
Assembly
Spoon the filling in the semi baked pie crust. Spread evenly. Sprinkle the crumbs all over the filling. Bake for 30 minutes, till the continue baking until the crust is golden brown and juices are bubbling. Cover the edges of the pie loosely with foil if it starts browning too much while baking.

Let the pie cool for an hour or two, so the filling can set. Sprinkle over the pistachios ( if using). Enjoy warm with icecream!