Feather-light, soft and moist inside and crispy-edged outside, gingerbread madeleines are like spongy cakes you can eat like cookies. Of the many, this is my best madeleine recipe ever! All because brown butter is a nutty elixir that infuses them with the most compelling flavor and aroma.
Brown butter madeleines are easy to make and have an allure that pairs perfectly with tea, coffee, and even hot chocolate. The gingerbread spice blend lends just the right amount of spiciness that shines beautifully through the buttery crumb and smells intoxicating.
Looking for a little festive note in your bakes? Try these Christmas madeleines!
Jump To:
MORE REASONS TO TRY BROWN BUTTER MADELEINES
A holiday twist to a classic favorite
Delicious combination of sweet and spicy
A recipe that makes December even better
Lovely winter teatime treats or for the cookie box for Christmas
ARE MADELEINES COOKIES?
Is it madeleine cake?
Or are madeleines cookies?
You'd think, having made a dozen different types of them, I'd be able to answer the question with equanimity. But these elegant, timeless, and always sure-to-please desserts maintain their mystery. So, let's just call them cookie cakes.
HOW TO MAKE GINGERBREAD MADELEINES?
Step 1: Gently cook butter in a saucepan. First, it'll become nice and bubbly. Then the milk solids will separate, yielding a rich, gorgeous brown butter.
Step 2: Set aside the browned butter to cool, and in another bowl, mix all-purpose flour, gingerbread spices, and baking powder. Sifting is essential in making the best madeleines recipe ever.
Step 3: Separately beat the egg and sugar till it's pale, foamy, and doubled in volume.
Step 4: Fold the dry ingredients into the beaten egg, followed by the melted, cooled brown butter, to form an airy sponge cake-like batter.
Step 5: Cover and refrigerate the brown butter madeleines batter for at least 2 hours and up to 3 days.
Step 6: Whisk the chilled batter once, and then spoon it into the cavities of your madeleine mold.
Step 7: Bake for 14 to 15 minutes, and then turn the mold over onto a cooling rack.
Final step: Serve!
PRO TIPS FOR THE BEST MADELEINES
The tricks to getting that sloping hump in the middle are using the right mold and chilling the batter. Let the brown butter madeleines spend quality time in the fridge. It works like a charm, and, of course, a pinch of baking powder accentuates the telltale hump.
And, oh, chilling also develops the flavor really well. Browning the butter changes the madeleine flavors completely.
Butter goes from brown to burnt in a flash. Be patient while browning. The right time to take it off the heat is when it turns pale golden and the milk solids sink to the bottom.
I used salted butter in the ginger madeleines recipe. If using unsalted butter, add ¼ teaspoon of salt to your dry ingredients.
Don't overmix the batter of any madeleine recipe! When I say to fold the dry into the wet, I mean be gentle.
Always cool the browned butter before adding it to the batter. Trust me, it infuses tons of flavor into each tiny madeleine cake.
Liberally brush your mold with melted butter if it is made of metal. I lean towards the silicone ones because you don't have to grease them. The teacakes pop out without a fuss after cooling!
Never spread the madeleine batter on the mold. Scoop it right in the center and fill it only 3/4th of the way.
Keep an eye on the ginger madeleines because they can burn quickly after a certain point. How do you know when they're perfectly baked? When
The top is springy to the touch.
The color turns a lovely pale yellow.
And an inserted skewer comes out clean with a few moist crumbs attached.
VARIATIONS
Spices: Store-bought gingerbread spice will do in a pinch here, or you can make it at home by whisking together:
2 tsp Cinnamon powder
1 tsp Clove powder
2 tsp Ginger powder
1 tsp Nutmeg powder
1 tsp Allspice powder
Store it in a small jar. It's very handy for Christmas and holiday recipes. I usually have all of them in my pantry, but this time I was out of allspice because I don't use it as often in my bakes. I simply left it out, and the gingerbread madeleines came out just as delicious.
Sugar: My recipe for madeleines uses raw sugar, but regular white sugar will work too. Brown sugar with its molasses and caramelly flavor would be really good!
Serving: I chose to keep the Christmas madeleines simple – just a dusting of icing sugar. You can, however, dip them in dark chocolate. It's a fantastic combination with gingerbread spice. Even white chocolate is a yummy option.
Eggless: I've made plenty of eggless madeleines; use any of these recipes as a reference – chocolate madeleines, matcha madeleines, or coconut ginger madeleines.
Vegan: Substitute the butter for oil and the egg with a plant-based alternative to make vegan spiced madeleines. For a reference recipe, use my vegan coffee hazelnut madeleines.
MORE DESSERTS FOR CHRISTMAS
White Chocolate Cranberry Cookies
Easy Christmas Wreath Sugar Cookies
Half the joy of cooking is sharing it with others, which is why I'm always eager to hear from you. So go right ahead and drop a comment or reach out on Instagram, Pinterest, YouTube, or Facebook. I hope you love these brown butter madeleines with gingerbread spice as much as we do!
📖 Recipe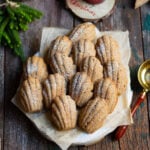 Print Recipe
Spiced Brown Butter Madeleines
Spiced brown butter madeleines are easy to make and have an allure that pairs perfectly with tea, coffee, and even hot chocolate. The gingerbread spice blend lends just the right amount of spiciness that shines beautifully through the buttery crumb and smells intoxicating.
Ingredients
6

tbsp ( 90 gms)

Butter

1

cup ( 130 gms)

All-purpose flour

1.5

tsp

Gingerbread spice *

1

tsp

Baking powder

2

Eggs

1/3

cup ( 67 gms)

Raw sugar

Icing sugar for sprinkling on top
Instructions
To make the brown butter - Heat the butter in a small saucepan, on low heat. The butter will be bubbly and foamy and then will start to change color. Once its brown in color, take the pan off the heat and strain the butter into a small bowl.

I didn't strain the butter.

Let it cool. This process will take about 4-5 minutes.

Sift the flour, gingerbread spice, and baking powder in a bowl.

In a large bowl, beat the eggs and sugar till pale and thick, doubled in volume.

Gently fold in the flour mixture, followed by the browned butter. Please don't over-mix.

Cover the batter and refrigerate for a minimum of 2 hours or for up to 2 days.

When you're ready to bake, preheat your oven to 200C. Grease and flour the madeleine molds. If you have a silicone pan, no prep is needed.

Spoon or pipe the batter into the molds, about three-quarters of the way. There is no need to level the batter. Bake for 12 -15 minutes or until they are golden and the tops are springy to touch.

Turn them out on a cooling rack. Cool completely. Sprinkle icing sugar on top. Serve and enjoy!
Notes
*Gingerbread Spice - Whisk together the following spices in a small bowl:
2 tsp Cinnamon powder

1 tsp Clove powder

2 tsp Ginger powder

1 tsp Nutmeg powder

1 tsp Allspice powder