I've baked plenty of madeleines. But with Matcha Pistachio Madeleine, I dared to reinterpret the classic recipe by adding not-so-usual ingredients. At least for traditional madeleines. To say the buttery flavor of the teacakes paired well with the sweet crunch of pistachios and earthy taste of Matcha is an understatement.
Vibrant green, softly fluffy, and like small vessels of joy, the madeleines came out looking pretty as a picture. And the soothing grassy Matcha taste is so delicate that you're almost looking for it. For those who're not huge fans of the green powder, these vegan madeleines will come as a delicious surprise.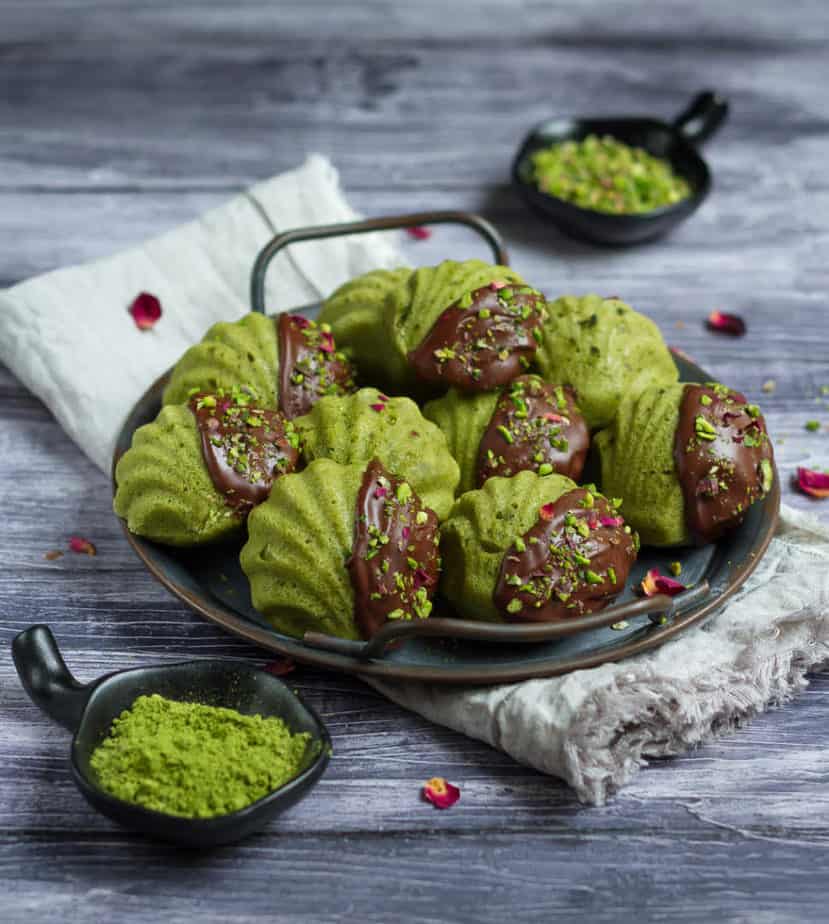 How to make Matcha pistachio madeleines?
There isn't much to making madeleines. As long as you have a madeleine mold or pan, they are easy to bake, and the trick to getting that telltale hump on one side is chilling the batter. My advice is to give it at least two hours in the refrigerator, but the batter can last up to 2 days.
Start by sifting all-purpose flour, salt, and Matcha.
Add some baking powder to accentuate the characteristic hump further, and then stir in raw sugar.
For the wet ingredients, combine lukewarm almond milk with coconut oil and vanilla extract. Using lukewarm milk makes the batter absolutely lump-free.
Pour the wet ingredients over the dry and mix till you have a homogenous batter. Never overbeat madeleine mixture.
Fold in very finely chopped pistachios (you want the texture, not chunky bits in the mouth).
Cover the batter and then refrigerate. The lower temperature solidifies the oil, giving rise to that unique bump during baking.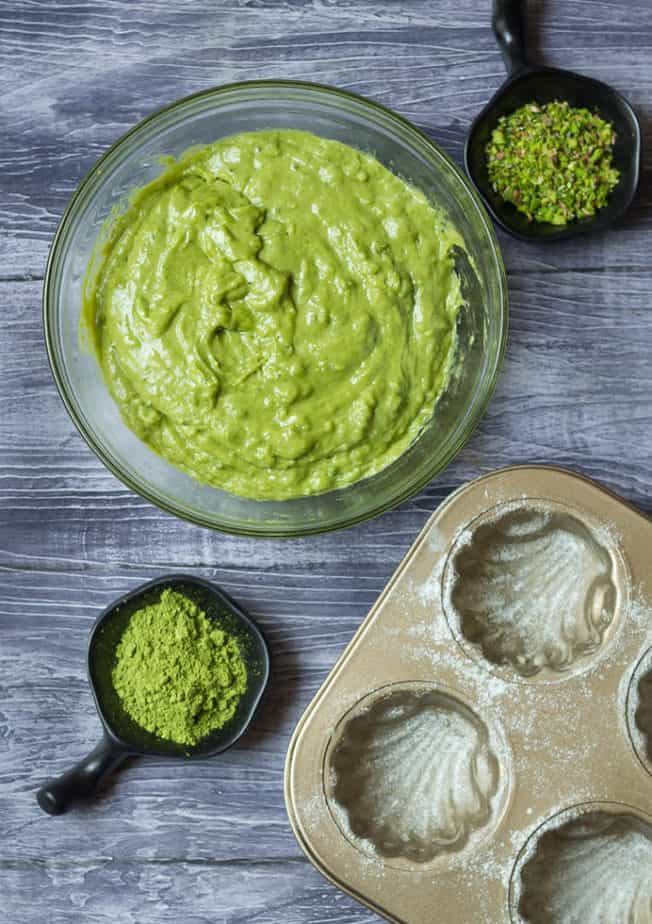 Baking the madeleines
With this recipe, I tried a new metallic madeleine mold with cavities so gorgeously deep that the teacakes were nearly the size of smallish cupcakes. I made 10, but with a standard size mold, this recipe will give you 14 to 15 madeleines.
If you're using a metal pan too, remember to liberally grease the cavities with oil or butter. Then dust it with flour, so the madeleines don't get stuck in the grooves. For those baking in a silicone mold, skip the greasing.
Whisk the chilled batter once and then spoon it into the cavities only 3/4th of the way. If you go beyond, the madeleines will lose their distinguishing shape. Also, don't even the batter, let it sit right in the middle of each cavity.
Bake for 14 to 15 minutes till the tops are springy, and a skewer comes out clean.
Let them cool for a minute, then turn the mold over a cooling rack and the madeleines will pop out.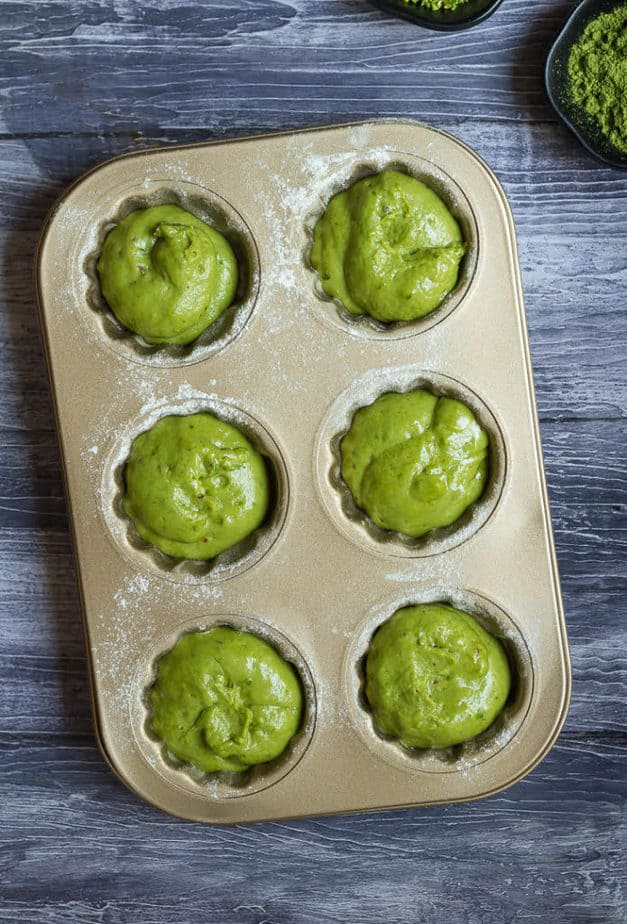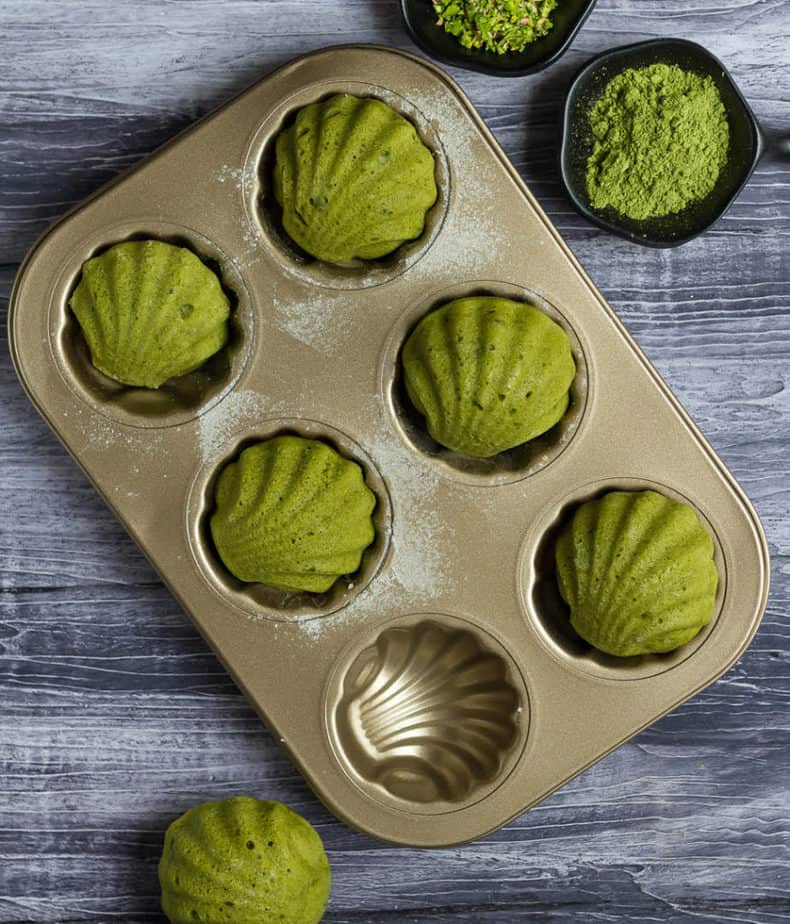 Serving the matcha madeleines
The best time to enjoy madeleines is straight out of the oven: fragrant, crisp-edged, and warm. And because they're so lovely, you can serve them just like that. Or dust a bit of Matcha powder or icing sugar on top.
I never, ever pass up an opportunity to dip my bakes in chocolate. Why not, when you can? So, half of each madeleine was dipped in melted dark chocolate and dusted with pistachio pieces. And, since I like a pop of color with my green, I scattered a few dried rose petals on top.
But all of this is completely optional. Feel free to skip the rose petals, pistachio topping, or even chocolate. Although experience with vegan matcha tart and melted dark chocolate tells me you'll be missing out.
In case you're more of a white chocolate lover, you can dip the madeleine in that too, as I did with my chocolate madeleines. Matcha complements white chocolate, and my Matcha White Chocolate Bark attests to it.
Variations of matcha pistachio madeleines
Pistachios: Almonds are a great substitute here. For those allergic to nuts, omit them entirely from the recipe. If you want that extra textural dimension, try folding in chocolate chips. Both dark and white chocolate will pair well.
Oil: Replace the coconut oil with melted and cooled butter. To keep the recipe vegan, you can also sub it with olive oil also.
Milk: Being lactose intolerant, I prefer almond milk. But it's okay to use any milk here.
Sugar: Since the madeleines are not overly sweet, you're adding only a small quantity of sugar. So, feel free to experiment with any: cane sugar, regular sugar, or raw sugar.
Toppings: All of them are purely discretionary. Leave everything out. Or dip half the madeleines in white chocolate. Or dunk just one side of the madeleine in dark chocolate. The choice is entirely yours.
My one piece of advice is to make the batter the day before, refrigerate it overnight, then bake it the next morning. Most of the time is spent waiting for the matcha pistachio madeleine batter to cool. This way, you save it and have a delicious snack ready in no time.
📖 Recipe
Print Recipe
Matcha Pistachio Madeleines
Matcha Pistachio Madeleines - Vibrant green, softly fluffy, and like small vessels of joy, these madeleines came out as pretty as a picture!
Ingredients
1 1/4

cup

All-purpose flour

1 1/4

tsp

Baking powder

1/4

tsp

Salt

1

tbsp

Matcha powder

1/3

cup

Raw sugar

2/3

cup

Almond milk, lukewarm

1/3

cup

Coconut oil

1

tsp

Vanilla extract

3

tbsp

Pistachio, finely chopped

2

tbsp

Dark chocolate, melted

Optional

Chopped pistachio, dried rose petals for topping

Optional
Instructions
Whisk the flour, baking powder, matcha powder, and salt in a bowl.

In another bowl, whisk together the coconut oil, almond milk, and vanilla extract.

Now gently fold in the flour mixture. Please don't over-mix.

Fold in the finely chopped pistachios.

Cover the batter and refrigerate for a minimum of 2 hours or for up to 2 days.

When you're ready to bake, preheat your oven to 180C. Grease and flour the madeleine molds. If you have a silicone pan, no prep is needed.

Spoon the batter into the molds, about three-quarters of the way. There is no need to level the batter. Bake for 13-15 minutes or until tops are springy to touch and a skewer inserted in the center comes out clean.

Turn them out on a cooling rack and let cool completely.

You can serve them as is or dip them in dark chocolate and sprinkle some chopped pistachio and dried rose petals on top.

Let the chocolate set for a few minutes and serve. Enjoy!