Fat and plump, these are the best matcha donuts you'll ever have. They are so good that they'll even fool connoisseur donut eaters into thinking they're fried. They are not.
I omit the frying altogether in this matcha donuts recipe, yet the baked texture is just as fantastic. Take a bite, and they will literally dissolve in your mouth. And if that doesn't tempt you, making them at home is easy peasy!
Why you'll love these baked matcha donuts
Actually, super simple to make, just sifting and whisking
Quick summer bake, not excruciating even at 43°
Not a guilty pleasure like their fried cousins
Enjoy for breakfast or for dessert
Jump to: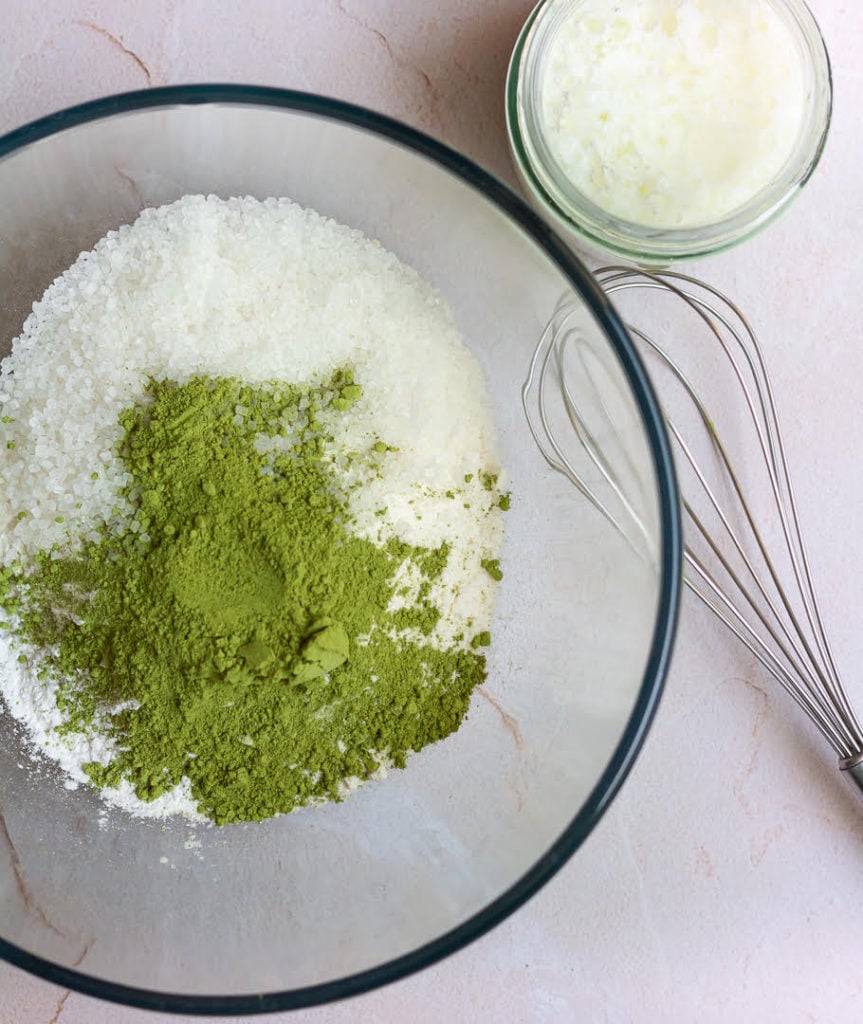 How to make matcha donuts?
The matcha donut recipe is vegan and blazing fast. But the real allure, for me, is the positively divine creamy texture and sweet grassy taste of matcha.
Step 1: To save time, always begin with the buttermilk. Stir vinegar in milk and keep it aside for 5 minutes.
Step 2: In the meantime, combine your dry ingredients in a small bowl by sifting together flour, baking soda, baking powder, salt, and matcha. Then stir in your sugar.
Step 3: Now add coconut oil and vanilla extract to the milk-vinegar mixture.
Step 4: Mix the wet ingredients into the dry. Combine till you get a smooth mixture. It's a thickish (more than cake batter)batter.
Bake the homemade matcha donuts
Step 5: Grease your donut molds well, and then pipe the batter in as evenly as you can. Fill a little over ¾ of the cavity. If you don't have a piping bag, I share a handy DIY trick in my baked cinnamon donut recipe.
Step 6: These bake fast, about 10 to 12 minutes. You can check if they're done by inserting a skewer in the center. It should come out clean.
Step 7: Let them cool in the pan for a couple of minutes, and if you had greased your pan thoroughly, they'll slide right out.
Step 8: Serve warm or let them cool, garnish and then dig in. (I did say they were fast!)
How do you make matcha glaze?
Never to miss an opportunity to give recipes a Tasha Twist, I glazed my donuts in a vibrant green color with a pop of pink and strips of ivory (I'll get to it in a moment).
While your donuts are cooling, make the matcha glaze:
Mix milk with icing sugar.
Add matcha powder for the lovely color.
Finally, stir in coconut oil to give the glaze a shiny patina (it also makes sure that the glaze doesn't crack).
When the glaze reaches a thick consistency, dunk your donuts into it one by one. It doesn't matter if you do it right side down or bottom side down. Press slightly so the matcha glaze coats the donut nicely.
Gently lift it off and hold it above the bowl, allowing the excess glaze to drift off. Set on a rack to dry. You can enjoy these matcha glazed donuts bursting with that umami flavor at this point.
Or you could go extra, like me.
I had a bag of freeze-dried strawberries lying around, which I sprinkled on top and then drizzled with zebra glaze. You know those white zigzag lines you see on donuts? That.
If you're opting for donut toppings, keep this in mind
The glaze (both matcha and white) sets fast, so if you're adding a topping, do it immediately. Once the glaze sets, anything you sprinkle on top will slide right off the baked matcha donuts.
Other ways to serve matcha doughnuts (as it's officially spelled)
As I said, the matcha glaze, the strawberries, and the zebra glaze are optional. You can serve the matcha doughnuts in all sorts of ways:
As-is. The soft, spongy, and moist donut crumbs are delicious. My advice? Eat them warm if you're serving them plain.
Covered with a blanket of icing sugar.
Loaded down with matcha sugar. Mix matcha with powdered sugar and dunk the warm donuts in it, just like I did with my vegan baked cinnamon donuts
Beckoning beneath a blizzard of white chocolate coating (or dark chocolate). Both white and dark pair stunningly with matcha. Simply dip them in melted chocolate, as I did with my mini-baked chocolate donuts.
Or you can mix matcha into melted white chocolate to give it that eye-catching color.
Ingredient substitutes
Milk: I used almond milk to make vegan matcha donuts. Any plant-based milk like oat or coconut will work here. You can even replace it with regular milk.
Sugar: You can easily use raw sugar in this recipe. Another good substitute is cane sugar.
Baked donut recipe FAQs
I am not a fan of matcha. Should I still try this matcha dessert?
Absolutely!
I don't enjoy matcha in drinks a lot, but in my bakes, I find it delightful. The flavor is creamy, earthy (think gently nutty), and very, very refreshing. It's not bitter. And you can always tone down or up the level of matcha depending on how big a fan you are of it.
In my opinion, it's a perfect dessert for beginners and seasoned matcha lovers alike. So long as you invest in good-quality matcha.
Quality matters in matcha-baked donuts
If your matcha tastes bitter, it's not the right quality. The real taste of matcha has an undernote of sweetness. So, how do you judge if the matcha is of good quality?
It should have a nice green color. Deep, not tinged with brown or yellow.
It smells fresh.
It's finely ground.
Invest in a small box, especially if you love matcha lattes and teas. I store mine in the refrigerator in a tiny, opaque box.
How to store these easy homemade donuts?
Because these matcha donuts are glazed, there's no danger of them drying out. They keep well at room temperature. But if you store them in the refrigerator, they last for a few days.
That said, they are best eaten fresh; nothing beats the flavor. Anyhow, leftovers won't be an issue as this matcha donut recipe makes a small batch of 8.
More matcha dessert recipes
Matcha Peppermint Chocolate Cups
More easy homemade donuts
📖 Recipe
Print Recipe
The Best Matcha Donuts
Fat and plump, these are the best matcha donuts you'll ever have. They are baked and have a fantastic texture! Take a bite, and they will literally dissolve in your mouth. And the recipe is so simple too!
Ingredients
1.5

cups ( 180 gms)

All-purpose flour

1.5

tsp

Baking powder

1/4

tsp

Baking soda

1/8

tsp

Salt

1.5

tsp

Matcha powder

1/2

cup (115 gms)

Sugar

3/4

cup (150 gms)

Almond milk

1

tbsp

Apple cider vinegar

You can use white vinegar too

1/4

cup ( 45 gms)

Coconut oil

You can use any neutral flavored oil

1

tsp

Vanilla extract
Matcha Glaze
1/2

cup ( 50 gms)

Icing sugar

2

tbsp

Almond milk

1/4-1/2

tsp

Matcha powder

1

tsp

Coconut oil

You can use any neutral flavored oil
Instructions
Preheat the oven to 180 C. Grease the cavities of a donut pan well.

Combine the almond milk and vinegar in a small bowl. Set aside for 5 minutes.

Sift the flour, baking powder, baking soda, salt, and matcha powder in a large bowl.

Whisk all the liquid ingredients - almond milk mixture, coconut oil, and vanilla extract in another bowl.

Pour over the dry ingredients and mix until combined. The batter will be thick.

Spoon or pipe the batter into the prepared pan, filling a little over 3/4 of the way.

Bake at 180C for 10-12 minutes or until a skewer inserted in the center comes out clean.

Let the donuts rest for 5 minutes in the pan before turning them out on a cooling rack.

For the topping, dunk half the donut in the matcha glaze. Let the excess drip back into the bowl and place on a rack to set.

As soon as you place the glazed donut on the rack, add whatever toppings you like. I used freeze-dried strawberries. This glaze sets very fast, so the toppings have to be placed immediately.

Drizzle with some plain glaze if you wish.
Matcha Glaze
Combine all the ingredients - icing sugar, almond milk, matcha powder, and coconut oil in a small bowl and whisk well to get a smooth, thick, lump-free mixture.

Add more icing sugar if the mixture isn't thick enough.

Add more milk if it's too thick.