After my easy baked mathris, I had to try the sweet mathri recipe for my Holi smorgasbord. Like their savory cousins, these bite-sized, healthy treats have a different texture when compared to the fried variety.
Crispy yet soft, the flaky delights are laced with just a hint of sweetness. The perfect snack when you're craving for "halka meetha." The natural crunch of the sesame seeds adds more dimension to them but the bigwig of the recipe is fennel seeds.
Bakers, pay attention; saunf grants a special touch to the dough. I've used the spice for my dark chocolate chip fennel biscotti and atta biscuits. Both times I heard the word "love" flying about.
How to make sweet mathri?
The sweet mathris are delicious and healthy to boot because I used jaggery instead of refined sugar to sweeten them. So, when you devour them by the fistful, you do not have to feel guilty!
Start by combining all-purpose flour, whole wheat flour, fennel seeds, and sesame seeds in a big bowl.
Fennel has a sweet and aromatic bouquet, and its cooling taste pairs heavenly with the earthiness of jaggery. That the spice is filled with calcium, potassium, vitamin C, magnesium, and iron is merely the nutritious icing on the cake.
Dribble three tablespoons of oil and a tablespoon of ghee to the dry ingredients.
Using your hands, rub the fat in until the ingredients begin to clump together. The texture will be very similar to breadcrumbs.
Add melted jaggery syrup and bring everything together to form the dough.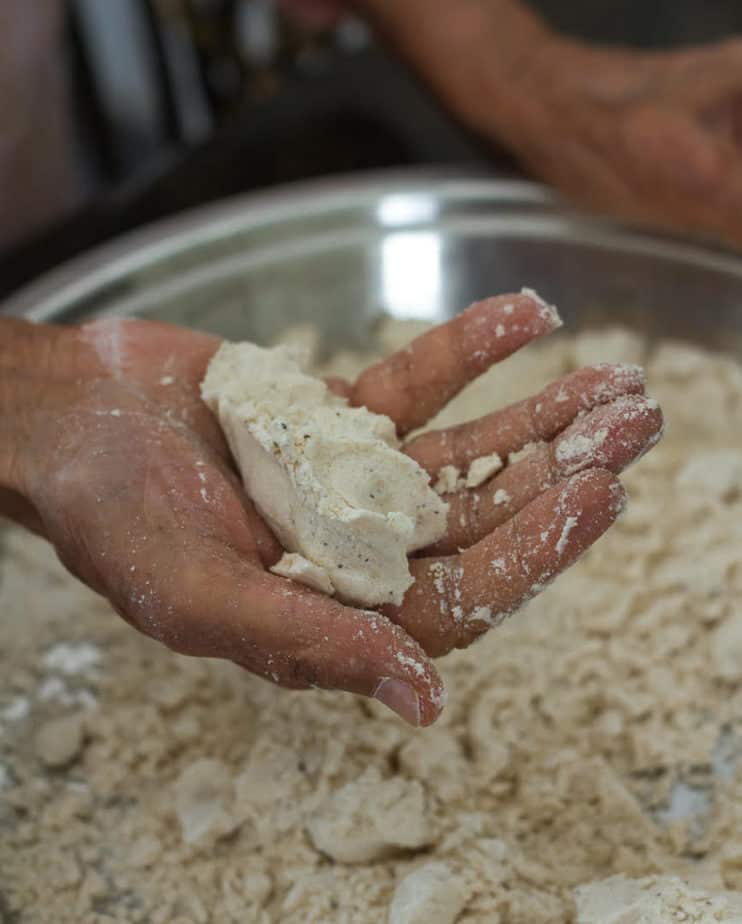 How to make jaggery syrup?
I prefer easy recipes that take as little time as possible. That means for the sweet mathri, you don't have to agonize over the one or two-string consistency of the jaggery syrup.
Simply add jaggery to water and heat till the sugar melts. Let the syrup cool down to room temperature, and then mix it in the dough.
Baking the sweet mathris
There is no kneading involved for the sweet mathri dough. Just combine until there are no white streaks left. Your dough will be tight (not soft) but pliable.
Cover the it with a cloth and let it rest for some time.
Divide the ready dough into two and roll them to ¼-inch thickness.
Using the tines of a fork, prick the rolled sheets.
Please don't skip the perforating step. It's these tiny holes that prevent the mathris from inflating like a balloon when baking.
Cut the dough in your preferred shape with a pizza cutter. Or you can use a square cookie cutter as I did.
On a Silpat or parchment-lined tray, place the pieces and bake for 20 minutes.
For us, it's the softness of the sweet mathris that does the trick. But if you want crisper ones, bake them for longer. You can also roll the dough into thinner sheets.
Variations of the sweet mathri recipe
Fennel and sesame seeds are the only spices I can think of that give the sweet mathris a dancing melody of flavors. But I'd be happy to know if you try another!
What is a substitute for jaggery?
Use any unrefined sugar like agave, palm sugar, or coconut sugar.
How to make vegan sweet mathris?
Skip the ghee (clarified butter) and stick to oil.
What flour to use for mathris?
You have a couple of choices here:
100% all-purpose flour.
100% whole wheat flour.
Blend of both as I did.
Mix in semolina (suji) to add more crunch and graininess.
I plan to try more nutritionally dense mathris soon by using a portion of buckwheat flour or finger millet flour.
Can I use the same recipe and fry the mathris?
Absolutely.
If you don't feel like baking, either deep fry them or air fry them. I haven't tried an air fryer for mathris yet, but I've seen plenty of people do it.
Serving the sweet mathris
The sweet mathri recipe makes for a great addition to your Holi spread, particularly if you're going to celebrate it within your safe bubble.
You can make them ahead of time as they keep well for weeks in an air-tight container and save a lot of effort on the festival day.
That is if any of the flaky, sublime delights are left by then. Ours are down to the last few stragglers. Most of them consumed during the course of the weekend with hot cups of tea - the ultimate match for sweet mathris.
If you make this sweet mathri, be sure to leave a comment and/or give this recipe a rating! I love getting to connect with you guys. You can also follow me on Instagram & Pinterest for more fabulous recipes.
📖 Recipe
Print Recipe
Sweet Mathri Recipe
Sweet mathri - These crispy, flaky delights are laced with fennel & sesame seeds. A perfect snack when you're craving just a touch of sweetness!
Ingredients
1

cup

Wholewheat flour

1

cup

All-purpose flour

3

tbsp

Oil

1

tbsp

Ghee

1.5

tsp

Fennel seeds/ saunf

1.5

tsp

Sesame seeds
Jaggery syrup
3

tbsp

Jaggery powder

You can add more if you want the mathri sweeter.

1/4

cup

Water
Instructions
In a small saucepan, combine jaggery and water. Heat till the jaggery melts. Let the syrup cool down to room temperature.

Combine the dry ingredients in a large bowl –all-purpose flour, whole wheat flour, sesame seeds, and fennel seeds. 

Add the oil and ghee and rub it into the dry ingredients until the mixture resembles breadcrumbs and starts clumping together. 

Add melted jaggery syrup and bring everything together to form the dough.

Mix the dough with your hands until it starts coming together.

There is no need to knead it. The mathri dough is not soft. It has to be pliable but tight. 

Cover the dough with a cloth and let it rest for 30 minutes.

Preheat the oven to 180C. Line a baking tray with Silpat or parchment paper.

Divide the dough into two. Roll out each half to1/4th of an inch thickness.

Prick the rolled-out dough using a fork. 

Cut into any shape you like using a knife or pizza-cutter or use a cookie-cutter.

Place on the prepared tray and bake for 20-25 minutes until light golden in color.

Cool completely and store in air-tight container. Enjoy!