Generally, I have a story about every recipe I try. With Tiger Bread, I have none because the bread speaks for itself and in volumes.
It's been on my interesting bread list, and I finally got the time to bake it. The recipe is from The Kitchn. I simply veganized it. (I can never resist adding a few Tasha Twists.)
Why is it called tiger bread?
The Tiger bread has many names - Tijgerbrood, Tijgerbol, Dutch Crunch Bread, and even Giraffe Bread.
The bread rolls are called so because they have tiger-like spots. The spots form because the bread dough is painted with a slurry-like paste of rice flour and sugar before baking. 
As the slurry dries, it gives the bread a golden molten crust with a chewy, pillowy center that's utter heaven in the mouth.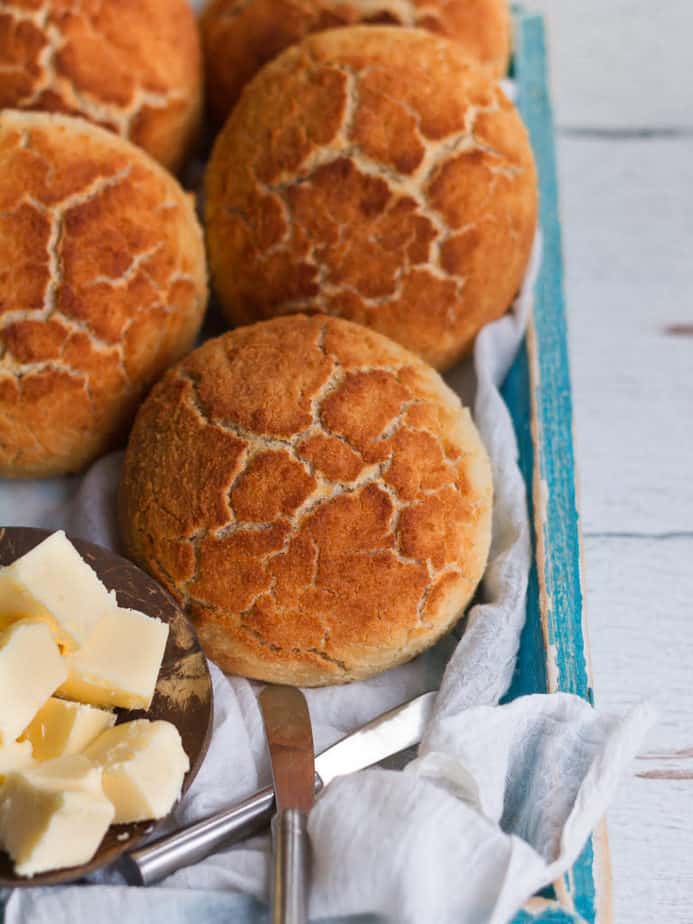 How to make Tiger bread?
Tiger bread is typically sold as rolls (experts say that the shape lends the maximum crunch), but I did come across a few loaves on Pinterest. So, take your pick.
No matter how you decide to bake it, the bread will still be soft with a pale under crust and a crackly top that has an unparalleled barely-there sweet crunch!
Start with the dough
In lukewarm water and milk, add yeast and sugar and let it rest until the mixture is nice and frothy.
Add in flour, salt, and oil and knead to form a smooth, elastic dough.
Shape it into a bowl, place it in a greased bowl, cover with cling wrap, and set it aside. 
Next, shape the rolls
Wait for the dough to double in volume.
Then divide the dough into 6 portions of about 140 grams each.
Roll each portion into a tight ball using the palm of your hand.
Place them spaced apart, cover them, and let them rest till they rise.
Quick note:
The only change I would make the next time I bake Dutch crunch bread is to use smaller portions. The current size makes for some hefty rolls. Ideal for big, whopping sandwiches!
Then make the rice flour topping
While the dough balls rise, make the rice flour topping by:
Whisk rice flour with water, sugar, oil, and yeast till you have a thick-ish mixture that's almost like glue.
Let it sit while you get to preheating the oven.
Once the Dutch crunch topping has bubbled, brush it on top of each puffy roll. I prefer to use my fingers to spread the rice paste on the rolls.
Quick notes:
If your topping is dry, add a little bit of water to it. Also, after the second proofing, the dough balls are delicate. So, paint them with a gentle hand. That'll stop the dough from deflating.
Finally, bake the Tiger bread
It is the rice flour smeared on top that imparts the distinctive spotted look to Tiger bread.
As the oven does its magic, the upper layer of the crust will split open. So, let it take its time. If need be, wait a few extra minutes for those brown crackly patches to appear.
What is tiger bread made of?
The recipe uses all-purpose flour, but rice flour is coated on the top, giving the bread its iconic cracked brown spots.
Variations of the recipe:
I switched to a blend of whole wheat flour and all-purpose flour to give the bread a deeper flavor profile and texture. And it turned out superb!
I did have to increase the quantity of milk a tad because whole wheat flour absorbs more liquid.
You can try the bread with 100% whole wheat or 100% all-purpose. Remember to up the liquid portion for the first.
I used soy milk, but regular milk works absolutely fine.
Instead of raw sugar, which is always my first preference, you can utilize white sugar.
What to do with leftover rice flour paste?
I had a good amount of rice flour paste leftover. Why? Because I stuck to the quantities mentioned in the original recipe. I really didn't want to take the risk of messing it up.
If you're like me and love a zero-waste kitchen, use the leftover slurry for any bread you enjoy baking. It can be used as a topping for literally any homemade bread, not just Dutch crunch.
Serving the Tiger bread
For such a funky, fancy-looking bread, Tiger bread is so doable. The dough is basic and made with the simplest ingredients.
Yet, the baked result is flavorful with a pleasant, soft interior. But the best part is the snappy, crispy exterior, as anyone who's had it will tell you.
The traditional way to serve is to split the bun and have it as a sandwich. It's also scrumptious as morning toast slathered with butter.
We had it fresh out of the oven and as-is with our evening tea – the best way to enjoy Dutch crunch bread. And the solitary bun left by the time I sat down to write the blog attests to its sheer deliciousness.
📖 Recipe
Print Recipe
Tiger Bread Recipe
Tiger Bread Rolls - bread rolls with golden molten crust with a chewy, pillowy center that's utter heaven in the mouth.
Ingredients
Bread Rolls
1

cup + 2 tbsp

Soy milk

You can use any milk

1/4

cup

Water

1

tbsp

Raw sugar

You can use regular white sugar

1

tbsp

Dried active yeast

2

cups ( 280 gms)

Wholewheat flour

1

cup ( 130 gms)

All-purpose flour

1

tsp

Salt

2

Tbsp

Olive oil

You can use any vegetable oil
Rice Paste
3/4

cup ( 140 gms)

Rice flour

1

tbsp

Raw sugar

You can use regular sugar

2

tsp

Dried active yeast

1/2-3/4

cup

Warm water

I used 1/2 cup water
Instructions
Bread Rolls
Stir in the sugar and yeast. Keep aside for 10 minutes until bubbly.

In a large bowl, combine the flours, salt, and olive oil.

Add the yeast mixture and mix well with a fork or your hand till a rough scraggy dough forms.

Flour your work surface well, turn out the dough onto it. Use the heels of your hands to push the dough away from you, then fold it over halfway, press it down, and push it away again. Turn the dough sideways and repeat this process. Keep turning and kneading until the dough is soft and elastic. This will take about 10-12 minutes.

You can also use your stand mixer with a dough hook for this process. Mix for about 8 minutes on medium-high.

Form the dough into a ball and transfer to a lightly oiled bowl. Cover and leave the dough to rise in a warm, draft-free spot for 1 -2 hours or until it doubles.

Keep a baking tray ready, lined with Silpat or parchment paper.

Once the dough is doubled, punch it down and divide equally into 6 pieces.

Roll each dough piece into a ball and place on the prepared tray.

Cover with a damp kitchen towel and let the rolls rise for about 30 minutes.
Rice Paste
In the meanwhile, make the rice paste.

In a small bowl, combine the rice flour, sugar, yeast, and warm water. Mix well until you get a smooth, thick paste.

Keep aside until the rolls get proofed the second time.

Preheat your oven to 220C.

Carefully spoon the rice paste over the proofed dough balls. Using a pastry brush or your fingers, spread evenly in a thin layer all over the surface.

Bake the rolls for 22-25 minutes or until the tops look cracked and golden brown.

Transfer the rolls to a cooling rack. Cool completely before slicing for making sandwiches. Enjoy!