No-yeast stovetop pizza - Yes, you heard that right!
The pizza lovers in my house have been pining for it...despite the fact they got homemade ones a few times since the lockdown. As much as I love making pizza from scratch, sometimes it does seem like a full-on production.
So to make my life easier and to teach both the kids a simple recipe, I got this no -yeast stovetop pizza. The dough gets ready in a jiffy, each one gets an individual pan sized pizza in 20 minutes. And the cleanup is a breeze! Win-win for all!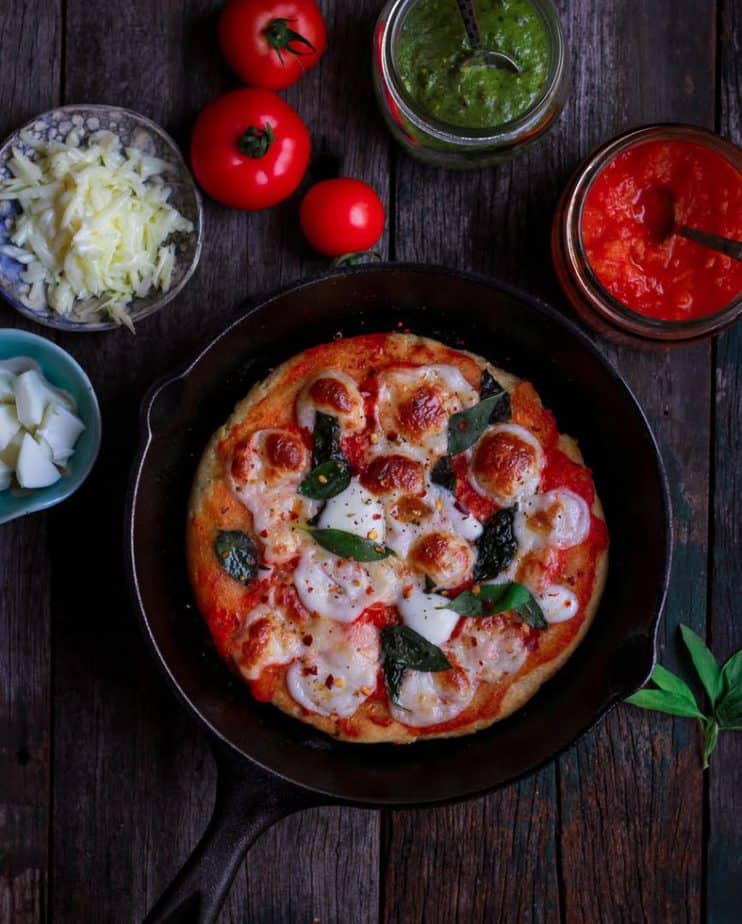 How To Make No- Yeast Stovetop Pizza
The process is really easy, you guys. Just mix together all-purpose flour, semolina (sooji), salt, sugar, and baking powder in a bowl. Mix in olive oil and water and knead for a few minutes till soft and malleable. Now at this stage, you can leave it rest, covered with a damp cloth for 10-15 minutes.
When you're ready to make the pizza, grease your frying pan. I used my 6" cast-iron pan. Divide the dough in half, roll it out into a ball.
Use a rolling pin or your hands to make a 6" circle and place it in the pan.
Now this pan goes on to your stovetop. Let the crust cook for 5 minutes on high.
Flip the pizza base and on the crispy side, spread some tomato sauce or pesto, add on your toppings and then the cheese.
Cover with a lid and cook for another 8-10 minutes, till the bottom of the base is golden and crusty and the cheese on top has all melted.
Your pizza is ready to eat!
If you want a slightly more blistered look, like we always do, put your pizza under the broiler for 3-4 minutes. And dig in! But remember your fresh basil will also get charred, so be smart put the basil on later...don't be like me!
This pizza bakes beautifully in the oven too. It takes a high temperature of 200C and about 15 -18 minutes for these to bake up.
No-Yeast Pizza Dough
Since this dough does not use yeast, it does come together very fast.
Make sure the dough is soft but not sticky. It should be supple and moist at all. Other wise you'll get a a really hard, dry pizza.
So if the dough feels sticky, add more flour. If it feels dry, add more water.
You can use the dough immediately, as soon as its ready. But I prefer to to let it rest for 10-15 minutes.
I love semolina in my dough. It gives a wonderful crunch and texture. Feel free to swap it out with cornmeal or all purpose flour.
Feel free to throw in any herbs, fresh or dried to give extra oomph to the dough.
How does the No-Yeast Stovetop Pizza Taste
Yummmm!
But please don't expect it to taste like the real deal. This is a shortcut afterall.
I would say its quite like a bread pizza, just more crisp and definitely with better flavour.
Its great eaten warm, though its good at room temperature too. So if you want to serve it , cut into small pieces with some drinks, you have my nod!
Variations
As with any pizza, the variations with sauce, toppings , cheese are endless.
I almost always have my simple tomato sauce in the refrigerator. So I mostly use that for my pizzas.
These days basil in my garden is growing abundantly, so a quick blend of basil, garlic, salt, a few almonds and olive oil was also easy. This pesto a good sauce to have handy in the refrigerator.
I love Feta and goat cheese on my pizza, but none of these seem to be available these days here. So I used regular cheddar and mozzarella cheese I got from my neighborhood store.
You can use any plant based cheese to make this pizza completely vegan.
Any combination of veggies or meats will be wonderful here. For the sake of simplicity, I like to keep the toppings on these pizzas light. The flavour, though, is anything but!
So anytime that craving hits, you know a good, flavourful pizza is just 20 minutes away. I hope this no-yeast stovetop pizza becomes a favorite with all of you just as it has with us.
I'd love to hear from you! Please tag me on I'd love to hear from you! Please tag me on Instagram @tashasartisanfoods, using the hashtag #tashasartisanfoods. You can also FOLLOW ME on INSTAGRAM, PINTEREST for more fabulous recipes!
Print Recipe
No-Yeast Stovetop Pizza
Delicious, crispy, crunchy, this No-Yeast stovetop Pizza is a breeze to make and is guaranteed to satisfy all the pizza cravings!
Ingredients
1 1/4

cup

All purpose flour

1/2

cup

Semolina /Sooji

1.5

tsp

baking powder

3/4

tsp

salt

1/2

tsp

sugar

2

tbsp

olive oil

1/2 -3/4

cup

Water
Toppings
2-3

tbsp

Tomato sauce

See notes

2

Tbsp

Pesto **

Optional. See notes

1

small

Tomato , sliced

5-6

Fresh Basil Leaves

Mozzarella cheese, cut into small pieces

I used some grated cheddar too.
Instructions
Combine all-purpose flour, semolina, salt, sugar and baking powder in a bowl.

Pour in the olive oil and 1/2 cup of water.

Using your hands, mix well till the dough is soft but not sticky. Add more flour if it seems too sticky. Add more water if it seems too dry.

Lightly knead the dough for 2-3 minutes. Cover with a damp cloth and let it rest for 10-15 minutes.

Grease a frying pan well. I used my 6" cast iron pan.

Divide the dough in half. Working with one half at a time, roll it out into a 6' circle.

Place in your pan and cook on high heat for 4-5 minutes, till the bottom is lightly golden and cooked.

Flip the pizza base so the cooked part is on top now. Spoon the tomato sauce or the pesto sauce, top with tomatoes, or whatever other toppings you want.

Cover with cheese.

Cover the pan with a lid and let the pizza cook for 8-10 minutes or until the base is crisp and golden brown and the cheese has all melted. You can also bake this at 200C for 15-18 minutes in your oven.

The pizza is ready to eat at this point. If you want a blistered look, place the pizza under the broiler for 3-4 minutes. Please make sure your pan is oven-proof if you're using the broiler. If not, simply transfer the pizza out on a baking tray and then put it under the broiler.

Serve warm. Enjoy!