Call them mini pancakes, call them baby pancakes, or call them pancake cereal. All I know is that they are cute as a button and the softest, fluffiest, and most delightful breakfast to grace our tables. Ever!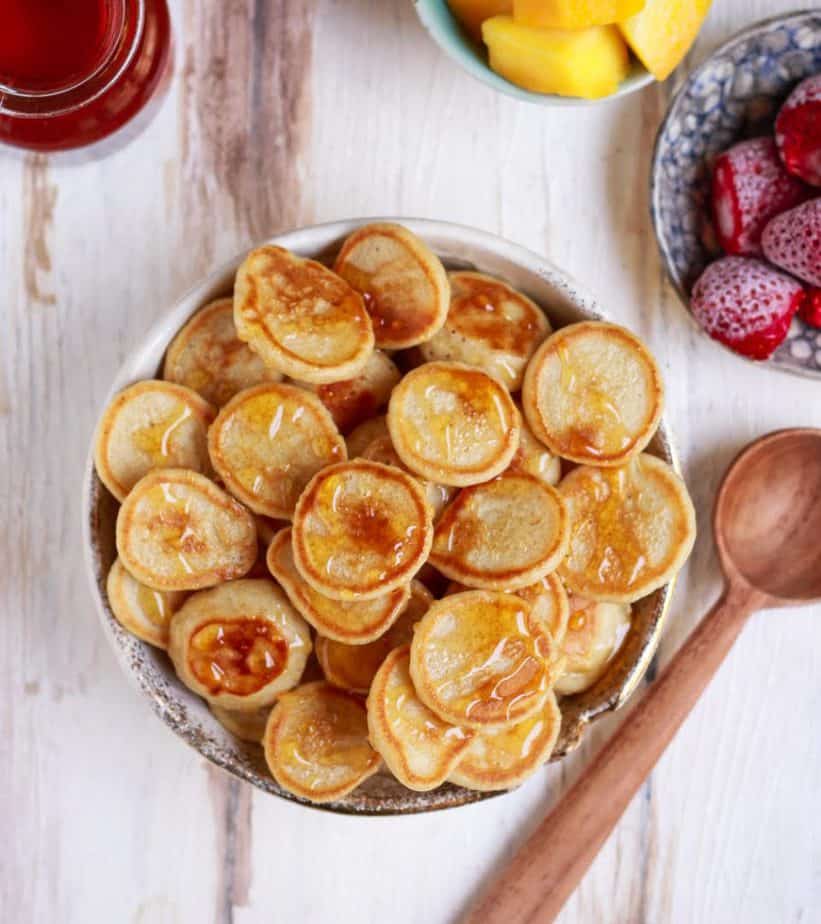 Saturday began with some social time. On the phone, of course. Apparently, after bread and dalgona coffee, another food trend is going viral on TikTok because of the lockdown.
This time it's pancake cereal.
Made in practically nil time, I must say, the trend is falling at the perfect moment because one look at them and the kids decided these petite puffy pancakes just had to be made not just for Mother's Day but also for both their birthdays falling right after. Yes, we have two back to back birthdays coming up!
How to Make Pancake Cereal?
With such an evocative name, you'd think the recipe would be pages long.
It isn't. You can use any regular pancake batter to make them. I adapted fluffy cinnamon pancakes, my basic go-to recipe for pancakes.
I made short work of sifting all-purpose flour, baking soda and powder, salt, sugar and a pinch of cinnamon in a bowl. Separately, I whisked milk with vinegar to make buttermilk, then added oil and vanilla to it.
In went the dry ingredients into the wet to make the batter, which sat for a handful of minutes. Pretty much like every other pancake recipe, right? It's the next part – cooking the mini pancakes – that makes a world of difference!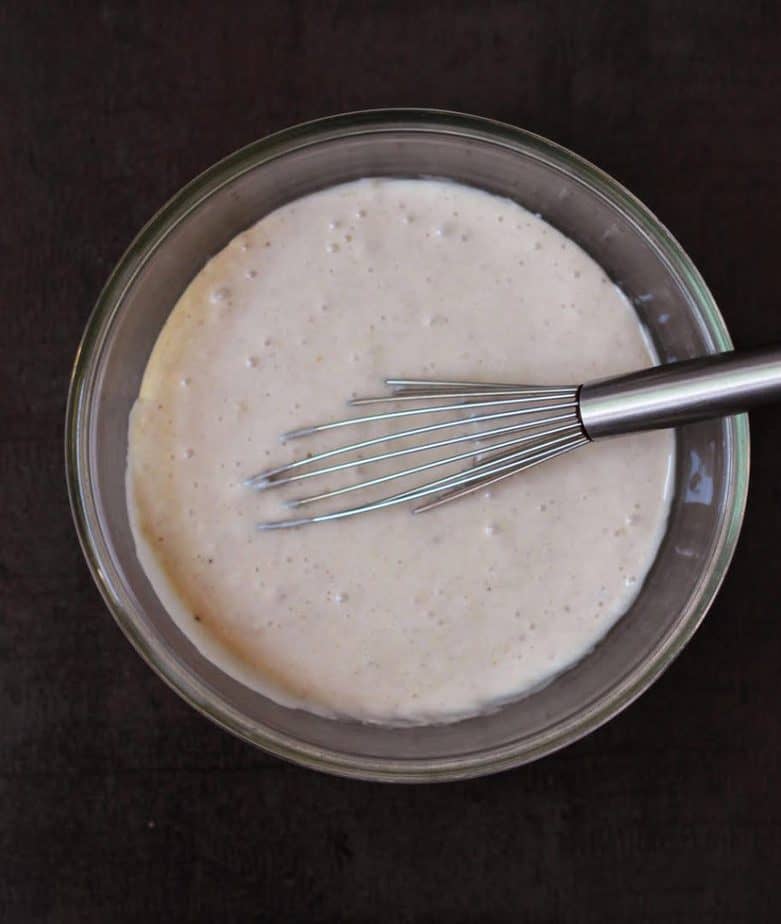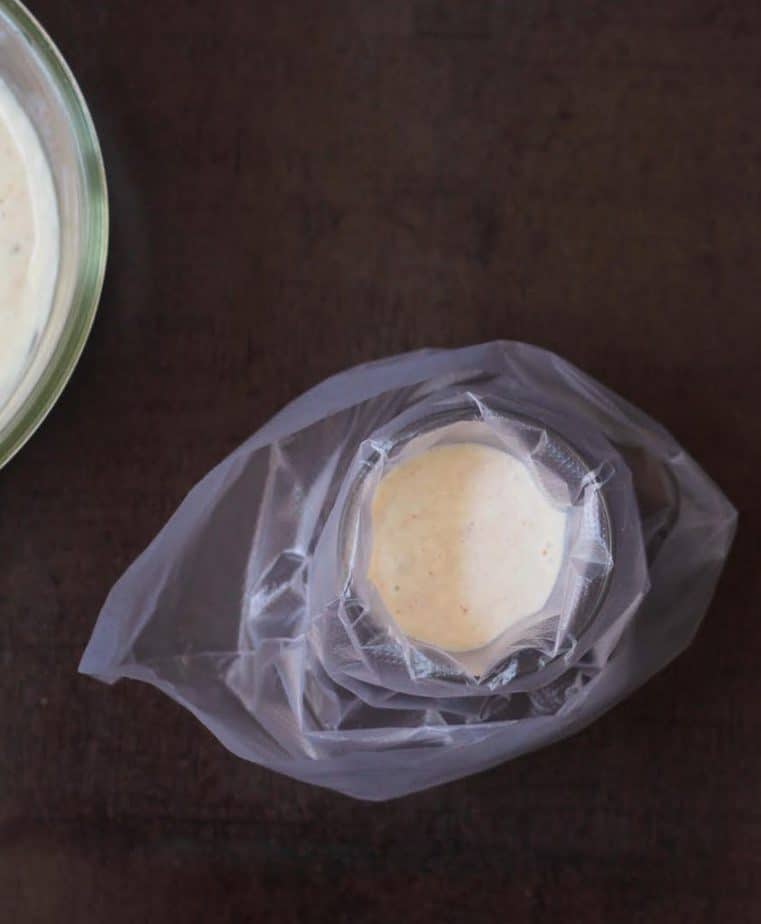 Cooking the pancake cereal
You transfer the batter into a piping bag or a squeeze bottle or even a zip lock bag, whatever you have at home works. The trick is to have a teensy hole at the corner to pour bite-sized batter.
Heat a griddle pan– I used a dosa tawa since I had that at hand – and then pour small buttons of batter on to it. You can keep them as miniature as a real button or make them a little bigger; it's absolutely up to you.
When the top starts to bubble flip the mini pancakes to cook the other side. It takes less than 2 minutes for both sides to be golden brown, and the pancake cereals are ready to be served.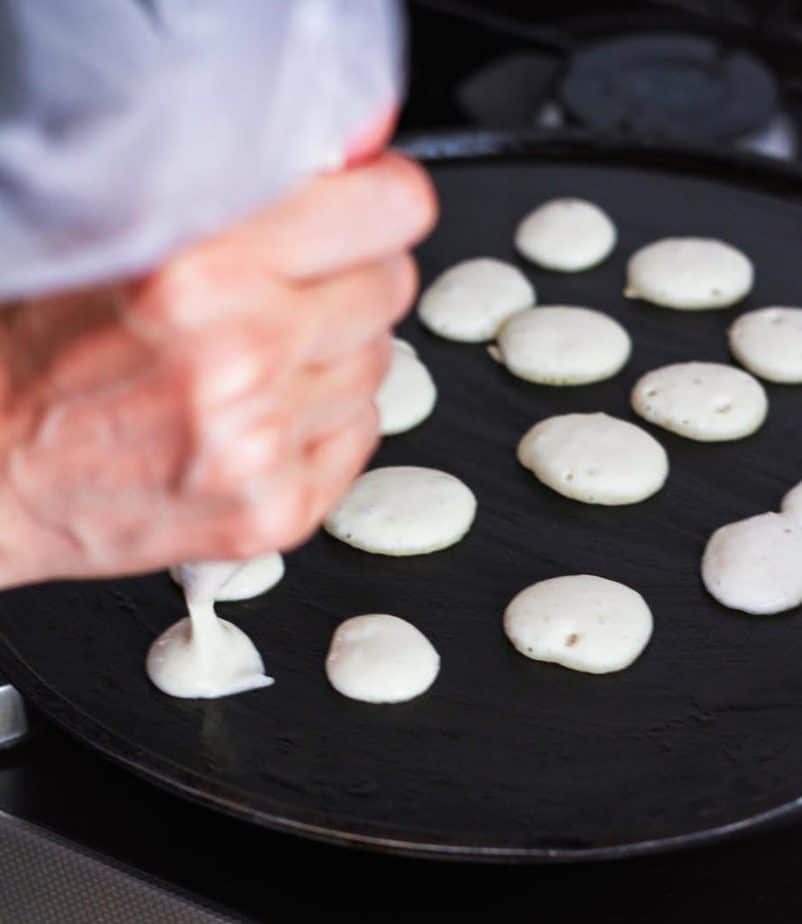 Quick notes:
Make sure the batter is lump-free or depositing the batter in tiny coin sizes will be a herculean task.
Test the batter with just one small button on the griddle, before you really get into it. If the batter spreads or drips out of the piping bag, then it is too runny. If you have to squeeze too hard to pour it, then it is too thick.
Adjust the batter to get that perfect thickness and consistency, and you'll pipe out smooth buttons in a matter of seconds.
Don't press the pancake cereals down with your spatula. They will end up flat instead of tiny, fluffy clouds.
When you pipe the batter, keep it smaller than the size you want. The batter does spread a bit while it cooks.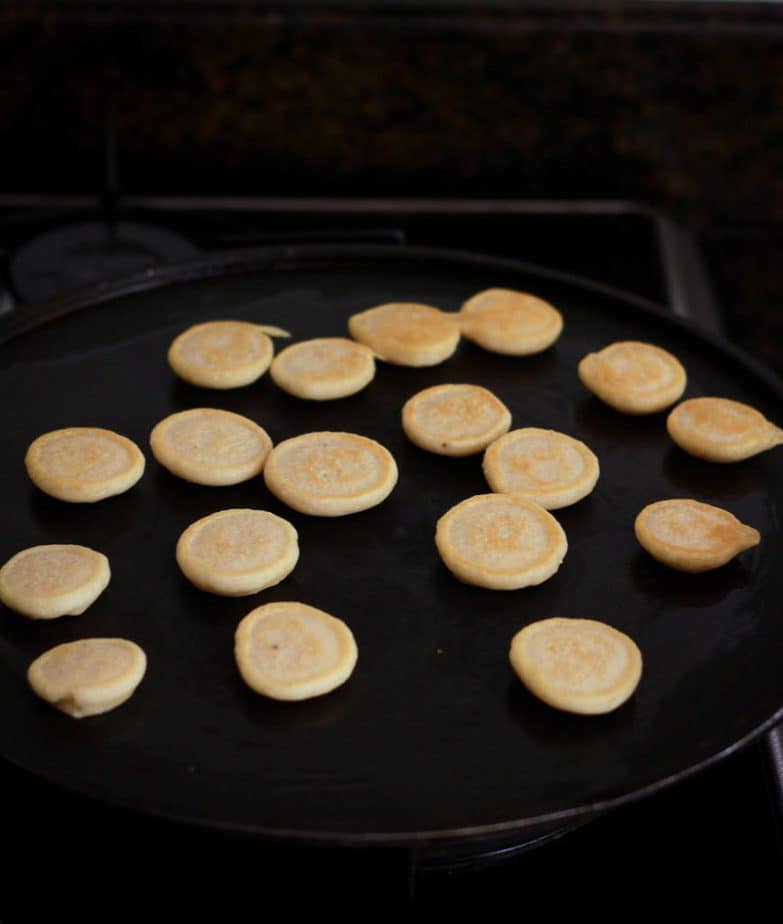 Variations of pancake cereal
I used a vegan pancake recipe here, but the world is your pancake cereal canvas! You can make them gluten-free, you can add a layer of stuffed chocolate, or you can play around with flavours like tangy lemon and crunchy poppyseeds.
Honestly, you can use any pancake recipe. From peanut butter to cocoa powder, from banana to chocolate chips, pretty much everything goes. The only condition is to avoid big chunks in the batter; else they'll block the piping bag.
If you love some chocolate chips, instead of mixing them in the batter sprinkle them on top while serving the pancake cereal!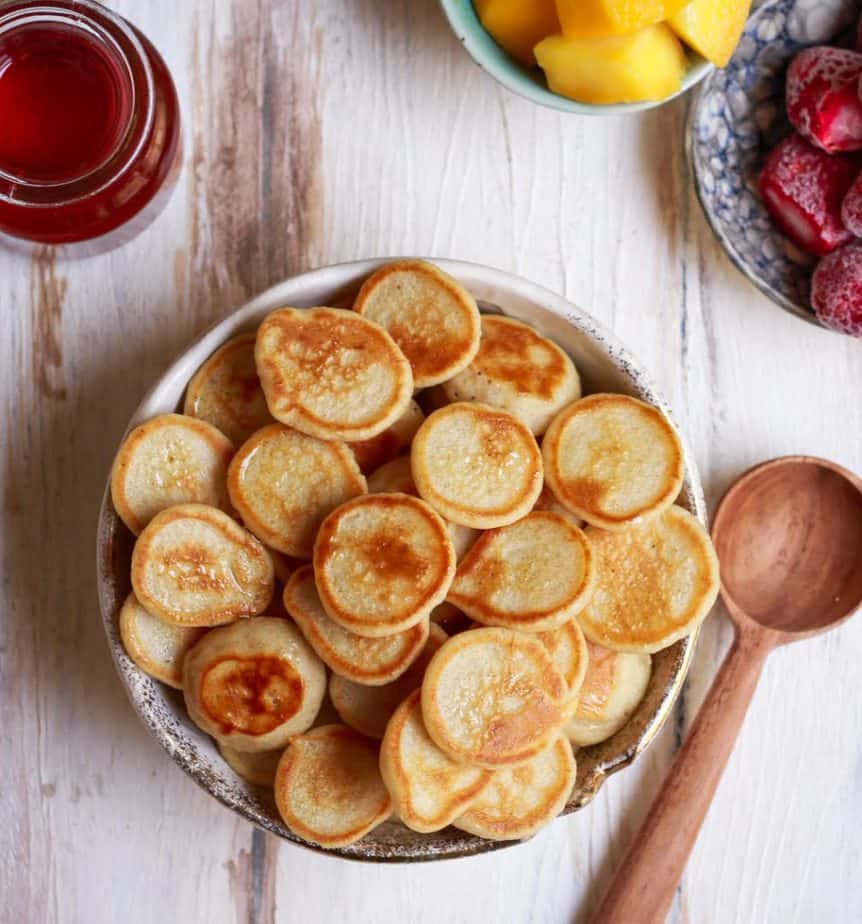 Serving Pancake Cereal
You can spruce the pancake cereal up in endless ways. Have them the traditional way with a dollop of butter. Enjoy them with liberal amounts of honey or maple syrup. Slather them with peanut butter, Nutella or chocolate. Or by all means, add in some nuts!
My son drowned them in milk and polished them off with a spoon à la cereal. The daughter couldn't be bothered with the "cereal" part of the moniker and drenched the tiny pancakes in maple syrup. I relished them warm, straight out of the pan with freshly chopped mangos and frozen strawberries.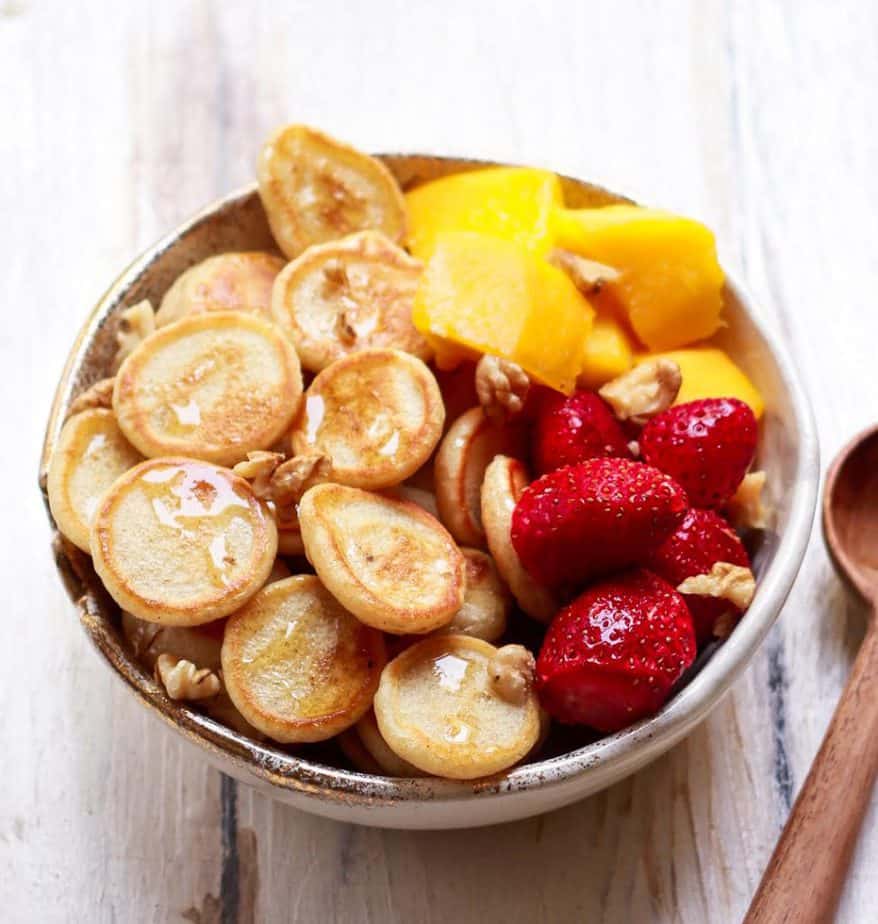 Think of pancake cereal as an itsy-bitsy blank canvas and get creative while serving. No matter how you dress these fun-sized pancakes up, you just can't go wrong. They are that delightful.
FYI, these mini pancakes, eerily similar to Poffertjes, refrigerate well. Just plop the teeny-tiny pancakes in the microwave, and they are back to their light, soft and fluffy goodness!
Pancake Cereal Recipe | Mini Pancakes Cereal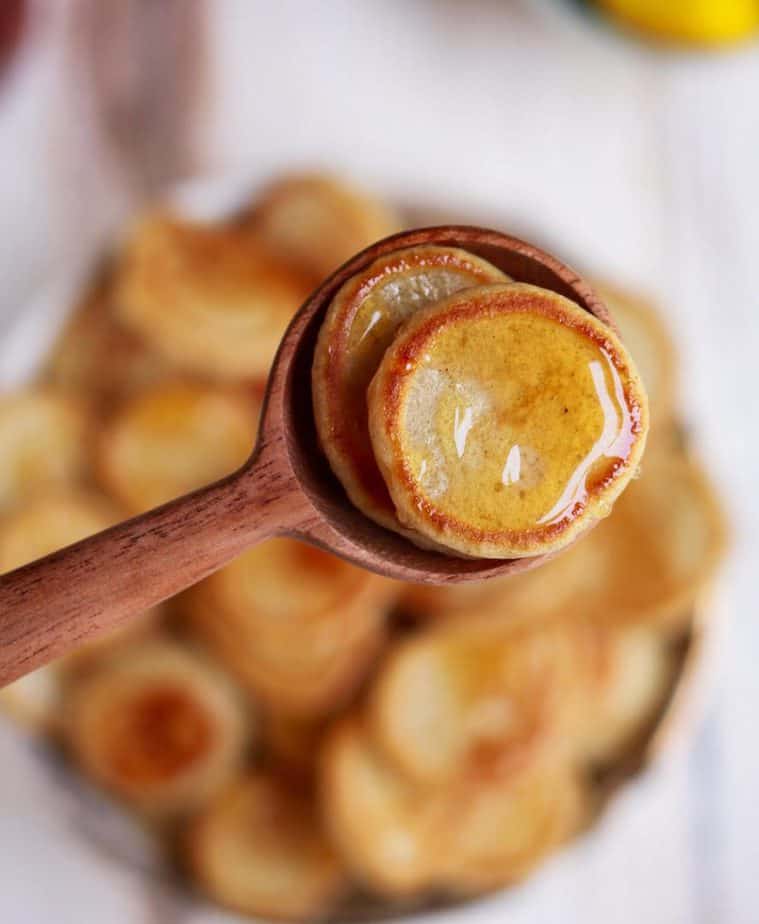 I'd love to hear from you! Please tag me on Instagram @tashasartisanfoods, using the hashtag #tashasartisanfoods. You can also FOLLOW ME on INSTAGRAM, PINTEREST for more fabulous recipes!
Print Recipe
Pancake Cereal
Ingredients
1.5

cups

All purpose flour

1.5

tsp

baking powder

1/2

tsp

baking soda

1/4

tsp

salt

1

tsp

cinnamon powder

1

tbsp

Raw sugar

You can use regular sugar too.

3/4

cup

Coconut milk

You can use any milk of your choice.

1

tbsp

Apple cider vinegar / white vinegar

2

tbsp

Coconut oil

You can use any oil.

1

tsp

vanilla extract
Instructions
Combine coconut milk and vinegar in a small bowl. Keep aside for 5-10 minutes. This is your buttermilk.

In a large bowl, sift together the flour, baking powder, baking soda, and salt. Stir in the cinnamon powder and raw sugar.

To the buttermilk, add coconut oil and vanilla extract.

Whisk the buttermilk mixture to the dry ingredients. Mix well to form a smooth, lump-free, thick batter. Make sure the batter is neither too thin or too thick. If it's too thin, add more flour. If it's too thick, add more liquid. Rest this batter for about 10 minutes.

Grease a griddle with oil and heat it.

Pour the pancake batter in a squeeze bottle or a piping bag or a Ziploc. Snip off the end of the bag, if using.

Squeeze out mini pancakes onto the griddle.

Let the pancakes cook for 1-2 minutes more till the underside is golden. Carefully flip it over. Cook on the other side till golden brown. Repeat till all the batter is used up.

Serve with maple syrup, or honey or chocolate sauce. Enjoy!