Chena murki is a 4-ingredient, super simple Indian sweet with a particular flavor combination (sugar and cardamom) that speaks my language. And it takes no time to make, so it is an ideal Diwali recipe to make at home!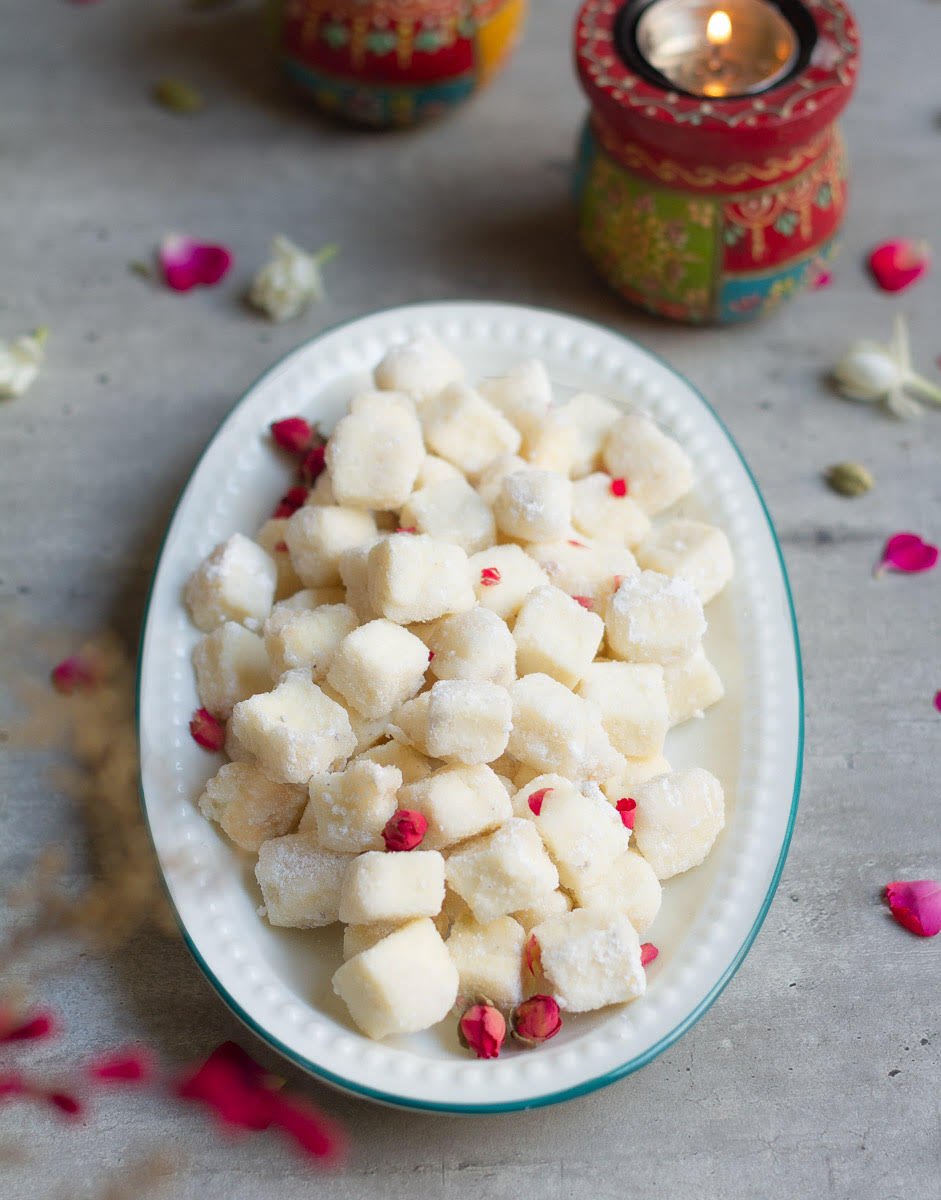 Chena murki sweets are a huge favorite of my husband. The dense but crumbly texture of paneer coated in a crunchy sugary crust tempts you to eat more than you should.
Thankfully, chena murki is so tiny that some semblance of portion control is possible! I also find them a little dangerous because they are so easy and quick to make.
It takes about 5 to 6 minutes to reach the one-thread consistency of the sugar syrup, depending on how hot your stove gets. And about 8 to 10 minutes to cook the paneer. Overall, it's one of the quickest Diwali sweets I've made this season.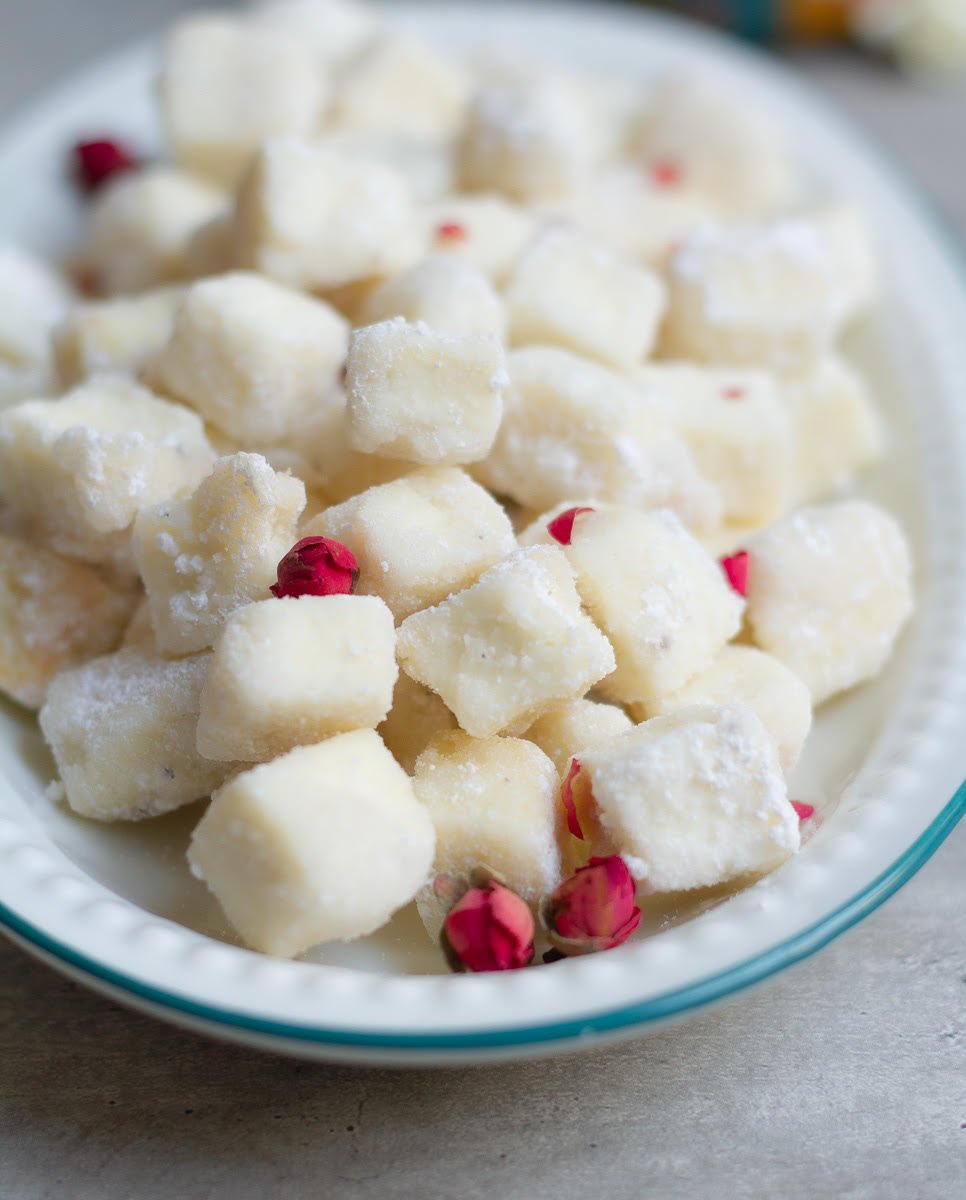 Jump to:
WHY YOU'LL LOVE CHENA MURKI SWEETS
Edible gift for Diwali
Easy and quick recipe
Small bite-size confections ideal for snacking during taash party
WHAT IS SWEET CHENNA MURKI?
Chena murki is a very very popular paneer sweet recipe. It's made with cubed pieces of paneer or chena (or what parts of the world call Indian cottage cheese) cooked in sugar syrup and cardamom.
HOW TO MAKE CHENA MURKI?
The video for making Chena Murki is below.
Step 1: In a pan, boil water and sugar.
Step 2: Continue to cook the mixture until it reaches one-string consistency.
Step 3: Reduce the heat to medium and stir in the diced paneer and cardamom powder.
Step 4: Keep stirring continuously but gently, so the paneer cubes are nicely coated and don't stick to the pan.
Step 5: Keep on cooking (that's pretty much all there is to this Bengali sweet recipe). The sugar syrup begins to thicken, reduce, and then crystallize.
Step 6: As the sugar begins to take on a powder form, take the chenna murki off the heat, but keep stirring till the sugar syrup completely cools and crystallizes further.
Step 7: Right when the sugar begins to harden, it's done.
Step 8: Either strain the chena murki sweets to remove the clumpy bits of excess sugar, or simply pick up each piece and set it aside.
Final step: Serve!
CHENA MURKI RECIPE TIPS
The trick to evenly cooking all the chena is to cut the paneer pieces into equal sizes.
The secret sauce is perfectly cooked sugar syrup. You don't want to over or undercook it. It has to reach that 1-string consistency.
To check, pour a few drops on a plate. When it's cool enough to touch, use your forefinger and thumb to pull apart the syrup. If it forms a long, single thread, you've reached the right consistency. If it doesn't, cook for some more time.
Stir, stir, and stir, if you want a dessert that dissolves in your mouth instead of hard and chewy.
Don't throw away the leftover sugar, especially if you prefer a zero-waste kitchen like me. It's perfectly good to use in your morning tea or evening coffee.
Chenna murki stores well in an airtight container. I refrigerated it since it's still not cold enough here for the sugar to not melt. If the temperatures have dipped in your town, a countertop will do.
VARIATIONS
Paneer: It's the hero ingredient. So, the choice will make the difference between soft chenna murki and hard, rubbery chenna murki. While packaged paneer works, I prefer to buy it fresh because it retains juiciness. In either case, I recommend going for the best quality you can find.
Always pat dry fresh paneer to remove excess moisture. When you cook paneer, the water adds extra time. Also, use day-old paneer, so it doesn't crumble when you're stirring.
Flavor: In my opinion, cardamom enlivens Diwali sweets, but again, that's a personal preference. If rose water is more your cup of oolong, use it instead, or try Kewra essence. Saffron (added to the sugar syrup) is another variation.
Serve: As-is or tossed with icing sugar.
RECIPE FOR DIWALI SWEETS
📖 Recipe
Print Recipe
Chena Murki | Chenna Murki Recipe
Chena murki is a 4-ingredient, super simple Bengali sweet with a particular flavor combination (sugar and cardamom) that speaks my language. And it takes no time to make, so it is an ideal Diwali recipe to make at home!
Ingredients
100

ml (1/2 cup)

Water

170

gms ( 3/4 cup)

Granulated sugar

250

gms

Paneer, cut into small cubes

1

tsp

Cardamom powder

Icing sugar for coating

Optional
Instructions
Combine water and sugar in a saucepan.

Cook, stirring continuously on medium heat until the syrup reaches one-string consistency.

Now add the paneer pieces and cardamom powder. Mix well and continue cooking ( on medium-low heat) while stirring frequently as you don't want the paneer pieces to stick to the pan.

When the syrup becomes thick and has reduced to a quarter, take the pan off the heat, but keep stirring until the paneer cools down. This helps the sugar syrup to coat the paneer evenly. As it cools down, the sugar syrup solidifies.

Remove the paneer from the pan, leaving the excess sugar. Let cool completely before serving. Toss with some icing sugar if you like. Enjoy!

Don't throw away the excess sugar, use it to sweeten your tea/coffee.