Soft, flavorful orange cranberry bread is a no-muss, no-fuss cranberry quick bread recipe with enough sweetness to tame the tart berries and make it almost cake-like.
The easy cranberry bread recipe is super-fast, like my sweet potato bread. The tartness of cranberries, which like their color is intense and saturated, contrasts brightly with pleasing pockets of orange zest.
The citrus touch moves the ruby gems into the spotlight and shows off their nuances—perfect for Thanksgiving dinner, which needs a little tang, brightness, and lightening up!
The balance of chewy cranberries and soft cake crumb also makes cranberry orange bread a fantastic snack. It keeps well wrapped and refrigerated, so you can make it ahead. Nuke it in the microwave for a few seconds to warm it up, and then nibble on it with a cup of chai or coffee.
Jump to:
THIS CRANBERRY ORANGE BREAD IS
Comfortingly flavored.
For breakfast, brunch, or snack!
Rather popular as an edible gift, prettily packed in mini loaves!
A great recipe for Thanksgiving, Christmas, and the weeks in between.
HOW TO MAKE ORANGE CRANBERRY BREAD?
Step 0: Set your oven to preheat and grease an 8-by-4-inch loaf tin.
Step 1: In a bowl, sift flour, salt, and baking powder. Then add sugar and freshly grated orange zest.
Step 2: In another bowl, combine eggs, milk, coconut oil, and orange juice.
Step 3: Pour the wet ingredients into the dry and mix until there are no dry streaks visible.
Step 4: Gently fold the cranberries into the orange bread batter and pour it into your prepped tin.
Step 5: Bake for 40 to 45 minutes, until the top of the orange cranberry loaf, is golden brown and a skewer inserted in the center comes out clean.
ORANGE BREAD GLAZE
Step 6: While the cranberry bread cools, get the glaze ready by mixing freshly squeezed orange juice with icing sugar.
Step 7: When the glaze is nice, thick, and smooth, pour it over the cooled orange cranberry bread.
Step 8: Garnish with more orange zest and set aside to set the glaze.
Final step: Slice, serve, and enjoy!
NOTES ON BREAD WITH CRANBERRIES
As far as I know, we don't get fresh cranberries here. So, my recipe for orange bread had dried cranberries. They work well if you use one of these two tricks:
I soak them in hot water, which plumps up the cranberries.
Or you can soak in orange juice for additional flavor.
If you're making the orange quick bread specifically for the holiday season, rum is another option, like I did with my Christmas cake.
I am confident that fresh and frozen cranberries will work just the same. Toss them with a tablespoon of flour so they don't sink to the bottom as the bread bakes.
Don't thaw the frozen cranberries; just toss them as-is into the batter.
Greasing the tin well helps the bread to slide out easily.
Never over-mix the batter. Stir just until the dry and wet ingredients are incorporated.
This recipe for cranberry bread can easily be used to make muffins without changing a thing in the batter.
VARIATIONS
Oil: Coconut oil gives the quick cranberry bread an almost cake-like moistness. Any vegetable oil will do the same. If you're looking for an oil substitute in bread, use melted, cooled butter.
Orange juice: Fresh juice adds a hefty dose of flavor to the bread, so that's my preference. Pick whatever oranges are locally available and in season.
If you're in a pinch, you can replace it with the bottled variety.
Zest: Cranberries are most often matched with orange zest because the flavor combo is deliciously appealing on the palate. That makes zest very, very important in this bread recipe with cranberries.
Personally, I go heavy-handed with the orange zest. If you're thinking of reducing the amount, just keep in mind not to skip it.
Nuts: If you bake from inspiration rather than recipes, nuts pair beautifully with cranberry bread recipes. It's optional, but you could top the bread with almond flakes for extra, extra crunch and that pretty look. Another option is to chop almonds, walnuts, or pecans and add them to the batter with the berries.
VEGAN RECIPE FOR ORANGE CRANBERRY BREAD
Use plant-based milk and swap eggs with flax eggs. One flax egg is made by combining 1 tablespoon of flax seeds with 3 tablespoons of water. Let the mixture rest until it is gelatinous.
DRIED CRANBERRY RECIPES
GINGER CRANBERRY OATMEAL COOKIES
📖 Recipe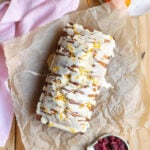 Print Recipe
Easy Orange Cranberry Bread Recipe
Soft, flavorful orange cranberry bread is a no-muss, no-fuss cranberry quick bread recipe with enough sweetness to tame the tart berries and make it almost cake-like.
Ingredients
Cake
1.5

cups / 200 gms

All-purpose flour

1.5

tsp

Baking powder

1/4

tsp

Salt

2

tsp

Orange zest

3/4

cup / 140 gms

Caster sugar

2

Eggs

1/4

cup / 50 gms

Milk, lukewarm

1/2

cup / 90 gms

Coconut oil

1/4

cup / 47 gms

Orange juice, freshly squeezed

1/3

cup / 55 gms

Dried cranberries, sliced in half

I soaked these in hot water for 10 minutes
Orange Glaze
1/3

cup / 35 gms

Icing sugar

2-3

tbsp

Orange Juice , freshly squeezed
Instructions
Preheat your oven to 180C. Grease a loaf pan 8" * 4".

Sift together flour, baking powder, and salt.

Whisk in the orange zest and sugar.

In another bowl, whisk together the eggs, milk, coconut oil, and orange juice.

Pour into the dry ingredients and mix well.

Fold in the cranberries ( without the water) and pour the batter into your prepared pan.

Bake at 180C for 40-50 minutes, until a skewer inserted in the center comes out clean.

Cool the cake in the pan for 10-15 minutes before turning it out on a cooling rack to cool completely.
Orange Glaze
Whisk together the icing sugar and orange juice until a thick, smooth glaze is formed.

Pour this over the cooled cake. Sprinkle some orange zest. Let the glaze set for 10 minutes, then slice and serve. Enjoy!