This sweet potato bread recipe is a delicious dessert and a hefty, hearty breakfast treat rolled into one. Warmly spiced, walnut-topped, fresh, and home-baked, it's hard to beat. It is so soft, moist, and tender that it's almost like cake with sweet potato!
We've heard of banana bread and pumpkin bread. Both are the reigning queens of tender treats. Wait until you try this sweet potato bread recipe! Since sweet potatoes are naturally sweet and soft, they make the loaf even better than pumpkin or banana.
It's quick bread with a hearty crumb that can play the role of a snack with a cup of tea or coffee. Cinnamon and nutmeg add a complex richness that makes it a great sweet potato dessert. Cozy, chunky, and comforting, my home enjoyed it as-is, slathered with butter for elevenses, and even toasted!
Jump to:
How to make sweet potato puree
MAKE THIS SWEET POTATO BREAD
In case you're craving a healthy sweet potato dessert
To add the best bread to your everyday baking lineup
If you're bored of regular banana bread or pumpkin bread
When you need a delicious snack that's a little nutritious and doesn't make a mess
HOW TO MAKE SWEET POTATO BREAD?
Step 1: In a large mixing bowl, combine the flour, baking powder, baking soda, salt, cinnamon powder, and grated nutmeg.
Step 2: Add in sugar and mix.
Step 3: In a separate bowl, whisk together the sweet potato purée, egg, vanilla extract, and oil.
Step 4: Pour the wet ingredients over the dry and mix gently till no traces of flour remain.
Step 5: Stir in the warm milk to make a smooth, thick batter.
BAKE THE SWEET POTATO LOAF
Step 6: Fold in chopped walnuts and dark chocolate chips (cause why not?)
Step 7: Pour the sweet potato bread recipe batter into your greased loaf tin (I used an 8 by 4-in).
Step 8: Smooth the top, sprinkle with additional chopped walnuts and bake for 50-60 minutes.
Final step: Cool, slice and serve!
NOTES
Somehow, ovens differ. Even when you set the same temperature and bake for the same amount of time, your sweet potato bread might bake faster than mine. So, if you think your loaf is browning too quickly, tent the top with foil.
Your skewer should come out clean. If it has batter attached, bake the bread a bit longer.
I cannot say this enough. Let the bread cool completely for about 30 to 40 minutes before you slice. I didn't, and my slices turned out to be crumbly.
Like pumpkin bread and banana bread, it's an incredibly moist sweet potato bread. It's hefty but moist, which is why it stores really well:
In cooler weather, you can keep it on the counter for 2 to 3 days.
In warm weather, stash it in the refrigerator in an airtight container for up to a week.
It's lovely even after reheating in the oven or toaster.
HOW TO MAKE PURÉE FOR SWEET POTATO BAKING RECIPES?
Making sweet potato purée for this healthy (ish) bread is a piece of cake because you can boil, roast, or steam it! The choice is yours.
Roasting definitely lends a depth of flavor. To roast, clean the sweet potatoes, prick them with a fork, cover them in foil and then let the oven do its thing for 20 minutes at 200 C. It can take longer, depending on the size. Once baked, scoop the flesh out.
Personally, for sweet potato baking recipes, I like to steam because it gives me the perfect consistency – not too mushy or too dry. Peel and cube the potatoes into big chunks and then steam (or boil).
Next, mash them with a fork (they're spoonable-soft once cooked) or blend them in a food processor. I wanted to keep the sweet potato purée with a chunky character, so I used a fork. A blender will give you a smoother paste, and you may need to add some water if it's too dry.
INGREDIENTS
Add-ins: The range of ways this sweet potato quick bread recipe can be adapted is enough to keep you coming back again and again. You can, of course, leave the bread plain, and it'll still be delicious. Or you can use the nuts of your choice. Almonds and pecans would make a pleasant surprise.
Dates, cranberries, and even dried apricots would be smashing with this bread. Chocolate chips are something I just couldn't resist, but making chocolate chip sweet potato bread is optional. Feel free to omit them.
Veganize: Substitute the eggs with flax eggs to make vegan sweet potato bread. And use plant-based milk instead of regular one.
Flour: Want a healthy sweet potato bread version? Switch to whole wheat flour.
Oil: You can easily replace coconut oil with any vegetable oil you prefer.
SWEET POTATO DESSERT
Sweet Potato Chocolate Pudding
MORE SWEET POTATO RECIPES
Roasted Sweet Potato and Chickpea Salad
📖 Recipe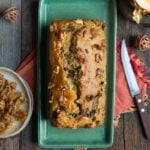 Print Recipe
Easy Sweet Potato Bread Recipe
This sweet potato bread recipe is a delicious dessert and a hefty, hearty breakfast treat rolled into one.
Ingredients
1.5

cups /200 gms

All-purpose flour

1.5

tsp

Baking powder

1/2

tsp

Baking soda

1/4

tsp

Salt

1

tsp

Cinnamon powder

1/2

tsp

Nutmeg powder

1/2

cup / 90 gms

Caster sugar

1

cup / 250 gms

Sweet potato puree *

I kept mine coarsely textured

2

Eggs

1/3

cup / 60 gms

Coconut oil

1

tsp

Vanilla extract

1/3

cup / 75 gms

Milk, lukewarm

3-4

tbsp

Walnuts, coarsely chopped + Extra for topping

Optional

1/3

cup/ 55 gms

Chocolate chips

Optional
Instructions
Preheat your oven to 180C. Grease a loaf pan 8" * 4".

Whisk together flour, baking powder, baking soda, salt, cinnamon powder, and nutmeg powder.

In another bowl, whisk together the eggs, sweet potato puree, coconut oil, and vanilla extract.

Pour into the dry ingredients and add the lukewarm milk. Mix well, until no white streaks remain. This is a thick batter.

Fold in the walnuts and chocolate chips. Pour the batter into your prepared pan.

Top with extra walnuts and bake at 180C for 40-45 minutes, until a skewer inserted in the center comes out clean.

Cool the cake in the pan for 10-15 minutes before turning it out on a cooling rack.

Cool completely, slice, and enjoy!
Notes
*Sweet potato puree -
Scrub 2 sweet potatoes (approximately 350 gms), and cut into 2 or 3 big chunks.
Steam for 15-20 minutes until completely soft.
Peel the warm sweet potatoes and mash with a fork or make a smooth puree using a food processor.
You may need to add 2-3 tbsp of water while mashing or pureeing them.