This brioche burger bun recipe will have you repeating, "One more, please!" Adapted from my eggless brioche recipe, it's lighter (less butter), straightforward, and utilizes basic pantry ingredients (I hope you count yeast as one)!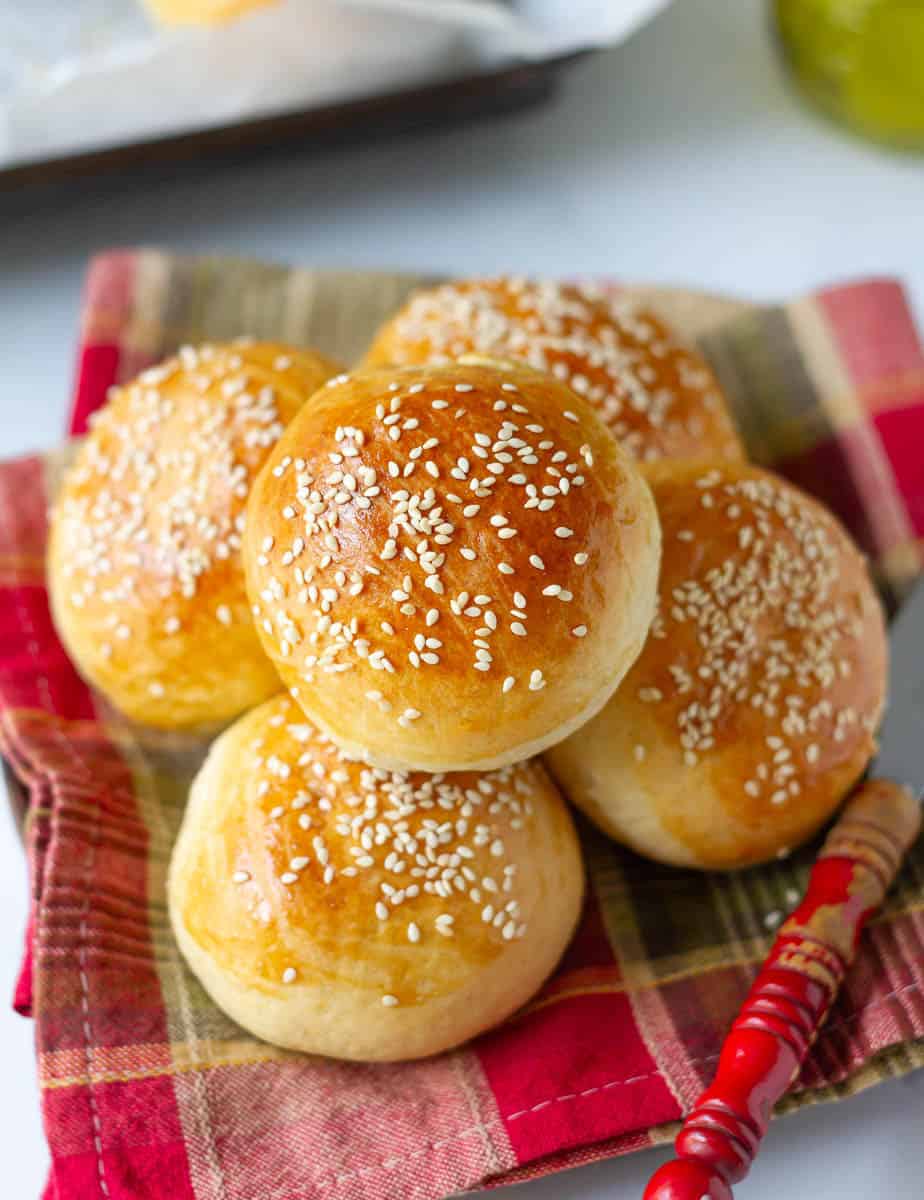 In my mind, soft bread rolls and fall are intertwined. I simply have to bake them a few times during the season. This is the best brioche burger bun recipe. Each fluffy brioche bun tears apart like cotton candy, but has enough heft to hold its own once you nestle fillings!
Jump to:
WHAT IS A BRIOCHE BUN?
There are two types of bread: lean and enriched. A brioche bun is made of enriched bread, meaning the dough has butter, milk, sugar, and typically eggs. Despite this, the buns are not heavy.
My recipe for brioche buns is eggless and makes unashamedly soft and light buns crowned with a gorgeous golden-brown crust. The slight sweetness and buttery richness complement the savory flavors of burger fillings quite nicely.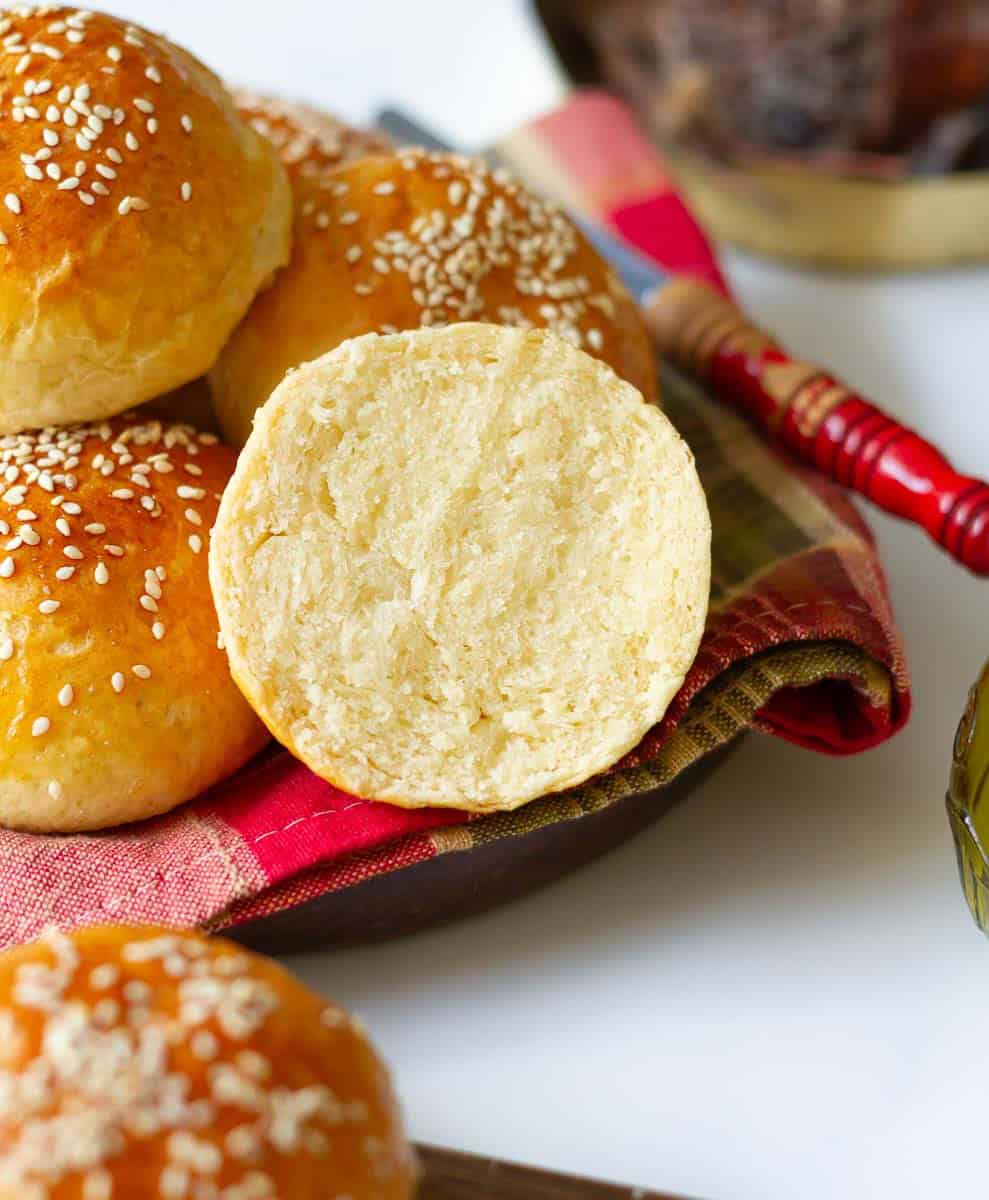 A MUST-TRY BRIOCHE BURGER BUN RECIPE
It is impossible to beat the flavor.
Barbecuing this fall? Brioche hamburger buns will impress everyone!
Surprisingly easy to make, mostly it's waiting for the dough to rise.
Not too soft. Not too hefty. Not too chewy. Just perfect for burgers.
Don't want burger buns? Use the same dough for dinner rolls, sausage bread rolls, or cinnamon rolls!
HOW TO MAKE BRIOCHE BUNS?
Step 1: Add your yeast to lukewarm milk. Stir and set aside until frothy and bubbly.
Step 2: Meanwhile, in the bowl of your stand mixer, sift flour, sugar, and softened butter. (Include salt if using unsalted butter.)
Step 3: Add the activated yeast and mix at low speed for the first 2 to 3 minutes.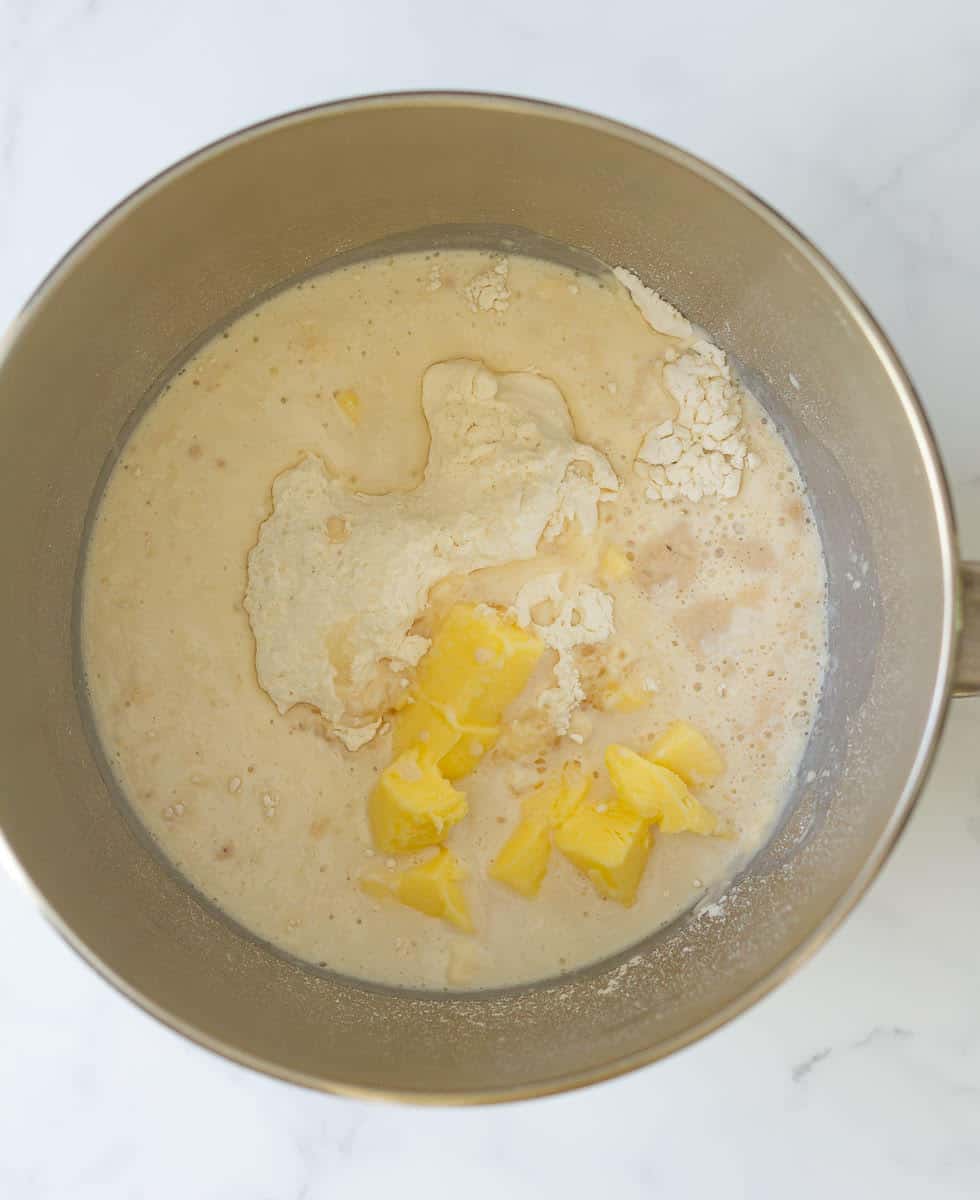 Step 4: Once the brioche burger bun dough starts to come together, increase the speed to medium.
Step 5: Set the oven to preheat and transfer the dough to a greased bowl. Cover with a damp kitchen napkin. And let it proof in the draft-free corner till it doubles in volume.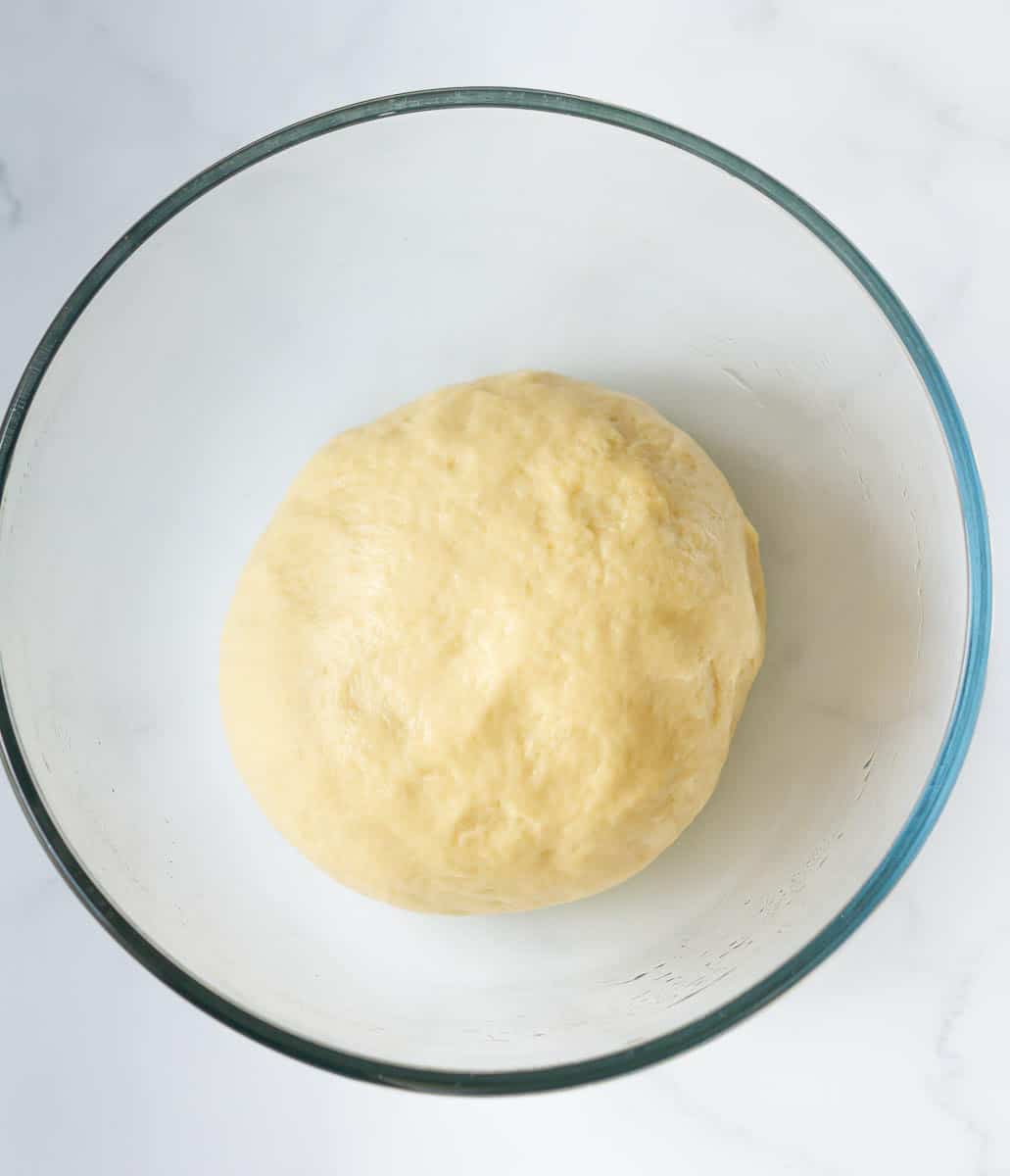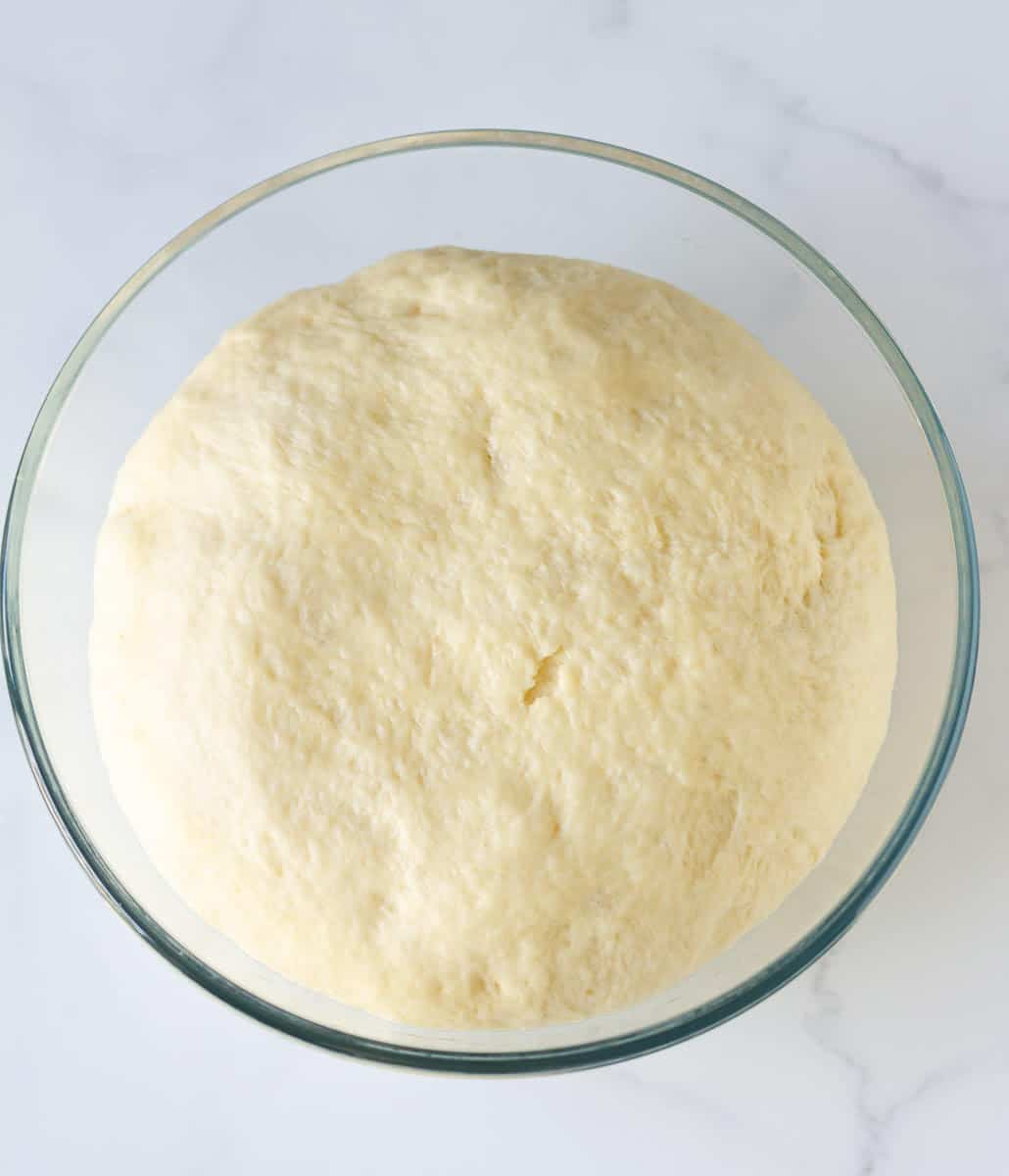 Step 6: Take out the risen dough. Gently deflate and then shape into a log.
Step 7: Cut the log into equal pieces. I got 8 good-sized pieces (80 to 82 grams each).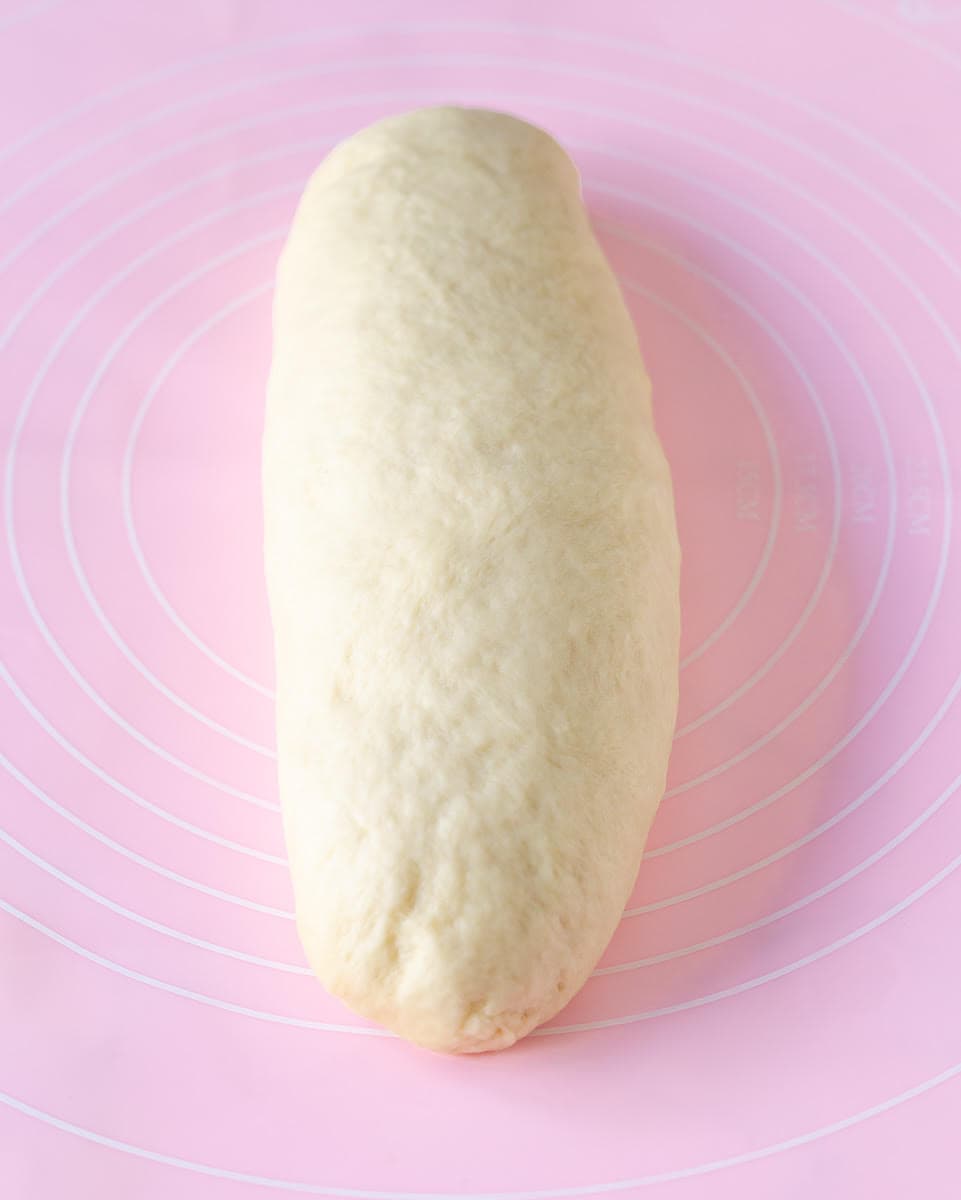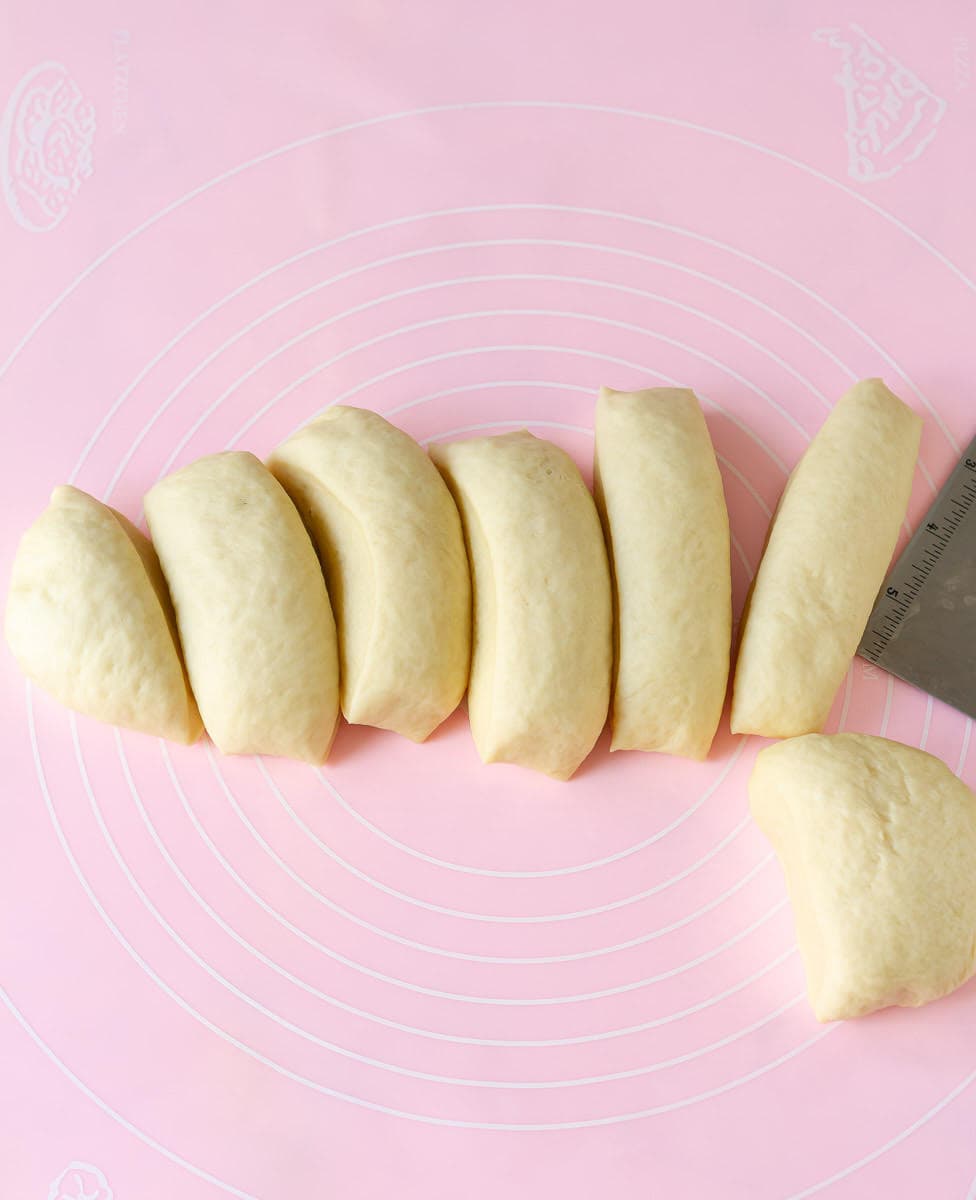 Step 8: Shape each piece into a ball. Place them on a parchment paper-lined tray and let them rest for a second proof for 20 to 25 minutes.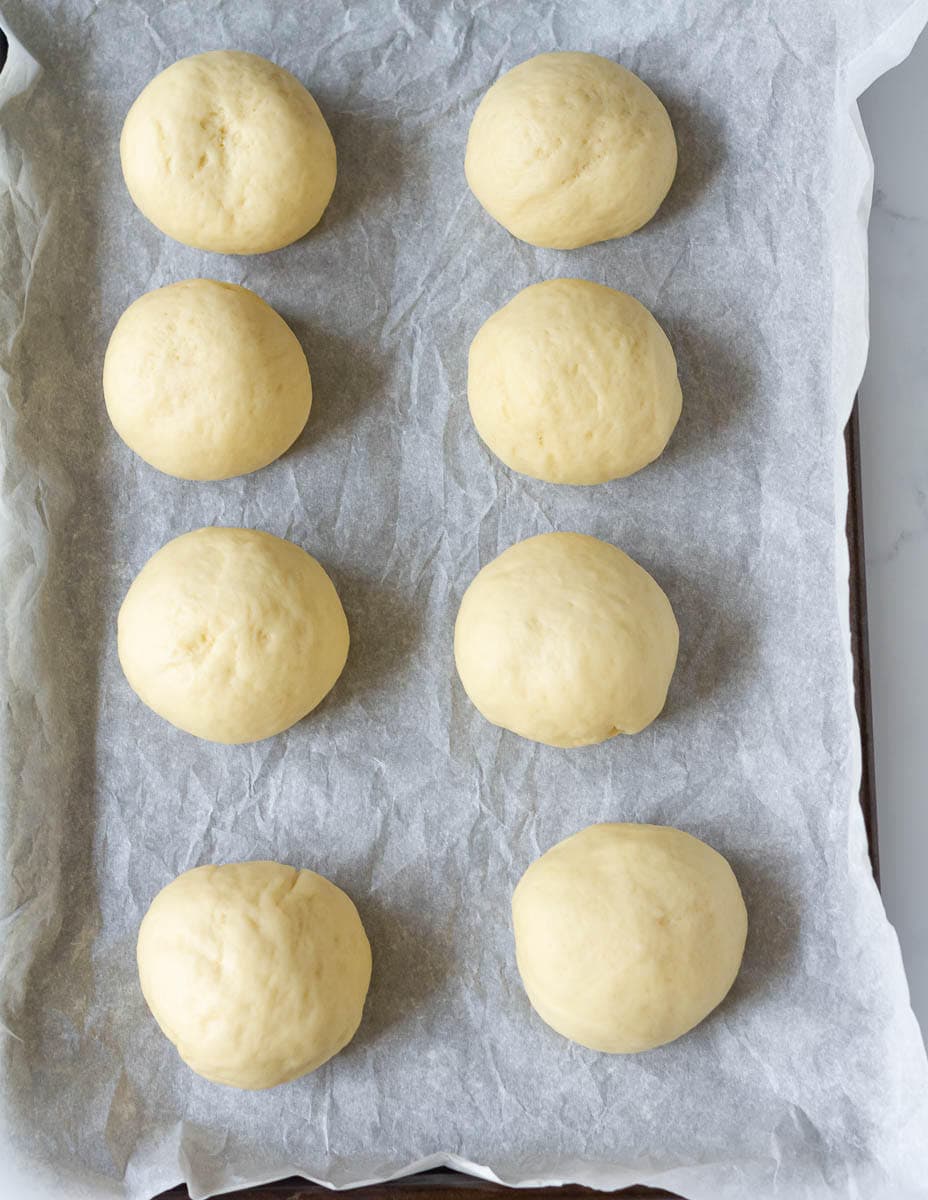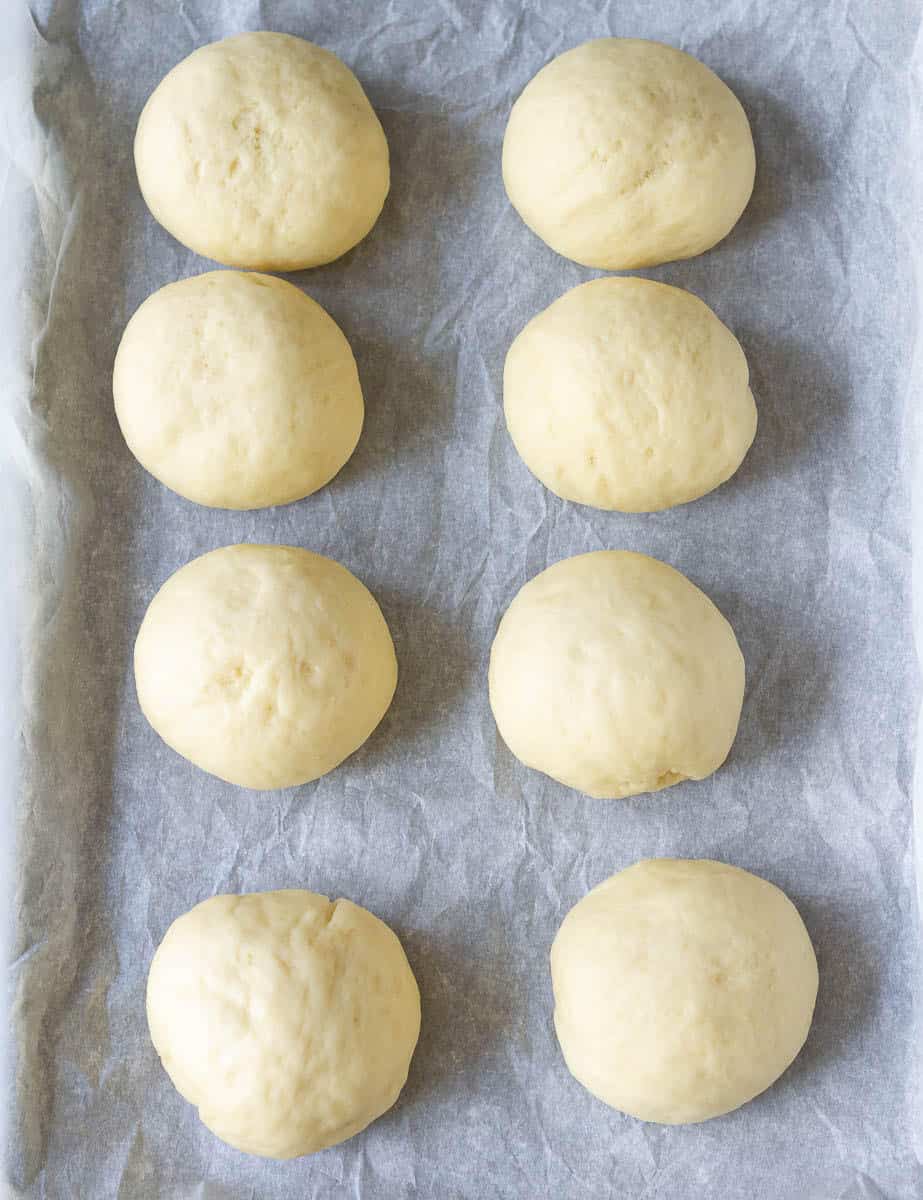 Step 9: After the brioche rolls have puffed up, brush liberally with egg wash (1 egg beaten with 1 tablespoon of water). Sprinkle sesame seeds.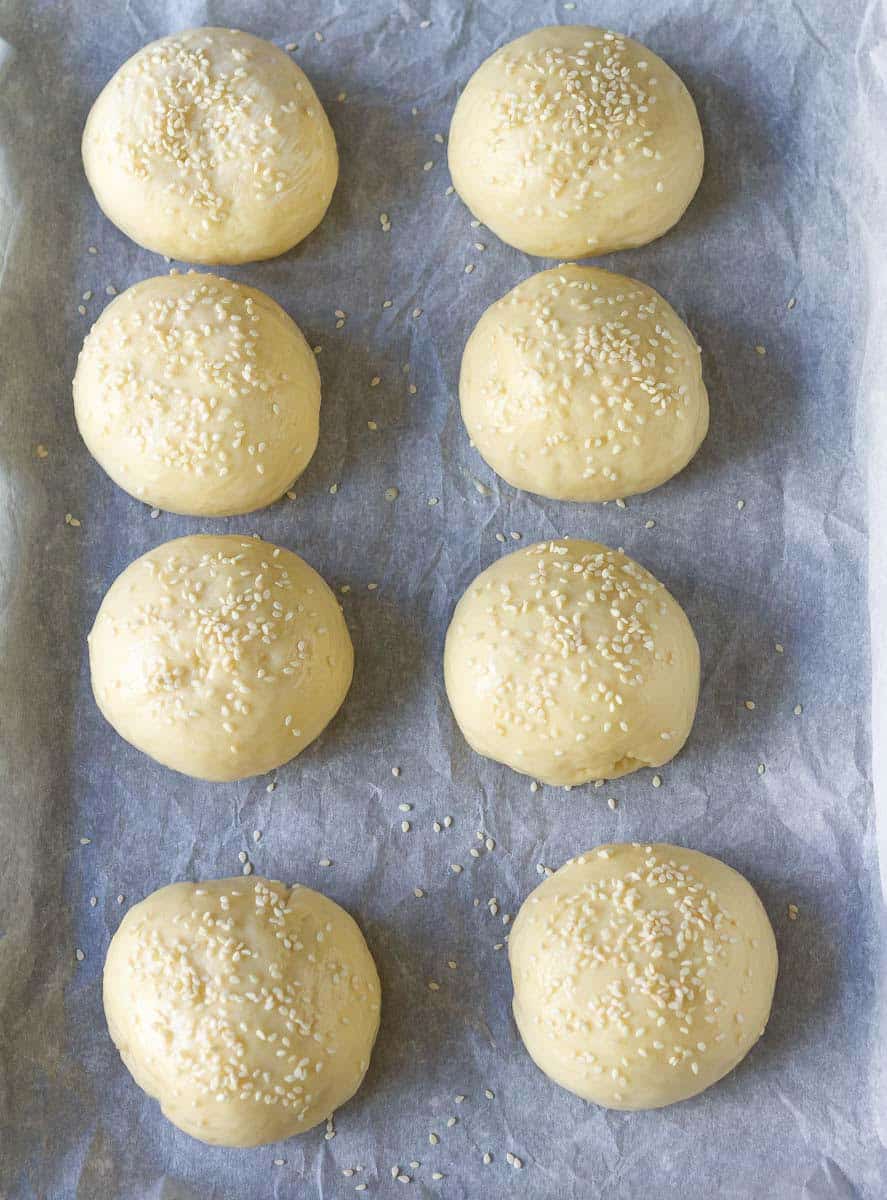 Step 10: Bake for 20 minutes, or till the top is lightly golden and the bottom sounds hollow when tapped.
Final step: Cool, cut, and the brioche burger buns are ready for the condiments and compliments!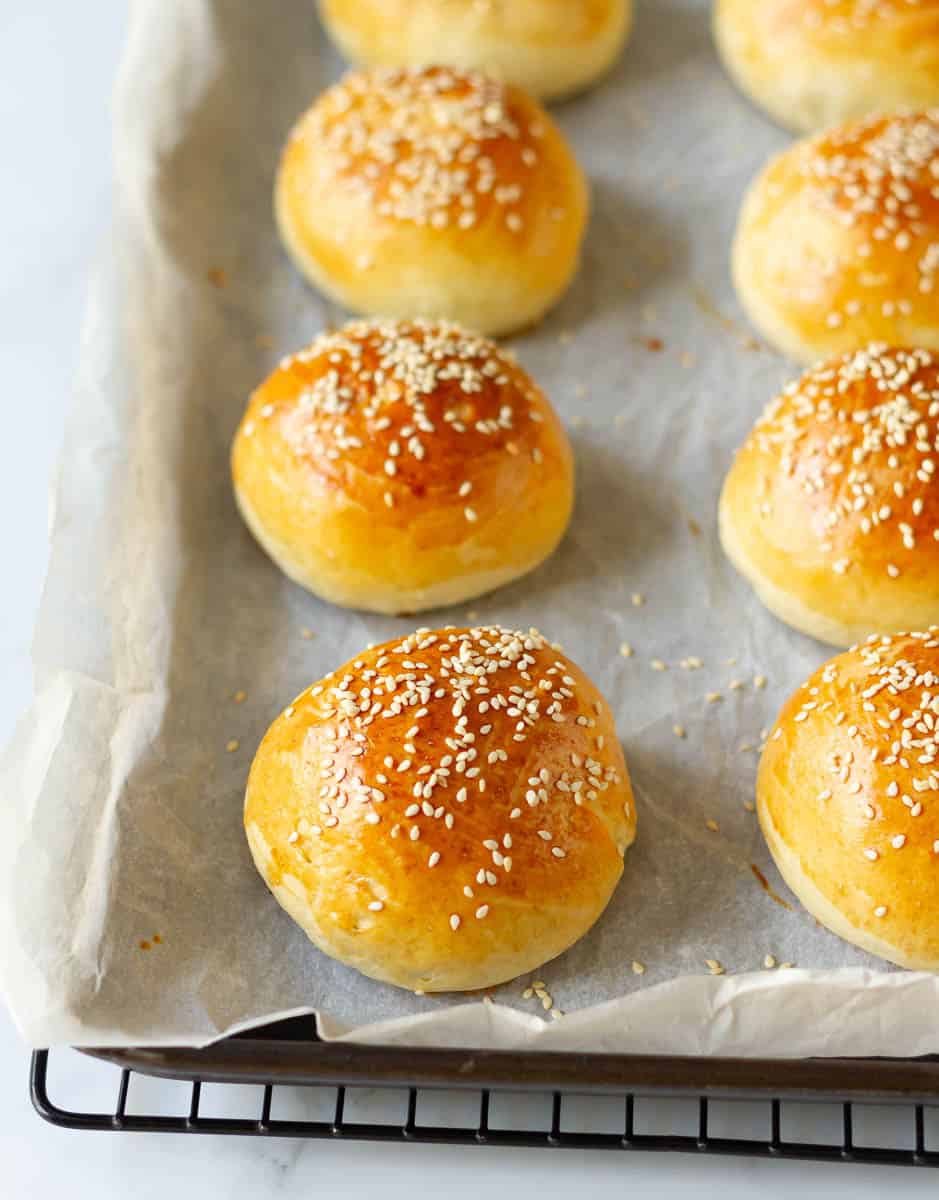 BRIOCHE BUN RECIPE NOTES
Yeast will not bloom in hot or cold milk; it has to be lukewarm.
Use softened butter, not cold. It works better and keeps the dough together.
Because of the butter, the dough will rise only in a warm place; mine took an hour.
The softer and stickier the dough, the lighter and airier your buns.
You can eyeball, but I'd recommend a kitchen scale when dividing the brioche dough into equal pieces. It's very useful!
I had no patience and didn't wait for the brioche burger buns to cool completely before cutting, and the proof is in the pudding- If you want clean slices, wait.
FAQS ON SOFT BURGER BUN RECIPE
CAN YOU KNEAD THE DOUGH BY HAND?
If you don't have a stand mixer, your hands work well enough with this dough recipe. The trick is to take breaks. When your hands start tiring, cover the dough with a damp kitchen napkin and come back to it after 5 minutes.
Even after the stand mixer, I like to knead the silken dough. Just for a couple of minutes. This is not necessary from a structural perspective. I just love to have a feel for it.
Since it's so manageable, you won't need to flour your work surface. Dust it very, very lightly, only if the brioche bun dough feels too sticky.
HOW TO CHECK IF EGGLESS BRIOCHE BUN DOUGH IS DONE?
The dough will start to leave the sides of the bowl. It'll be soft, pliable, and slightly tacky to the touch. If you stretch a portion of the supple dough into a thin window, it shouldn't tear.
CAN BRIOCHE BUNS BE STORED OR FROZEN?
These buns taste best the day they are made, but I have refrigerated them in an airtight container to good result. Reheat in the microwave or an oven.
If you freeze them, thaw them on the kitchen counter for 10-15 minutes and then heat them for 5 minutes in a preheated oven.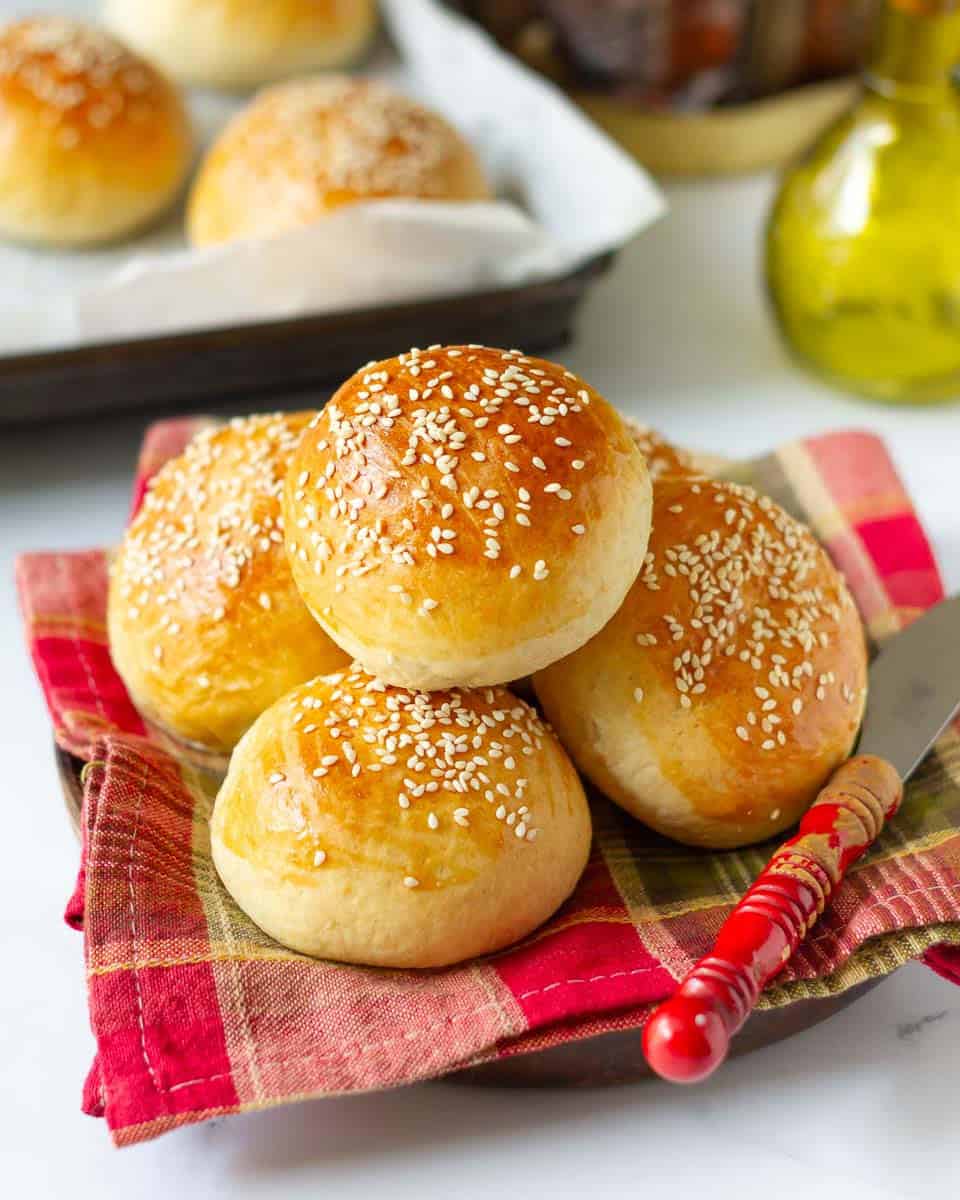 BRIOCHE BURGER BUN INGREDIENTS
Sugar: Caster, raw or regular.
Yeast: Instant or active – any will work.
Flour: You can skip all-purpose flour and make whole wheat brioche buns, or use half-and-half of both.
Milk: Any will do. For vegan brioche buns, use plant-based, as I did for my eggless brioche bread. If you stick to regular milk, go full-fat. The richness it imparts to the buns is lovely!
Butter: Salted butter is the easiest to get here, so my recipe doesn't have salt. Add it if you're using unsalted butter. For a vegan brioche bun recipe, switch to olive oil or plant-based butter.
Wash/glaze: Egg, milk, cream—any of the three will do. Eggs lend color and sheen to the burger bun crust. Milk and cream will just add color, so brush with butter as soon as they're out of the oven. Or you can omit both the wash and sesame seeds.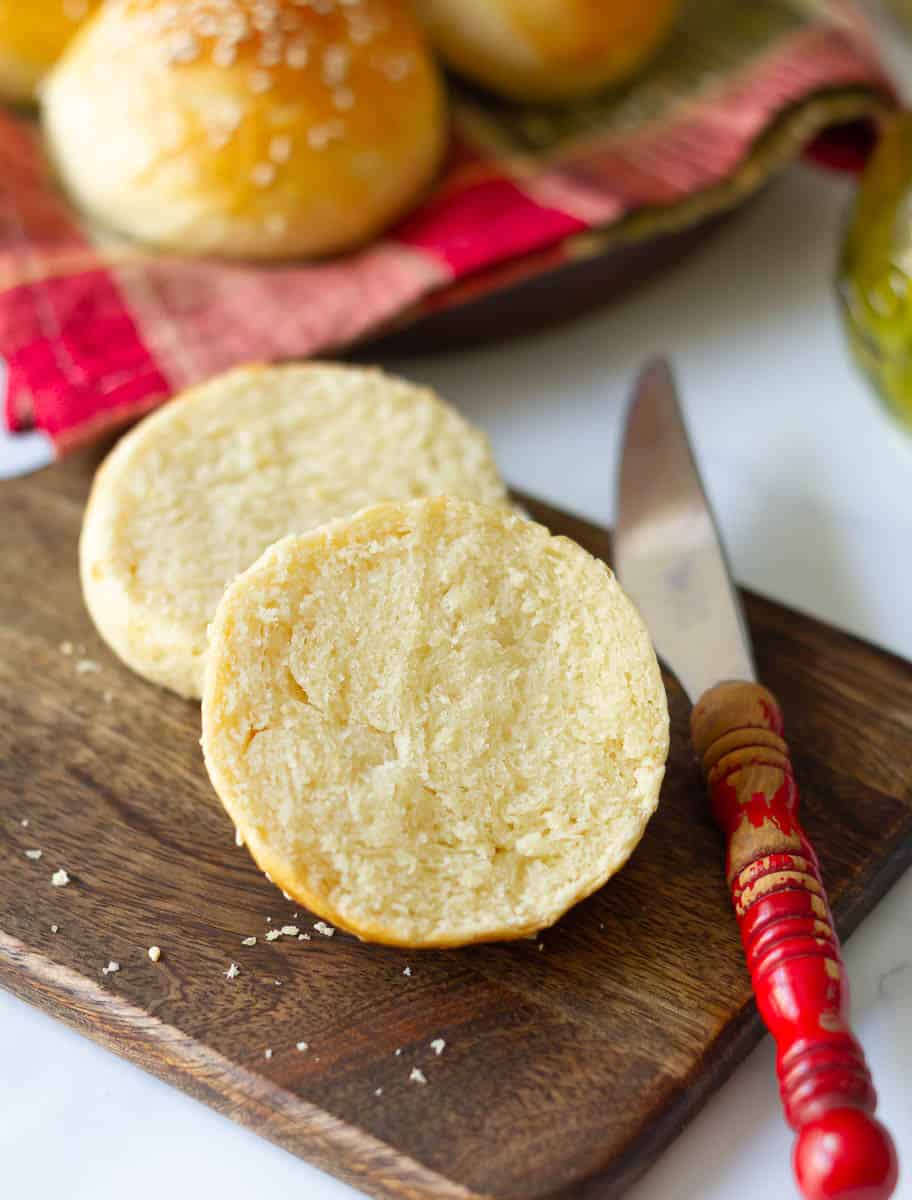 MORE SOFT BREAD ROLLS RECIPES
Half the joy of cooking is sharing it with others. That's why I'm always eager to hear from you. So go right ahead and drop a comment or reach out on Instagram, Pinterest, YouTube, or Facebook. I hope you love this Brioche burger bun recipe as much as we do!
📖 Recipe
Print Recipe
Homemade Brioche Burger Bun - Easy Recipe with Video!
This brioche burger bun recipe will have you repeating, "One more, please!" Adapted from my eggless brioche recipe, it's lighter (less butter), straightforward, and utilizes basic pantry ingredients!
Ingredients
3/4

cup / 187.5 gms

Milk, lukewarm

1

tbsp

Dried active yeast

3

cups /375 gms

All-purpose flour

1/2

cup / 100 gms

Butter, softened

I used salted butter.

2

tbsp

Sugar
Instructions
Combine the milk and yeast in a small bowl. Keep in a draft-free place for 5 -10 minutes until frothy.

Combine the flour, sugar, butter, and yeast milk mixture in the bowl of your stand mixer.

Add 1 tsp salt if using unsalted butter.

Knead the dough for 10-12 minutes, until the dough is smooth and elastic.

You can also knead this dough with your hands on a floured work surface

Add more flour if the dough is too sticky. Add more milk if it seems dry.

Turn the dough out onto a lightly floured surface and knead for 2-3 minutes with your hands. This step is optional, but I like to do this to get a better feel of the dough.

The dough should be soft and slightly sticky to touch.

Place the dough in a lightly greased bowl. Cover with a damp kitchen towel and place in a draft-free area to rise for an hour or until doubled in size.

Once the dough has doubled, turn it out on your work surface and gently deflate the dough.

Shape it into a log and cut into equal-sized pieces.

A kitchen scale is handy here for making equal-sized dough balls.

Shape each dough piece into a round ball and place on the prepared tray.

Preheat the oven to 180 C. Line a baking tray with parchment paper.

Cover with a damp kitchen towel and let the buns rise until puffy - about 30 minutes in my hot kitchen.
Egg Wash
Whisk together the egg and water in a small bowl.

Brush gently all over the puffy buns Sprinkle some sesame seeds on top.

Bake at 180C for 15-20 or until the buns are golden brown and the bottom sounds hollow when tapped.

Let these cool before slicing them for making burgers. You can also serve them warm with butter. Enjoy!
Notes
These burger buns will stay well, refrigerated, in an air-tight container for 3-4 days. They also freeze well. Warm in a preheated oven or microwave.
You can brush the buns with milk or cream instead of egg.