Of the few mithais that take me back to childhood, Chocolate burfi is one. There was something about the fudgy layer of cocoa-infused khoya stacked on top of a milkier layer, delicately fragrant with a hint of rosewater. The flavors of the rich, sweet treat are so deliciously balanced that they stand the test of time. My kids relish Chocolate burfi just as much as I did.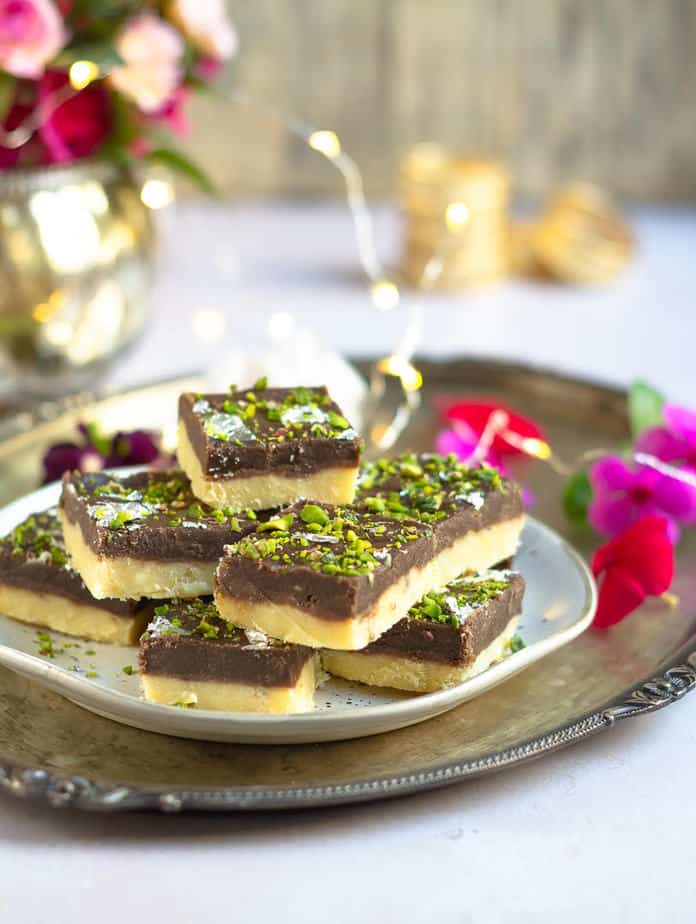 Made with simple ingredients, this good-old fashion mithai takes a mere 15 to 20 minutes of your time. Yet. Yet. The experience of making chocolate burfi at home feels so nice and satisfying that I cannot distill it into words. 
As Blaise Pascal said, the heart has its reasons which reason knows nothing of! So, instead of finding the right expression, I'm just going to chalk it down to the chocolate!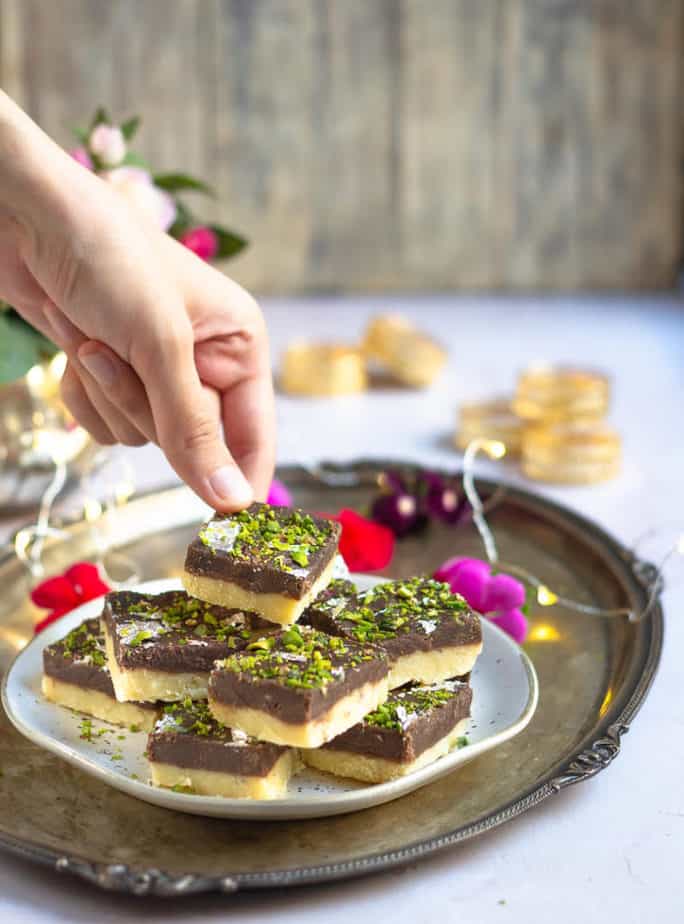 How to make chocolate burfi?
Place a thick bottom pan on low heat and crumble khoya into it.
Keep stirring and when the khoya has warmed up (takes a couple of seconds), add sugar, cardamom powder, and a few drops of rose water.
On low to medium heat, constantly stir as the sugar melts. At this point, the mixture can be runny. Don't worry, keep cooking.
In about 10 to 15 minutes, the mixture will thicken and start to leave the sides of the pan.
Adding chocolate to the burfi
Turn off the heat and divide the mixture into two equal parts.
Add cocoa powder to one-half, mix well, and set aside.
In a lightly greased pan or tray, spread the plain khoya mixture evenly.
Then top it with the chocolate layer.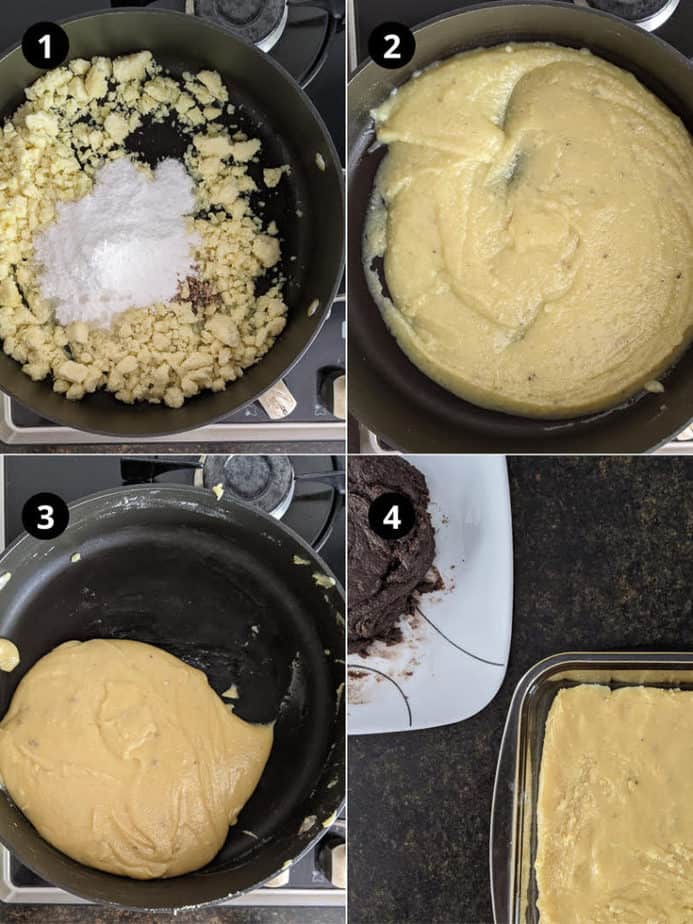 Garnishing ideas for chocolate burfi
Scatter some finely chopped pistachios and press them down.
Finish off with vark (silver leaf) and slide the tray into the refrigerator.
After the burfi has chilled for 30 minutes, cut them into squares (about 16). (Chilling makes the burfi firmer and gives neat slices.)
Serve it at room temperature as dessert after dinner or with evening tea.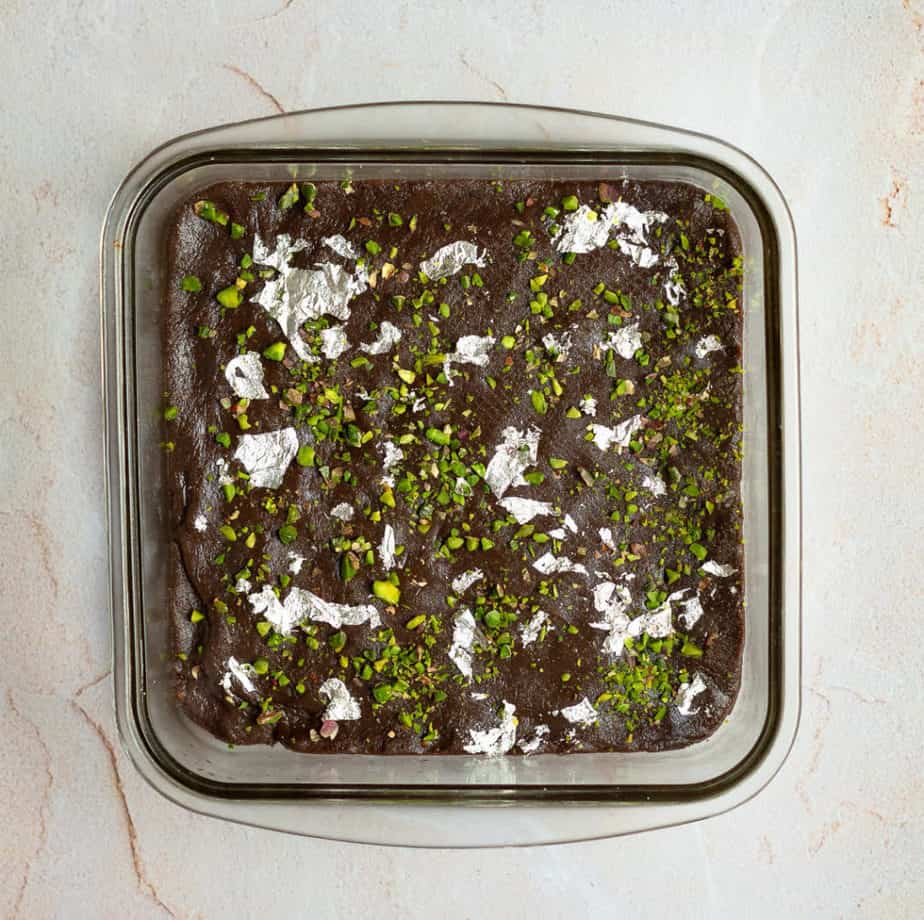 My tips for an easy chocolate burfi recipe
Overall, the burfi recipe is a breeze. The only crucial step is some dedication to stirring and cooking the khoya for two reasons.
One, khoya can get scorched rather easily. Repeated stirring prevents it from being burnt.
Two, you're making a two-toned burfi with a sharp white and deep brown contrast in colors. So, we don't want the khoya to caramelize so much that it takes on a brown hue. 
The exact amount of time it takes to cook the mixture will vary based on the quality of khoya and your pan. For me, it took a little over 12 minutes. Some other tips for perfect chocolate burfi are:
Start with room temperature khoya.
Don't overcook the khoya. That'll make it sticky and chewy.
· If the cooked mixture is too thick to pour, grease your hands. Then pat both layers evenly on the tray and lightly press down.
How do you store chocolate burfi?
The safest practice with any recipe that uses khoya is to refrigerate them. Store it in an airtight container for up to 2 to 3 days.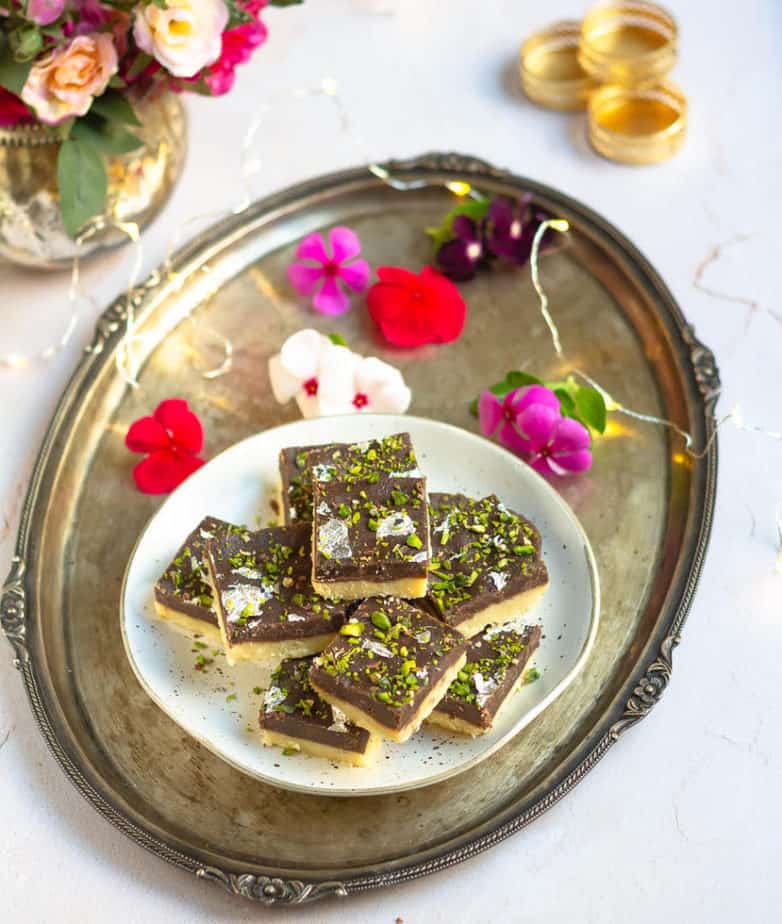 What else can use in chocolate burfi with khoya
Khoya: Both homemade or store-bought work in this recipe. I'm lucky enough to live in a place where khoya is readily available in the market. So, that's what I used this time.
What is khoya?
Long back in the 19th century, when there were no refrigerators, café owners had to continuously boil their milk to keep it from getting spoiled. The repetition reduced the milk to solids. This evaporated milk solid was called khoya or khoa, or mawa. It's used liberally in Indian desserts.
Cardamom & rose water: I enjoy the spice and the aromatic in Indian mithais because they balance the richness of flavors. Both are optional but highly recommended.
Sugar: Instead of regular powdered sugar, you can easily utilize raw sugar in this burfi recipe.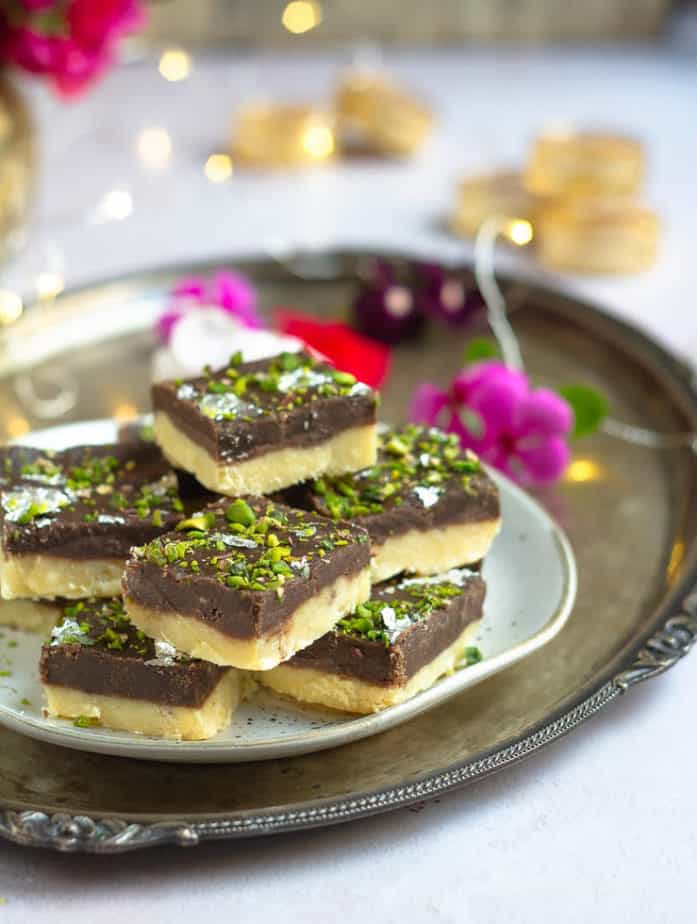 Don't miss the chocolate burfi. It's:
A twist on classic old-school burfi
Rich, sweet treat perfect for any celebration
A more interesting option than kaju katli and besan ladoo for festivities
A blank canvas that can be painted as you like (think add-ins, flavors, and shapes)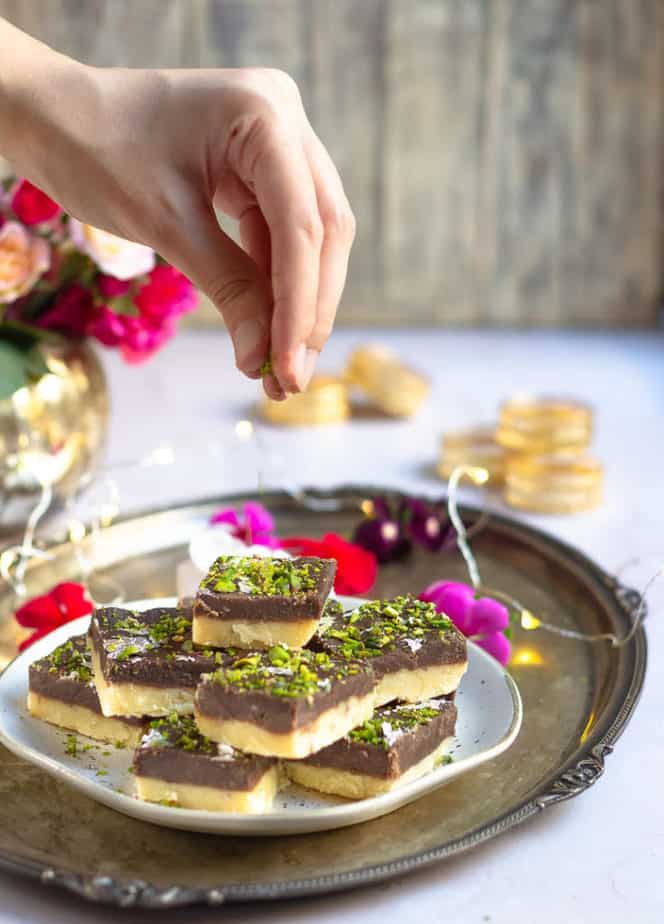 Check out other khoya mithai recipes
More burfis to try:
📖 Recipe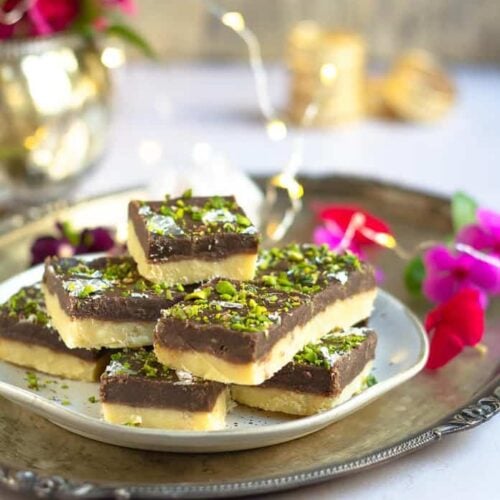 Print Recipe
Chocolate Burfi
Chocolate burfi - a fudgy layer of cocoa-infused khoya stacked on top of a milkier layer, delicately fragrant with a hint of rosewater. This burfi is a childhood favorite of many!
Ingredients
2

cups

Khoya/ Mawa

3/4

cup

Sugar

1

tsp

Cardamom powder

1

tsp

Rosewater

1

tbsp

Cocoa powder
Topping ( Optional)
Chopped pistachio, Silver leaf/ Vark
Instructions
Lightly grease a glass or metal tray or pan handy.

Crumble or grate khoya. Place in a heavy-bottomed pan and cook on low heat.

As it starts melting, add in the sugar, cardamom powder, and rosewater.

Keep stirring until the mixture thickens and starts leaving the sides of the pan.

This could take 8-10 minutes.

Once the mixture is ready. Take it off the heat and divide into 2 equal portions.

Transfer one part of the mixture onto the prepared pan. Mix in cocoa powder in the other half of the mixture.

Now transfer the chocolate portion on top of the plain burfi.

Sprinkle the pistachios and press down gently. Carefully place the silver leaf/ vark on top.

Let this set for 30-60 minutes, until the burfi sets. Cut into squares, serve and enjoy!