The buttery cinnamon streusel coffee cake is not just good. It is an obsession that has you reaching for the second and third slice in no time. A genuine melt-in-the-mouth recipe, the crunch from the streusel ribboned in and on the cake hooks you in with the contrasting texture.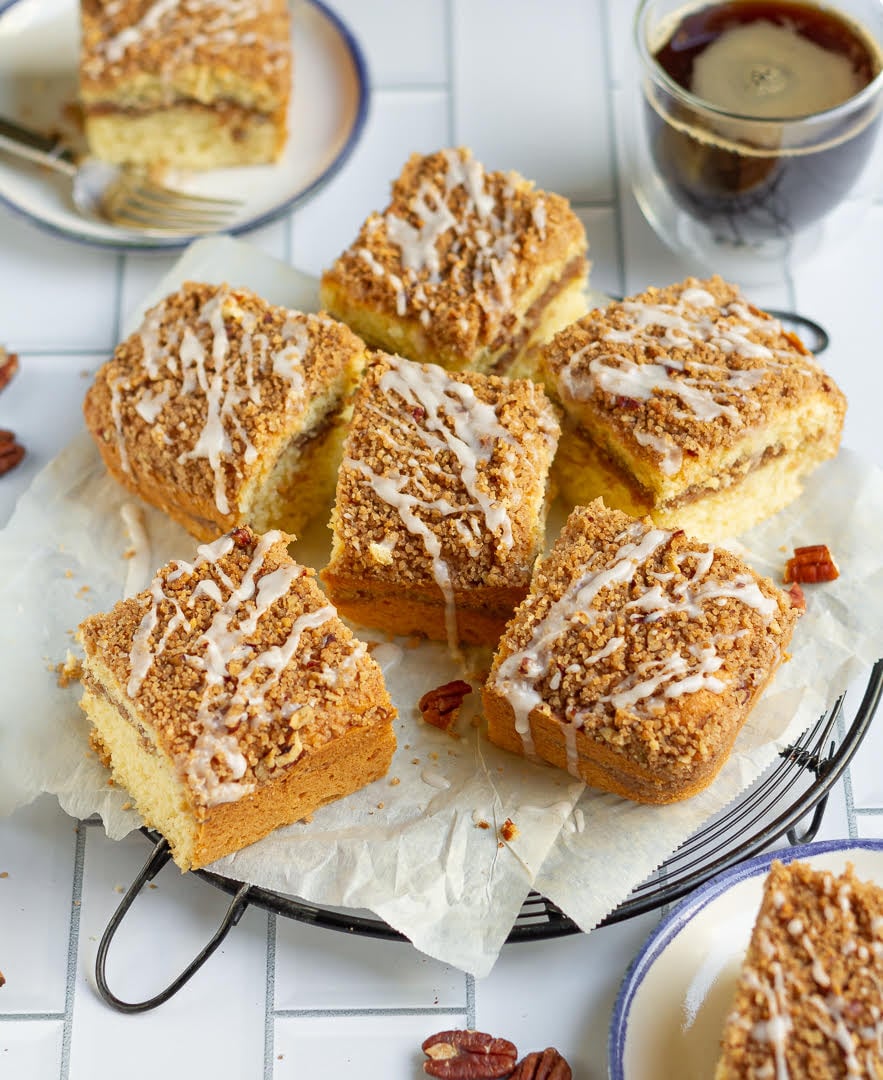 Packed with spoons full of cinnamon, the aroma of the baking cake makes you drop everything and just relish it. The best part about the cake? It can be eaten with coffee or tea. The coffee drinkers enjoyed it with their cuppa and I with my tea. We all happily report A+ results.
Jump to:
What is a coffee cake?
Like tea cakes that are bereft of chai masala or tea leaves in their batter, coffee cakes are not seasoned with the rich, deep aroma and flavor of coffee. So why is it called a coffee cake when, in fact, it doesn't contain any? Well, because it is meant to be shared with family and friends over a cup of coffee.
It's a light sponge cake topped with a streusel spiced with cinnamon (and sometimes a pinch of cardamom), so the taste comes alive when relished between sips of coffee.
How to make cinnamon streusel coffee cake?
I love cakes, cookies, pies, and really desserts in any form, but what I can't absolutely stand is the dictatorship of sugar in cloying, overly sweet treats. So, while this coffee cake is packed with sugar in the streusel, in the batter, and in the glaze, it's not overwhelming, make-your-teeth-ache sweet. I deliberately kept the amount of sugar on the lower side, creating a balance where the flavors shine.
Start with streusel topping
Step 1: Grease your pan. I used an 8" square one and set the oven to preheat.
Step 2: Whisk all-purpose flour, white sugar, and brown sugar with a generous, generous dose of cinnamon.
Step 3: Add very, very finely chopped pecans, and then pour melted butter. Get your hands in and combine (or use a fork) until everything is nicely moistened and clumpy.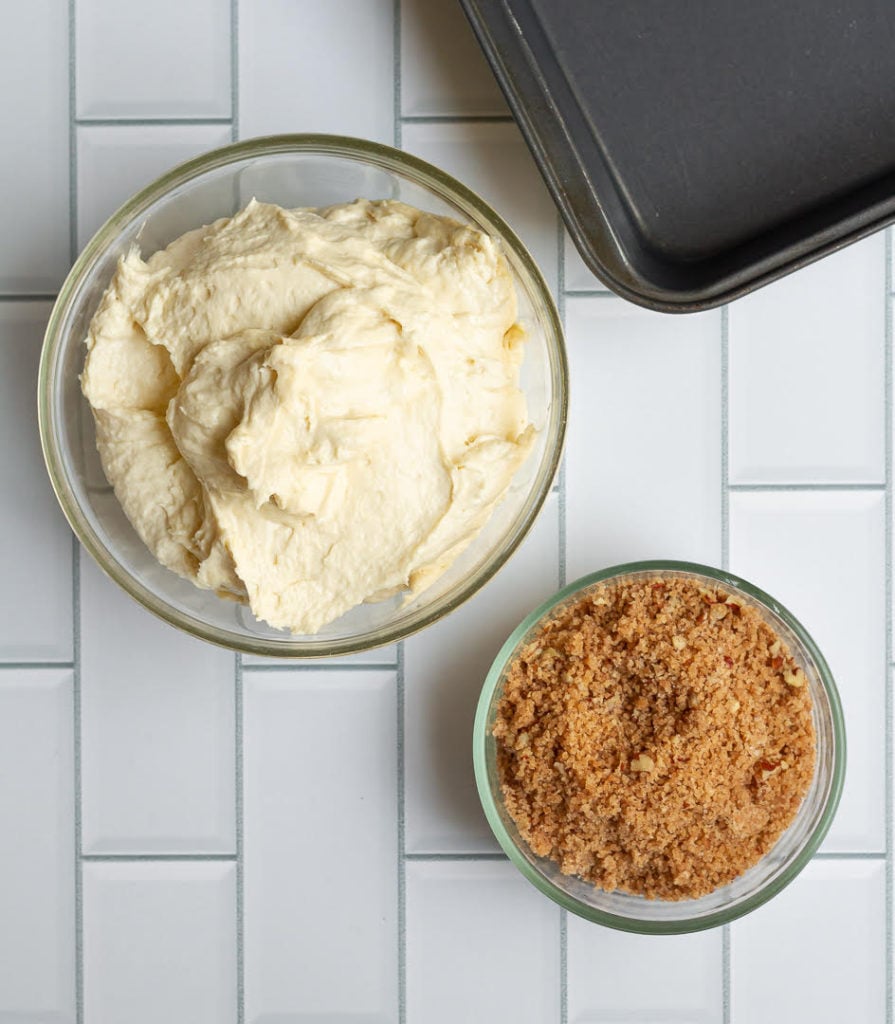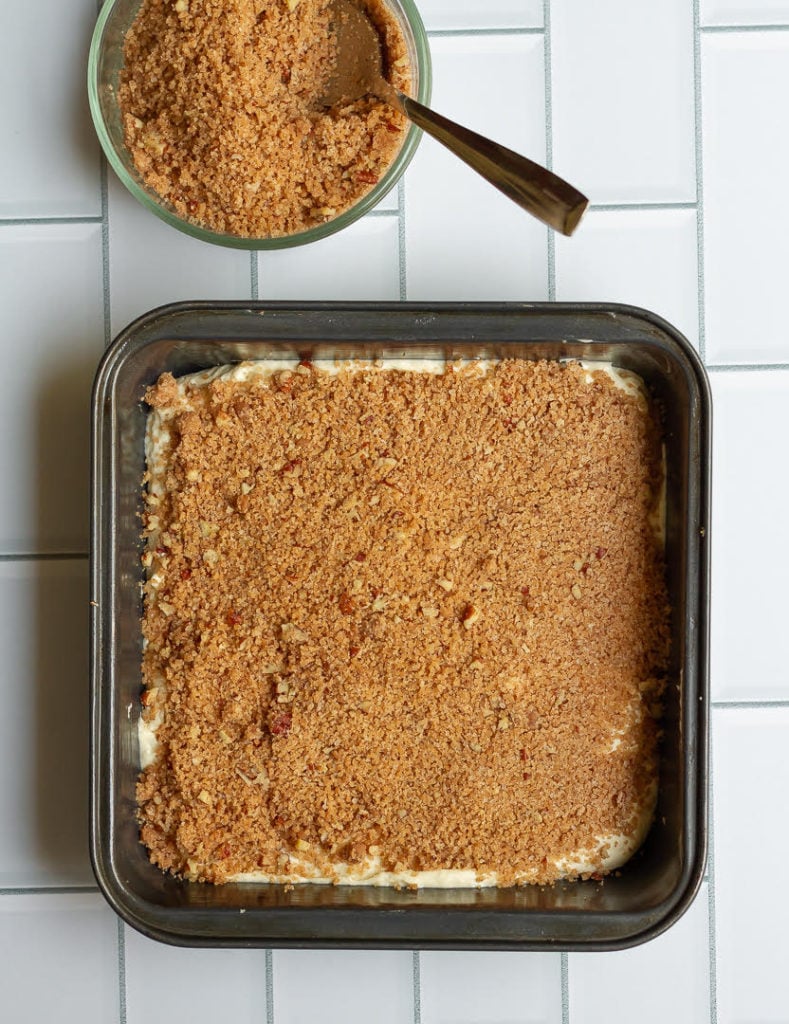 Coffee cake batter
Step 4: Combine flour, baking powder, baking soda, and salt (if you're using unsalted butter).
Step 5: In a separate bowl, cream softened butter and sugar together until light and fluffy. Add in 2 eggs along with vanilla extract. Beat well.
Step 6: Fold the dry ingredients into the wet in 3 parts, alternating with sour cream. So, you begin with a portion of the dry ingredients, mix, then add in half your sour cream, mix again, follow with another third of the dry ingredients, then the rest of the sour cream, and finally the last of the dry ingredients.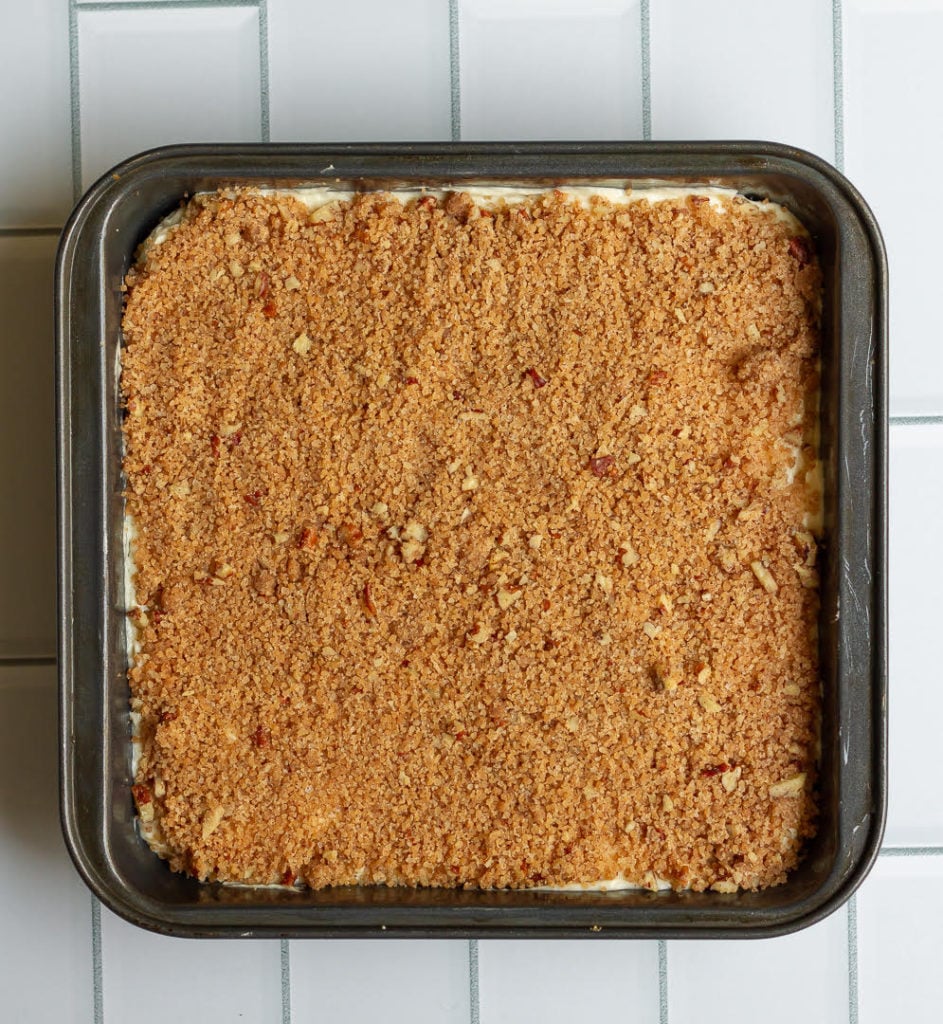 Bake the coffee streusel cake
Step 7: Spoon half of the thick, beautiful batter into the prepared pan, even it out, and then top with an avalanche of crumbly streusel. Don't use it all because we're going to pile some on top of it, too.
Step 8: Make a second layer of the cake batter and then top it with the remaining streusel.
Step 9: Press it down slightly and with a feather touch, then bake for 35 to 45 minutes.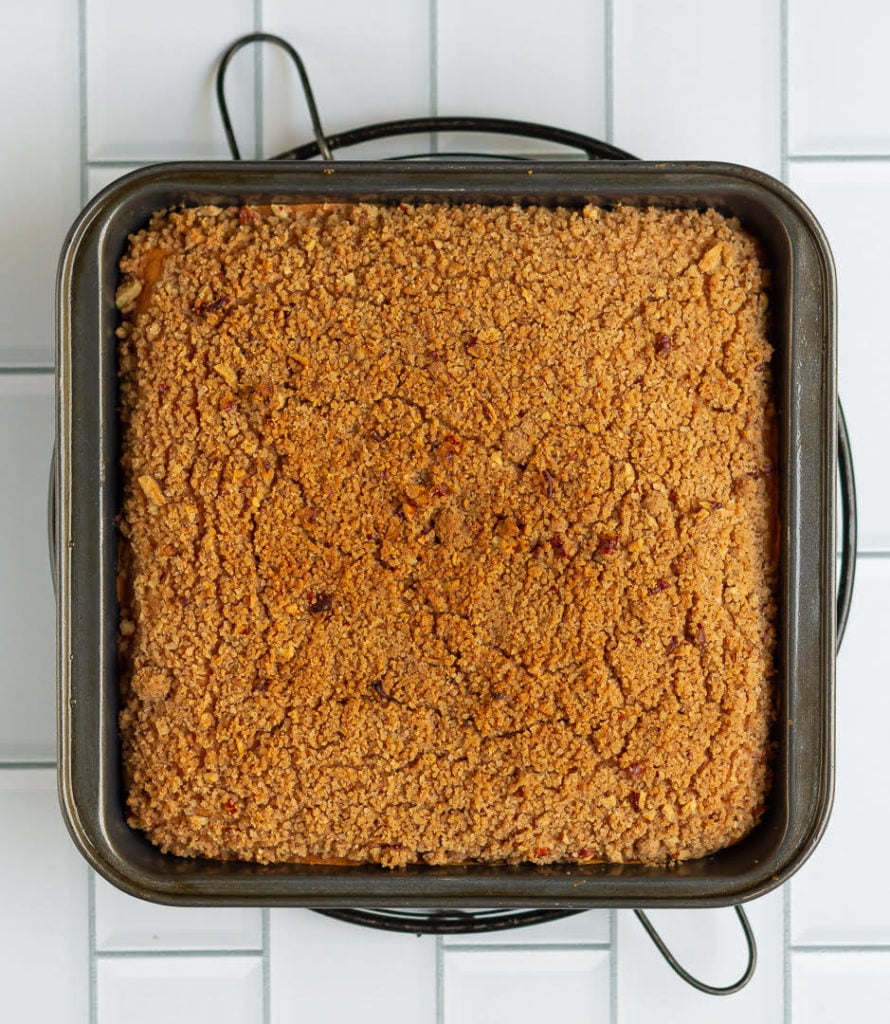 My notes on the sour cream streusel coffee cake
Be gentle when combining the dry and wet ingredients, and don't overmix.
Insert a skewer into the cake to check for doneness. It should come out clean. Another test is to check if the center feels springy.
Let it cool before you cut it into squares and serve.
Unadorned, the cinnamon streusel coffee cake is bewitching. But if you're feeling festive and want to turn up the volume, drizzle with cinnamon glaze.
To make, whisk icing sugar with milk and cinnamon till thick.
Thanks to the sour cream, the coffee cake stays moist for a couple of days, even when left on the countertop.
My corner of the world is reaching 40 degrees Celsius (104 F), so it just had to be refrigerated. But microwaving the leftovers for a couple of seconds did the trick.
Variations
Nuts: Adding pecans to the streusel is completely optional. Don't have them at hand? Walnuts or any other nut you prefer are an excellent substitute.
Add-ins: The easiest (and tastiest) add-in for the batter is cocoa powder to make it chocolaty. Coffee is another option. Who says coffee cake should never contain coffee? Pander to your palate.
Fruits: Blueberries are the traditional choice for coffee cake with streusel. But again, don't let that limit your imagination. Fold in any fruit you prefer in the batter.
Sour cream: Greek yogurt is an alternative. While it won't give you the same tender texture as sour cream, the flavor still has that tangy note, and the crumb a little lighter. Homemade yogurt is also an option; just make sure it is well strained because you'll need that very, very thick consistency.
Glaze: Honestly, it's up to you whether to decorate the cake or leave it as-is. But a draping of salted caramel would be a delicious choice.
Give the cinnamon streusel coffee cake a whirl. It's:
Soft and fluffy to a fault
A great make-ahead treat
Accompanies a cup of coffee unbelievably
As satisfying to eat warm as it is at room temperature
Not heavy, despite the richness of butter and sour cream
A wonderful recipe to have in your baking repertoire
Recipes with streusel
Recipes with cinnamon
📖 Recipe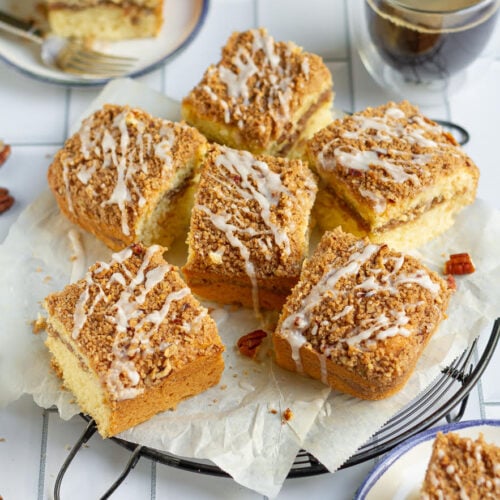 Print Recipe
Cinnamon Streusel Coffee Cake
Cinnamon Streusel Coffee Cake is no-fuss, easy to make & so delicious. Every bite is layered with crunchy cinnamon streusel and the softest, buttery cake crumb!
Ingredients
Streusel
100

gms ( 3/4 cup)

All-purpose flour

55

gms ( 1/4 cup)

White sugar

55

gms ( 1/4 cup)

Brown sugar

75

gms ( 1/3 cup)

Butter, melted

2

tsp

Cinnamon powder
Cake
250

gms ( 2 cups)

All-purpose flour

1.5

tsp

Baking powder

1/2

tsp

Baking soda

1/4

tsp

Salt

If using unsalted butter.

115

gm (1/2 cup)

Butter, softened

110

gms ( 1/2 cup)

Sugar

2

Eggs, at room temperature

1.5

tsp

Vanilla extract

210

gms ( 3/4 cup)

Sour cream

You can also use plain Greek yogurt
Cinnamon Glaze (Optional)
25

gms ( 1/4 cup)

Icing sugar

2

tbsp

Milk

1/2

tsp

Cinnamon powder
Instructions
Preheat your oven to 180C. Grease an 8" pan well.
Streusel
Combine flour, both the sugars, and cinnamon powder in a small bowl.

Stir in the melted butter. Combine with a fork until the mixture is moistened and a little clumpy. Set aside.
Cake
In a large bowl, sift together the flour, baking powder, and baking soda.

In another bowl, cream together the butter and sugar until fluffy, about 2-3 minutes.

Add the eggs and vanilla extract. Beat well.

Now add in the flour mixture ( in 3 additions), alternating with sour cream ( in 2 additions). Beginning and ending with the flour mixture.

Transfer half the batter into your prepared pan. Top evenly with the streusel.

Add the remaining batter on top and sprinkle the rest of the streusel. Press it down gently.

Bake the cake for 35-40 minutes at 180 C, or until a skewer inserted in the center comes out clean.

Cool the cake completely in the pan. Drizzle over the glaze. Cut into squares and enjoy!
Cinnamon Glaze
Whisk all 3 ingredients in a small bowl until a smooth, thick glaze is formed.