The easy pull-apart cheese garlic bread was an on-the-fly recipe. With no pre-planning, I picked up a loaf, slathered it in a godly amount of butter, garlic, cheese, and baked. And wonders of wonders, half the loaf disappeared in less than 15 minutes!
The kids were happily munching on it even with their rice and chana lunch. I guess the combination of buttery, cheesy, seasoned garlic clinging to every crunchy bite of tender, crispy, chewy bread never fails!
Jump to:
How to make easy pull apart cheese garlic bread?
Bread: 1 loaf
Butter: 1/3 cup, melted
Garlic: 4 cloves, finely minced
Thyme: 1 tsp
Oregano: 1 tsp
Cheese: 1 cup, grated (or more if you so wish)
Before I begin, here's why you need to make these cheesy garlic bread. Not because it's crave-worthy with flecks of bold, earthy oregano worked in golden-brown crust bathed in butter.
But because you get a fancy-looking appetizer with such a little effort. All because we're not baking the bread from scratch, we're using a store-bought one.
Prep the pull apart bread
Support a local bakery and grab any of their freshly baked loaves.
Cut the loaf vertically, making sure your knife goes only 3/4th of the way down.
Then slice it horizontally, again making sure you don't cut through the base, so the whole loaf is still intact.
In your melted butter, mix the minced garlic and herbs, and then go to town with it. Using a brush, paint the entire loaf.
Take your time and liberally butter the cut squares, covering every nook and cranny.
Don't forget to butter the bottom crust of the loaf too. This is not the time to be stingy; you want maximum flavor, so use up all the butter.
Once the bread is nicely smeared with the herby mix, take your grated cheese and fill it in the cuts and crevasses.
Bake the pull apart cheese bread
While the oven preheats, wrap the loaf in the foil.
Bake it for around 20 to 30 minutes till the cheese melts and drips.
Unwrap the loaf and then bake for a few minutes more, till the cheese is bubbly and the crust is crisp.
Serving ideas for the best cheesy pull apart bread
Serve the bread while it's still piping hot. The minute it was out of the oven, I sprinkled the green part of some green onions and it vaporized in seconds.
Any fresh herbs of your choice will be equally amazing. Thyme, cilantro, rosemary, all add a pop of freshness.
It's a great appetizer as-is for:
Game night
Dinner party
Evening snack
Small gatherings
But you can make a whole meal out of the garlicky cheese bread with:
What else can you use in cheesy garlic pull apart bread?
You simply can't go wrong with pull-apart cheese garlic bread. So, without a qualm, use any ingredient that you have in the pantry. Don't like the taste of something? Use a substitute. The bread will still be fiercely flavorful.
Butter: Salted butter really does wave the magic wand and brings that extra yumminess. Leave moderation behind and use it with a free hand. However, good quality olive oil is a great choice too.
Garlic: My recipe includes 4 big cloves. More is definitely an option to up that sharp, garlicky touch, or you can leave them out altogether.
Herbs: I stuck to the bright, fresh parsley and oregano, but whatever herbs you have or love will do.
Cheese: I found that the local mozzarella lent a drool-worthy luscious dimension to garlic bread. So, your best choice is going to be cheese that melts well. How much of it you use, is all on you. Be sparing or generous.
Seasoning: Truth be told, the bread doesn't need any garnishing. I added green onions just for the color. That said, for a bit of heat try red chili flakes, smoked paprika. Other alternatives are:
Cajun seasoning
Italian seasoning
Garlic salt
Onion salt
Pull apart garlic bread recipe FAQs
What kind of bread should I use for pull-apart cheese garlic bread?
Pick hearty bread with a crusty exterior and soft interior like a sourdough. You don't have to bake one at home; a store-bought loaf is more than sufficient. But if you want to, here's an incredibly easy recipe for it.
How to make pull apart cheese bread from scratch?
Making cheesy, garlicky pull-apart bread from scratch means starting with bread dough. Obviously, it takes longer, but, trust me, the result is just as delicious.
Can you reheat cheese and garlic pull apart bread?
Yes, you can! Wrap it in foil and then reheat in a preheated oven. Skip the microwave.
Give the easy pull apart cheese garlic bread a whirl. It's:
Easy
Cheesy
Garlicky
Crunchy
Really, it's the only appetizer you'll ever bake again!
More easy, fun, and addictive bread recipes:
Bake your own loaf of bread at home:
📖 Recipe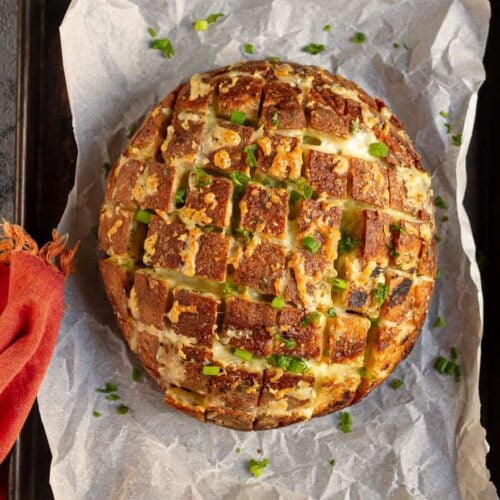 Print Recipe
Easy Pull- Apart Cheese Garlic Bread
Easy Pull-Apart Cheese Garlic Bread - a crave-worthy cheesy garlicky loaf with flecks of herbs worked in golden-brown crust bathed in butter. Made with just 6 ingredients, this is the easiest and most addictive appetizer!
Ingredients
1

loaf

Sourdough bread or any crusty bread

1/3

cup

Butter, melted

4

cloves

Garlic, finely minced

1

tsp

Dried thyme

1

tsp

Dried oregano

1

cup

Mozzarella cheese, grated

2-3

tbsp

Parsley, finely chopped

1-2

tbsp

Green onion, finely chopped
Instructions
Preheat your oven to 200C.

Cut the bread into 1" squares, but do not cut all the way through.

Combine the butter, garlic, dried thyme, and oregano in a small bowl.

Liberally brush each crevice of the bread with the butter mixture. Spread some on the crust as well.

Now stuff a little bit of cheese into each crevice.

Wrap the bread with aluminum foil.

Place the loaf on a baking tray and bake for 20 minutes, until the cheese has melted.

Unwrap the bread and continue baking for another 5-10 minutes until the cheese is bubbling and the crust, golden brown.

Take the loaf out of the oven and sprinkle some fresh parsley and green onions on top. Serve immediately. Enjoy!