I love the idea of putting fresh seasonal fruits in summer salads. Over the years, I've tried some conventional combinations like red rice mango salad and some adventurous recipes like apricot pasta salad.
With the peach season about to say adieu, I saved the last of them for a salad that's akin to summer in a bowl.
The peach mozzarella salad relies on gorgeous, juicy peaches as a counterpoint to luxurious avocado, peppery basil, creamy mozzarella, cooling mint, and crisp pieces of cucumber.
Summer turning into monsoon is the season for simple recipes that accentuate the fresh flavors and quality of the ingredients. The peach mozzarella salad stands true to this creed. Each element gets its own spotlight from the very first morsel.
How to Make Peach Mozzarella Salad?
There are some days you really want to eat a classic and popular dish. And then there are days when you want to break away from convention and try something with a twist.
The peach mozzarella salad is my take on a Caprese salad. It has all the usual elements - balsamic vinegar, creamy mozzarella, and olive oil. I just added sliced peaches, avocado (with which I have terrible luck, but this time I did save about half of it) and diced cucumber.
The instructions for this summer salad can be distilled to one word – combine. That's all you need to do.
Since my garden is overflowing with mint and basil, they went in as ingredients as opposed to garnish. There is no beating the taste of fresh herbs. But their exceptional flavor is only part of the appeal.
The sweet-tasting mint leaves a lingering cooling effect that aids in digestion. And basil is jam-packed with vitamins, minerals, and anti-inflammatory properties.
I thoroughly recommend growing the herbs in your kitchen garden. I have a brown thumb, and yet my plants are thriving. They are that easy to grow. This is the perfect season to start, so do give it a try. Believe me, there is nothing like a sprinkling of fresh herbs to make any dish come alive and sing!
Making the dressing for peach mozzarella salad:
The dressing is the easiest ever. Combine salt, pepper, olive oil, and balsamic vinegar. I wanted to give it a Tasha Twist, so I put a touch of sumac on top of the salad.
The dressing doesn't overpower the ingredients. Instead, it gives the right balance of acidity – as every proper salad should have. The sweet, tangy touch of balsamic and fruity tones of olive oil echoed the tart zing of peaches perfectly.
Drizzle the dressing on the salad, give it a gentle toss, and the peach mozzarella salad is ready to be served.
Serving the Peach Mozzarella Salad
For such a few ingredients, the salad makes a great appetizer. I advise serving it with a chunk of crusty bread to mop up the dressing that drizzles down to the bottom.
If you're anything like me, then you'll devour the whole plate with a thin slice of bread and call it a meal! Because for me, cheese paired with any fruit is an irresistible combination.
Variations of peach mozzarella salad
Salads are easy because you can take them in any direction your palate prefers. Add more cucumber if you want a bit more crunch. Throw in some cherry tomatoes to give it a burst of color.
I tore up bits of mozzarella, instead of cutting, to enhance the creaminess of the salad. But if you don't like the soft, stretched curd cheese typically made from whole cow's milk, you can always substitute it with any soft cheese. Brie is a great choice. Burrata is another.
Even a brined, sharp cheese like feta will work. If you opt for it, then go easy on the salt.
But if you're feeling adventurous, then try homemade mozzarella. The smooth, stringy cheese with its fragrant aroma of fresh milk and delicate creamy flavor is just what the salad needs.
Here's a great recipe (vegan option) for it, which I'm going to attempt as soon as I have any extra time on hand. Till then, I'll gorge on the refreshing flavors of the peach mozzarella salad and enjoy the thundering rain that has finally arrived here!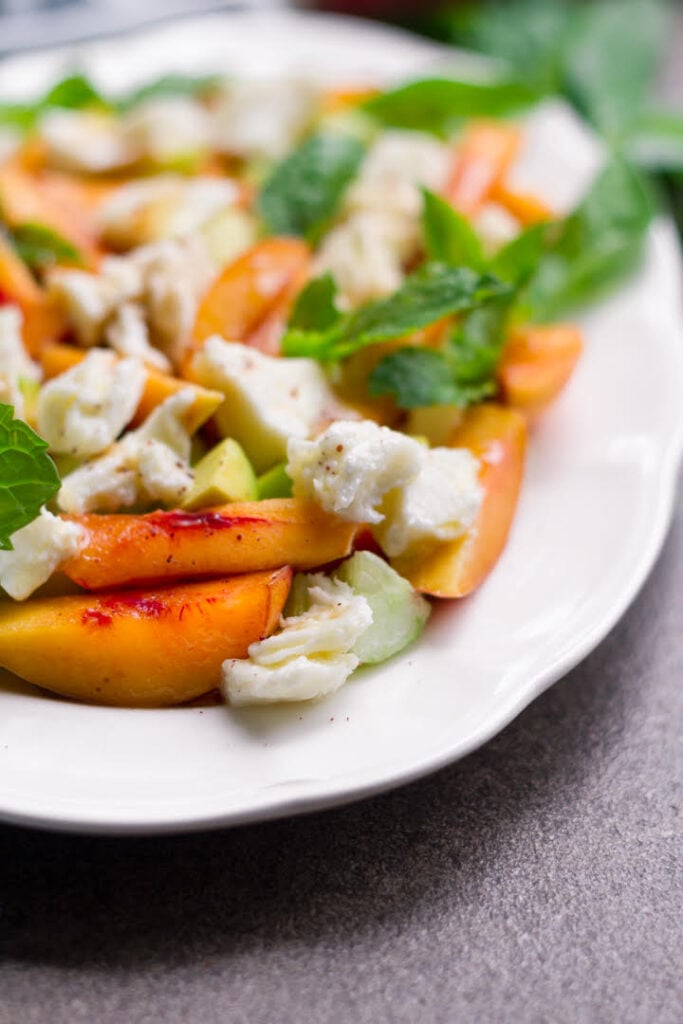 I'd love to hear from you! Please tag me on Instagram @tashasartisanfoods, using the hashtag #tashasartisanfoods. You can also FOLLOW ME on INSTAGRAM, PINTEREST for more fabulous recipes!
📖 Recipe
Print Recipe
Peach Mozzarella Salad
The peach mozzarella salad relies on gorgeous, juicy peaches as a counterpoint to luxurious avocado, peppery basil, creamy mozzarella, cooling mint, and crisp pieces of cucumber.
Ingredients
4

Peaches, sliced

1

Cucumber, diced

1/2

Avocado, diced

A small handful fresh mint and basil leaves

100

gms

Fresh Mozzarella cheese, cut or torn into small pieces
Vinaigrette
1.5

tbsp

Extra virgin olive oil

1

tbsp

Balsamic vinegar

Salt Pepper to taste

1/2

tsp

Sumac

Optional
Instructions
Vinaigrette
Whisk together the olive oil, balsamic vinegar, salt, and pepper in a small bowl. Taste and adjust for seasoning.
Salad
Arrange the sliced peaches, avocado, and cucumber on a platter.

Add the fresh herbs on top, along with bits of fresh mozzarella.

Spoon over the vinaigrette. Give a gentle toss.

Top with sumac ( if using) and serve at room temperature or cold. Enjoy!