Soft, and moist with crispy edges, the cardamom pistachio madeleines were a lovely and addictive experiment. Who knew French tea cakes would take so well to exotic festive flavors?
Once I got the tricks to making perfectly 'humped,' buttery ribbed madeleines (more on this later), I never looked back. I've baked them in a world of flavors. Seriously, from lavender to chocolate and everything in between.
With Diwali knocking on our doors, I wanted to try them with Indian flavors. So, I sorta kinda took inspiration from my orange semolina almond cake for the base and then built up from there.
The combination of semolina (suji) and almond meal is always a winner. Married to the nutty pistachio and aromatic cardamom (which I used in hefty amounts); they made the madeleines sumptuous - almost reminiscent of Indian mithai.
How Can I Make Cardamom Pistachio Madeleines?
Since I was making the cardamom pistachio madeleines for Diwali, mawa was a must.
What is mawa? It is evaporated milk solids, also known as khoya. It is used copiously in Indian sweets.
But I didn't feel like making an effort to either prepare it at home or buy it. So, I made do with milk powder to a surprisingly delicious result.
Begin by whisking semolina, almond meal, milk powder, raw sugar, baking powder, and a pinch of salt till there are no lumps.
Add in a good dose of cardamom powder and very finely chopped pistachios.
Almost as an afterthought, I threw in some strands of saffron.
In a separate bowl, mix milk, coconut oil, and a teaspoon of vanilla.
Stir the dry ingredients into the wet, and you'll have a thick batter.
The trick to getting the iconic lump on the backs of madeleines is chilling the batter.
Slide it in the refrigerator for 1 to 2 hours.
When you take the batter out, it'll be firm-ish because semolina soaks up the liquid. Add a bit more milk, give it a whisk, and it'll thin right out.
Scoop it into madeleine molds and then bake for 10 to 12 minutes.
The cardamom pistachio madeleines are a bit distinct. These sponge cake-like treats are crispy and very light golden on the edges due to the semolina. Juxtaposed with the dark colored and tender center, they make for a feast for the eyes and the palate.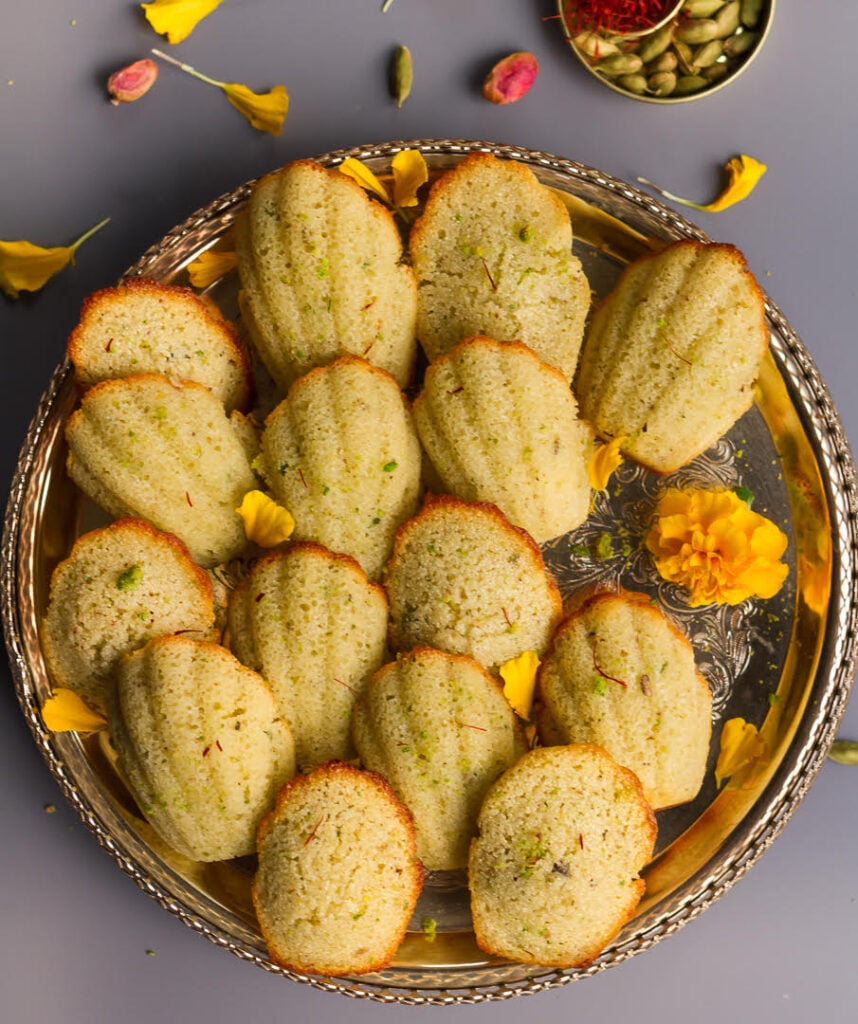 Tips for making fantastic madeleines
To make madeleines that are soft and moist on the inside with a lovely crunch on the outside, follow these 3 tips:
Chilling the batter solidifies the oil (or butter), and that's what imparts the scalloped belly to madeleines. Do not skip the step. To save time, you can always make the batter a day ahead as you can safely refrigerate it for up to a day.
I use silicone madeleine molds, so there is no need to grease them. If you have metal molds, please brush them liberally with oil or butter.
Scoop or spoon the batter in the middle of the mold. Don't spread it around or overfill to get shell-shaped madeleines flawlessly.
Variations of cardamom pistachio madeleines
If you're just in the mood for some more madeleines, try my coconut ginger versions. But if you're looking for Diwali gifts or adding to your festive spread, try these variations:
Switch the pistachios with almonds, walnuts, or any other nut you like. Just remember to chop them finely.
Reduce the amount of cardamom to bring in a subtler taste.
Skip the saffron altogether.
What milk should you use for the madeleines?
I am partial to homemade almond milk, but any milk would do.
Can you use butter instead of coconut oil?
Yes, you can. Just make sure you melt and then cool the butter.
Can you make vegan cardamom pistachio madeleines?
I haven't tried the vegan version. But you could use a plant-based milk powder to make them vegan.
Regular milk powder adds a richness to the madeleines - that decadent mawa savor. Subbing it will rob you of the festive flavors flowing through the madeleines.
In case your heart is set on vegan madeleines, then try my vegan coffee hazelnut ones.
What if you don't have madeleine molds?
Use mini-muffins or cupcake molds. The recipe fits them to the tee. The only difference will be the texture. It changes slightly.
Serving the cardamom pistachio madeleines
These madeleines didn't need any trimmings. I served them as-is with cups of rose tea, and the abode was filled with smiling faces and happy tummies.
Though the young lady of the house kept insisting that a dip in lemon glaze would have done wonders to the flavor bouquet. For those who want to give it a try, here's a recipe for the glaze.
Of course, you can serve them with coffee, as after-dinner desserts, or even a mid-afternoon pick me up.
Low on effort and high on flavor and texture, the cardamom pistachio madeleines are excellent for gifting. The creamy mouthful of almond meal, the fragrant cardamom, and little nutty bites of pistachio ring in the festivities like a dream!
I'd love to hear from you! Please tag me on Instagram @tashasartisanfoods, using the hashtag #tashasartisanfoods. You can also FOLLOW ME on INSTAGRAM, PINTEREST for more fabulous recipes!
📖 Recipe
Print Recipe
Cardamom Pistachio Madeleines
Low on effort and high on flavor and texture, the cardamom pistachio madeleines are excellent for gifting. The creamy mouthful of almond meal, the fragrant cardamom, and little nutty bites of pistachio ring in the festivities like a dream!
Ingredients
1

cup

Semolina/sooji

1/4

cup

Almond meal

You can just grind almonds in a food processor or coffee grinder.

1/4

cup

Milk powder

1.5

tsp

Cardamom powder

1/4

tsp

Saffron

Optional

3

tbsp

Pistachio, finely chopped

1 1/4

tsp

Baking powder

1/4

tsp

Salt

1/3

cup + 1 tbsp

Raw sugar

You can use regular white sugar too.

1/2 + 1/4

cup

Almond milk

You can use any milk you prefer.

1/3

cup

Coconut oil

You can use melted butter too.

1

tsp

Vanilla extract
Instructions
Whisk semolina, almond meal, milk powder, raw sugar, cardamom powder, saffron, pistachio, salt, and baking powder in a bowl.

In another bowl, whisk together the coconut oil, 1/2 cup of almond milk, and vanilla extract.

Now gently fold in the flour mixture. Please don't over mix.

Cover the batter and refrigerate for a minimum of 1 hour.

When you're ready to bake, preheat your oven to 200C. Grease and flour the madeleine molds. If you have a silicone pan, no prep is needed.

Since the semolina would have soaked up most of the liquid, add the remaining 1/4 cup of milk to the batter. Mix well. The batter should have a soft dropping consistency.

Spoon the batter into the molds, about three-quarters of the way. There is no need to level the batter. Bake for 10-12 minutes or until they are golden and tops are springy to touch.

Turn them out on a cooling rack. Cool completely.

Serve at room temperature. Enjoy!

These keep well for 3-4 days in an airtight container.