This is a monkey bread recipe to beat the best monkey bread you've ever had by miles. Each butter-rich cinnamon pull-apart cinnamon bread knot you tear tempts you to nibble on just one more.
Let me just get this out of the way: this monkey bread is insanely good! Not because it takes no time to make or is softer than a gulab jamun. But because it's super fun and happy bread to bake and eat. That's what makes it unique in my books. If you have little hands at home, I definitely suggest including them.
Jump to:
So many great reasons to make this easy monkey bread
Serve it on game night
Take it as a potluck dessert
Serve it for brunch with girlfriends
Make it a centerpiece for a dinner party
Make the dough a day (or two) ahead of time
Requires minimal work and is stupendously delicious
What is monkey bread?
Think of monkey bread as a mosaic of tender, chewy, golden-brown dough dipped in loads of butter with flecks of cinnamon sugar clinging to the nooks and crannies.
It's also called "cinnamon pull-apart bread" because the dough balls, once dunked in butter, are rolled in brown sugar and then baked in interlocking layers that can be torn apart with your fingers.
Why is it called monkey bread?
Culinary historians have many theories. Some say it's because you can eat it with your fingers as a monkey would. Others say they're a variation of Parker House rolls. When you bake the rolls side-by-side in a Bundt pan, they look like a monkey puzzle tree.
And a few say that the actress ZaSu Pitts named it monkey bread. I find each of these speculations fascinating, but none of them are definitive. So, I agree with most that it's similar to bubble bread and that it became popular after First Lady Nancy Regan served it at the White House.
Does monkey bread have to be in a Bundt pan?
Most bakers choose a Bundt pan for the monkey bread recipe because it gives an alluring shape to the pull-apart loaf and the gap in the center helps evenly distribute the dough. That said, I've seen the bread being baked in all sorts of things: cake pans, loaf pans, etc. Pick whatever is convenient for you.
How to make monkey bread?
A typical recipe for monkey bread calls for kneading, but I was in no mood for some extra effort. So, I pulled out my recipe card for vegan cinnamon rolls, and, to my surprise, I got the best monkey bread ever.
Step 1: Melt the sugar in the milk, oil, and sugar over medium heat. Right before it comes to a boil, take it off.
Step 2: Allow it to cool before blending in the yeast.
Step 3: After about 5 to 10 minutes, when the mixture is bubbly, stir in the all-purpose flour.
Step 4: Cover your bowl with a kitchen towel and place the mixture in a draft-free area till it doubles in size.
Step 5: Stir in the remaining flour, baking soda, baking powder, and a pinch of salt.
Step 6: Place the dough in the refrigerator to chill. I like to keep it overnight because it divides my workload. I make the dough for the pull-apart bread a day before and bake it the next. Also, the dough gets easier to handle. You can refrigerate it for up to 2 days.
Let's bake
Step 7: Turn over the dough on a lightly floured surface and pat it into a rough rectangle shape.
Step 8: Cut the dough into 50 even pieces by dividing it lengthwise first and then breadthwise with a knife or pizza cutter.
Step 9: Roll each piece into a ball, dip in melted butter, and then toss it in a mixture of brown sugar and cinnamon.
Step 10: Place each dough ball into a greased Bundt pan, stacking them over each other to form random, rustic layers.
Step 11: Cover with a damp tea towel and set aside until puffy.
Final step: Bake for 25 to 30 minutes. Let it cool for 5 minutes and then gently take it out on your serving platter.
Dig in
As the monkey bread bakes, the butter and cinnamon-sugar concoction caramelize. So, it comes out super-soft, gooey, and simply divine.
Unlike many loaves of bread that taste better cool, cinnamon pull-apart bread is best-served warm when each morsel releases a puff of cinnamon-scented steam.
As for accompaniments, the monkey bread recipe really doesn't need anything. Oodles of butter and spice make it a life's pleasure as-is.
Sub for monkey bread ingredients
The recipe for monkey bread uses basic pantry ingredients, and unless you're making a savory option, there aren't any substitutes I'll recommend. It's a basic recipe (except for the shaping), so you won't need any.
But, if you're looking for a quick baking project, use biscuit dough if you can get access to it. It works fine, but my personal preference is homemade dough. There frankly is no trouncing it.
In case you have the cinnamon-sugar mixture leftover, use it on buttered toast for a decadent breakfast.
You might also love these easy bread recipes
Easy Pull-Apart Cheese Garlic Bread
📖 Recipe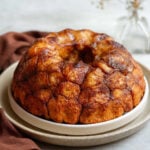 Print Recipe
The Best Monkey Bread Recipe
This is a monkey bread recipe to beat the best monkey bread you've ever had by miles. Each butter-rich cinnamon pull-apart cinnamon bread knot you tear tempts you to nibble on just one more.
Ingredients
1

cup ( 240 gms)

Milk

You can use any milk of your choice.

1/4

cup ( 50 gms)

Sugar

1/4

cup ( 54 gms)

Coconut oil

You can use any vegetable oil of your choice.

1.5

tsp

Dried active yeast

2

cups (280 gms)

All-purpose flour

You can use whole-wheat flour.

1/4

tsp

Baking soda

1/4

tsp

Baking powder

1/4

tsp

Salt

1/4

cup (35 gms)

All-purpose flour

You can use whole-wheat flour.
Cinnamon Coating
3/4

cup ( 150 gms)

Brown sugar

You can also use white sugar or a combination of brown and white sugar.

2

tsp

Cinnamon powder

1/3

cup ( 76 gms)

Butter, melted

You can use coconut oil or any plant-based butter, to make this vegan.
Instructions
Heat milk, oil, and sugar in a small saucepan. Don't let it come to a boil. Take off the heat and cool.

When this mixture is just warm, sprinkle over the yeast. Set aside for 5-10 minutes until the mixture is bubbly.

Whisk in the 2 cups of flour. Cover and place in a draft-free place for 1 hour or until the dough is doubled in size.

Now add in the extra 1/4 cup flour, baking powder, baking soda, and salt.

Mix well. The dough is now ready for use immediately. You can refrigerate it for 30 minutes or up to 2 days.

I like to keep it refrigerated overnight.

Grease a 9" bundt pan very well with butter.

Remove the dough from the bowl and gently pat it onto a rectangle.

Use a sharp knife to cut it into small pieces. I got 50 pieces from this dough.

Roll each dough bit into a ball.

Combine the brown sugar and cinnamon powder in a small bowl.

Dip each into melted butter, then roll inro the sugar-cinnamon mixture.

Place in the prepared bundt pan, making layers of the dough balls.

Cover the pan with plastic wrap or a damp kitchen towel, and place in a draft-free place for 1-1.5 hours or until the dough is puffy.

Preheat your oven to 180 C. Bake the bread at 180C, for 25-30 minutes until the top is deep brown in color and the caramel is bubbling around the edges.

Cool the bread in the pan for 10 minutes before gently turning it out on a serving platter.