If you've never tried madeleines, let me turn you on to them. If you are already a fan, I've got you covered with amazing recipes to make madeleines at home! I'm sharing everything you need to know about these delightful tiny cakes, that are so buttery and scrumptious.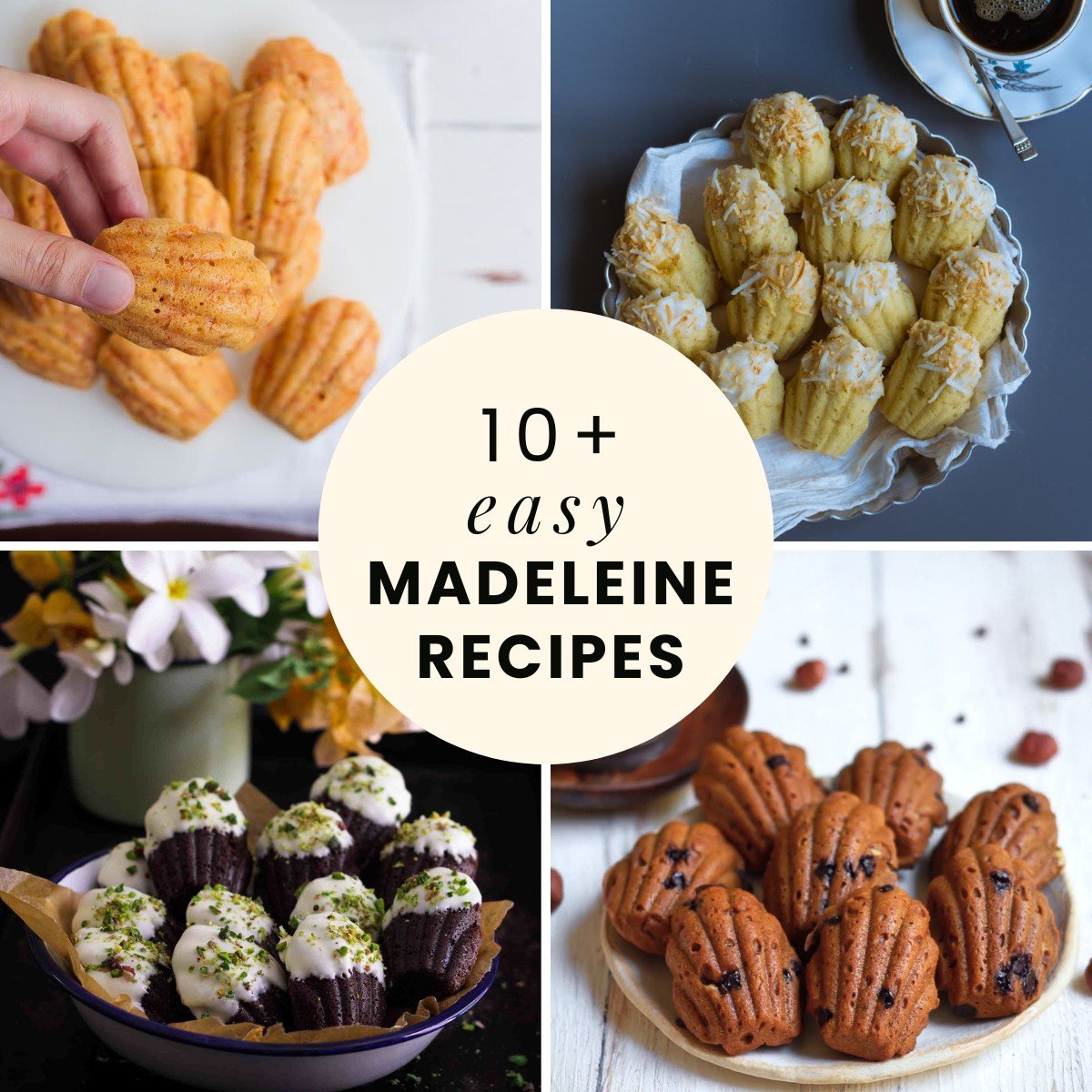 What are madeleines?
They are little sponge cakes or butter cakes that originate from France, considered a cross between cake and cookie. Madeleines are traditionally baked in a shell-shaped mold and have a light spongy texture, making them the perfect light sweet treat.
What do madeleines taste like?
Madeleines are traditionally buttery, light, and flavored with vanilla and lemon. However, these tiny cakes are incredibly versatile and as you can see from the recipes listed below, you can flavor them in many ways.
How do you make madeleines?
Madeleines use standard ingredients of most cakes and cookies - flour, baking powder, butter, eggs, sugar, and salt. Putting them together is quite simple (detailed recipes below). If you want the scalloped look, madeleine pans are easily available online.
The Best Madeleine Recipes
Without further ado, let's get into my favorite madeleine recipes, so you can try them out for yourself!
Lemon Madeleines
These elegant and summery Lemon Madeleines are a classic that you'll never go wrong with!
Recipe Here
Orange Madeleine
Softly spongy, speckled with dried blue cornflowers, infused with fresh orange zest and orange blossom water, they are truly a delight to make and eat!
Recipe Here
Vegan Coffee Hazelnut Madeleines
These vegan coffee hazelnut madeleines are tender, moist, cakey, and best of all, crunchy from the nuts and gooey from the chocolate chips!
Recipe Here
Spiced Brown Butter aka Gingerbread Madeleines
Spiced brown butter madeleines are easy to make and have an allure that pairs perfectly with tea, coffee, and even hot chocolate. 
Recipe Here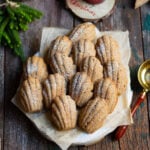 Chocolate Madeleines 
These Chocolate Madeleines are a classic simple dessert that are so easy to make! Dip them in chocolate to make them even more special.
Recipe Here
Chocolate Cherry Madeleines
These chocolate cherry madeleines with their dense crumb redolent and moist with cherry juices and gooey chocolate chips are such a big hit!
Recipe Here
Pumpkin Oats Madeleines
Moist, soft, and airy with sublime, divine flavors, these pumpkin oats madeleines have spongy lightness.
Recipe Here
Cardamom Pistachio Madeleines
Low on effort and high on flavor and texture, the cardamom pistachio madeleines are simply sublime.
Recipe Here
Coconut Ginger Madeleines
Fused with the gingery zest that comes through with every bite, these have the most astonishingly well-balanced flavor profile.
Recipe Here
Carrot Cake Madeleines
When you're craving a carrot cake but don't want to indulge in a whole slice, trade it with these vegan madeleines!
Recipe Here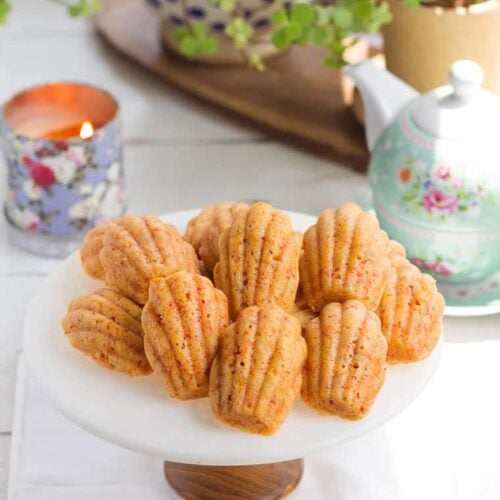 Vegan Matcha Pistachio Madeleines
Vibrant green, softly fluffy, and like small vessels of joy, these madeleines came out as pretty as a picture!
Recipe Here
Lavender & Lemon Madeleines
The Lavender & Lemon Madeleines are buttery with a tender crumb, delicately flavoured and aromatic. Best enjoyed freshly warm from the oven!
Recipe Here
These are truly some of the best Madeleine recipes you'll ever try - I hope you enjoy them as much as I do!
More Easy Desserts You May Like
Half the joy of baking is sharing it with others, which is why I'm always eager to hear from you. So go right ahead and drop a comment or reach out on Instagram, Pinterest, YouTube, or Facebook. I hope you love these easy madeleine recipes as much as we do!