Pumpkin muffins are a divine way to savor fall's harvest. Great for breakfast or snacking, the healthy pumpkin muffins (egg free and vegan) have spice notes that will warm you up for the day ahead.
Drinking hot spiced wine while wrapped in blankets by a glowing fire. A nook with warm lighting and an unfinished book. Or eating these vegan pumpkin muffins.
These are all things that ooze not just a sense of comfort, but hygge, if I may be so bold to say. It bakes like these no-egg pumpkin muffins that bubble up a warm feeling and remind me that cooler weather and cozy days are just around the corner.
Made with just basic ingredients, this fall pumpkin dessert, has exceptional taste and flavor. It carries a hint of the sweet spice blend and that iconic, beloved aroma that conjures the brisk air of fall and winter.
Jump to:
REASONS TO LOVE PUMPKIN MUFFINS
Healthy,
Fabulous when you split them in half and slather them with butter!
Ideal fall pumpkin desserts with the characteristic holiday flavors
Bumps up the satisfaction when paired with tea or coffee
A hot contender for a go-to or tiffin snack
HOW TO MAKE HEALTHY VEGAN PUMPKIN MUFFINS?
The video for making Pumpkin Muffins is included below.
Step 1: Combine lukewarm almond milk with vinegar and set it aside for 5 minutes to make buttermilk.
Step 2: After you set the oven to preheat, whisk together whole wheat flour, baking soda, baking powder, sugar, salt, and pumpkin spice.
Step 3: To your milk mixture, add the coconut oil, pumpkin purée, and vanilla extract.
Step 4: Combine the wet ingredients with the dry, and you'll get a thick batter.
Step 5: Fill the cavities of your lined muffin tray with the batter and then top with chopped walnuts, pumpkin seeds (I did say these were healthy), and some granulated sugar for that tiny hint of crunch and shine.
Step 6: Bake for 18–20 minutes (depending on your oven) or until a toothpick inserted into a pumpkin muffin comes out clean.
Final step: Allow these fluffy, moist, and nirvanic-aly textured vegan pumpkin muffins to cool on a rack before serving.
TIPS
Don't overmix the batter. Fold the ingredients gently with a spatula until there are no dry streaks visible, and you'll have lovely, soft muffins.
Always line with paper or silicone covers, so the baked muffins don't stick to your tray.
This time I used an ice cream scoop to fill the muffin tray, and it was fantastic. Easy and so much less messy than a spoon.
I miscalculated, overfilled the muffins, and got 11 muffins! But if you're going for medium-size, then this recipe for pumpkin muffins will make 12.
They store well in the fridge for 4-5 days.
Nuke any leftover muffins in the oven for 10 to 15 seconds, and they'll be as fresh and tender as the day they were baked.
INGREDIENTS
Purée: For these no-egg pumpkin muffins, I puréed steamed butternut squash, just like I did for my pumpkin cinnamon roll. You don't get a pumpkin flavor; it merely adds to the moistness of the crumb. Buy whatever is locally available. They've served me well every single time, and I highly recommend the same to you.
Spices: You can use homemade pumpkin pie spice mix for these muffins or store-bought. In either case, the muffins will become aromatic, warm, and cozy. You can increase the amount of spice to make the flavor sharper.
Flour: These are pumpkin muffins made with whole wheat, and contrary to what people will have you believe, they were delightful and super light. I did not get a single complaint. You can substitute the flour with all-purpose or go half-and-half, using both.
Add-ons: I decided to keep these whole wheat pumpkin muffins plain, but if the spirit moves you, throw in:
Chocolate chips
Or any seed or nut of your choice in the batter (like I did with my chocolate pumpkin swirl muffins).
Sugar: Swap caster sugar for cane sugar.
Oil: Don't have coconut oil? Use any regular vegetable oil.
Milk: To keep it a vegan pumpkin muffins recipe, use any plant-based option if you don't have almond milk. Or switch to regular milk.
EASY DESSERTS WITH PUMPKIN
Pumpkin Chocolate Chip Cookies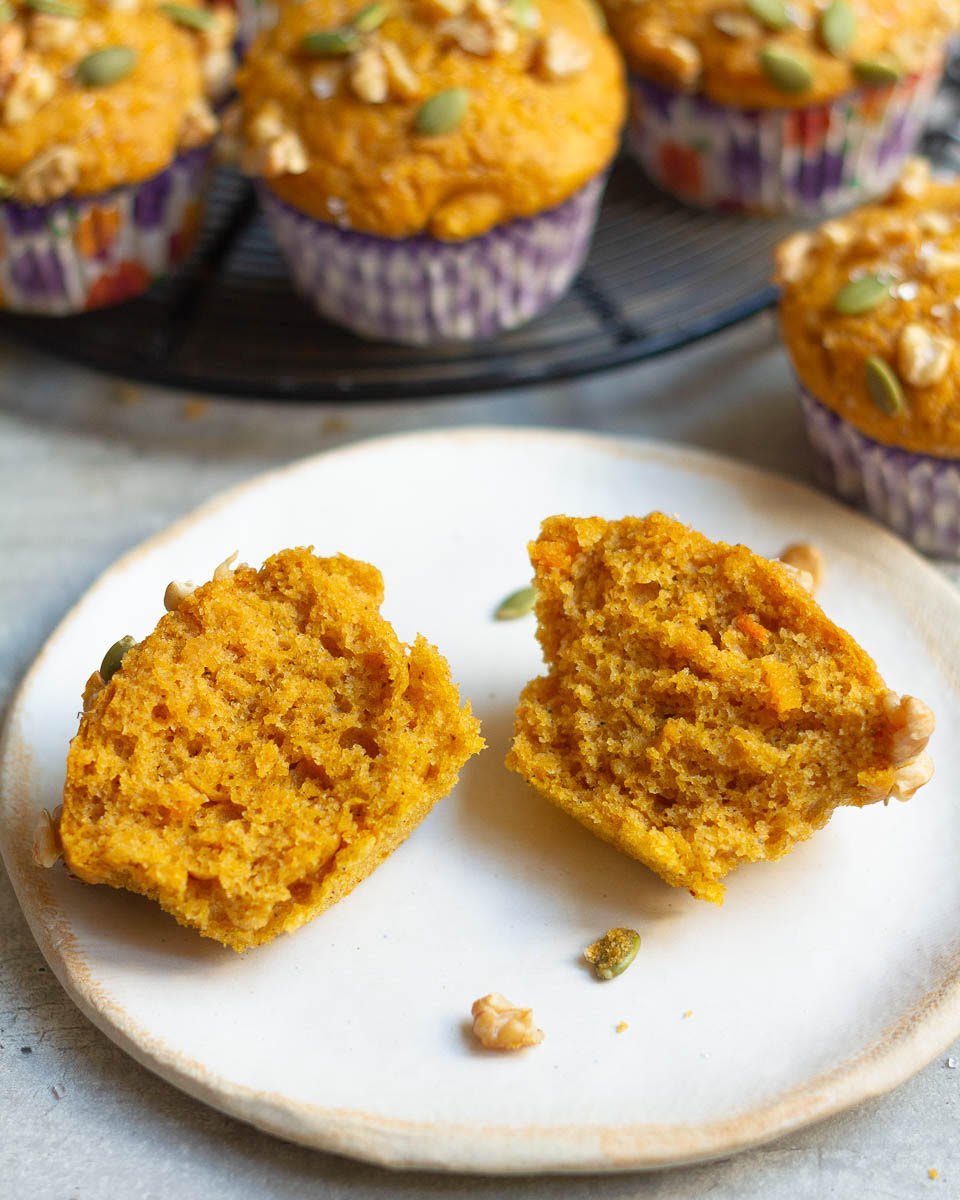 📖 Recipe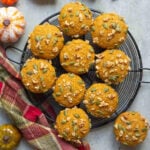 Print Recipe
The Best Vegan Pumpkin Muffins You'll Ever Try!
Ingredients
2

cups / 250 gms

Wholewheat flour

2

tsp

Baking powder

1/2

tsp

Baking soda

1/8

tsp

Salt

1.5

tsp

Pumpkin pie spice

1/2

cup / 100 gms

Caster sugar

1

cup

Almond milk

1

tbsp

Vinegar

You can use apple cider vinegar or white vinegar

1/3

cup / 60 gms

Coconut oil

1/2

cup ( 170 gms)

Pumpkin puree

1

tsp

Vanilla extract

Pumpkin seeds, Walnuts, and Granulated sugar for topping

Optional
Instructions
Preheat your oven to 180C. Line your muffin tray cavities with paper liners.

Combine almond milk and vinegar in a bowl. Set aside for 5 minutes.

Sift together whole wheat flour, pumpkin pie spice, baking powder, baking soda, and salt in a large bowl.

In a small bowl, whisk together the milk-vinegar mixture, oil, pumpkin puree, and vanilla extract.

Pour the liquid mixture into the dry ingredients. Gently stir with a spatula, just until moistened.

Fill the batter evenly in the muffin cups using 2 spoons or an ice cream scoop.

Top with chopped walnuts, pumpkin seeds, and granulated sugar.

Bake for 20 -22 minutes or until a toothpick inserted in the center comes out clean. Transfer to a wire rack and let cool for about 10 minutes before removing from pan.

Serve warm or at room temperature. Enjoy!